Two-Week Road Trip Through Oregon with Friends: Part 1
Written by Lindsey Huster
/
11 min read
/
Last updated 14 days ago
It's always exciting to look forward to an upcoming trip and Keith and I were eager about this one to explore Oregon. What made it even better was that we'd travel again with our friends, Jason and Kristen. We knew this would be a repeat of adventuring, laughing, and memory-making that we'd never forget.
📓
Two-Week Road Trip Through Oregon with Friends
⦿ Part 1: Arriving in Portland and getting started down the Oregon coast (this post)
⦿ Part 2: Exploring the Oregon coast and Redwood National Park (coming soon)
⦿ Part 3: Hiking Crater Lake National Park and surrounding area (coming soon)
⦿ Part 4: Visiting Bend, Mount Hood, and Columbia River Gorge (coming soon)
⦿ Part 5: Summary of our two-week road trip in Oregon (coming soon)
A strong start
The plan was to meet at the Portland airport, pick up a rental car, and head out on a two-week trip to explore a large portion of Oregon. We'd drive down the coast and go into California to Redwood National Park before heading inland to Crater Lake, Bend, and Columbia River Gorge, to name a few highlights. Essentially, it is a loop covering significant points of interest in Oregon.
By the afternoon of the first day, things were already off to a strong start! We had an excellent and much-needed lunch at Pine State Biscuits in Portland, before visiting the Rice Northwest Museum of Rocks and Minerals. This stop was a great surprise to us all. As one Google reviewer said, "This is a don't judge a book by its cover place." The museum is located inside the home of late Richard and Helen Rice and many of the artifacts are from their personal collection. This truly is a geology museum with an array of items displayed.
Our day continued to the coast and Cannon Beach. It felt so good to sink our feet in the sand, wiggle our toes, and feel the cool water of the Pacific Ocean on our skin. It's always surreal on the first day of a trip to be in one landscape in the morning and something completely different by evening. For me, this is when the anticipation of planning the trip meets the locations on the route and it's just pure bliss.
The coastal town of Cannon Beach is super cute and the iconic Haystack Rock is a giant in the ocean. We didn't realize it at the time, but there are more "Haystack Rocks" along the coast. By this time we were getting hungry again and the famous Pelican Brewing is right in town. We opted for delicious seafood dinners before making our final stop for the night, Silver Sands Motel. This is a great beachfront motel with direct beach access. Keith and I took a stroll along the beach at sunset to complete a perfect first day!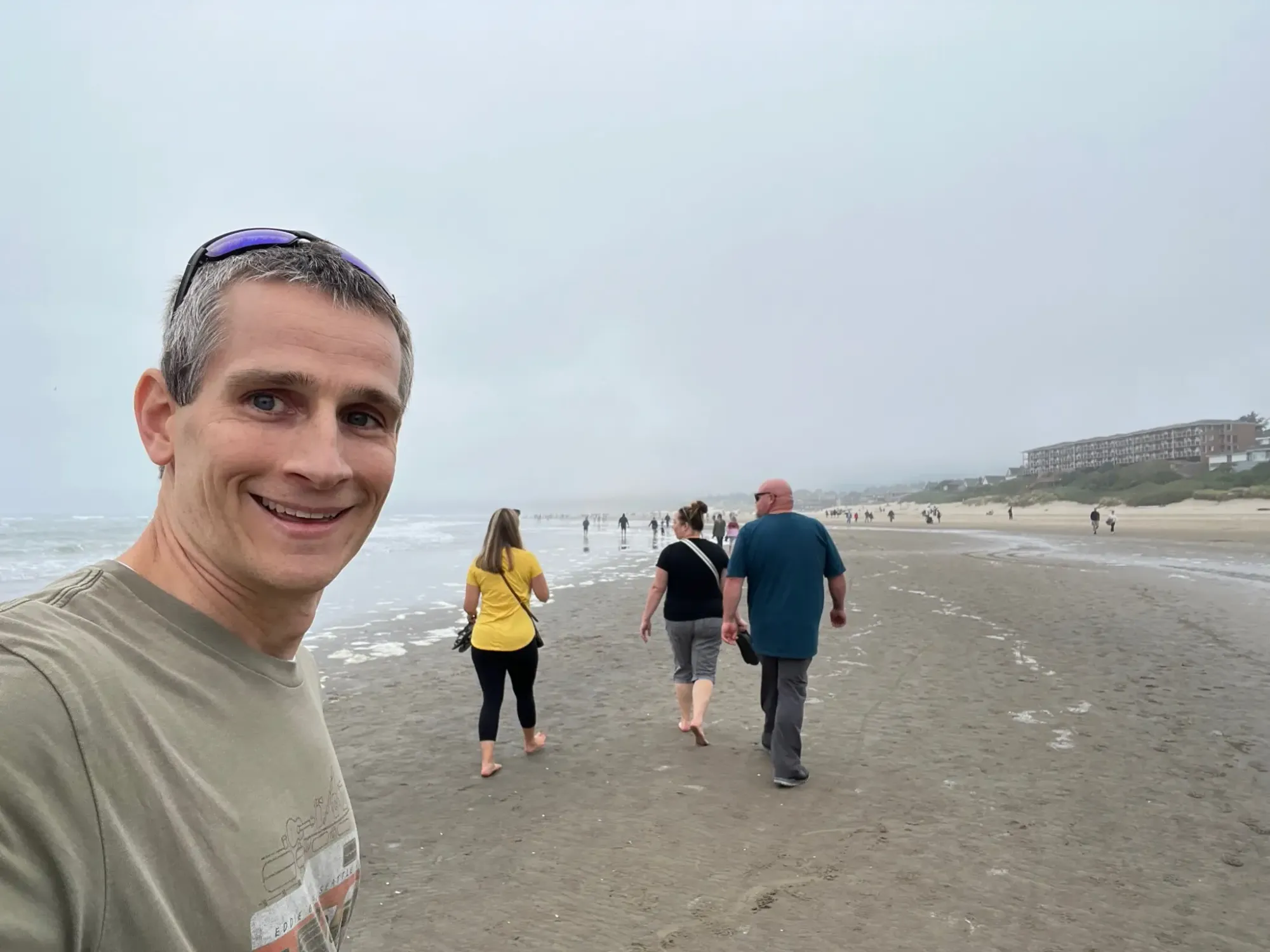 Waking up in a beach town
We woke up to a chill in the air as we left our window open to hear the waves crashing near us. It was so peaceful and relaxing. It's hard to say if I'm a beach girl. I do love the sun and swimming, but I'm not a fan of humidity or sand. This felt different and as I suspected, I am a beach girl… just more of an off-season, cool weather, walk along the beach, and feel the cold ocean on my feet kind of beach girl.
We stopped in at the Beach Bakeshop for coffee and hand pies before heading to see the Rockaway Big Tree. The parking lot was full so we parked along the main road next to some Marionberry bushes. We were all so excited to "forage" some fresh berries before the walk. Little did we know that we'd do this a lot on our hikes over the next few days.
The boardwalk was a nice treat since it was wet and misty. We saw large Banana Slugs, along with various plants and flowers. Having now lived in Utah for over 7 years, it was quite the contrast to a desert climate. The tall trees are something I miss and I always notice how green everything is. At the end of the roughly half-mile trail is the western red cedar, known as Rockaway Big Tree. Walking around the viewing platform allows you to get a sense of the massiveness of this tree. It measures 154 feet tall and roughly 49 feet in circumference at its base.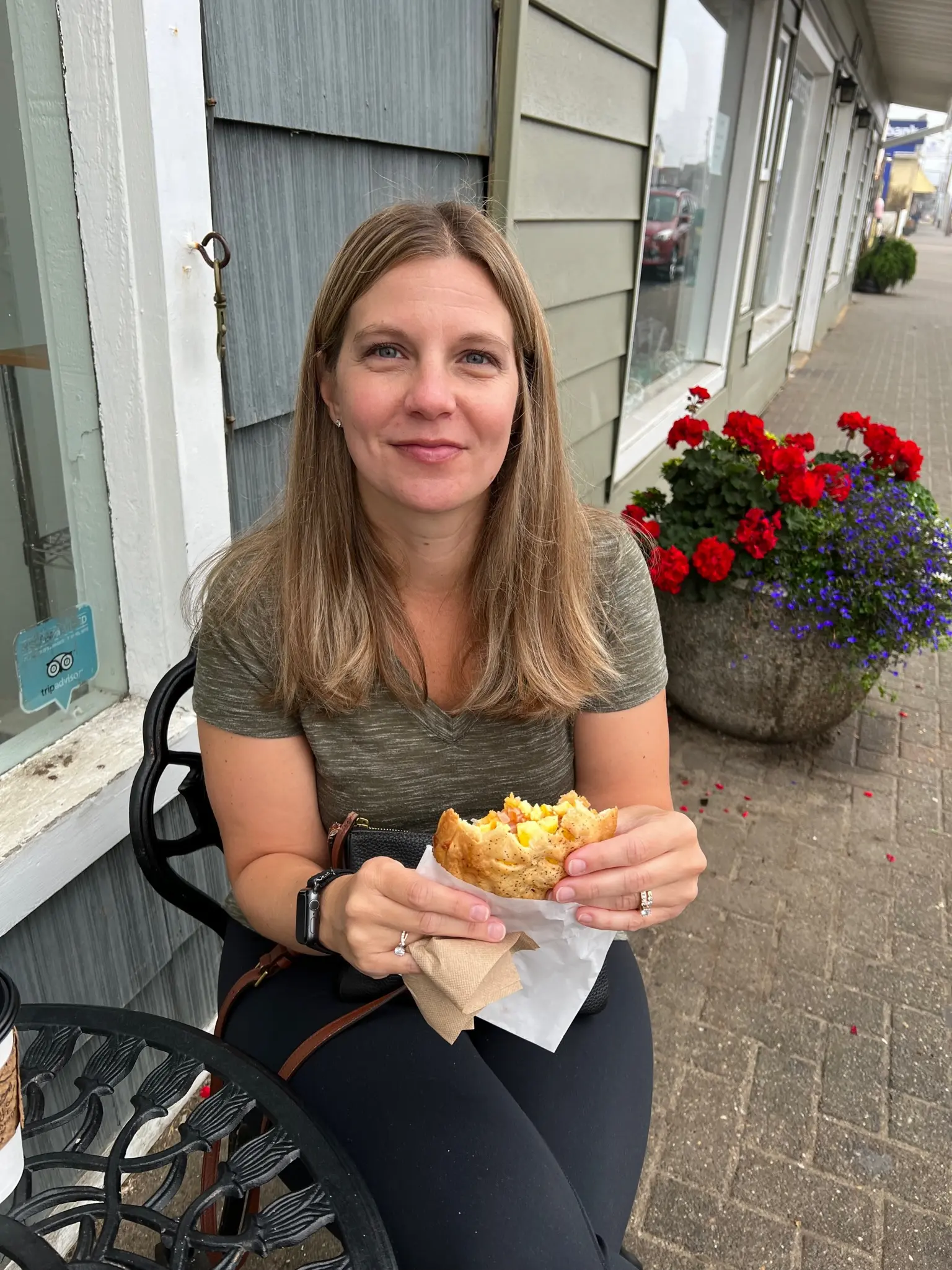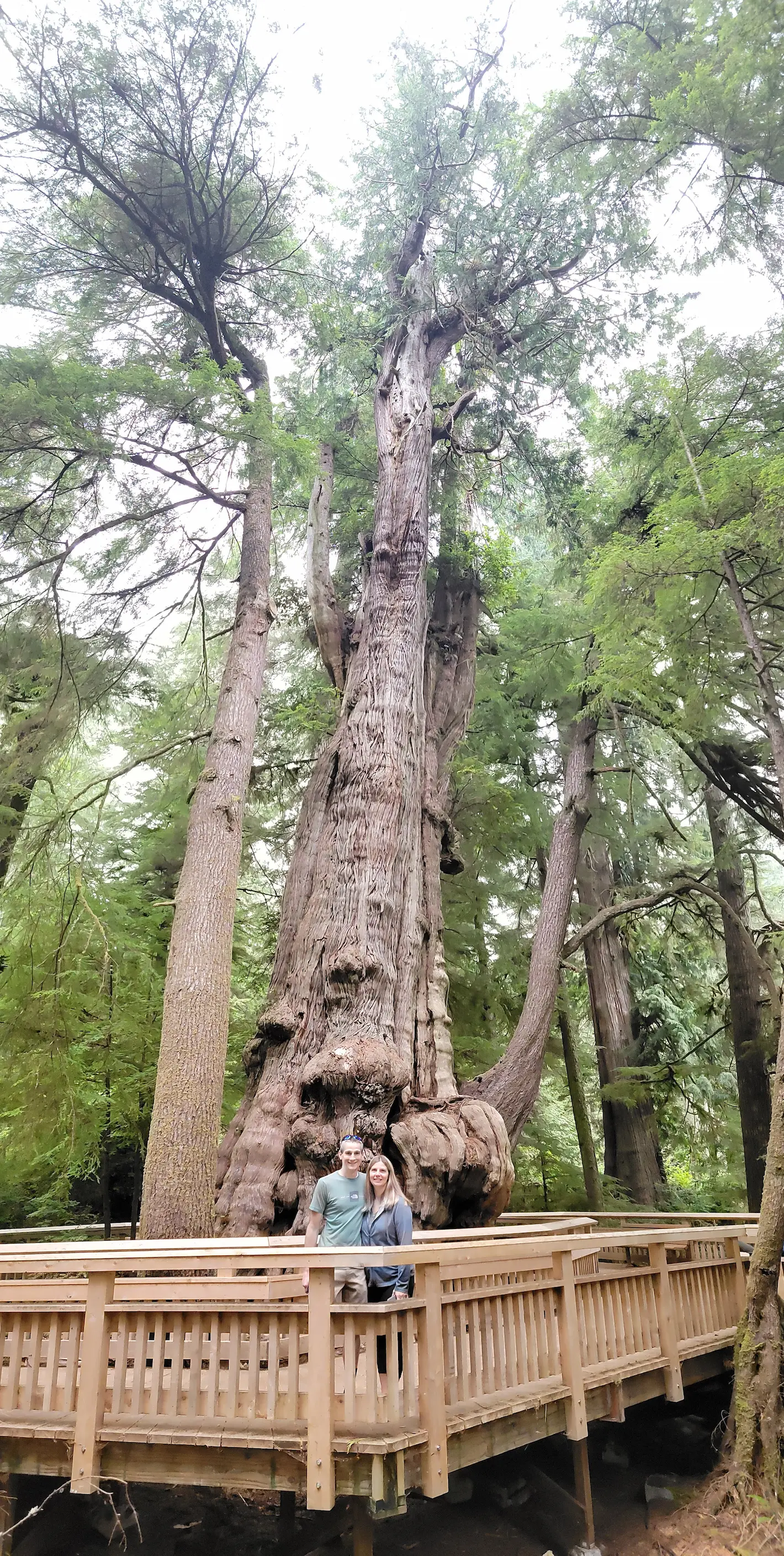 Self-guided tour of the Tillamook Creamery
Next stop, Tillamook Creamery! This was so much bigger than I expected and the self-guided viewing of the facility was more of a museum as it educated you on their history, processes, machinery, etc. There are free cheese samples, a large gift shop for souvenirs, and groceries. There is also a food court with ice cream, snacks, meals, coffee, and beer. I had written in my notes that we should plan to spend 1-3 hrs there. I'm certain it was on the upper end of the estimate. There is so much to see!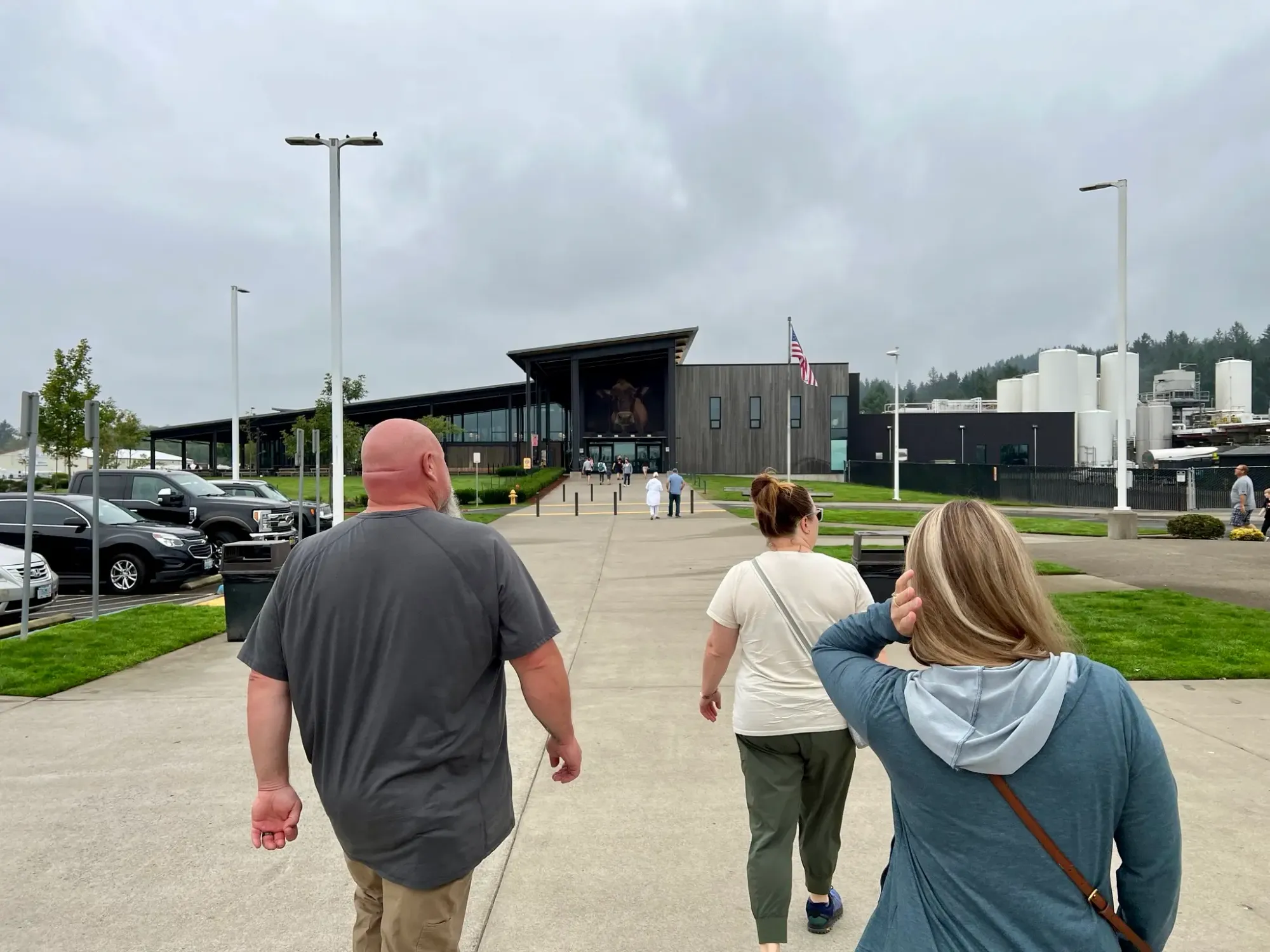 Short stops for hiking and sightseeing
There were two hikes we planned for the day, Cape Lookout and Munson Creek Falls. We cut Cape Lookout Trail a little short to save some time but got some excellent views of the coastline from up above. Munson Creek Falls was pretty too and we had some low clouds that gave it definite Pacific Northwest vibes.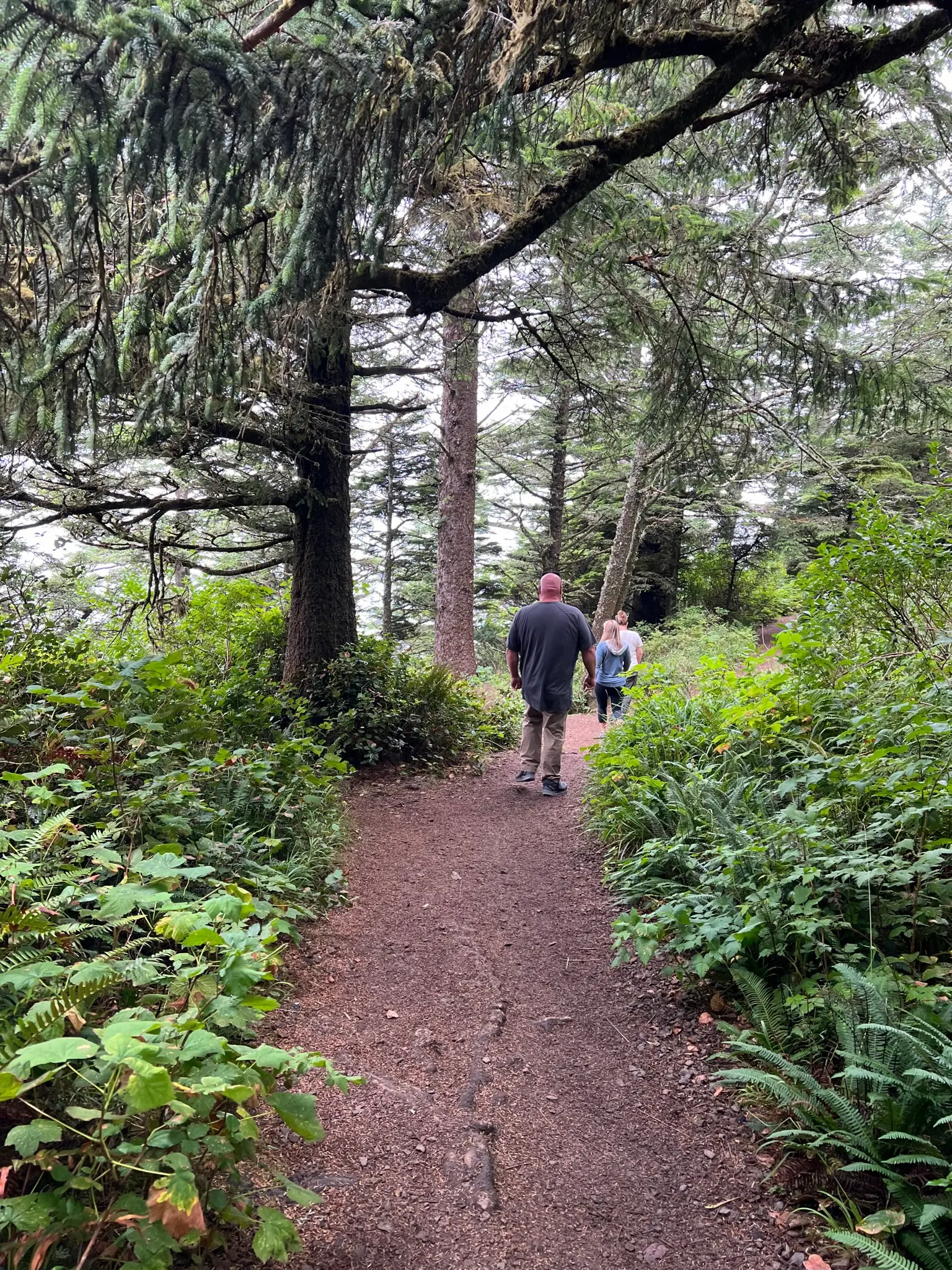 It was nice to drive for about 30 minutes and then have something to do. The whole day was like this. We stopped in Pacific City Beach for another Haystack Rock, walk along the beach and around the town for a bit. A surprising find was the little grocery store with a gift shop and an indoor swimming pool. We found ourselves at Neskowin Beach in the late afternoon looking for the "ghost forest." The beach was great, but we weren't there at the right time for the "ghost forest."
💡
You may need to plan your day according to the low/high tide times. Certain points of interest like the ghost forest or tide pools will only be visible during a specific window of time.
We wrapped up the day by checking into our rental house for the next two nights and getting some pizza for dinner.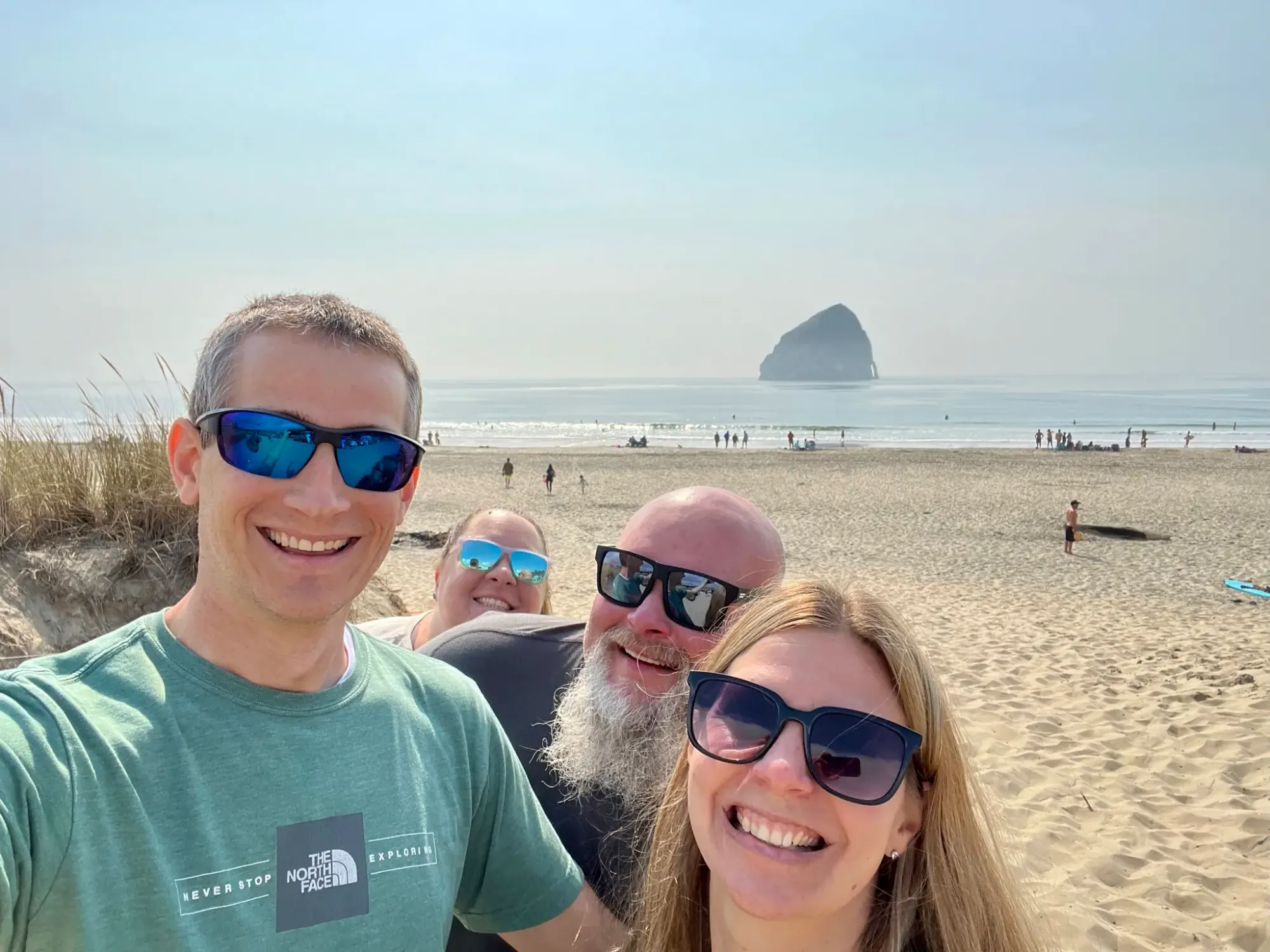 Visiting the Devil's Punchbowl
Our first destination on day 3 would be Devil's Punchbowl State Natural Area. I'll be honest here, we weren't all that impressed with this stop. Maybe it was the time of the day and the water wasn't "splashing" as we expected, but this stop didn't quite live up to what we thought it would be. However, I'd still say you should stop. It's just a couple-minute walk from the parking lot and it's still an icon of the Oregon coast.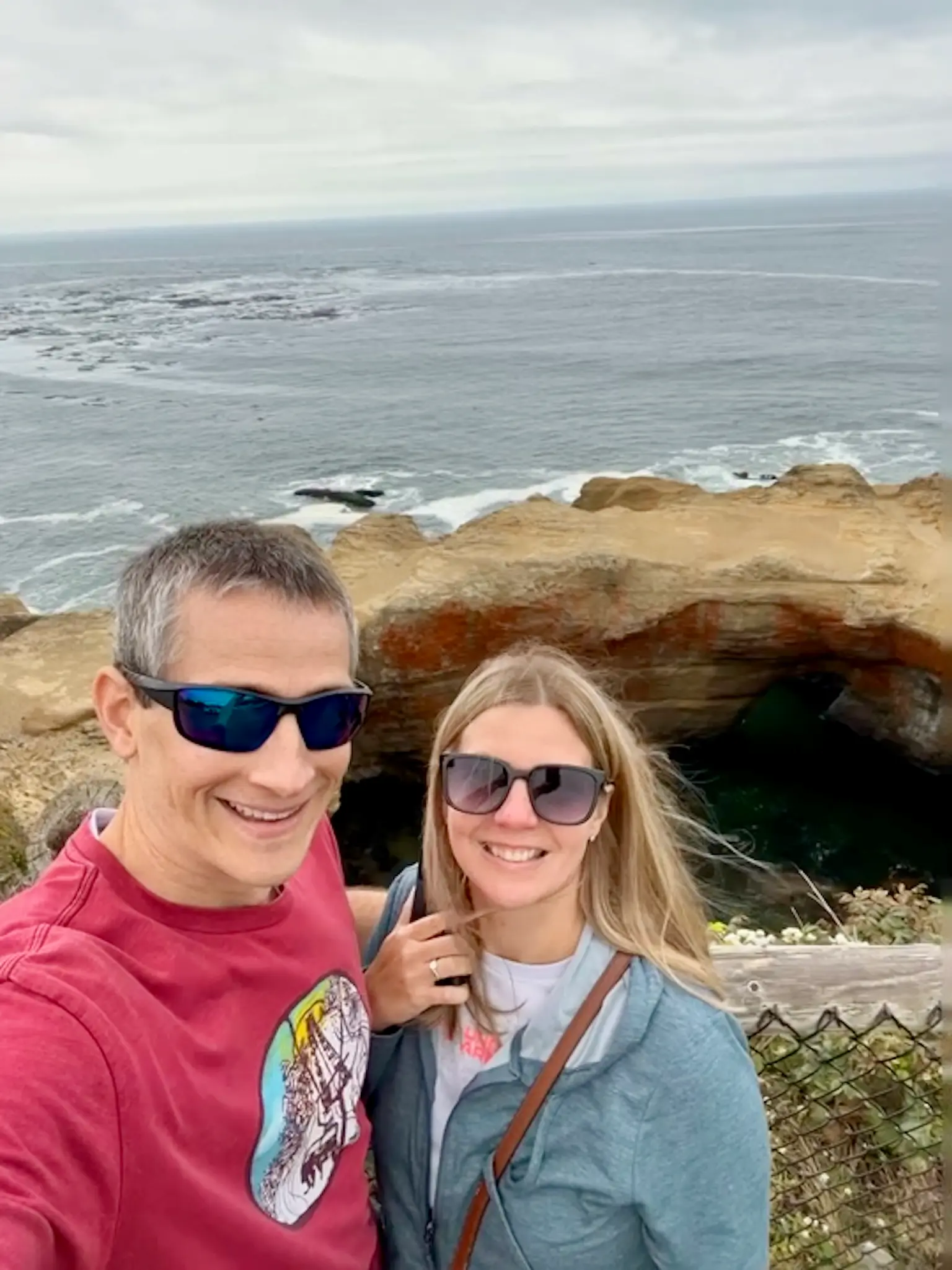 💡
Bonus Tip: Purchase the
GuideAlong
app, formerly GyPSy Guide, for this area before your trip. The GuideAlong app gives you facts and information about the area. Be sure to follow the scenic one-way street in this area as a bonus for the day!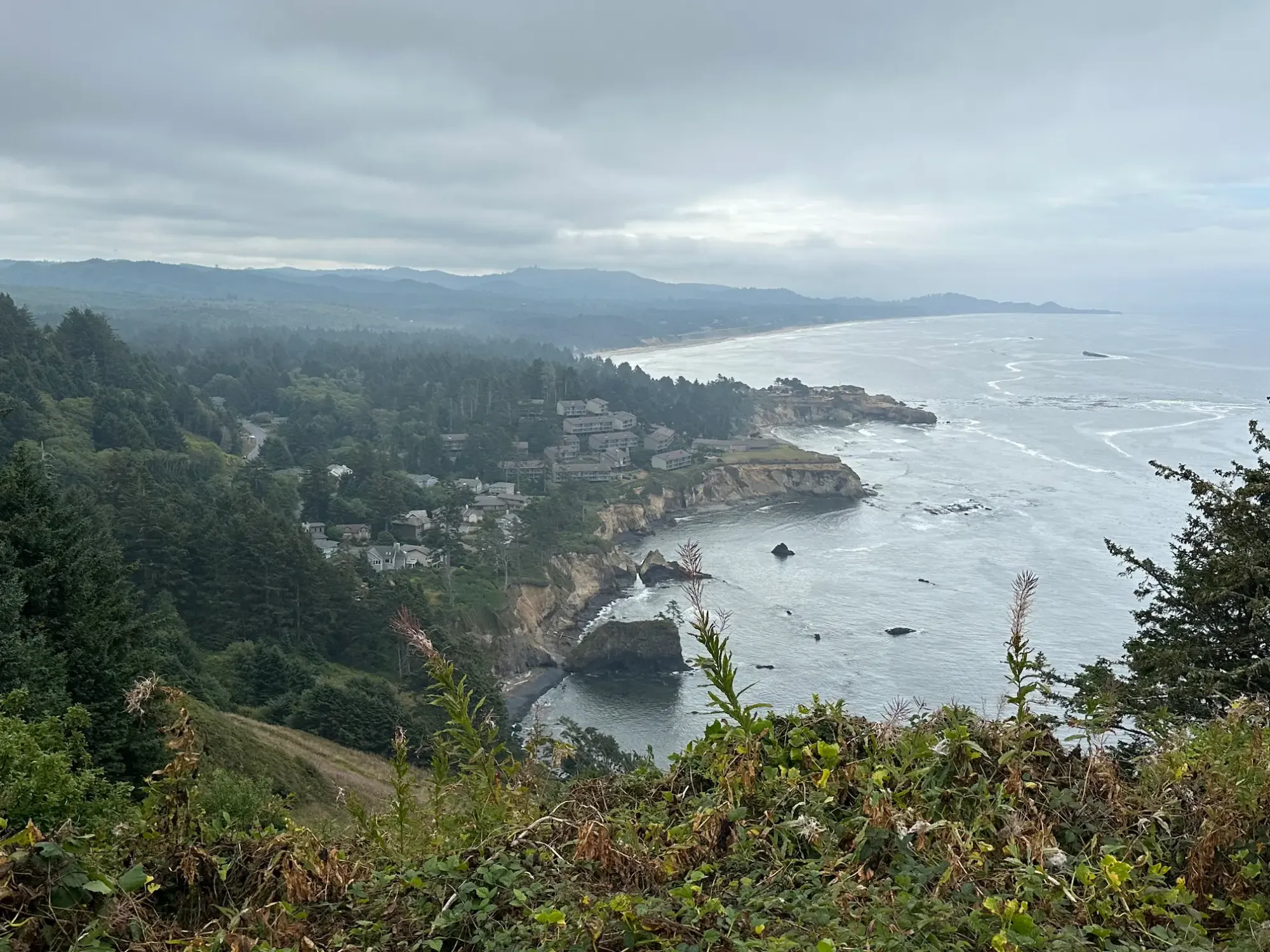 My favorite beach: Cobble Beach
From there it was just a short drive to the Yaquina Head Outstanding Natural Area and Cobble Beach. This proved to be the opposite of the last stop. We loved this "beach." We first walked over to the lighthouse and although we couldn't go in, it was perfection seeing Oregon's tallest and second-oldest lighthouse.
Cobble Beach is just across the parking lot and this is a must-do in my book. You must go down the steps to get the full effect. The "beach" consists of black rounded rocks that make the most magical sound as the water flows between the rocks and recedes knocking the rocks into each other. We loved walking around and this was so different than any other beach we visited on the trip. You also have a great view of the lighthouse from this angle and some of my favorite pictures were taken here.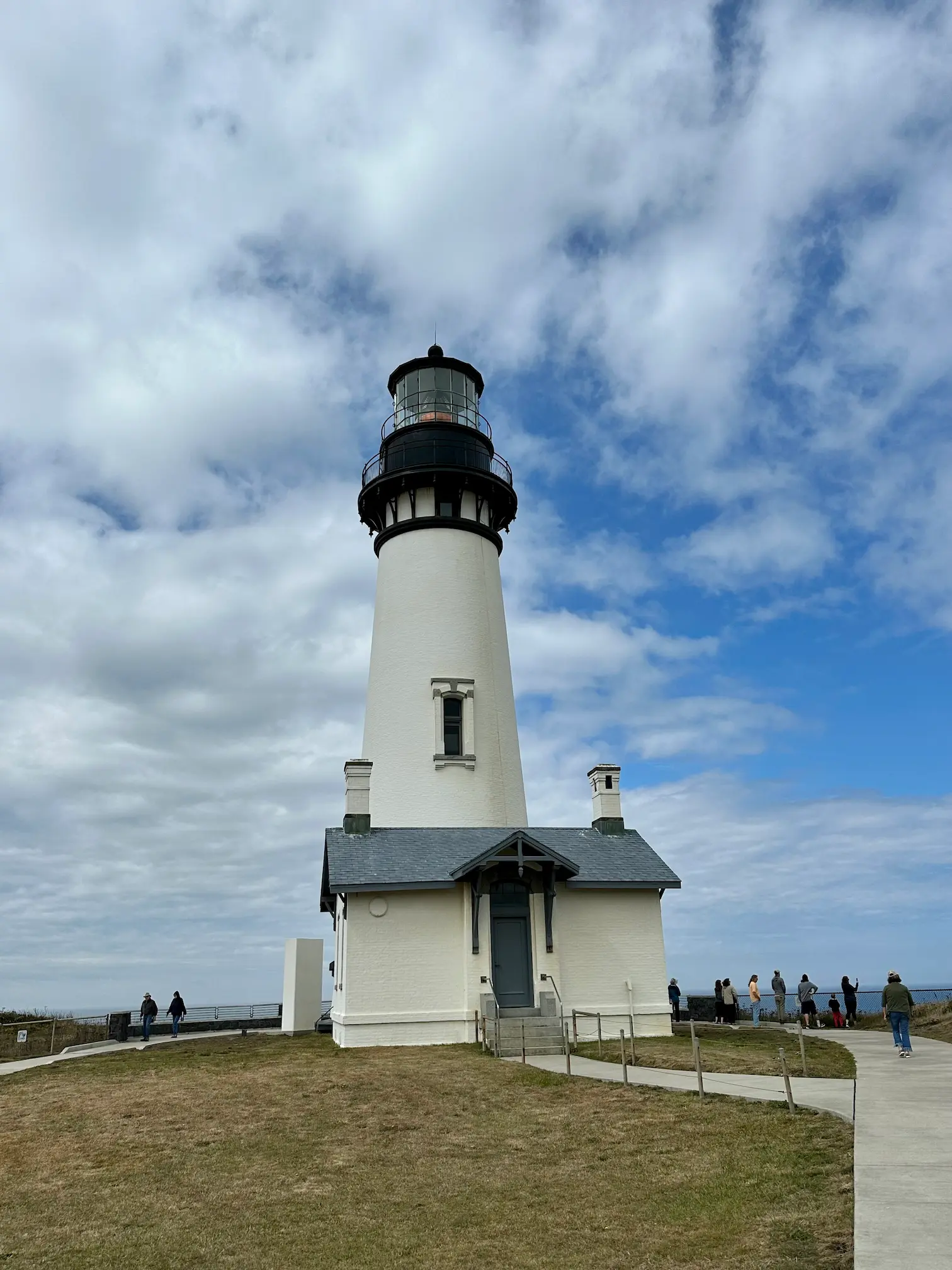 Whale watching at Depoe Bay
From there we headed to Depoe Bay and visited some shops while spending time whale watching. There are whale-watching tours here, but if you don't want to take the time, you can watch where the boats are going and probably get a glimpse of a whale with a decent pair of binoculars. We saw quite a few whales while we were there. Each of us would have been happy seeing a couple, but they were popping up every few minutes or less.
We made a few more stops as we returned to the rental house. A chocolate snack at a bit of a tourist stop, The Chocolate Frog. Lincoln City Glass Center has some options for glass blowing or you can just watch and wander around this large shop in town as we did.
We took a little evening break with dinner and relaxing and then we headed to Lincoln Beach to search for sea glass. Each day "float fairies" place hand-blown glass floats along the 7 miles of public beach. If you find one, it's yours to keep! We each found some personal treasures, although no one found a glass ball from the glass center.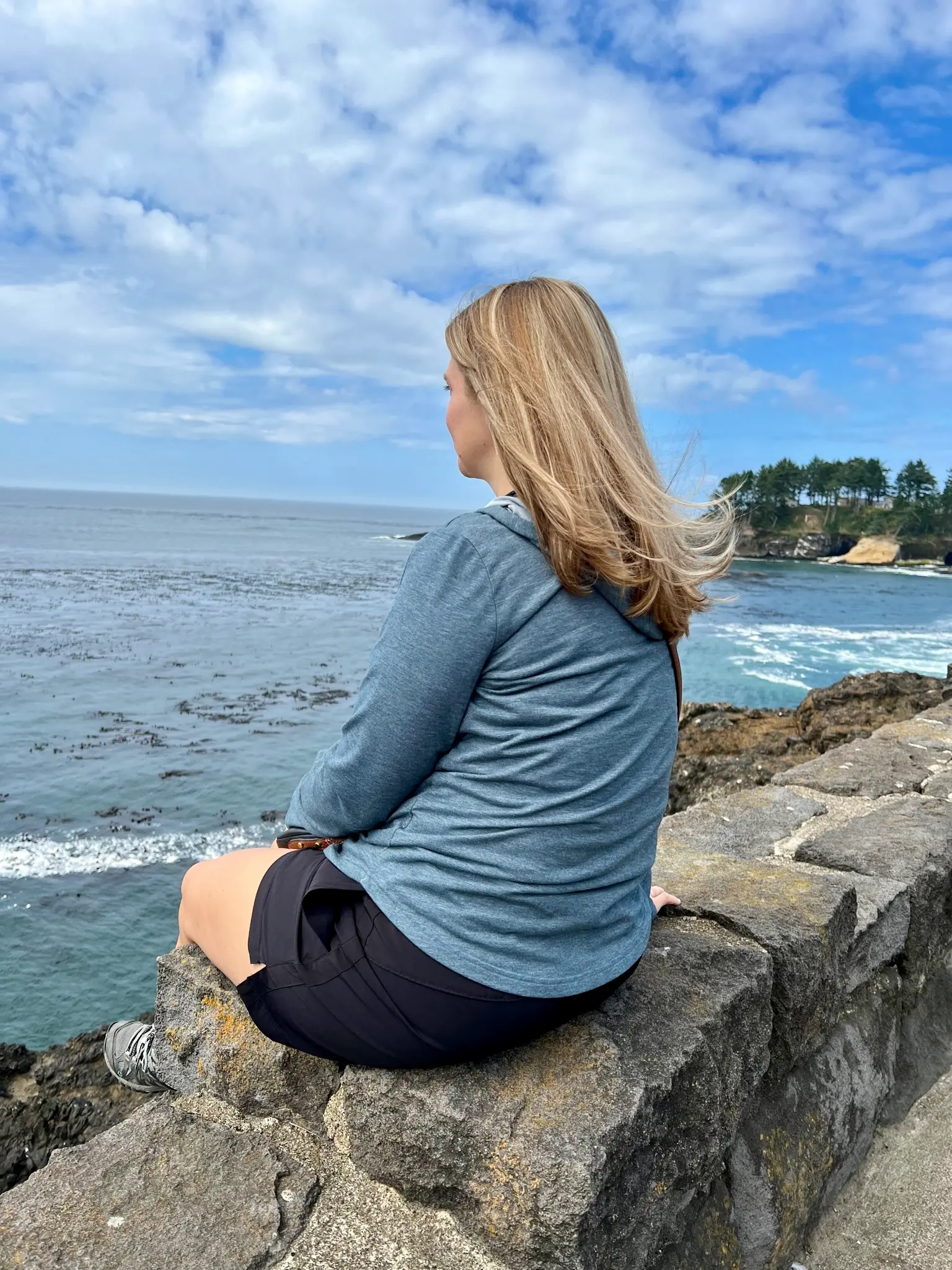 Final thoughts
It was great to finally be on this trip with our friends and as I anticipated, we were already adventuring, laughing, and making lots of memories together. This was only the third day of our two-week trip and we had already done so much. I had some high expectations for Oregon and boy, did it deliver.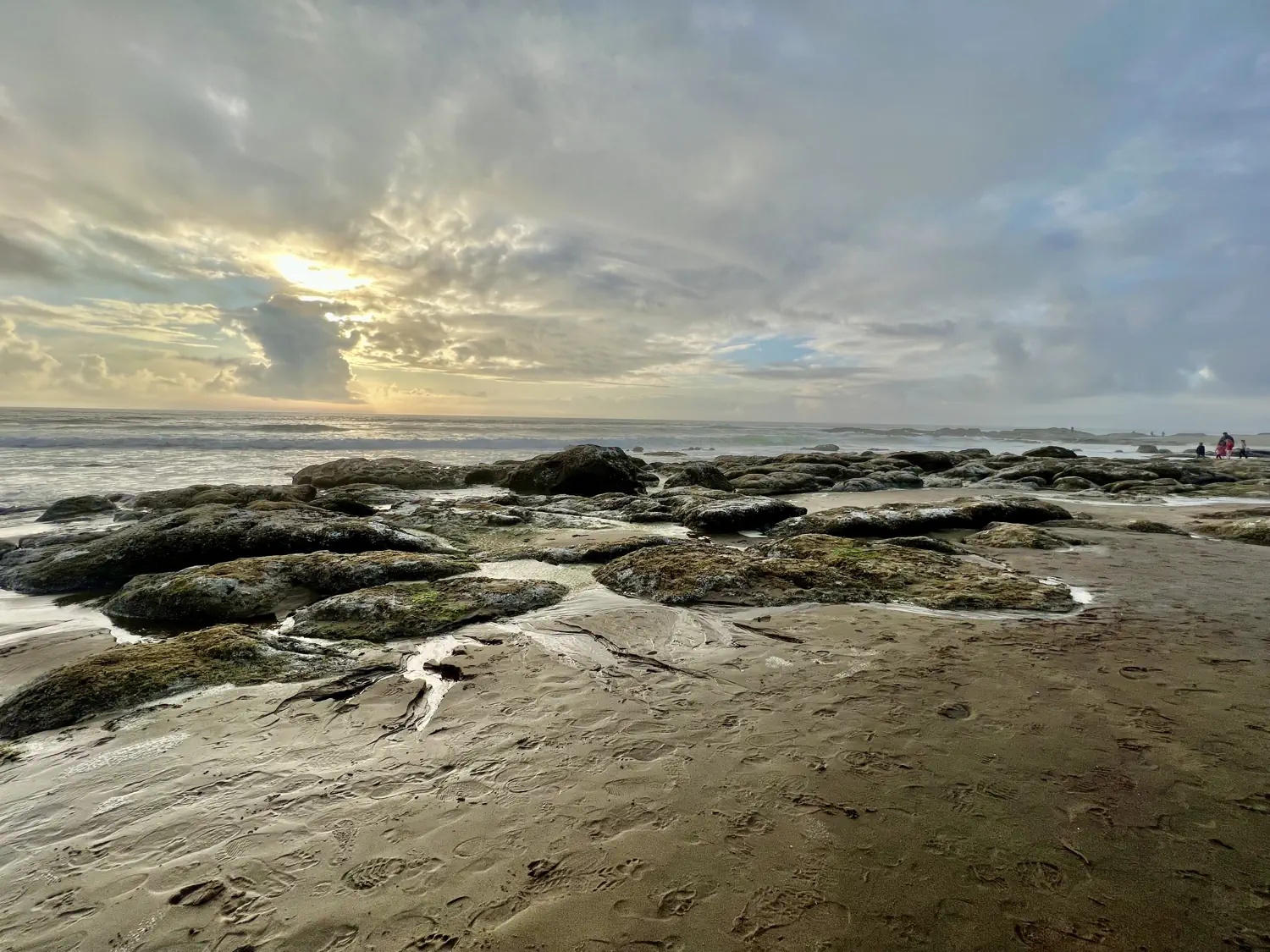 We hope that you are enjoying reading about our amazing trip throughout Oregon. Be sure to check out the rest of the posts in this series and be sure to subscribe to our blog so that you don't miss out on our latest posts.
Have you ever visited Oregon? Do you have any tips for visiting Oregon or questions about our trip? Let us know in the comments section below.👇 💬