A Day of Skiing at Solitude Mountain Resort
Written by Lindsey Huster
/
5 min read
/
Last updated 9 months ago
"Find Your Solitude"  is the tagline for Solitude Mountain Resort and could not be more fitting for this peaceful resort in Big Cottonwood Canyon, Utah.  It's easy to find solitude early in the morning, late in the day, and really with every hour between. Don't let peacefulness be confused with easiness.  There is plenty of challenging terrain to explore!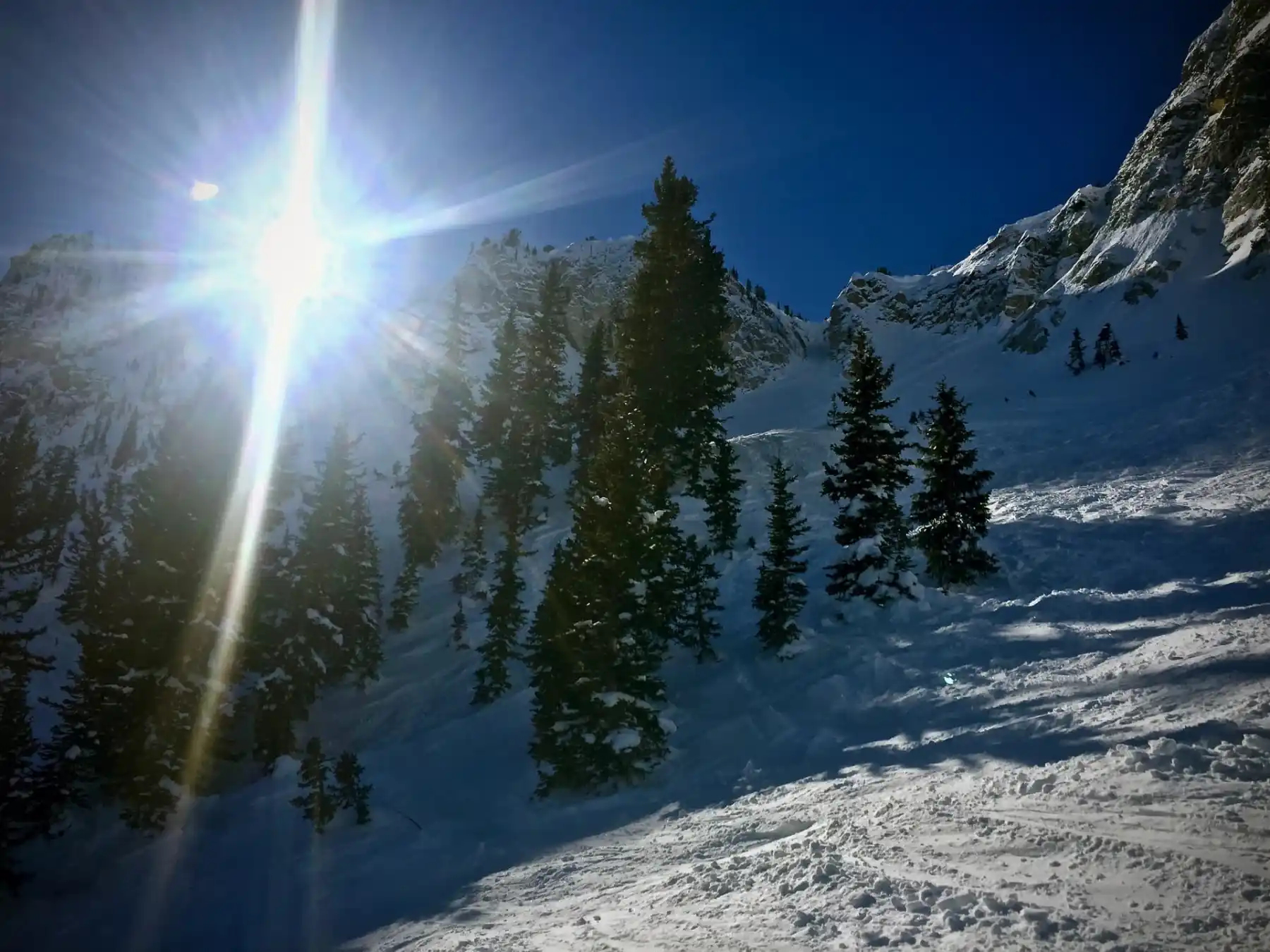 Check out our video
Off to a great start
Keith and I arrived at Big Cottonwood Canyon around 8:00 am and were pleasantly surprised with the lack of traffic heading up into the canyon.  This was Sunday, January 27, 2019, and although there were no feet of fresh powder to ski, there was a fantastic wind-blown crust that formed over the leftover snow, making the conditions nearly perfect!
We skied the day prior at Snowbird and the conditions were so good that we decided to use one of our Wasatch Benefits passes to ski Solitude.  Check out our video from Snowbird, Blue Skies, Great Snow, and a Cave?!?!?
Walking up to the resort, we knew we picked a great day to ski Solitude!  The air was cool and crisp and as soon as the lifts started turning, we headed up the mountain to take a couple of groomed runs to warm up.  Quickly we remembered how much we enjoy this resort.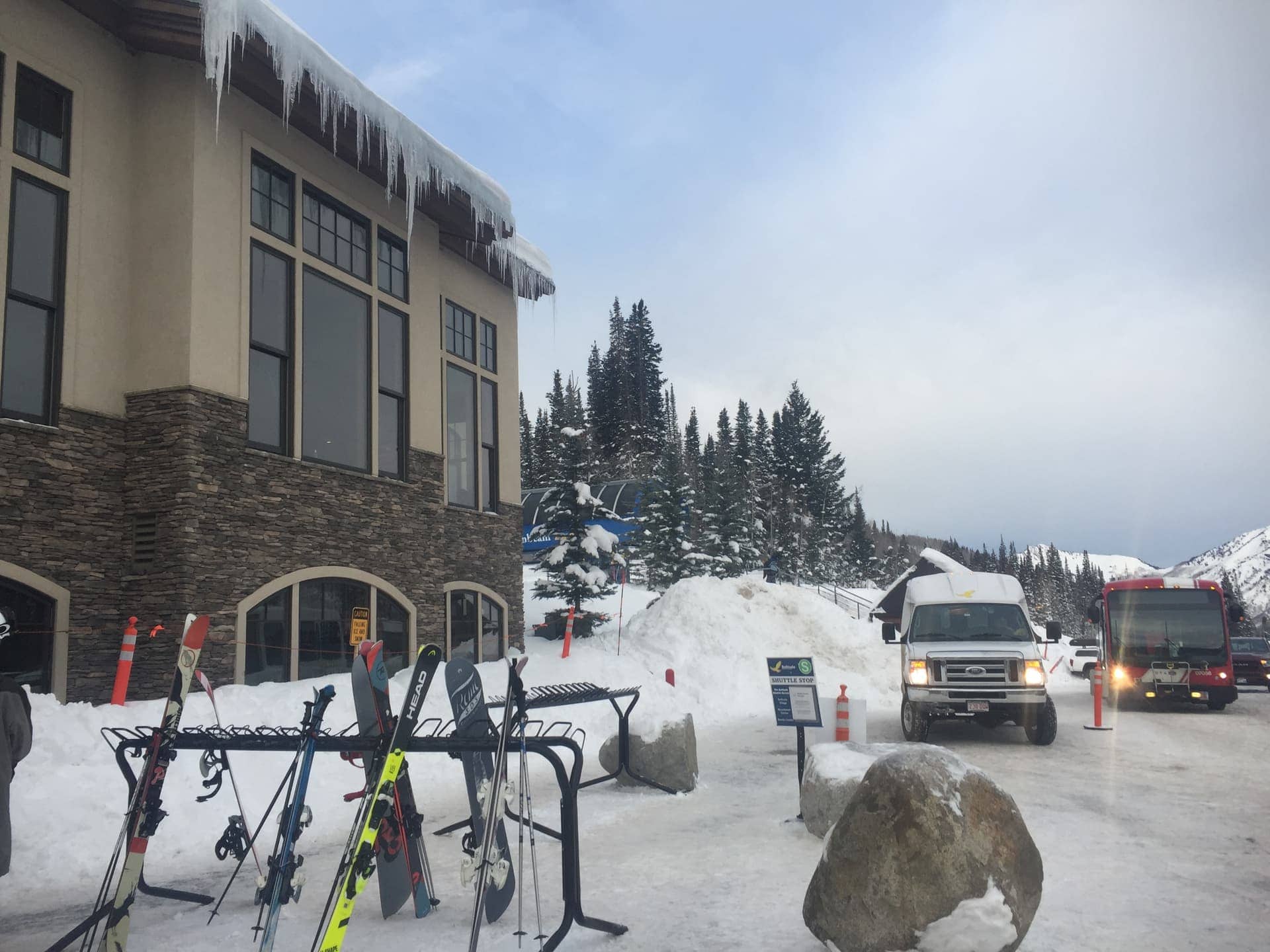 Exploring the Mountain
There are so many areas to explore at this resort.  Heading up the Moonbeam Express to Powderhorn II chairlift, I realized that one thing I really like about Solitude is that you can view a large portion of the resort from this area.  It's so peaceful to look across the mountain first thing in the morning. As I did this, I got this happy feeling knowing there were little pockets of people enjoying the mountain. Absolute silence is broken up with laughing, hooting, hollering, and the swish of fresh tracks.
The front part of the mountain feels very open, but that is just a portion of the resort.  Heading to the edges of the boundary resort, you will again feel solitude in other ways. These are the areas of big mountain skiing.
We had been skiing mainly at Snowbird and it's known for its extreme terrain. We had forgotten how many extreme runs can be found at Solitude.  It's fun to see fellow skiers taking advantage of this, especially from the Summit Express lift.  As you ride up the lift, you are viewing several rocky and cliff runs. Keep scanning the mountain and you'll see some impressive jumps and ski techniques.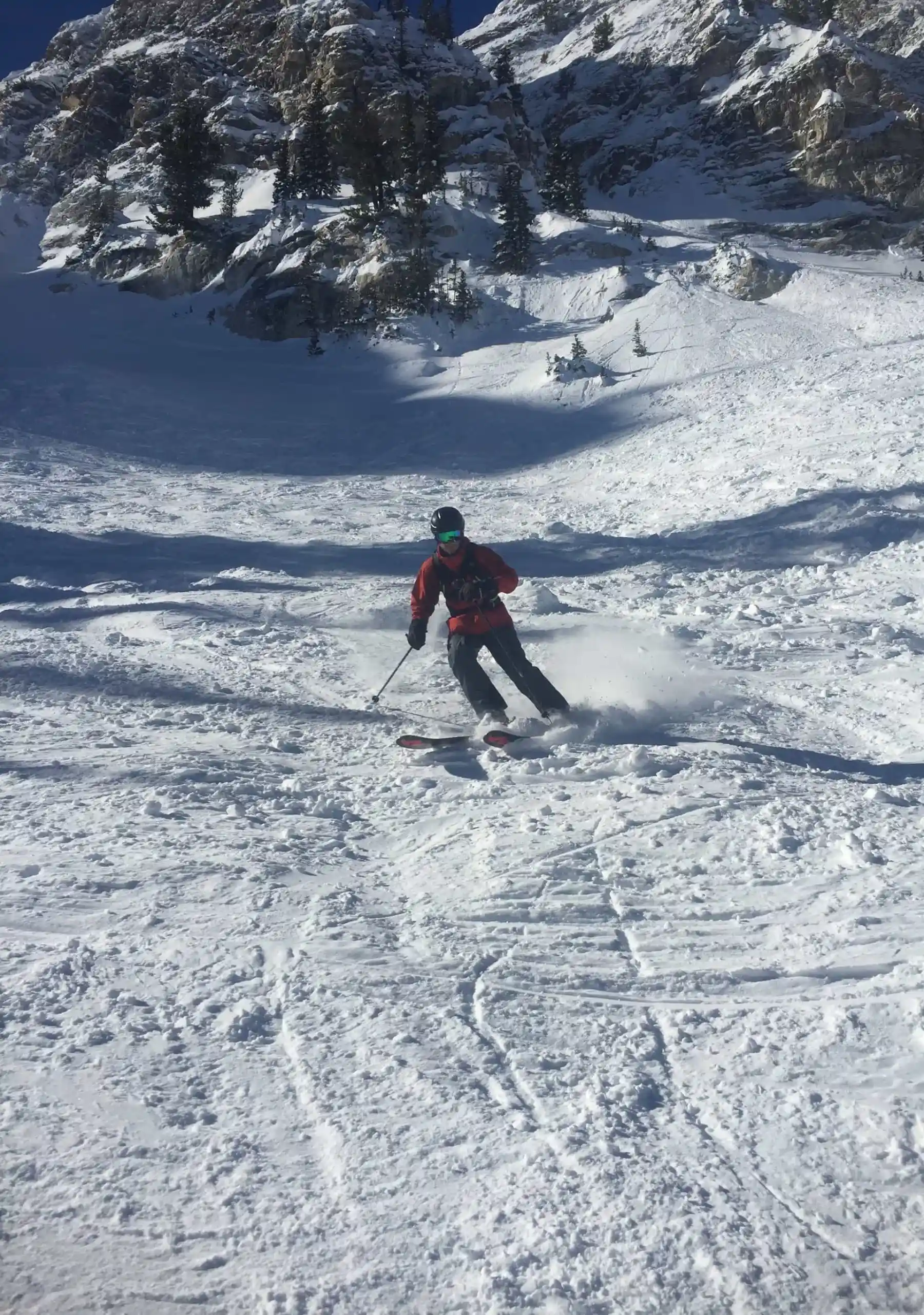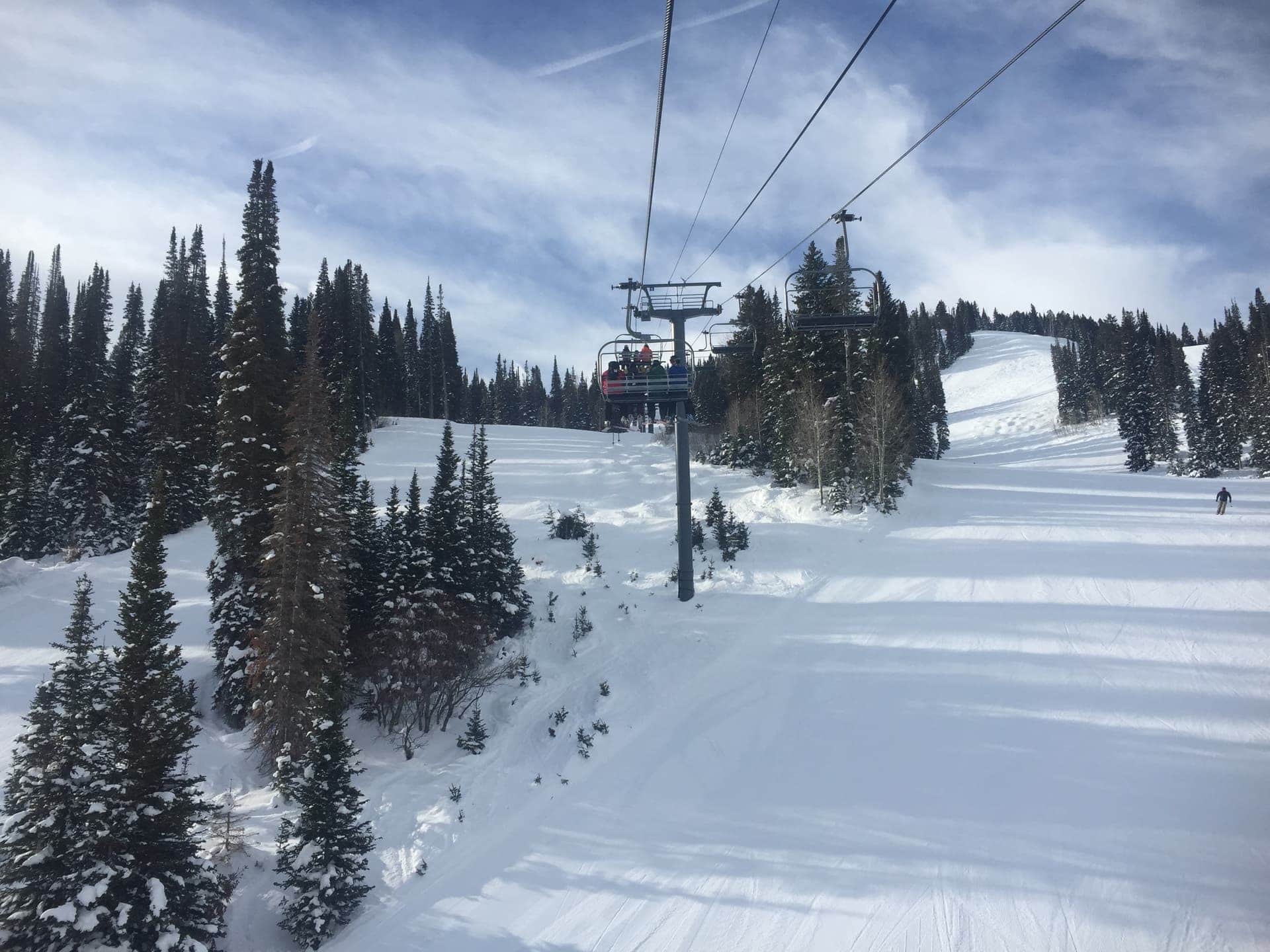 A much-needed lunch break
We typically take lunch with us when we are skiing, but decided to enjoy lunch out on this day. Around 12:30 pm we headed into the village to grab lunch. We were getting pretty hungry and really the first place we saw was Honeycomb Grill. A quick view of the lunch menu and we already had a few dishes picked out. Ultimately, we decided to order the Bison Burger and Winter Flatbread with Chicken to share. Throw in a couple of beers, the view of the mountain, and time to rest our legs and it was the perfect mix for lunchtime!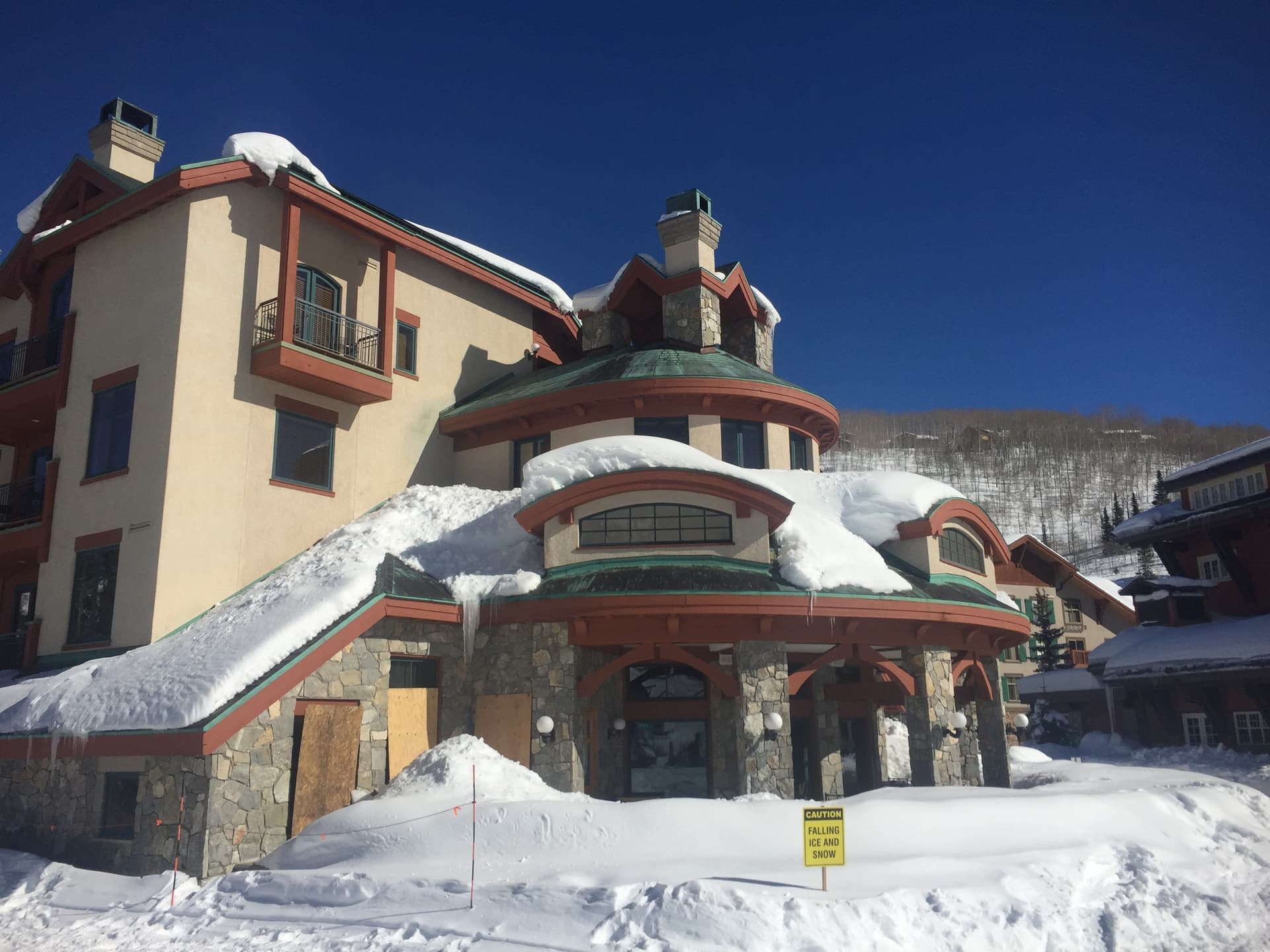 An afternoon of skiing
The only bad thing about having a big lunch like this is that even though you are super hungry going in, you are super full coming out and that makes it a little difficult to get back out there to ski.
Keith and I were excited to work our way back towards the other side of the mountain and finish off the day with a few runs we had our eye on. We had already made a run or two through Honeycomb Canyon, but want to try a few more. This is another area with some challenging terrain. Even though we've skied Solitude in the past, we hadn't spent much time in this area and wanted to experience more of it.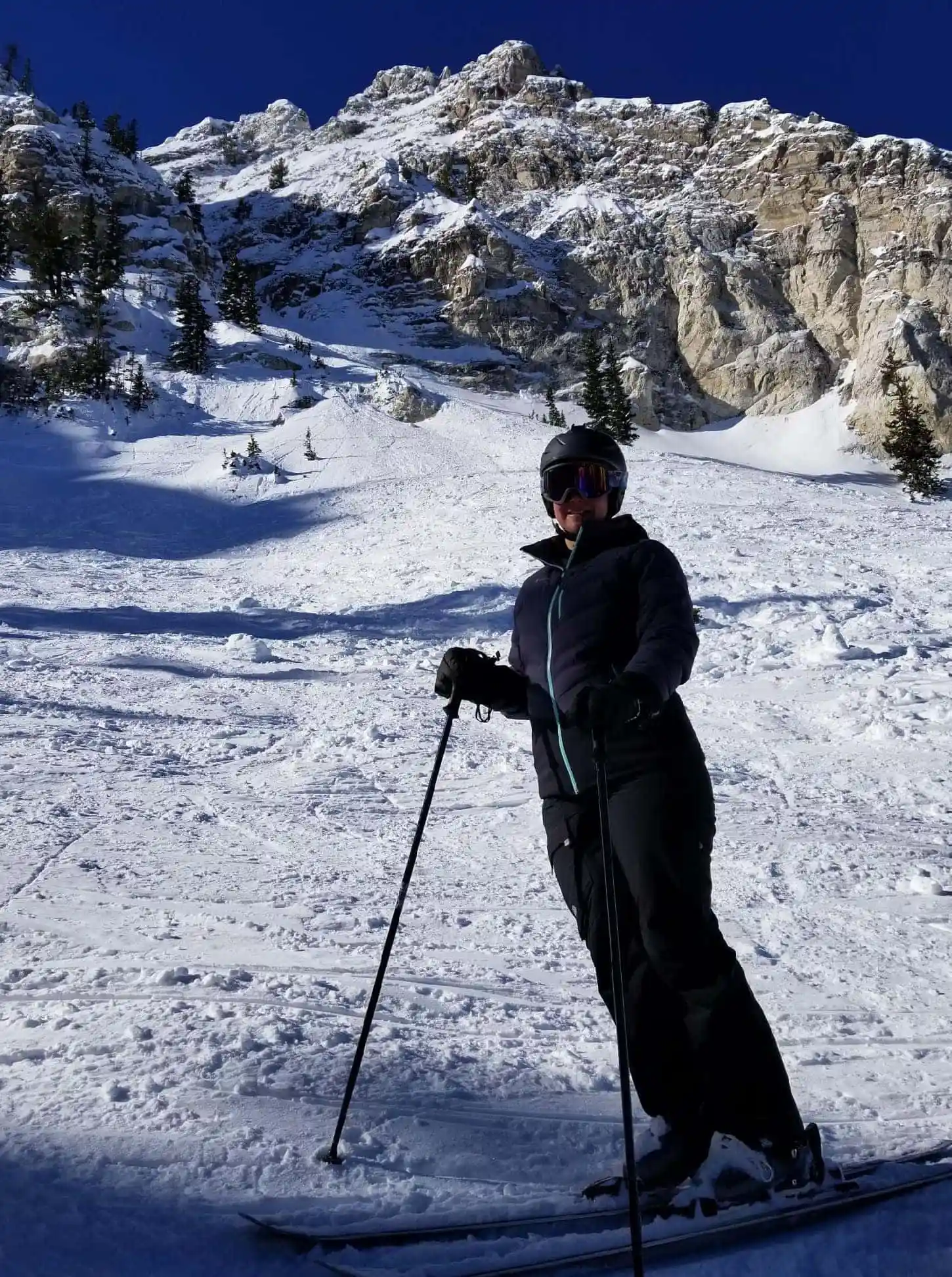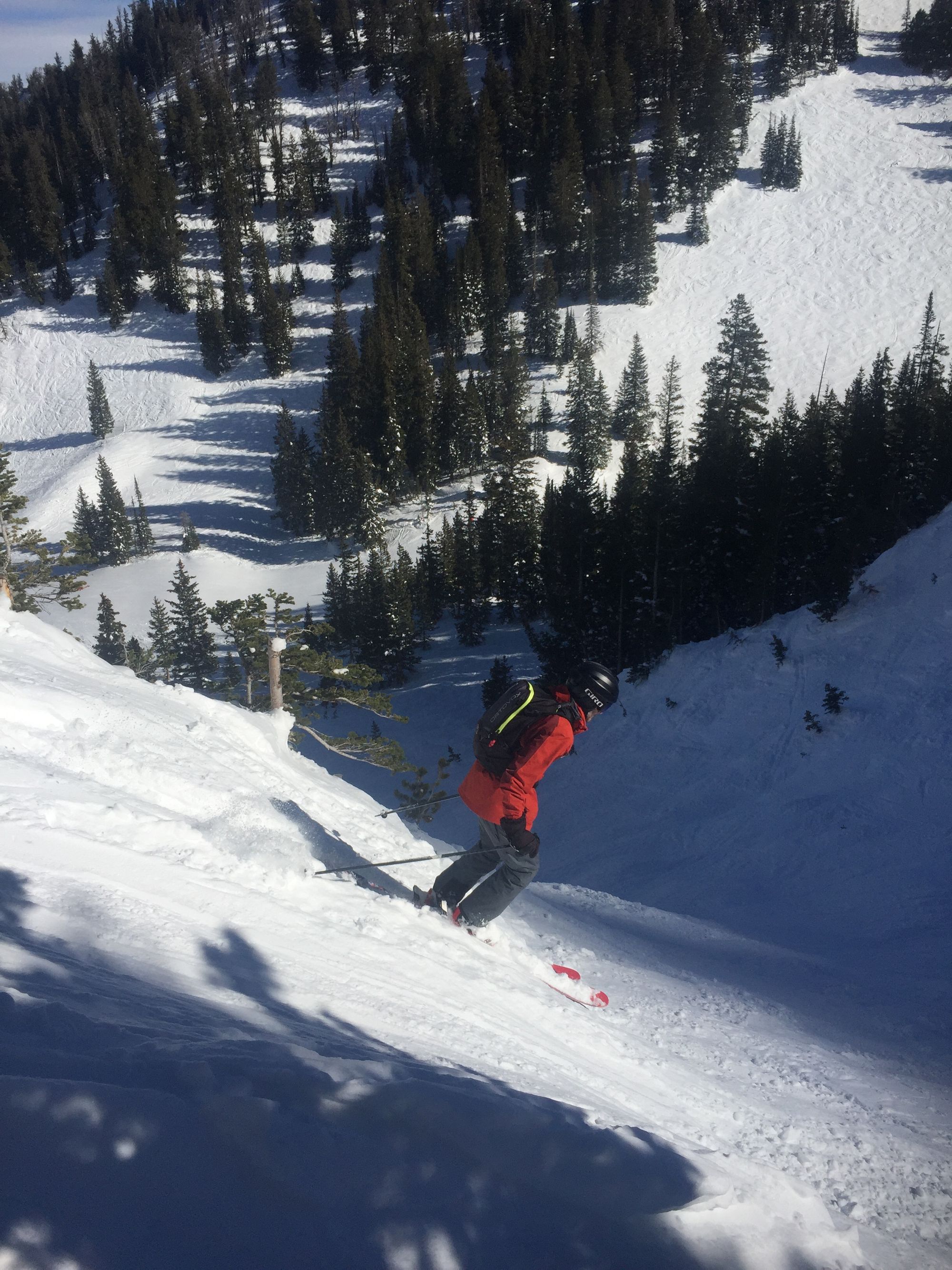 We found solitude!
As we ended the day, we reflected on all the great things about Solitude.  We "found our solitude" while gaining fresh tracks first run on the groomers, exploring hidden pockets of untouched snow in the trees, treating ourselves to a delicious lunch on the mountain, exploring more of the famous Honeycomb Canyon and so many more small and big ways throughout our day at Solitude!
Have you been lucky enough to Find Your Solitude at this great resort?  If so, comment below and tell us about your experience at Solitude Mountain Resort.