Driving the Zion – Mount Carmel Highway
Written by Lindsey Huster
/
5 min read
/
Last updated 5 months ago
The 10-mile stretch of highway from the Zion National Park entrance to Mt. Carmel is the epitome of a Sunday drive.  The winding road is full of unbelievable landscapes, and opportunities to view wildlife and the fresh air is energizing.  Originally, the road was intended to cut 70 miles off the drive from Zion National Park to Bryce Canyon National Park; although it can now be quicker to drive those extra miles since this is a scenic section of road that often has a traffic backup.
Zion - Mount Carmel Highway
We drove this section of the highway a few times during our stay and each time I was able to spot unique features I hadn't seen before.  Additionally, this scenic drive offers a slow pace to enjoy this journey along the way.  Cars will stop along the road to allow mountain goats to cross or to view the animals in a natural habitat.  There are places to pull off to stretch your legs or to enjoy a short walk.  There are also a few trailheads located along this part of Zion National Park.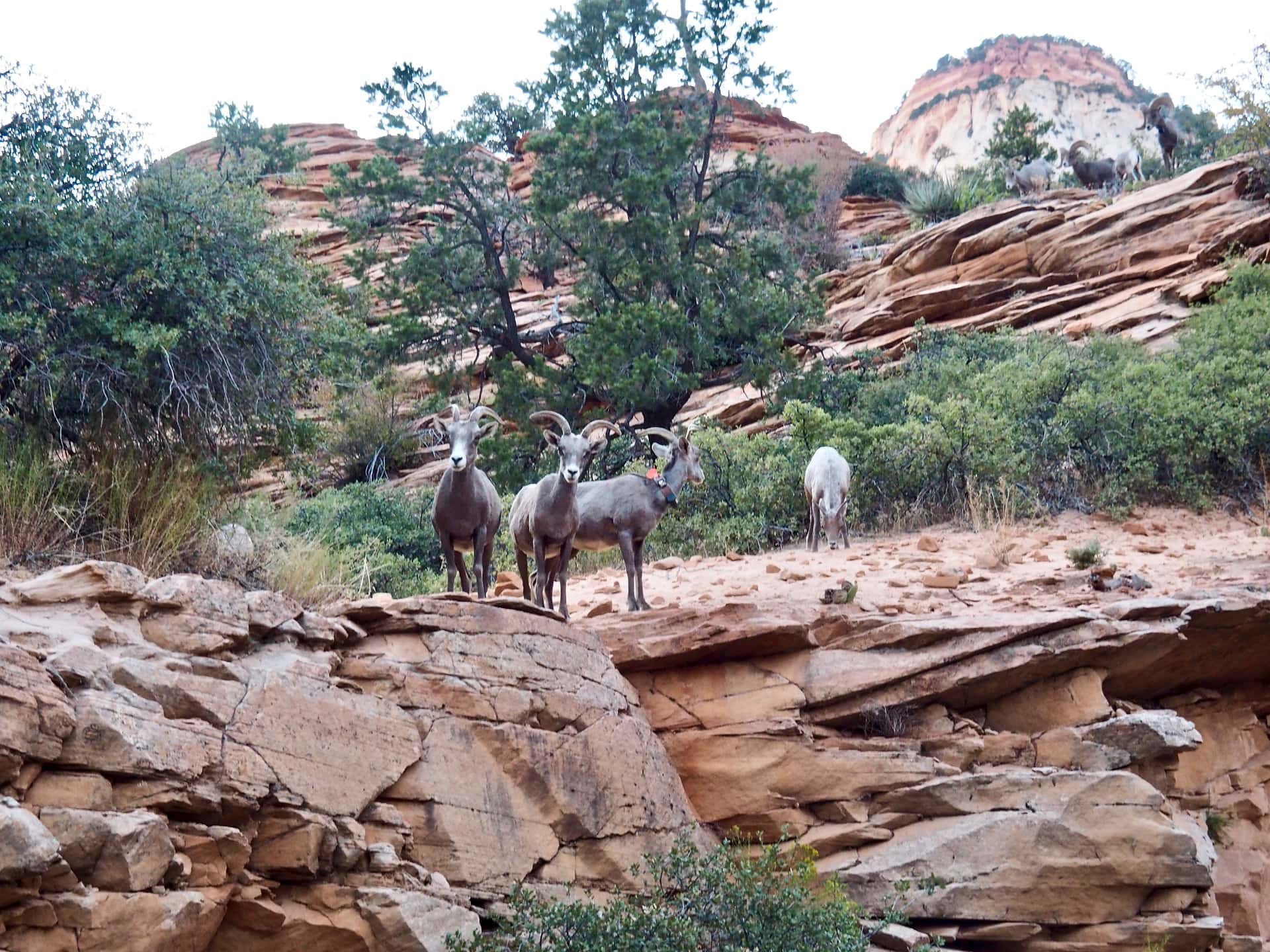 Check out our video
Driving through the tunnels
Two tunnels complete with windows make this drive even more extraordinary. The tunnels were built in the 1920s and this is important for two reasons. First, it took a half-million dollars to build and three years to construct. Secondly, because of the time period, the tunnels are quite small. The engineers never imagined the types of vehicles we drive today or that everyone would have access to such vehicles. Since the tunnels are small, driving slowly and carefully is key. If you are wanting to drive something larger, such as an RV or bus, or even tow a camper or boat through the tunnel you need to plan ahead for this. Arranging an escort while the tunnels are closed to two-way traffic is necessary.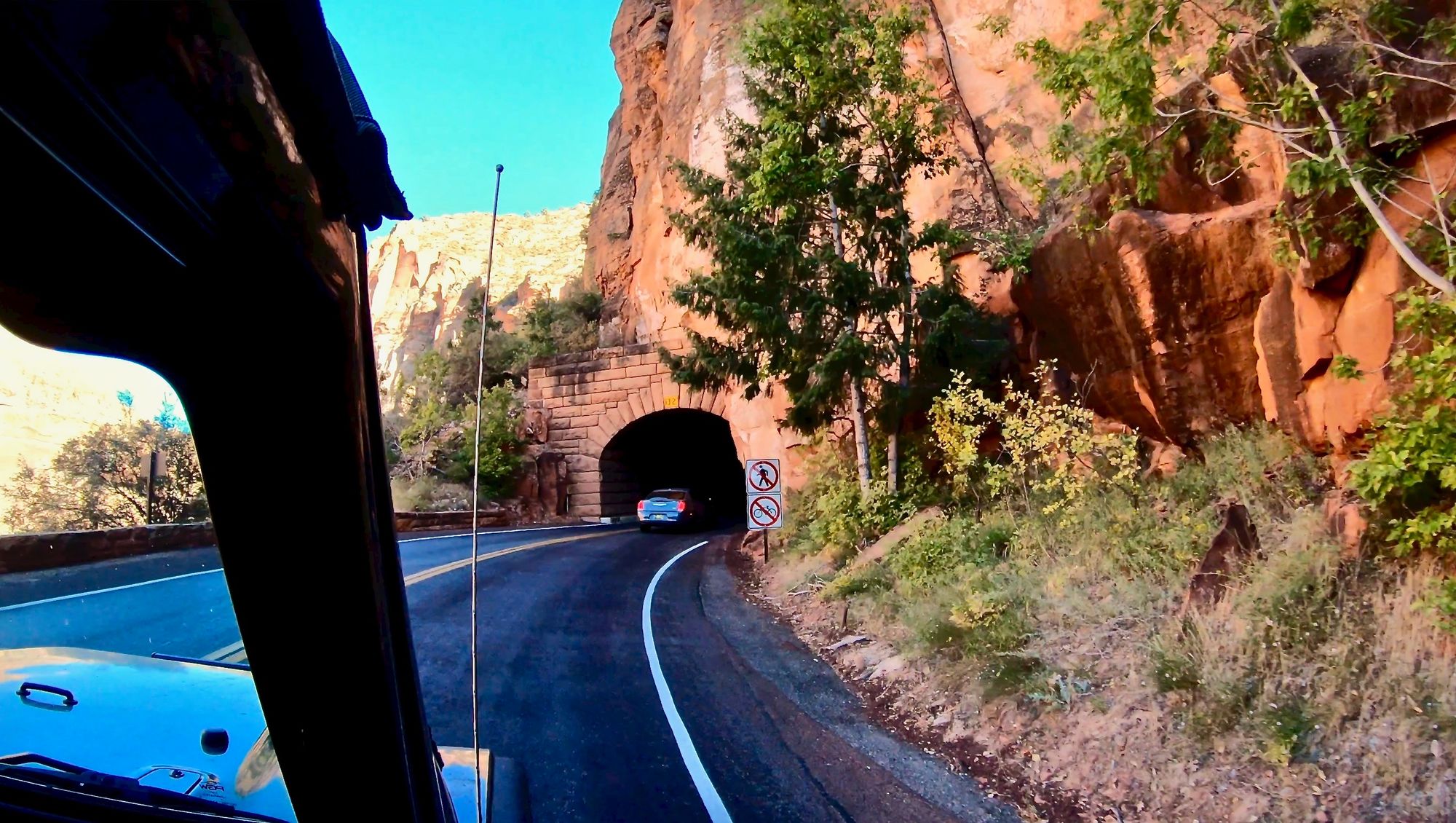 Quick facts about the drive
A 10-mile scenic stretch of road for sightseeing
A series of switchbacks climb over 800 feet
2 tunnels
One tunnel is 1.1 miles long and took years to construct
Six windows are cut in the tunnel to give light and ventilation
Stopping is prohibited with the tunnel
No bicycles or foot traffic through the tunnels
Arrange an escort for vehicles over 30 feet tall or 40 feet long- do your research
The scenic byway cuts 70 miles off the drive from Zion to Bryce
Our drive
This is by far, one of the most amazing drives I've ever experienced.  The Zion - Mount Carmel Highway features twisting roads that showcase one beautiful view after another.
We started on the Zion end and immediately were astonished by the switchbacks that give you different views of the canyon below.  Next, you pass through the tunnels that are mind-bending to think of the construction and time when these were built.  The "windows" offer a quick peek into the area.  Then the winding road meanders through a section of red rock, evergreen trees and so much more!
This is a great drive if you have a jeep, convertible, motorcycle, etc.  Even if you don't, open the windows and sunroof to enjoy all aspects of this drive!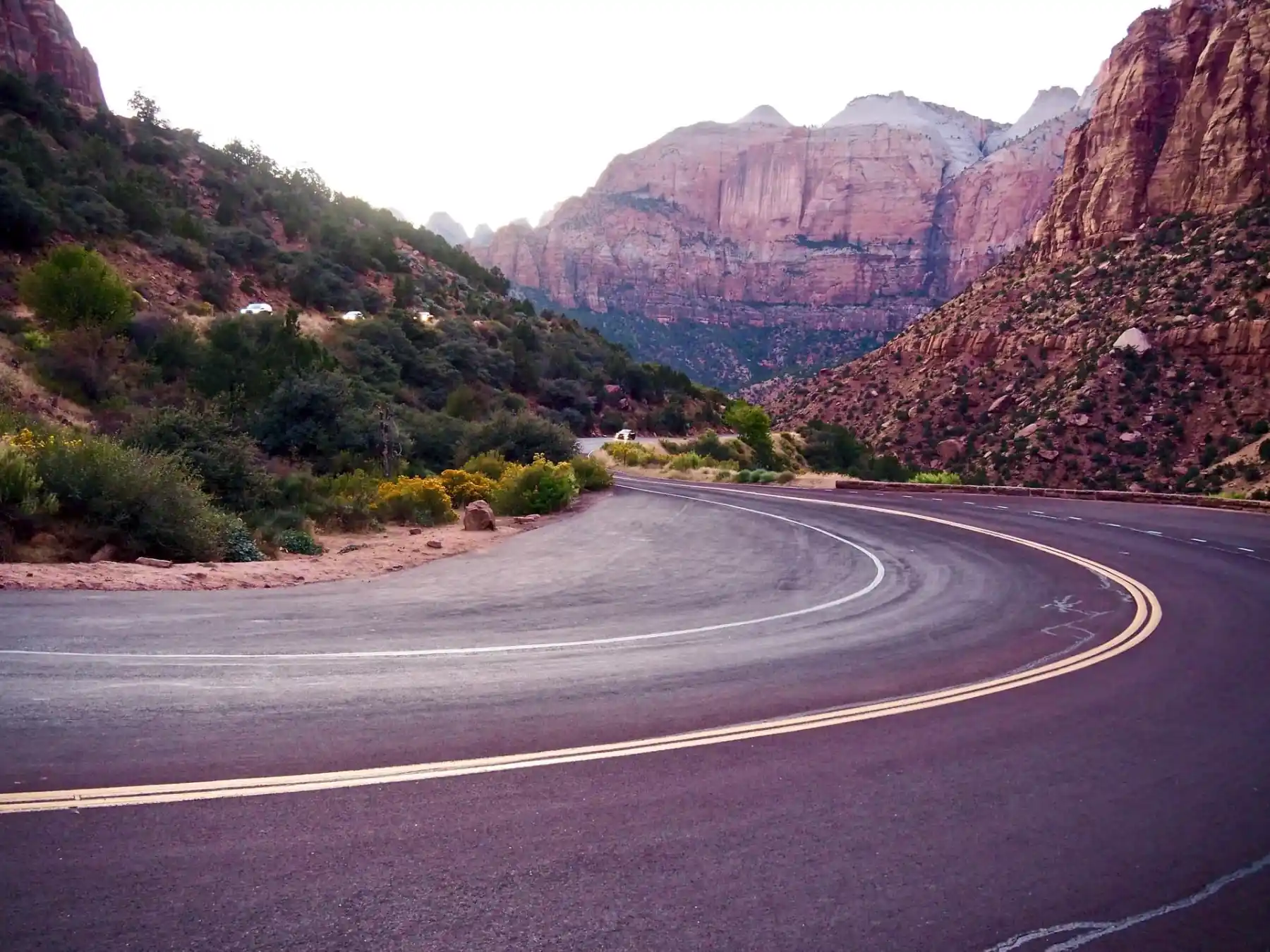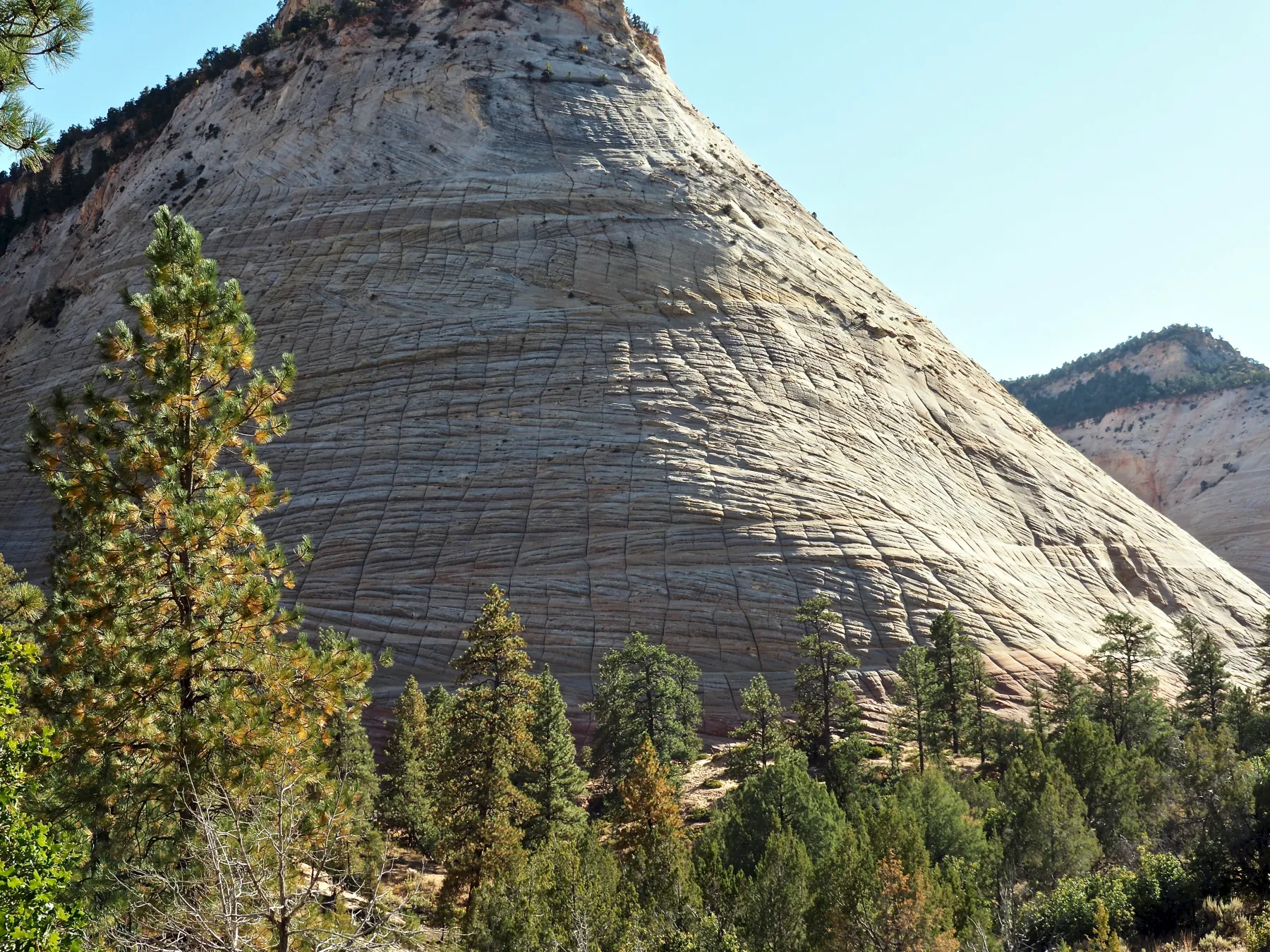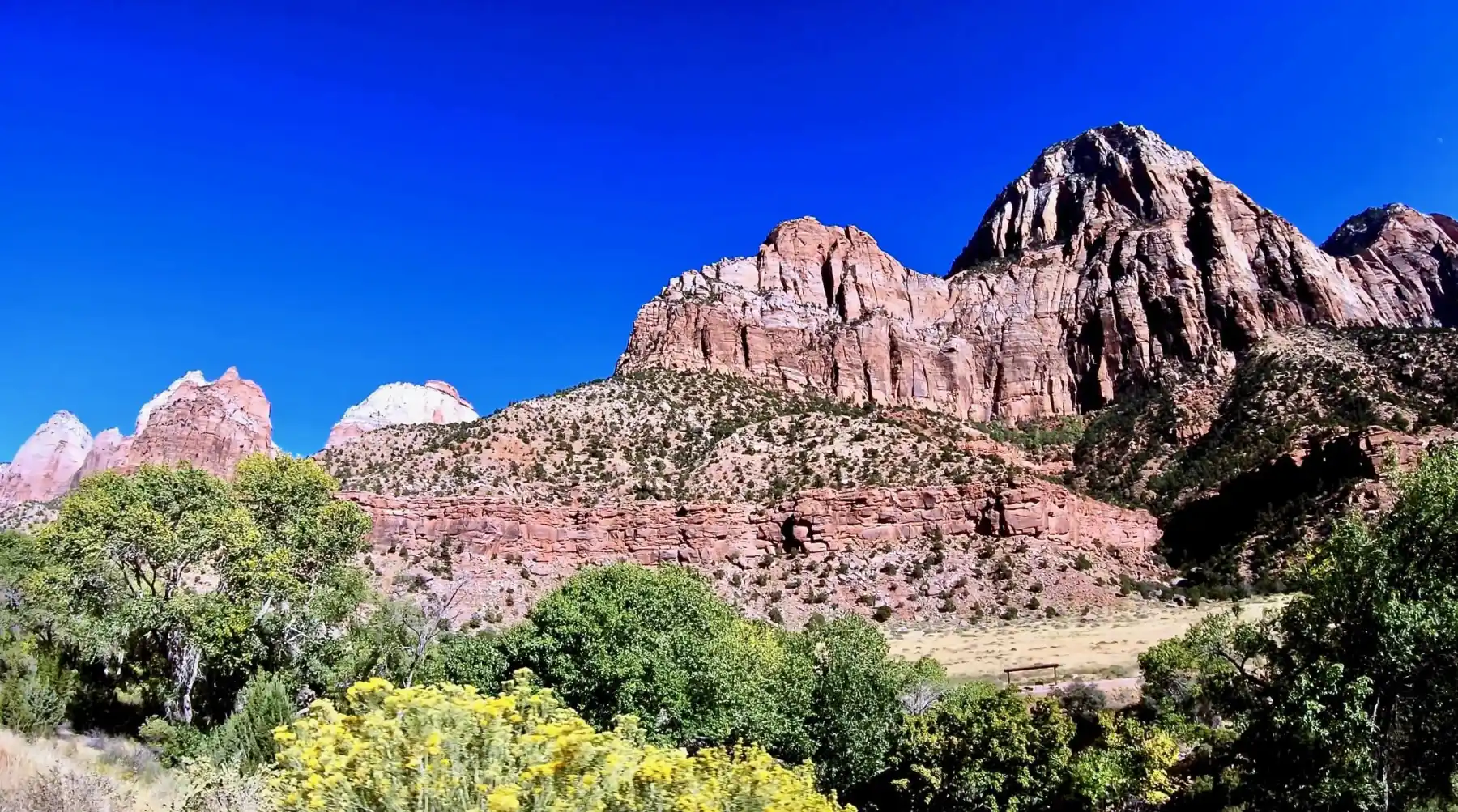 Stops along the route
There are several stops along the Zion - Mount Carmel Highway scenic byway.  Depending on the crowd, it may or may not be easy to hit these features.
Canyon Junction Bridge and the Great Arch are two great stops along the way.  One of the most photographed areas of Zion is located at Canyon Junction Bridge.  The best time for photography is sunset.  We never did actually stop at the bridge but passed through at sunset several times.  It's absolutely jaw-dropping.  Another stopping point is at Great Arch, there is a rather large pull-off in this area and it's a great place to take in the 360-degree view.
Checkerboard Mesa is another recommended stop.  Freezing and thawing have created vertical cracks that along with wind and water erosion have created a checkerboard look within the sandstone.  This is a great place to stop and get a closer look while trying to comprehend all the beauty you just witnessed along that portion of the drive.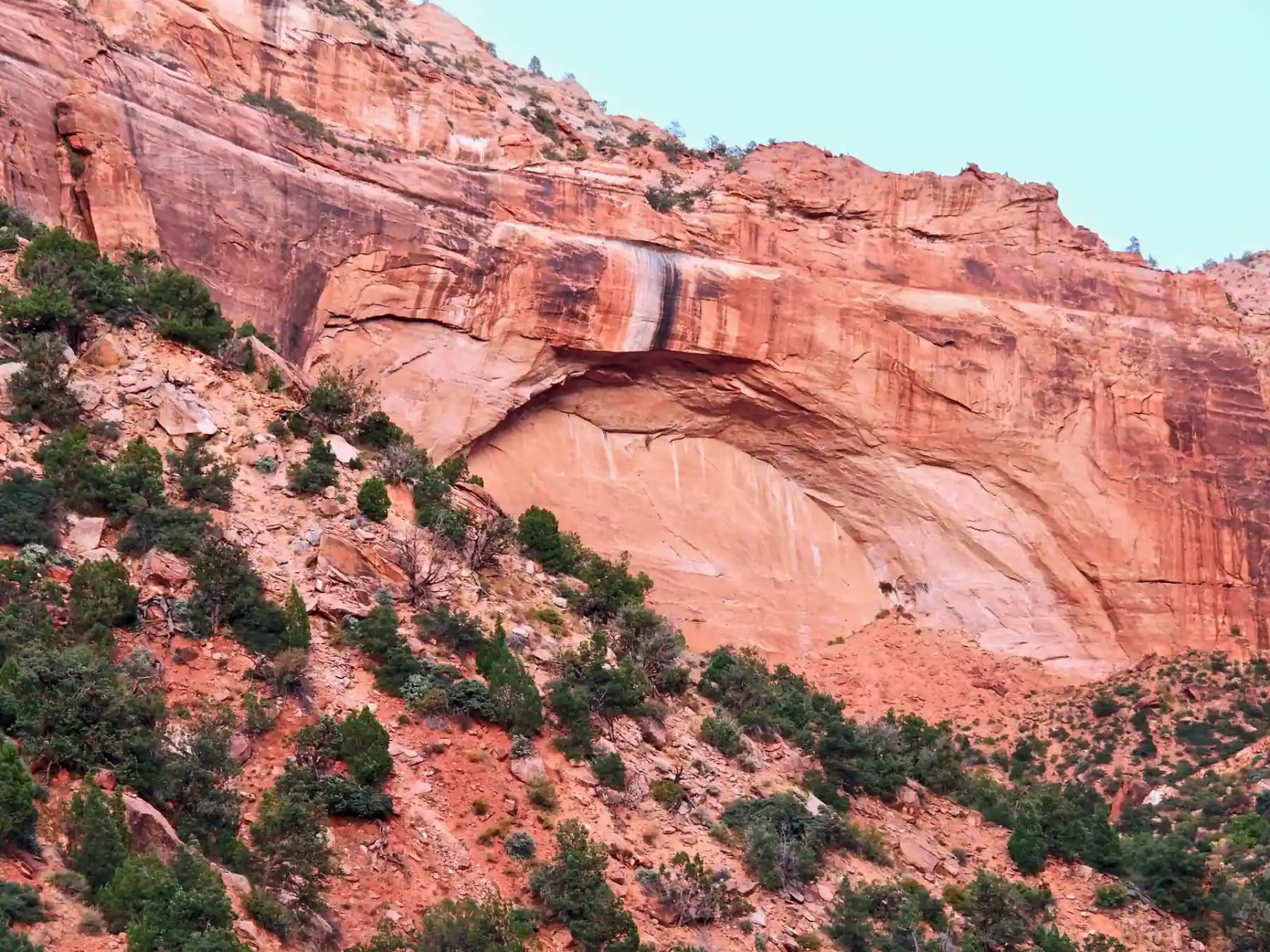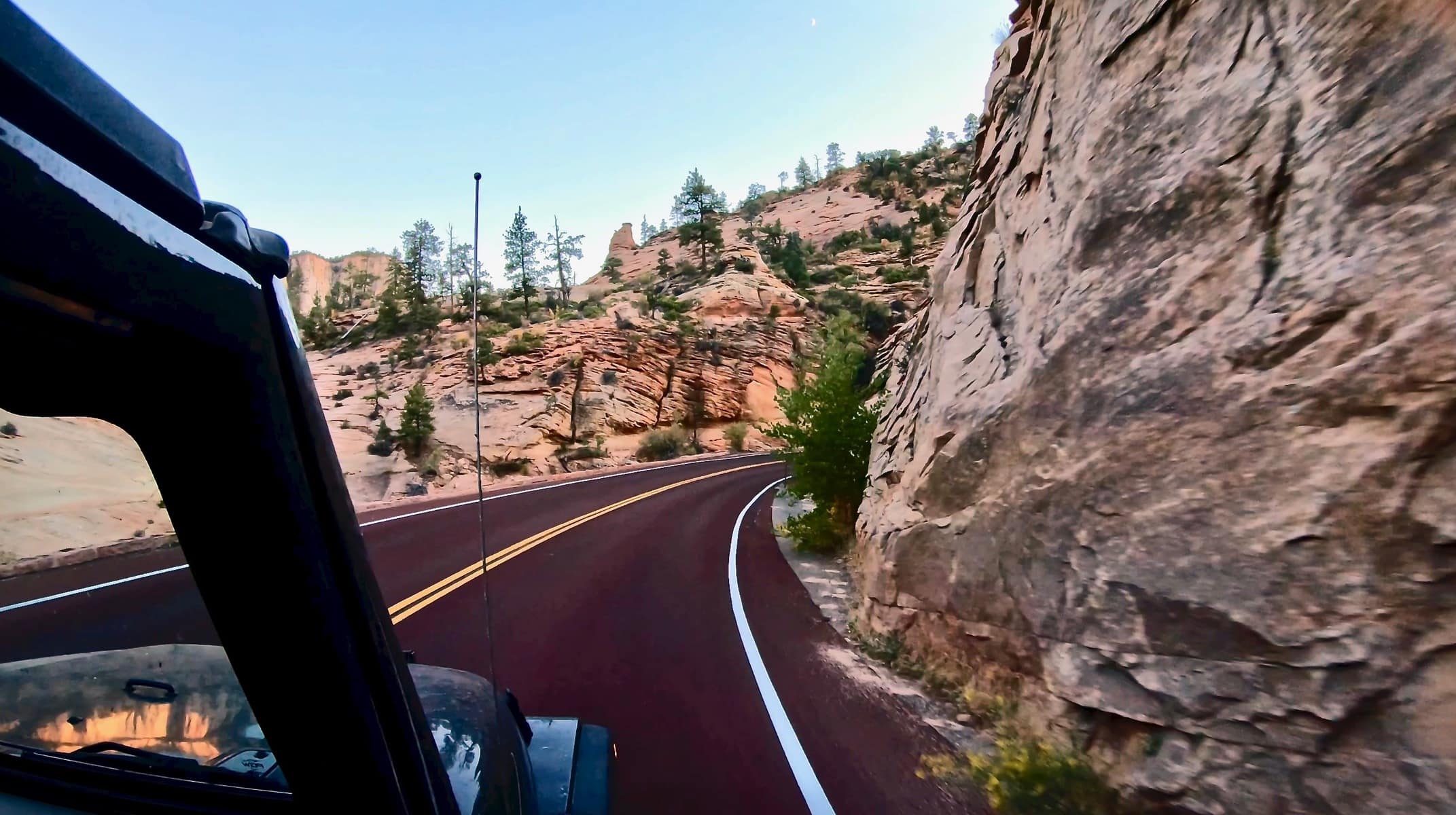 Stopping for pie at the Thunderbird Restaurant
If you have time, make your way out to the Mt. Carmel junction where the Thunderbird Restaurant is located. Attached to the Best Western East Zion Lodge, the pie at the Thunderbird is a must.
I honestly wasn't sure how the food would taste at this local diner, but we ate there two, maybe three times, and each time I was impressed with my order. I knew the pie would be amazing, but it was a great surprise to have such a good meal too.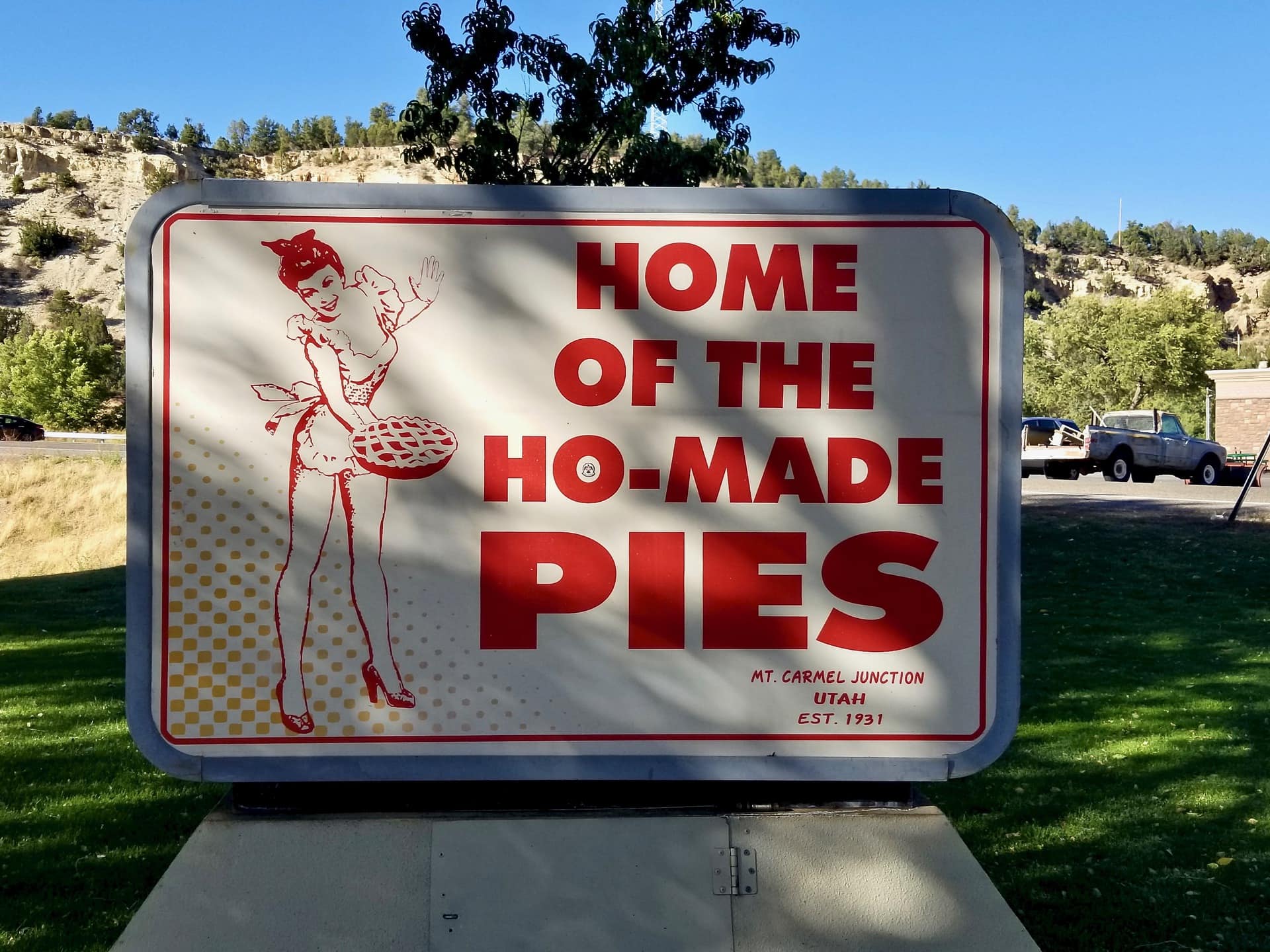 Pro tips for the drive
Stop at Checkerboard Mesa to stretch your legs
Find 1-2 additional stops for photo opportunities
Be prepared for a scenic, slow, and congested drive
Have your camera ready
Look for desert bighorn sheep