Fairyland Loop Hike
Written by Lindsey Huster
/
4 min read
/
Last updated a year ago
We hiked the Figure 8 Combination the day before and chose the Fairyland Loop next. The hike is 8 miles with a 1716-foot elevation gain. The park guide suggests it's a 4-5 hour hike and rates it as strenuous. On this hike, you will see the Chinese Wall, Tower Bridge, and tall hoodoos.
Fairyland Loop Trail
This trail is typically less crowded and actually can be started just outside of the park at Fairyland Point. Before you enter the park gates, you'll pass the Bryce Canyon National Park sign on your right. You'll take the next left. It's not marked going into the park, however, if you miss it and turn around you'll see the Fairyland Point sign.
Check out our video
Wildlife on the trail
Keith and I had read this was the area to most likely see wildlife. Unfortunately, all we saw were the usual chipmunks, birds, and a baby lizard.  We believe that we heard an animal down in the canyon while walking back to Fairyland Point along the Rim Trail. We aren't sure what it was and others passing by weren't sure either.  It was a little eerie to hear and we all had a slight moment of panic.
This was both a disappointment and a relief for me! Deathly afraid of snakes is an understatement for me and it can also be very dangerous if you encounter elk or moose. One online account said this hike is your best chance to see a mountain lion, fox, bobcat, etc. I'm not sure how likely this would be and later in the trip asked a ranger and he indicated it's not likely during the day.
Deer are another story. There are tons of deer in the park that wander and eat all along the road day and night. Be sure to look and you should see plenty off in the distance and close to the road. We saw this each time we were in the park.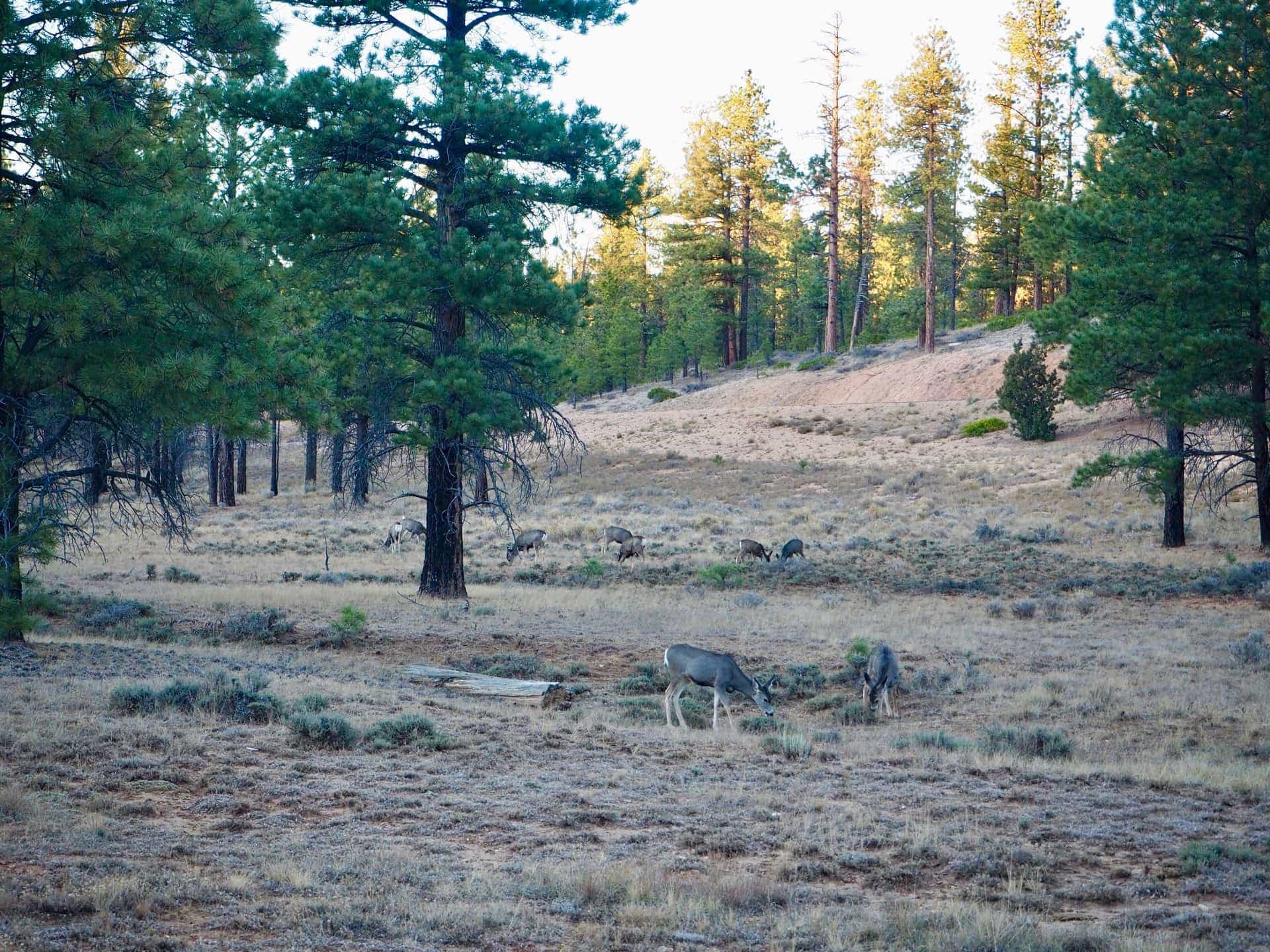 Our hike
The terrain of this hike seemed so different from the Figure 8 hike we had done just the day before. It was nice to see the variety that Bryce Canyon National Park offers.  My first impression was that the hiking would all be similar and that was not the case with the activities that we chose to do.  The Fairyland Loop offered some variation in the rock color.  The area near the Chinese Wall was very light-colored and some sections seemed as if you were in a completely different park.
Keith and I were both really paying attention to the rock formations during this hike.  Keith thought he "saw" several things; the Cheshire cat and Qbert were two of our favorites.  We had learned about the formation process of the hoodoos the day before and I was eager to point out the different stages (plateau –> fin –> window –> hoodoo).
As I said, the trail is an 8-mile loop and I hadn't exactly thought it through that the last 2.5 miles were along the rim trail.  After we began to come out of the canyon I was thinking we were done, but we had a bit of a walk to return to the jeep.  The rim trail was much busier and had a few rolling hills, I was just caught a little off guard… and hungry!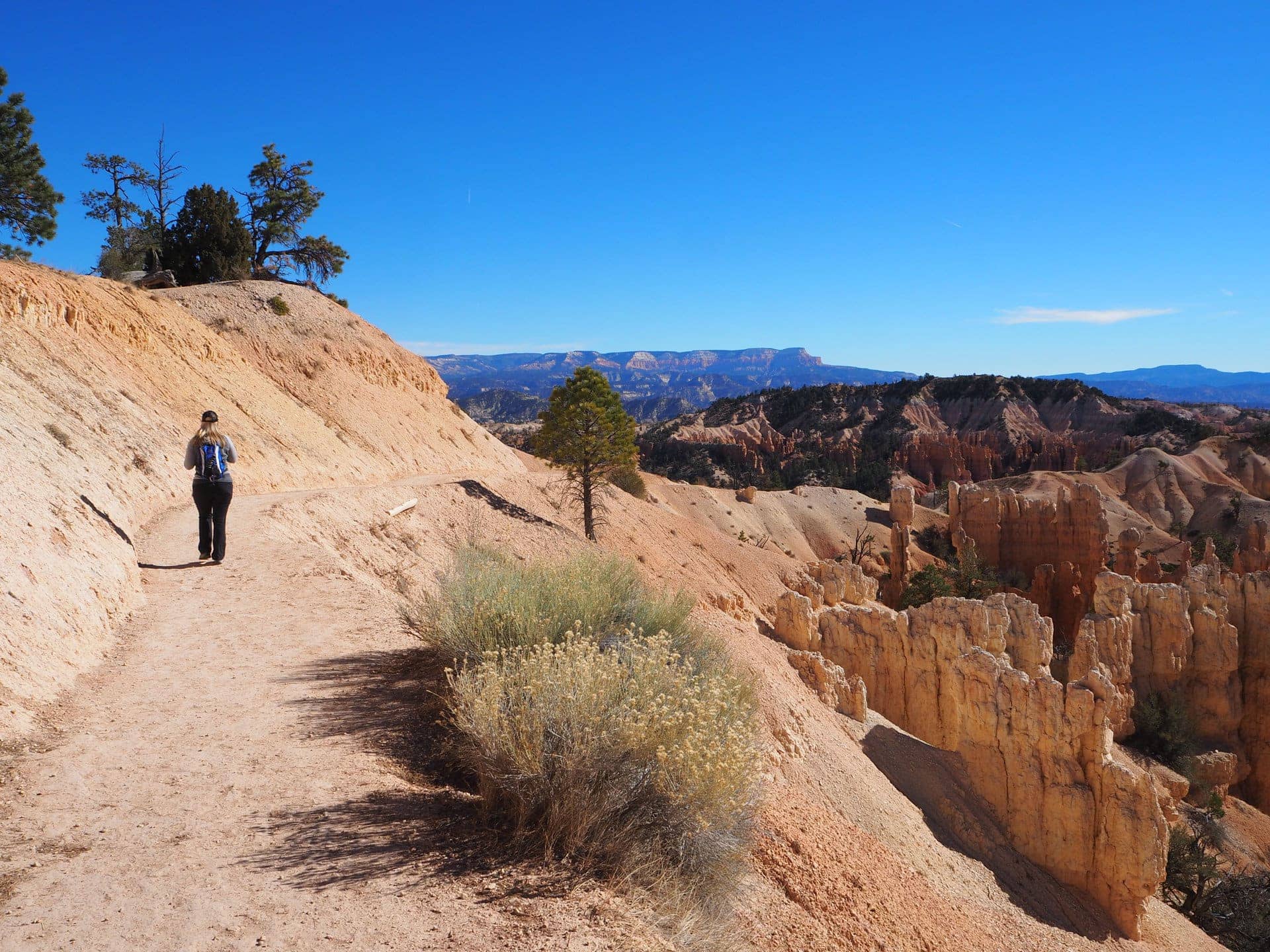 Chores
It may seem that we're always out exploring, but there are also chores that must happen on a daily basis.  Once we returned from the Fairyland hike there were chores to be done.  This usually starts with unpacking our backpacks and starting camera/video downloads as well as charging batteries.  Next, we shower and eat.  On this particular evening, we needed to walk Lexi and do laundry.  If we are out for the day we walk Lexi before and after our absence.  This insures she has had some physical activity for the day.  If we did not do this, she would literally sleep all day!  This also helps us to know that she will sleep through the night and not get her days and nights mixed up.
Keith and I had a full day of hiking and spent some time on chores and quality time with Lexi.  Everyone was happy by sunset!  Don't you just love that kind of day??