Hiking Angels Landing at Zion National Park
Written by Lindsey Huster
/
6 min read
/
Last updated 20 days ago
Angels Landing is one of the most well-known hikes in America and around the world! The unique formation, nearly 1500 feet tall, juts out to the middle of Zion Canyon. Local legend states that the hike got its name after upon seeing the fin in 1916, Frederick Fisher exclaimed, "Only an angel could land on it!" Ten years later a trail was cut into the solid rock, giving hikers an unbelievable view of the canyon.
What is Angels Landing?
The dramatic climb up the steep narrow rock while hanging on to a chain is NOT for the faint of heart. Significant exposure to cliff edges creates a heart-pounding experience for adventurists. This iconic hike attracts thousands each year to Zion National Park and is certainly known as one of the most dangerous hikes in the world. Since 2004, 11 people have died from falling along this trail.
*We caution you to do your own thorough research before attempting this hike.*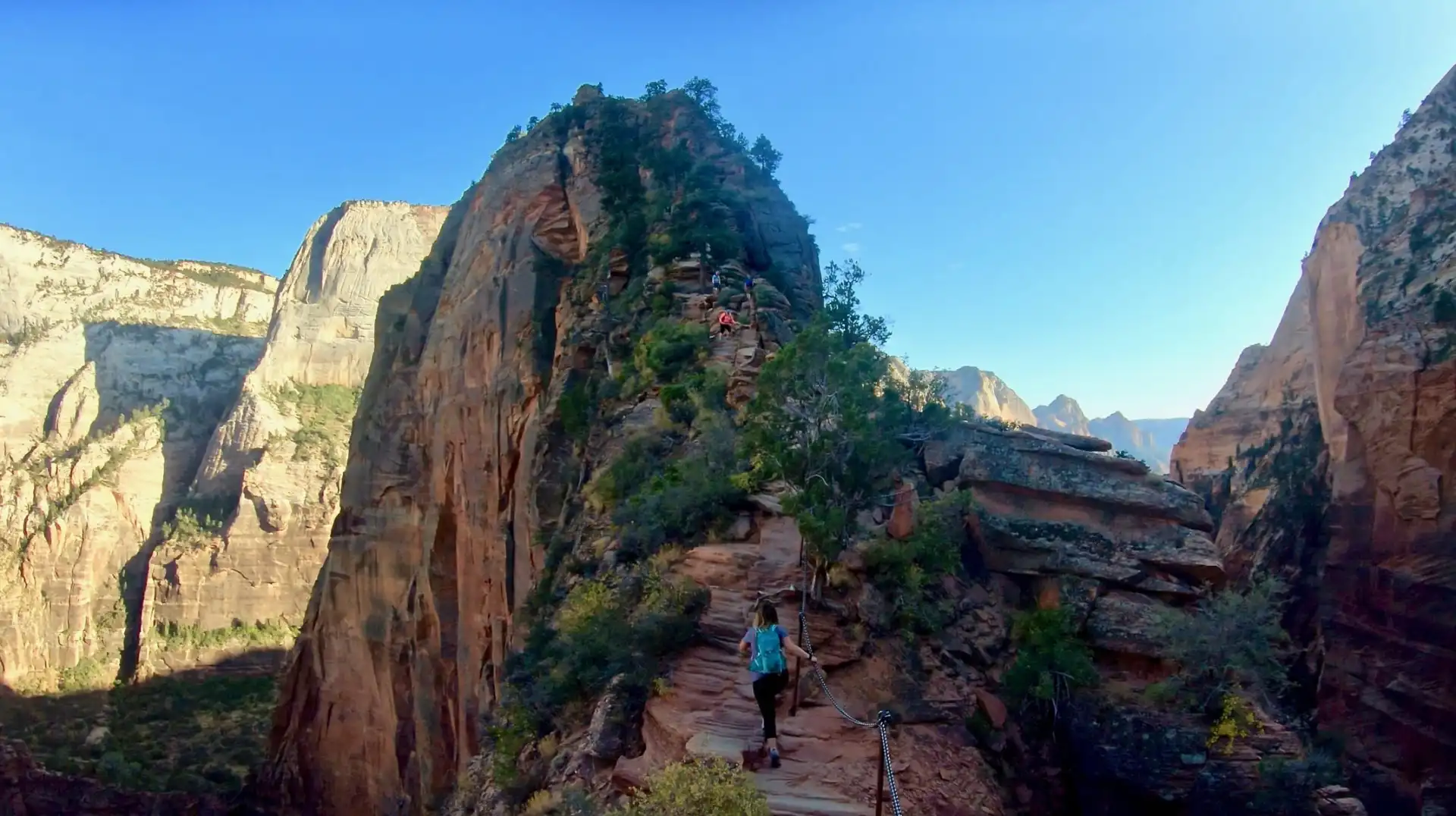 Check out our video to experience the hike through our eyes
Quick facts about the hike
A permit is now required to hike the chain section. You can however hike to the base of the chain section or to Scout Lookout without a permit.
Shuttle Stop: The Grotto
Length: 5.4 miles roundtrip – 2-4 hours
Elevation Gain: 1,500 feet
Difficulty: Strenuous
Not recommended for young children or those afraid of heights
Early or late in the day, sunset is great for pictures
Since 2004, 11 people have died from falling
Making the trek to the top
The hike to Angels Landing begins across the street from The Grotto shuttle stop. Proceed across the bridge and follow the West Rim Trail, which is clearly marked. The start of the trail follows the river through the canyon and is quite easy.
Next, you begin to climb a set of concrete switchbacks up the canyon wall to Refrigerator Canyon. You are then rewarded with a cool easy section that leads to Walter's Wiggles. Walter's Wiggles, a set of 21 very tight switchbacks, allows you to gain in elevation quickly.
Enjoy the break and the amazing views at Scout Lookout. There are also restrooms here, but no drinking water. We did not use the restrooms, but I did read they are often lacking toilet paper. Therefore, it would be best to be prepared with your own.
Now, you will have to decide if you feel comfortable continuing across the saddle to the even more mentally challenging climb to Angels Landing. Continuing on, you will be thankful for the chains bolted into the rock. This assistance is needed as you climb the incredibly steep and narrow hogs back to the summit. Once you reach the summit, you are rewarded with a 360-degree view of Zion National Park.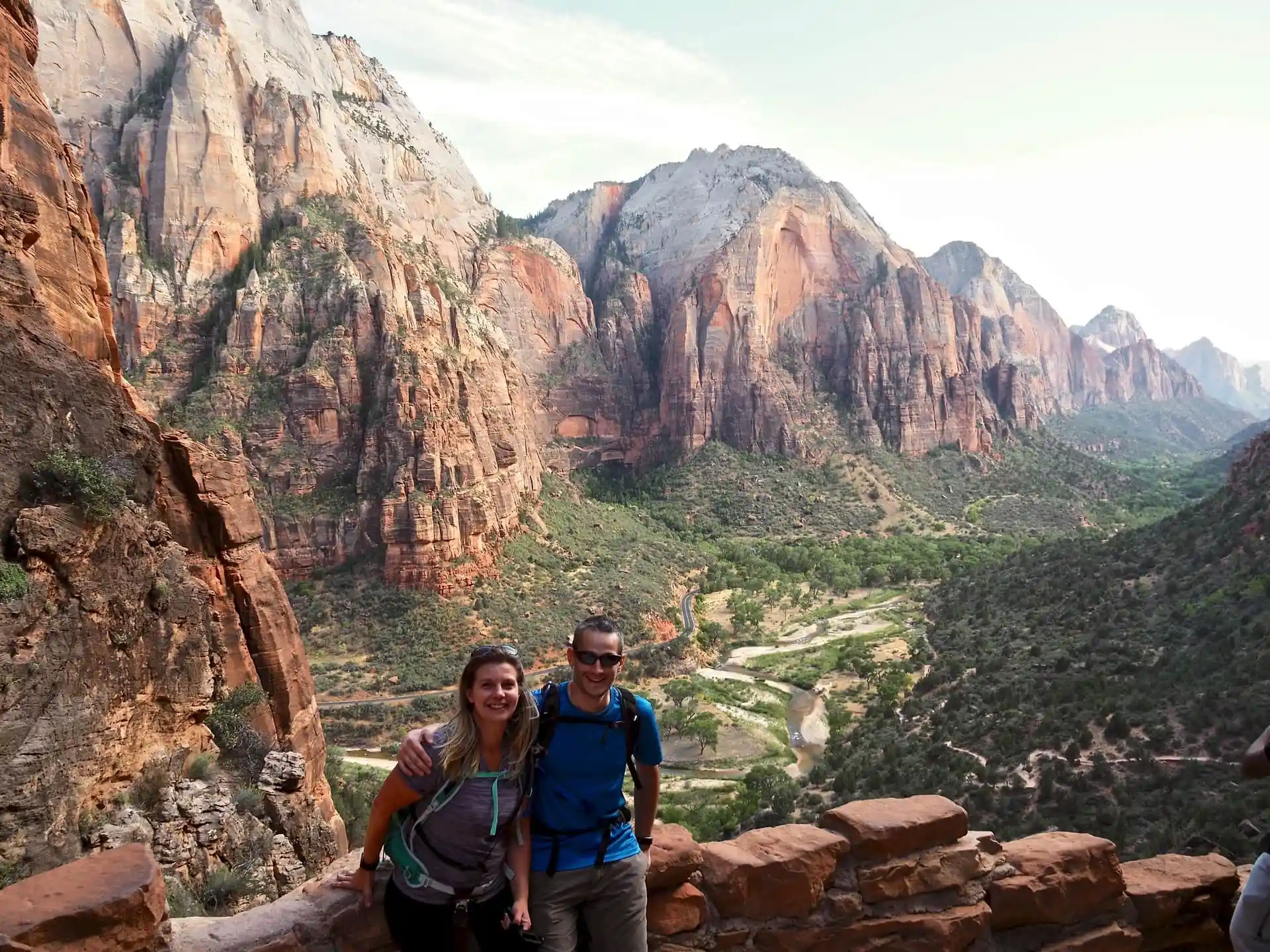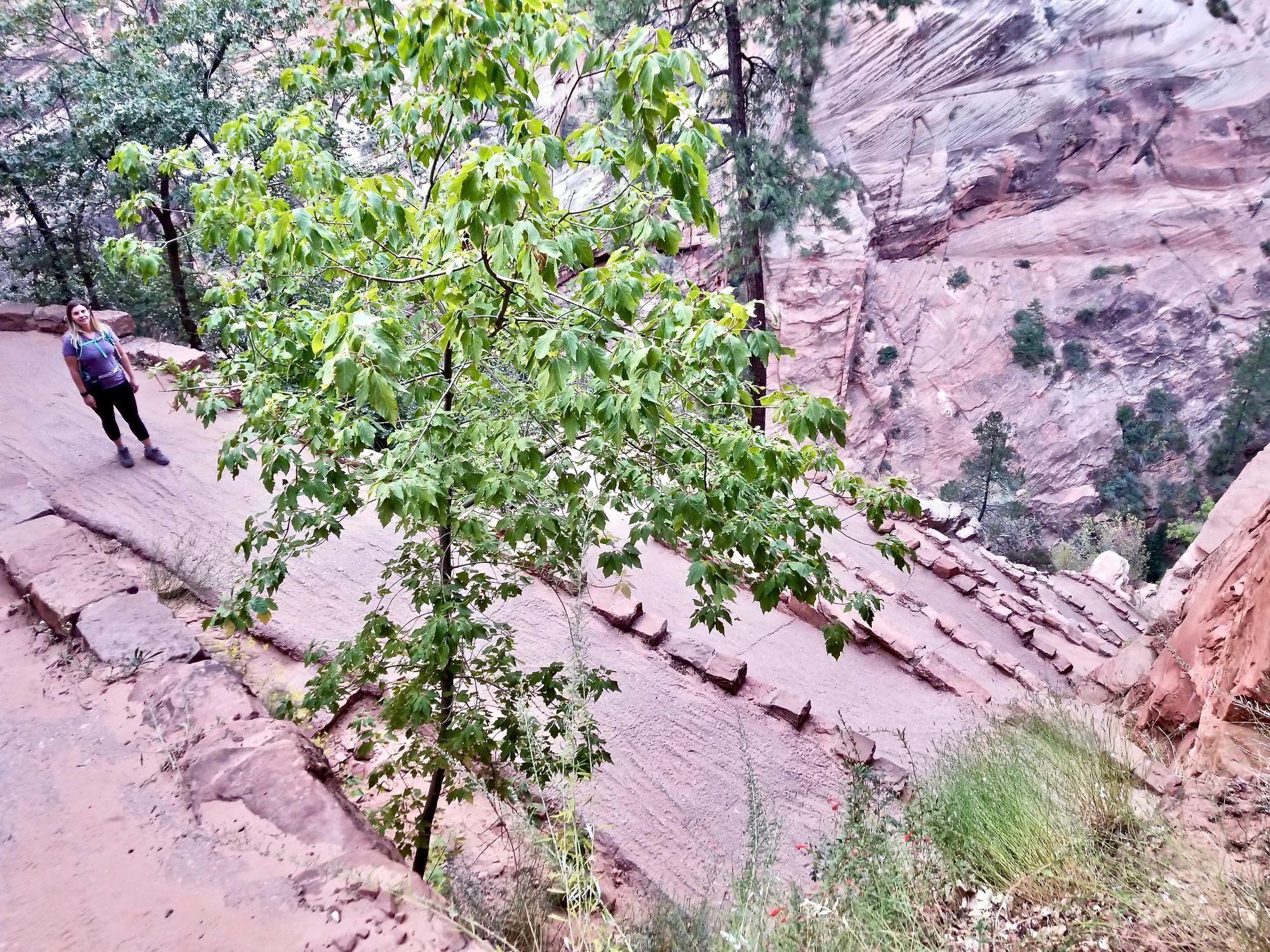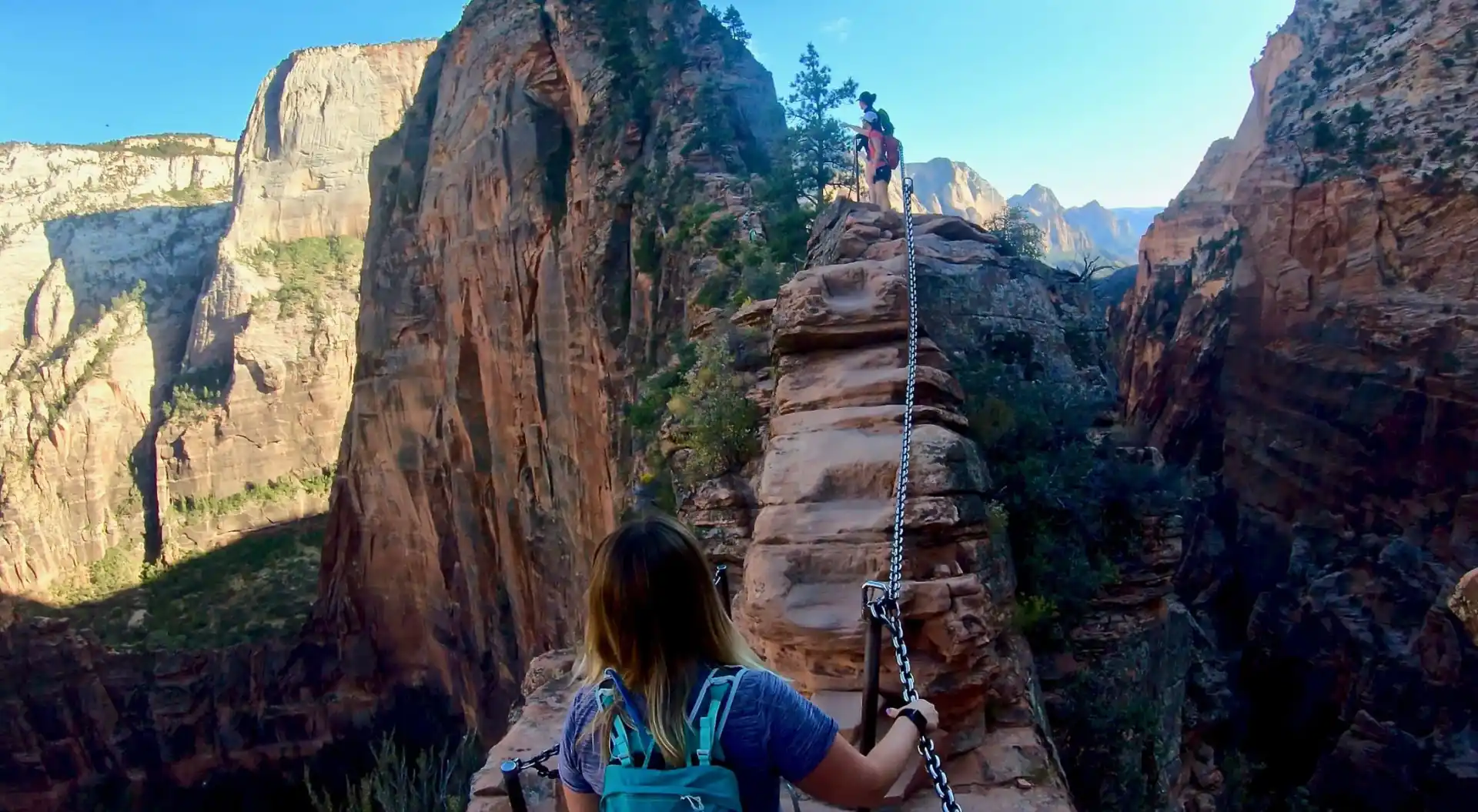 Reaching the top and descending back down
I pretty much experienced every emotion possible on this hike! I felt excited to be exploring this beautiful national park. In addition, this hike was one of the bigger highlights I wanted to conquer on our trip. I had done enough research that I knew it would be challenging for me mentally. It was scary and I was curious to find out if I could actually do it. Seeing it for myself would be the only way to know the answer.
I was also quite worried about Keith. This would be the biggest hike he's done since his surgery and I wondered if the conditions might be a little too much. Plus, he had already gone mountain biking that morning. I was just worried about the possibility of him being unstable and this is not the hike to be on if you are not sure-footed. Not only were the consequences deadly, but I also didn't want him to reinjure his knee with the climbing. Overall, there were various aspects for myself and for Keith that concerned me.
Overall, the hike was what I anticipated, but at the same time, there were parts that were easier and parts that were harder than I imagined. At the end of the day, I was physically capable of doing this hike and the mental anguish was just that. I could let it get the best of me or be more reasonable in my thoughts. The biggest factor that allowed me to complete this hike was the fact that it was not crowded. I could take my time, letting others pass as needed and I did not ever feel unsafe passing people since it wasn't necessary. I do not think this would be the same experience on a busy day. I would not do it again unless under that condition.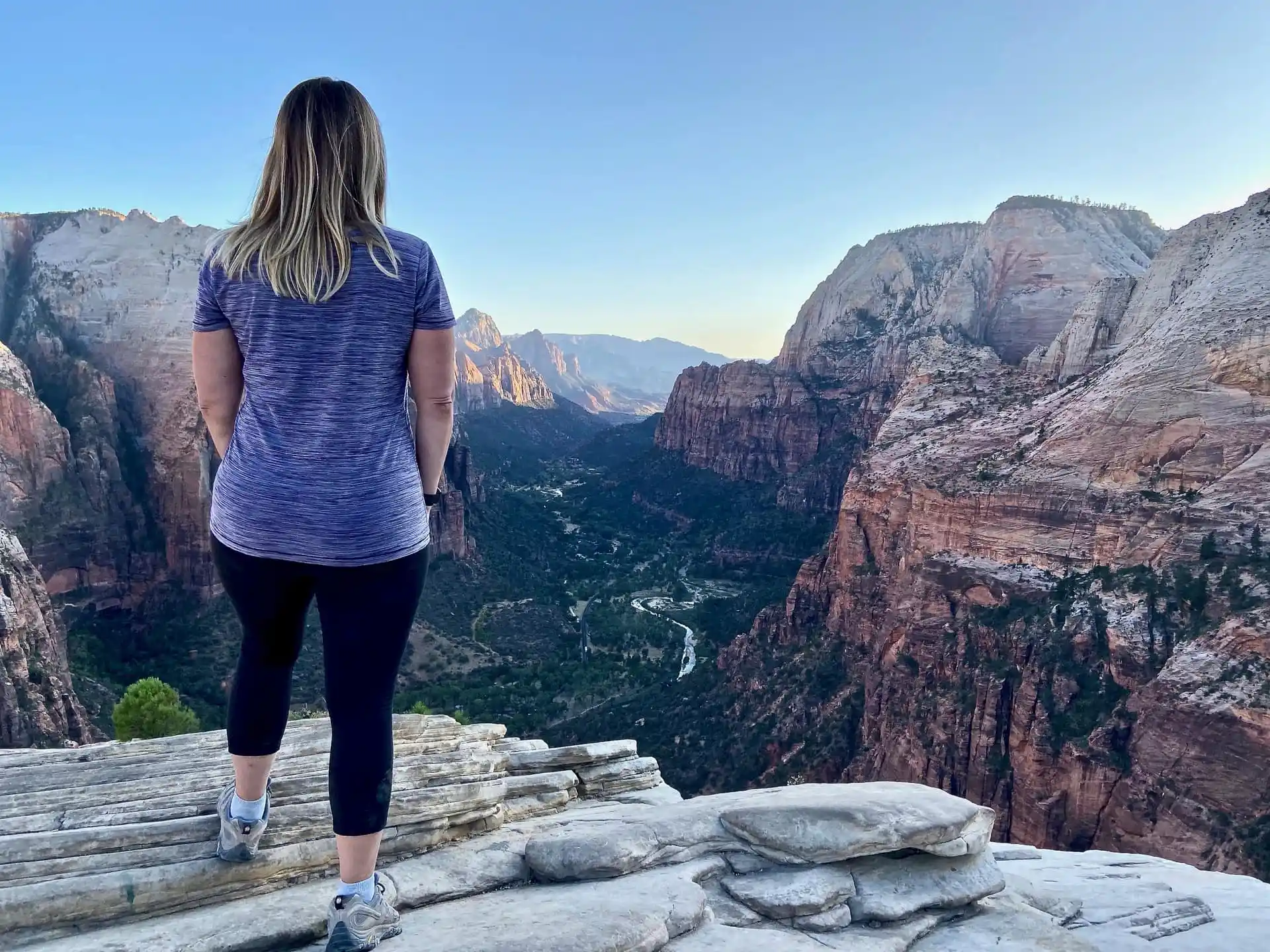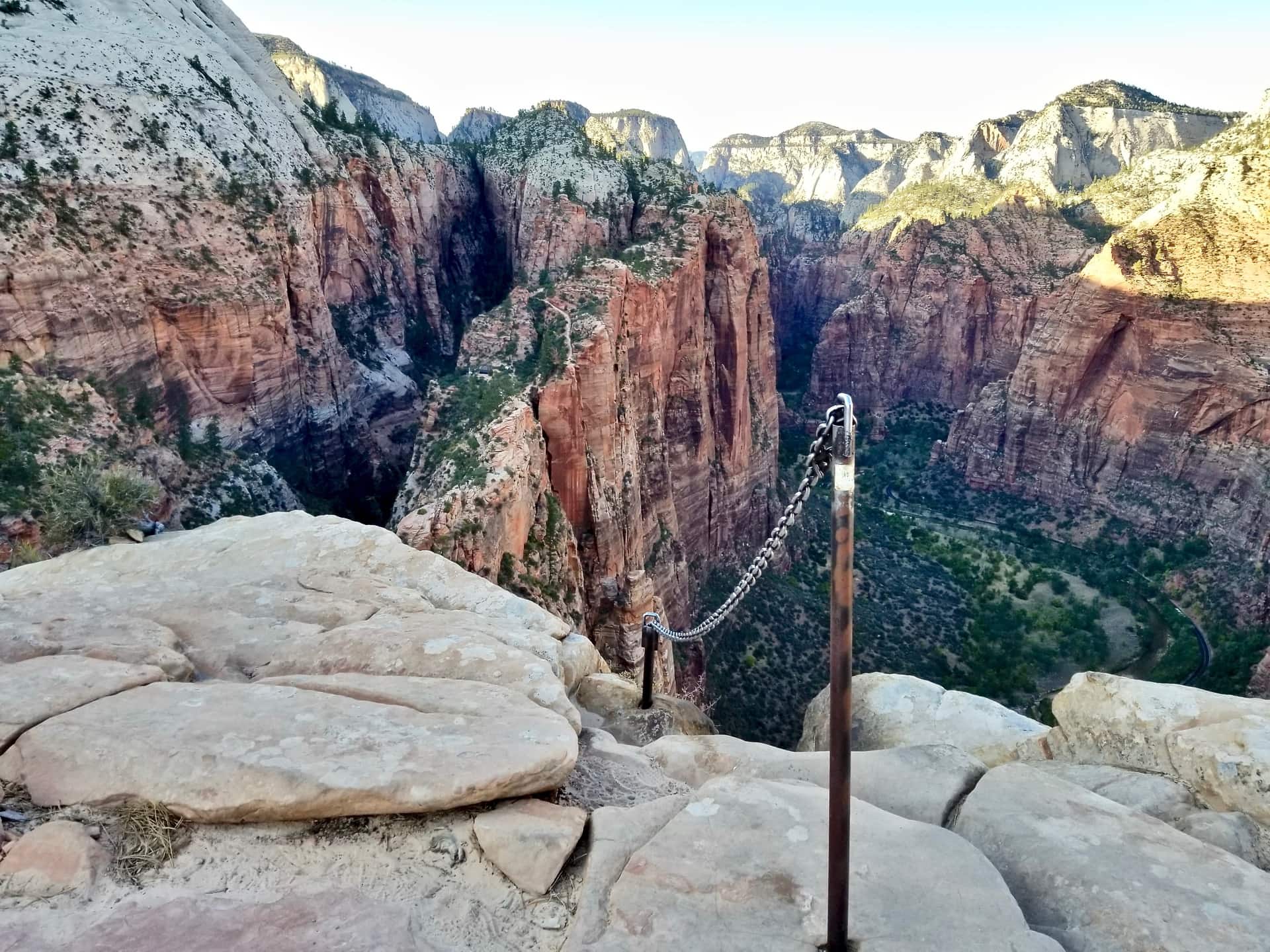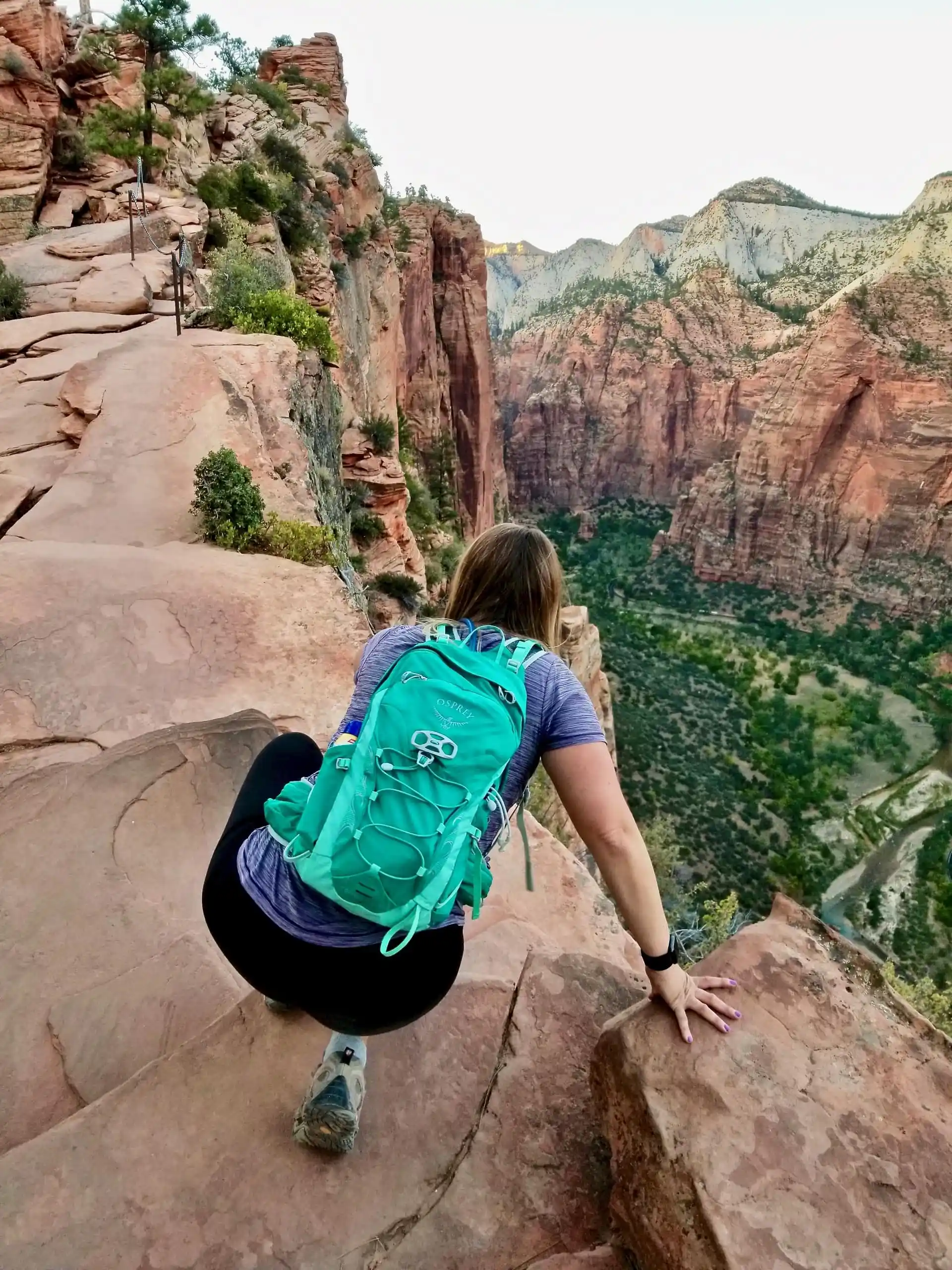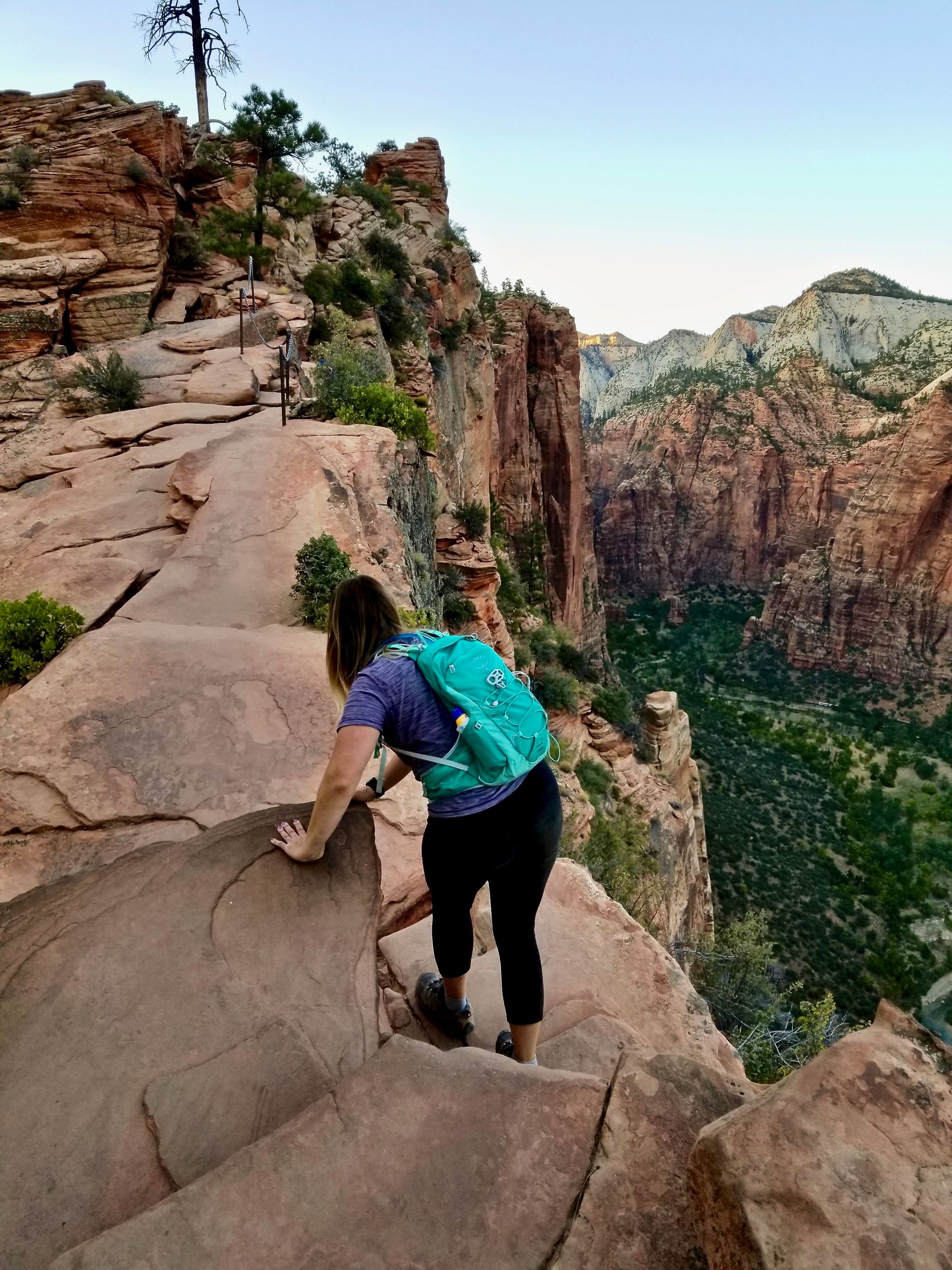 Pro tips for the hike
Wear a backpack to keep your hands free; take water and a snack, chest mount or backpack mount for GoPro, and make sure your camera/phone is hands free
Wear good hiking shoes
Go when the least amount of people will be hiking; you will want space in the chained area and if it's too busy, you will be scrambling around others
Be prepared and research this hike to decide if it's for you; the hike to Scout Lookout might be as far as you go and is still worth doing.
If you become too uncomfortable during this hike, turn around!
This is a truly challenging hike
What has been your most challenging hike? Was the difficulty more mental or physical? What did you do to help yourself make it through? Comment below and let us know!