Hiking Red Reef at The Red Cliffs Recreation Area
Written by Lindsey Huster
/
4 min read
/
Last updated 5 days ago
Hiking the Red Reef Trail at the Red Cliffs Recreation Area is a short hike with a unique payoff. Less than a mile into the hike you are presented with Moki steps. It wasn't until this trip had I ever even heard of Moki steps. It is a unique feature that I had seen pictures of and was excited (and a bit nervous) about completing for myself. This is a great short hike nearby that added a lot of fun to our trip!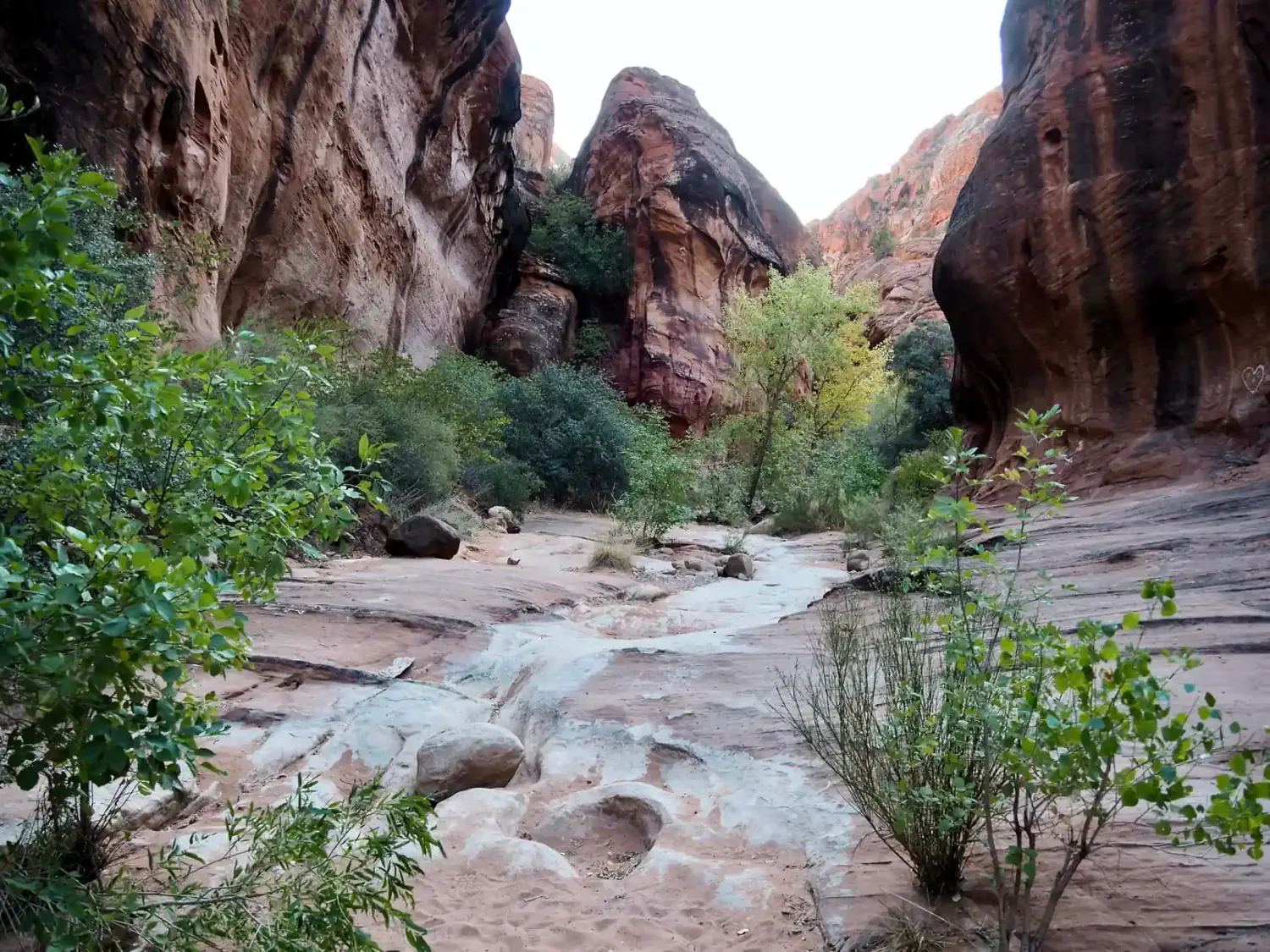 Check out our video
What are Moki steps?
According to Wikipedia, Moki steps are:
"sometimes spelled alternately as Moqui steps, are a recurring feature found in areas of the American southwest previously inhabited by the Ancestral Puebloans and other related cultures. The steps consist of alternating hand and toe holds carved into vertical or near-vertical sandstone surfaces. The steps are usually two to three inches deep, and three to four inches in width and height. Moki steps are often found near cliff dwellings and water sources. They may have allowed relatively quick access to difficult-to-reach areas such as slot canyons, look-out positions, and granaries."
Since being introduced to this term and its meaning, I've seen these steps elsewhere and it gives you insight into what the area may have been used for in the past. It's interesting and thought-provoking to imagine these people long ago in the area where you are currently standing trying to understand their way of life and experiences.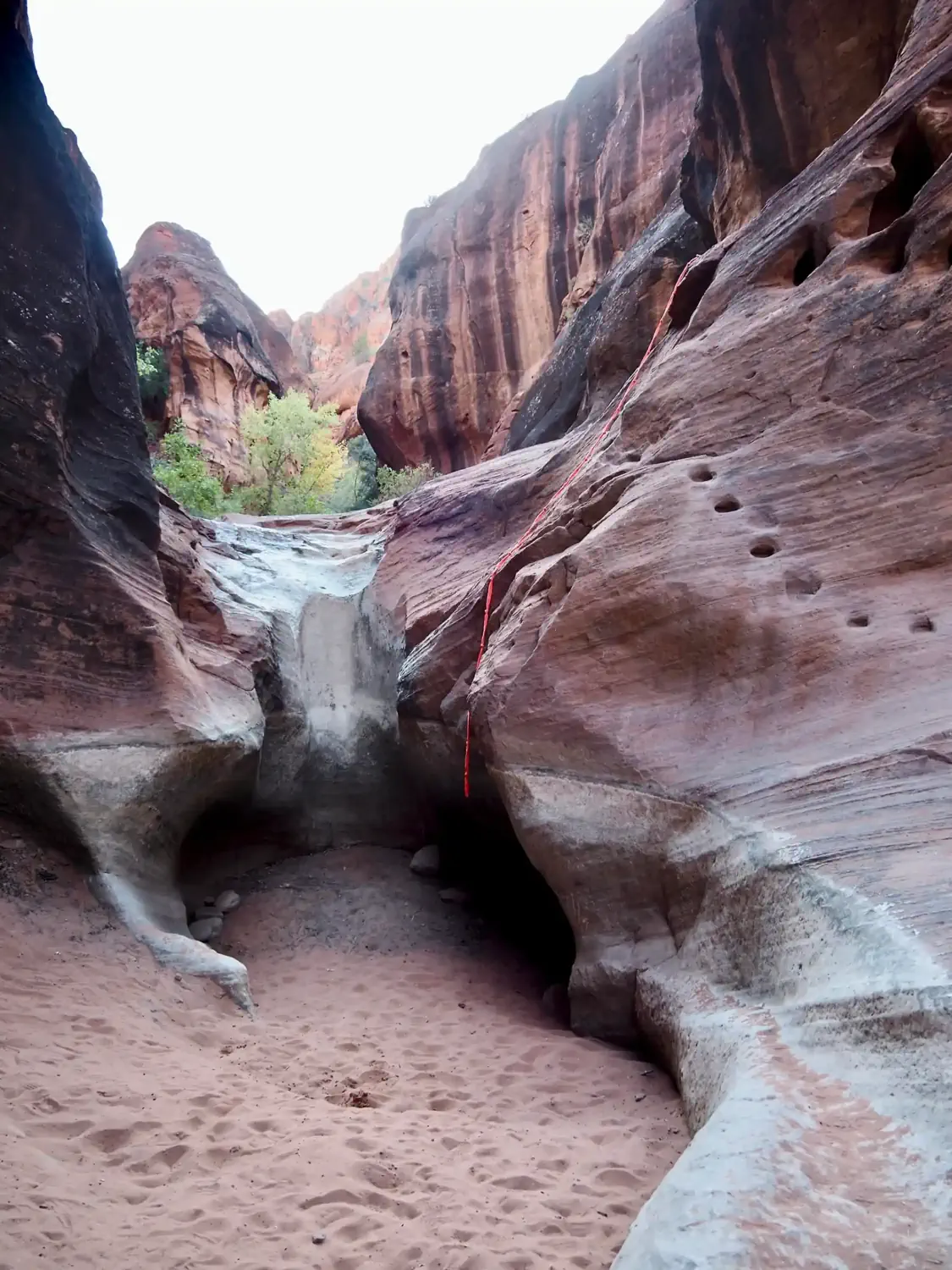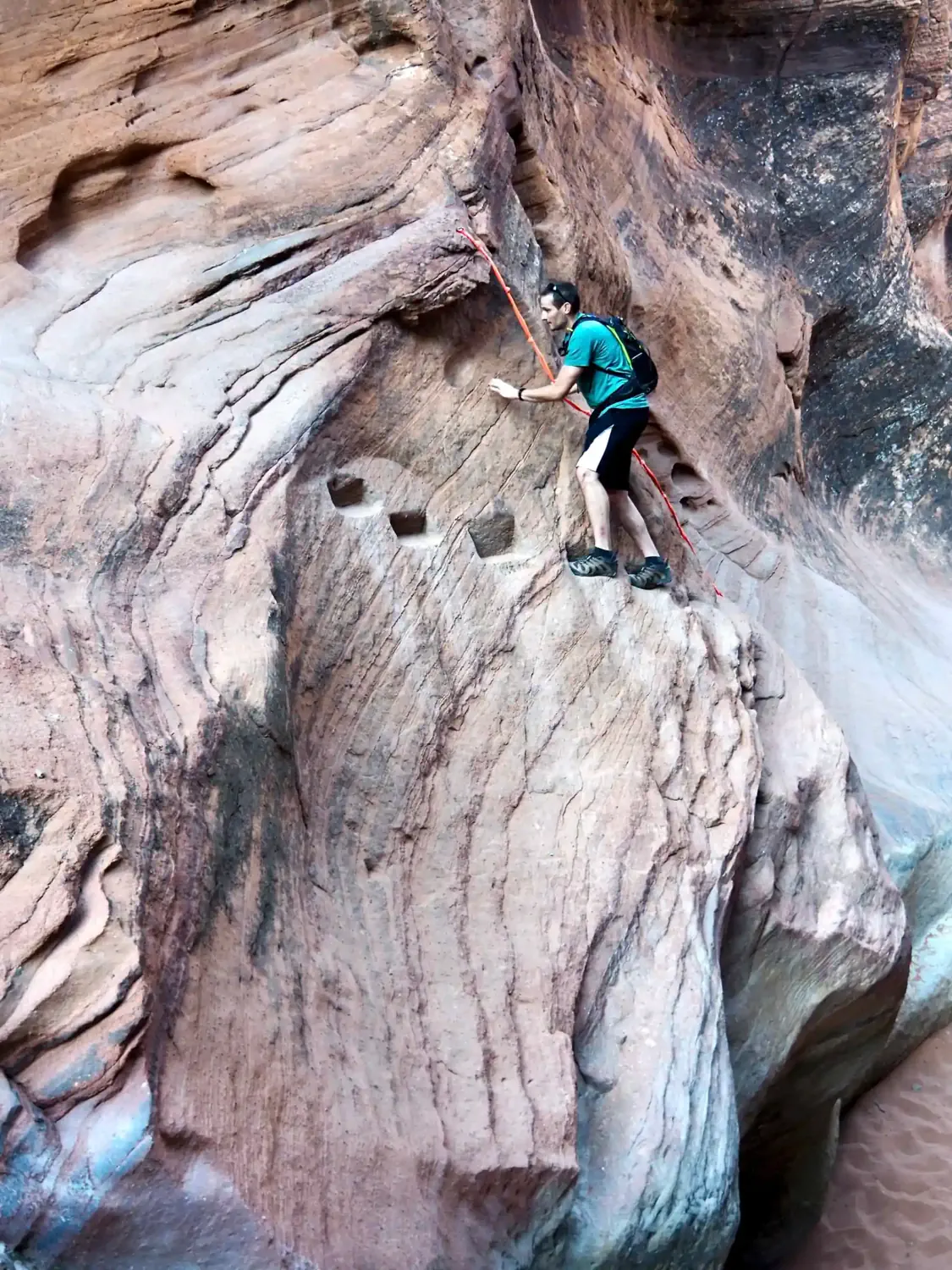 Quick facts about the hike
1.5 - 2 miles, out and back
Plan for 1-2 hours
About a 225 ft. elevation gain
The hike is rated easy, although the Moki Steps add a layer of difficulty for some
Moki steps and rope are used to access the area above the waterfall, regardless if there is water present
Packed sand, loose sand, rocky creekbed, and sandstone conditions exist; also pools of water or mud are possible; our hike was completely dry in October 2019
Dogs permitted on leash
Our hike
There are so many well-known locations in this area; Zion National Park, Snow Canyon State Park, Sand Hollow State Park, etc. However, if you are looking for something less crowded and north of St. George if you are traveling in that direction or from that direction, Red Cliffs Recreation Area was a big hit each time we visited during this trip. We were staying in Leeds, Utah and this gave us a place close by to explore in the evenings after Keith got done working.
The night we hiked was a bit busy and you could hear groups of people off in the distance. I believe there was a school or church group camping and hiking at that time. There were others around, but with several areas to explore, we were never really close to others. Mainly we just heard them. Even so, it was an enjoyable evening for Keith and me. We got to explore the area and visit some really cool features. Prior to arriving at the Moki steps, you can't miss the "elephant tree." This is one of the more appropriately named features I've ever seen. How fun!
After the Moki steps, depending on the conditions, your hike could be a bit longer than ours, but we decided not to go any further beyond the next big obstacle. We did follow some other trails to the top of the canyon and basically overlooked where the Moki steps were. It was a different perspective and we were trying to see if there was another way around to make it more of a loop trail. We did find rappelling hooks, but that was the only other option so we made our way back to the route we took in and enjoyed again using the steps to get back down.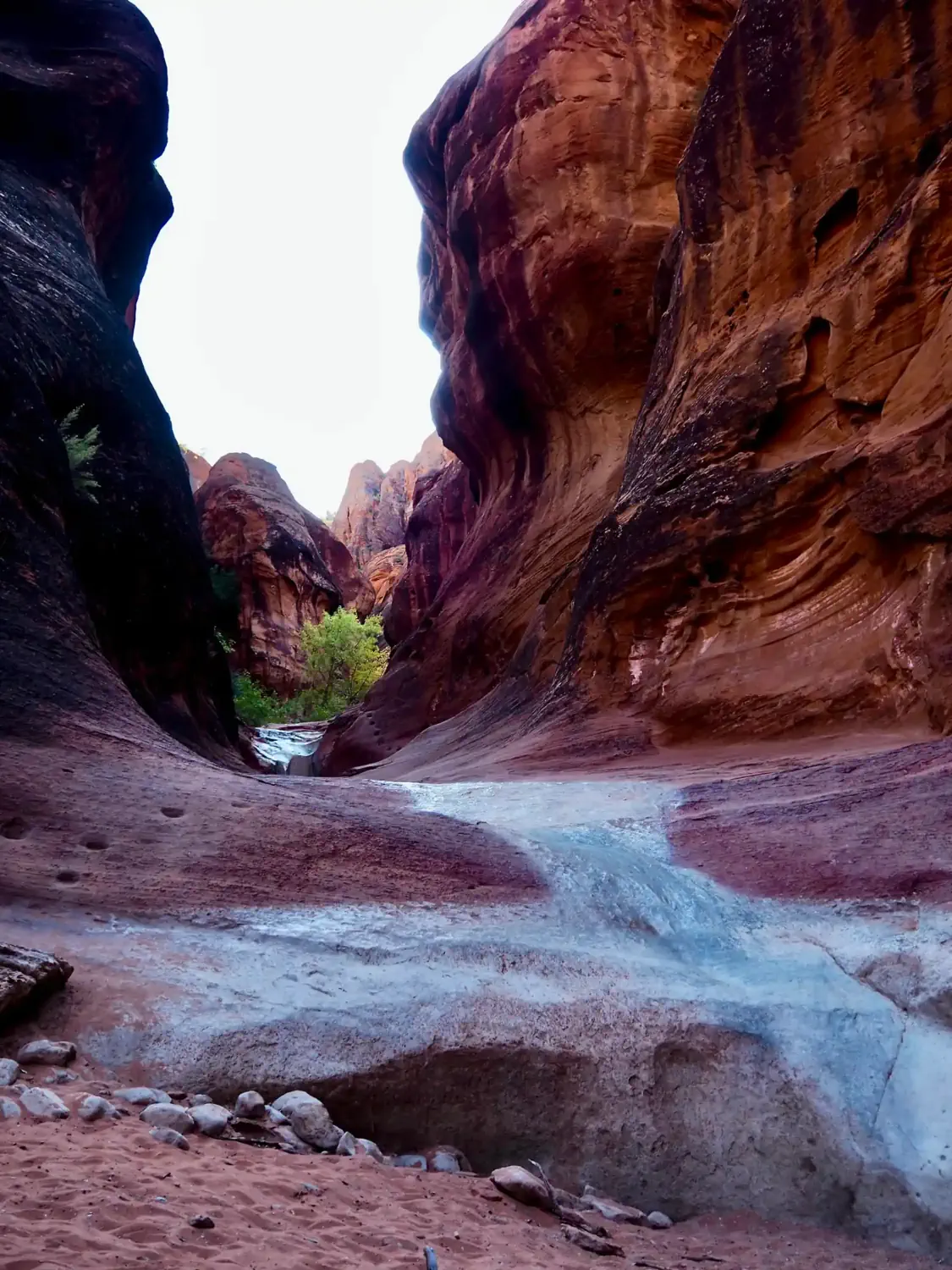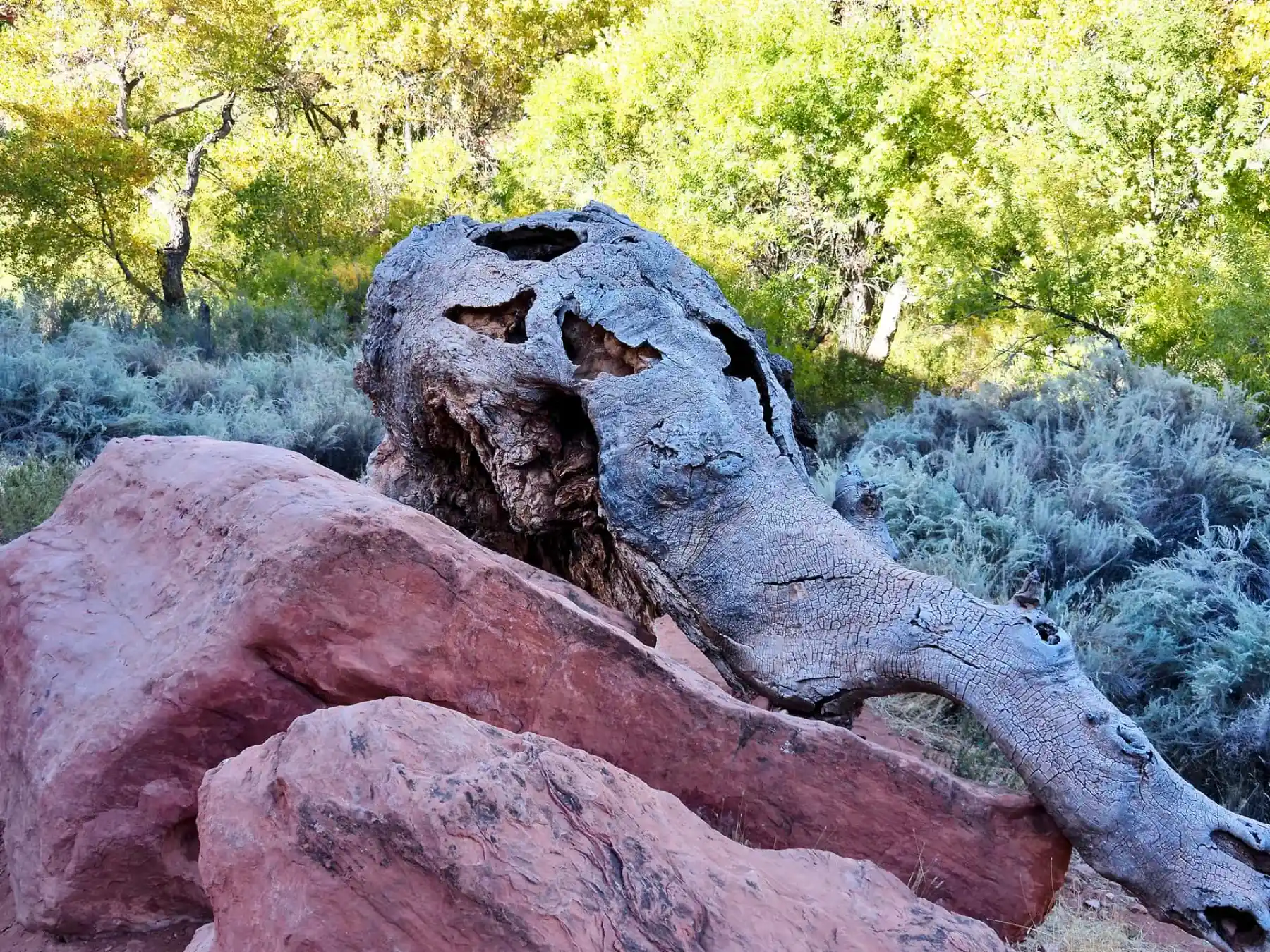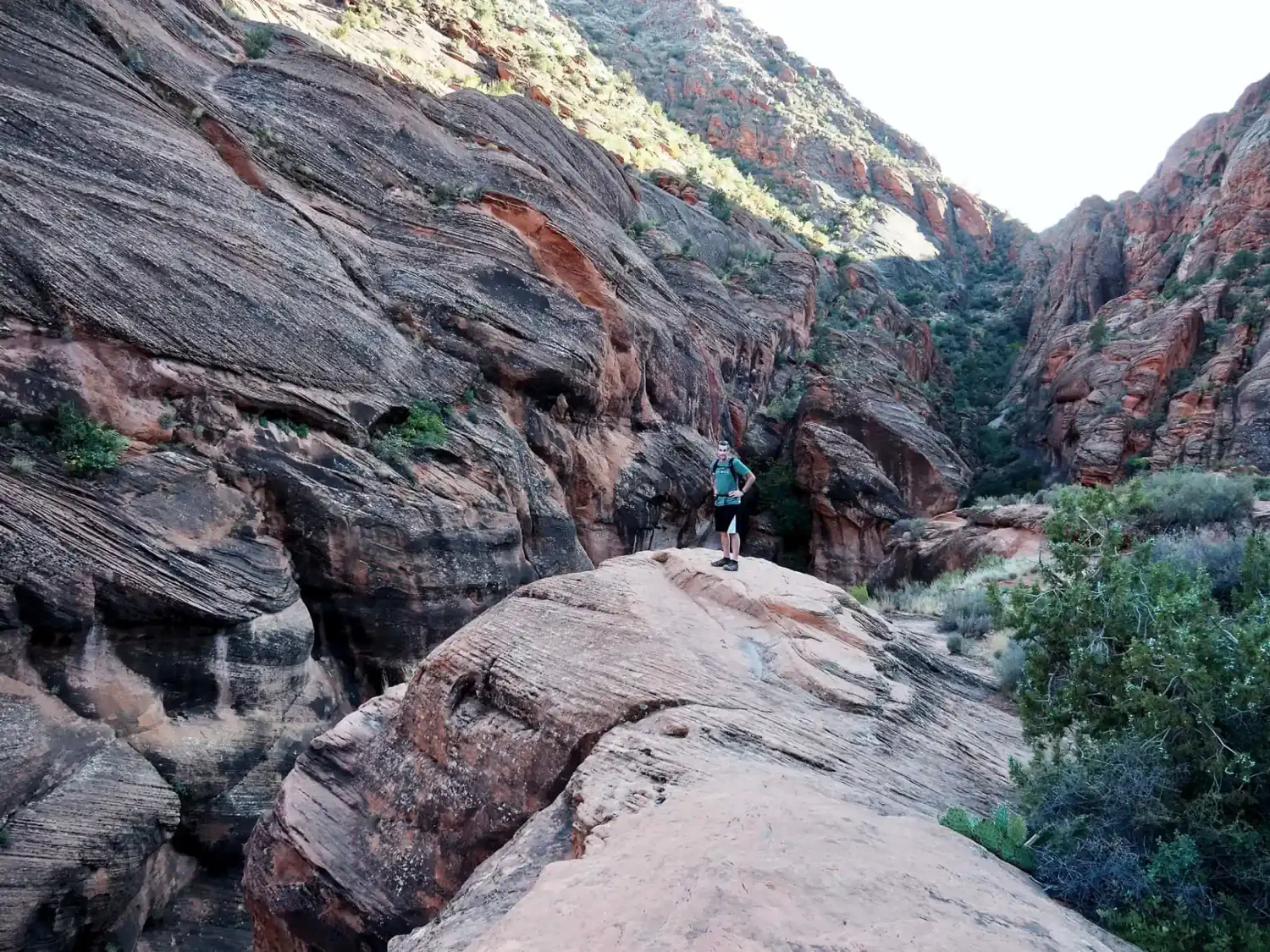 Pro tips for this hike
All Trails commenters said that if you veer right just before to pool you can view a cave with Native Art- we did not do this, but would check it out next time
Can be a busy hike, but planning to go early may benefit you as the only people there. If not just enjoy that everyone is having fun checking out these features.
Bathrooms are located at the Red Cliffs Campground
If you are wanting a longer hike and are able to overcome the obstacle where we stopped, then go for it! However, from what I have read, you've seen the most beautiful part of the trail already.
Check out this post from Your Hike Guide for the more great info.