Hiking the Honaker Trail After a Day Off
Written by Lindsey Huster
/
5 min read
/
Last updated 9 months ago
One week into the trip and we had already been super busy. Keith and I were getting acclimated to our "new home and community". We visited some amazing sites and were looking forward to so much more. Despite our long wish list for days out we needed some downtime!
Day off
We have since developed a system that works well for us to take one day per week, usually Monday or Thursday, where we don't plan an activity. Instead, we do chores! Yes, even in a motorhome you have chores. On our day off we do laundry, go grocery shopping, clean up the motorhome, make any necessary repairs, and work on planning activities, among other things that need to be done. Keith's favorite activity on this day is inputting all weekly costs into his budget spreadsheet! It's important for us to see what it costs to actually travel the way we do for planning purposes and to make good financial decisions.
This first off day ended up lasting two days because of the weather. It got extremely windy and we decided not to hike. Instead, we continued with chores and this gave Keith a night to help Earl, the campground manager, with his computer. If you know Keith, he's constantly helping others with their computers and traveling was no different. We had already enjoyed getting to know Earl and it was nice to be able to reciprocate all the help he had been and would be to us on this first big trip.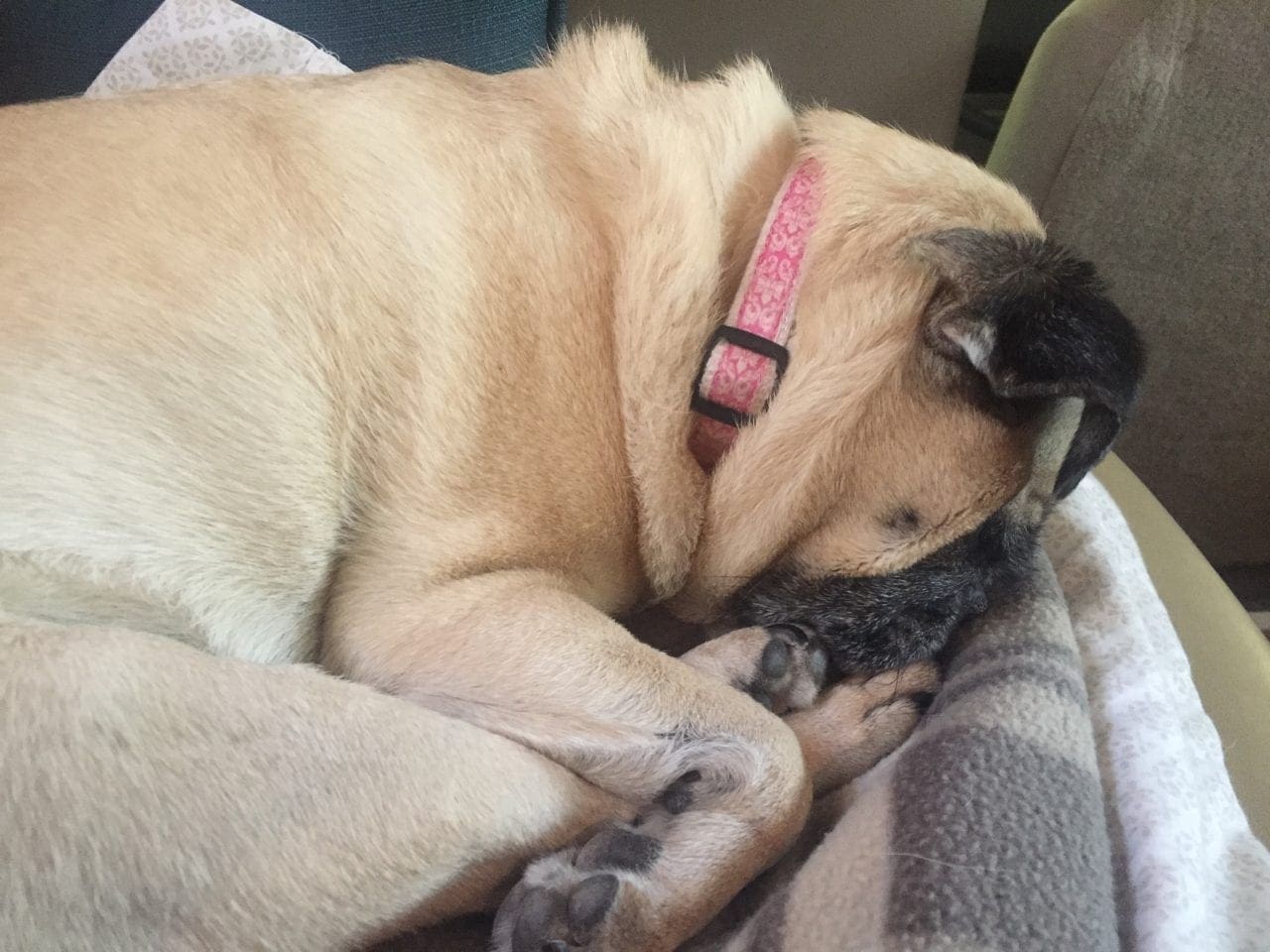 Honaker Trail
The Honaker Trail is located near Goosenecks State Park. You will find a couple of variations for the hike while planning. We found accounts of anywhere from 2-5 miles, some say a loop trail and some out-and-back. Somewhat consistently we found the elevation change to be about 1,200 feet. We also got the impression from online resources that some locals don't want the trail to be found. The locations and cairns may be changed to prevent hikers from accessing the trail. We were able to read enough and gather our notes to find it.
The trail was named after Henry Honaker, who was originally built as a supply route for gold miners to access the San Juan River. However it was never used as Henry intended, the gold rush was short-lived. It is sad that Henry never knew how important the trail would become to scientists who have been able to study the geological features.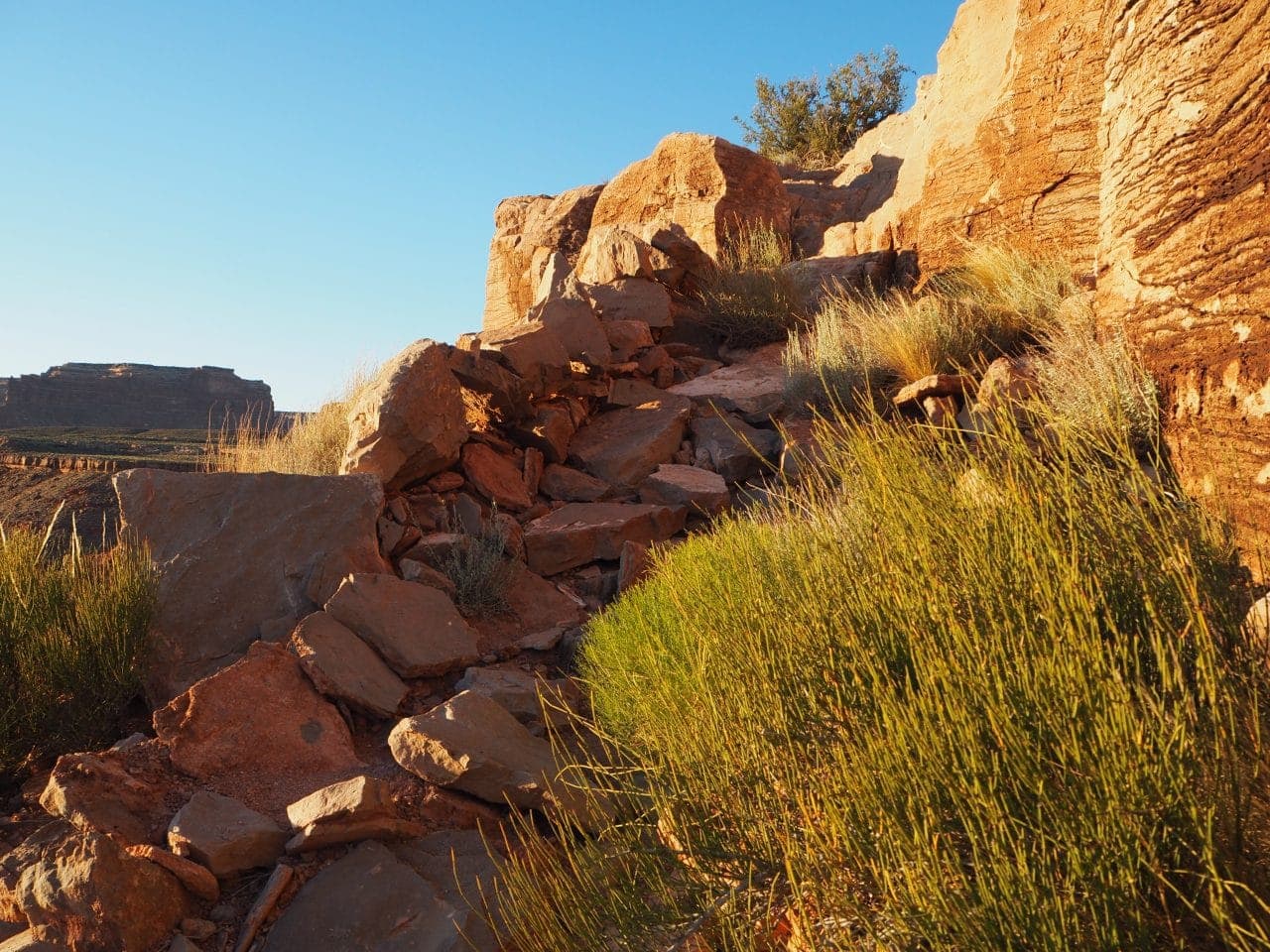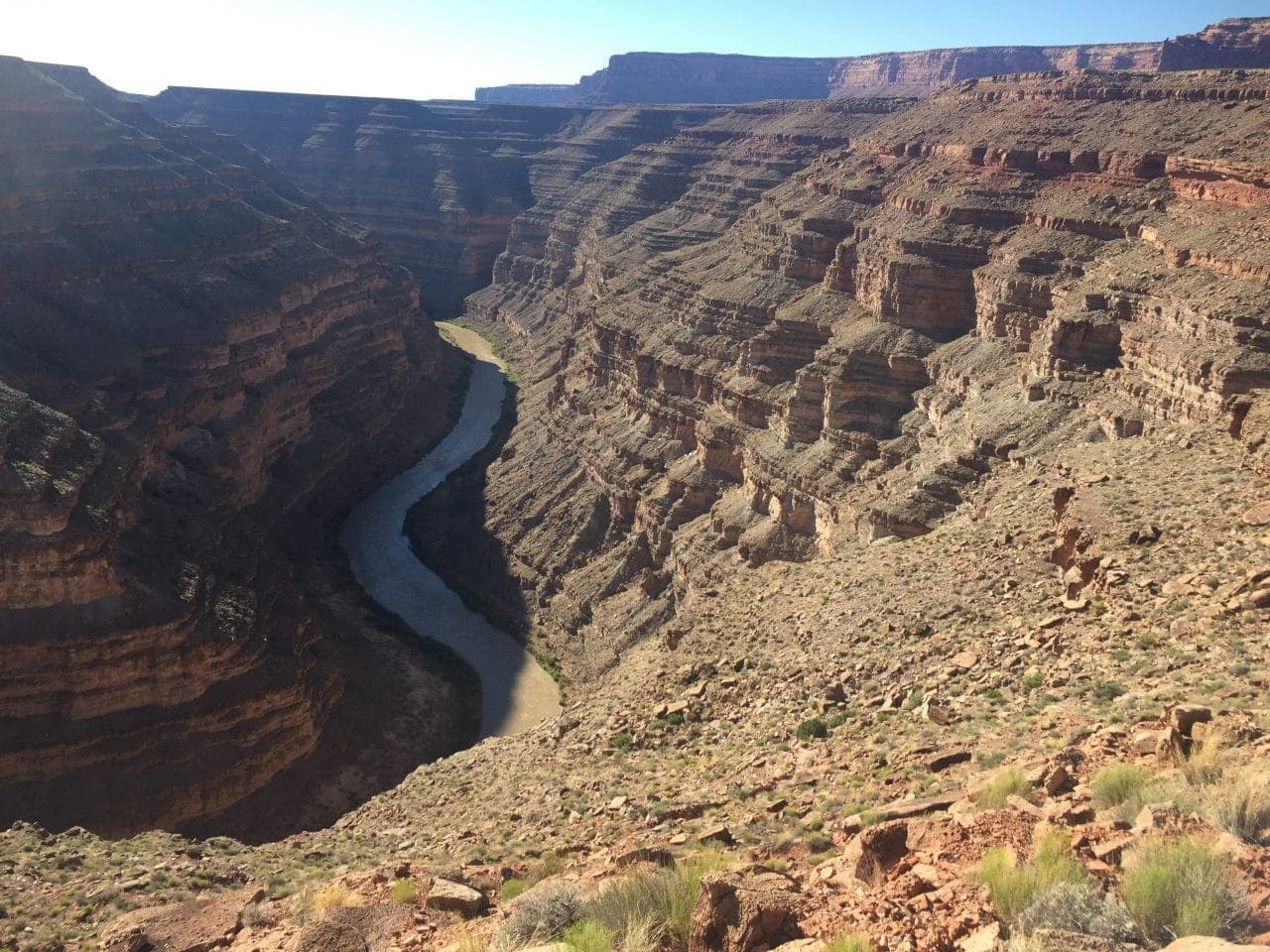 Our hike
After finding the entrance at the canyon rim, we began our hike! The start of the trail is marked with a large cairn… they weren't kidding, the largest we've ever seen! We began to descend toward to San Juan River. This was quite different for us because we are used to hiking in the mountains where you start at the base and hike up. Then one way or another, back down. This time we'd be doing the opposite, down and then up.
You start with these large rock "steps" and then the trail turns into a sand and rock path. The path basically zig-zags down into the canyon. The hike isn't necessarily hard, but the grade is pretty consistent. The heat is a concern as you are mainly in direct sunlight.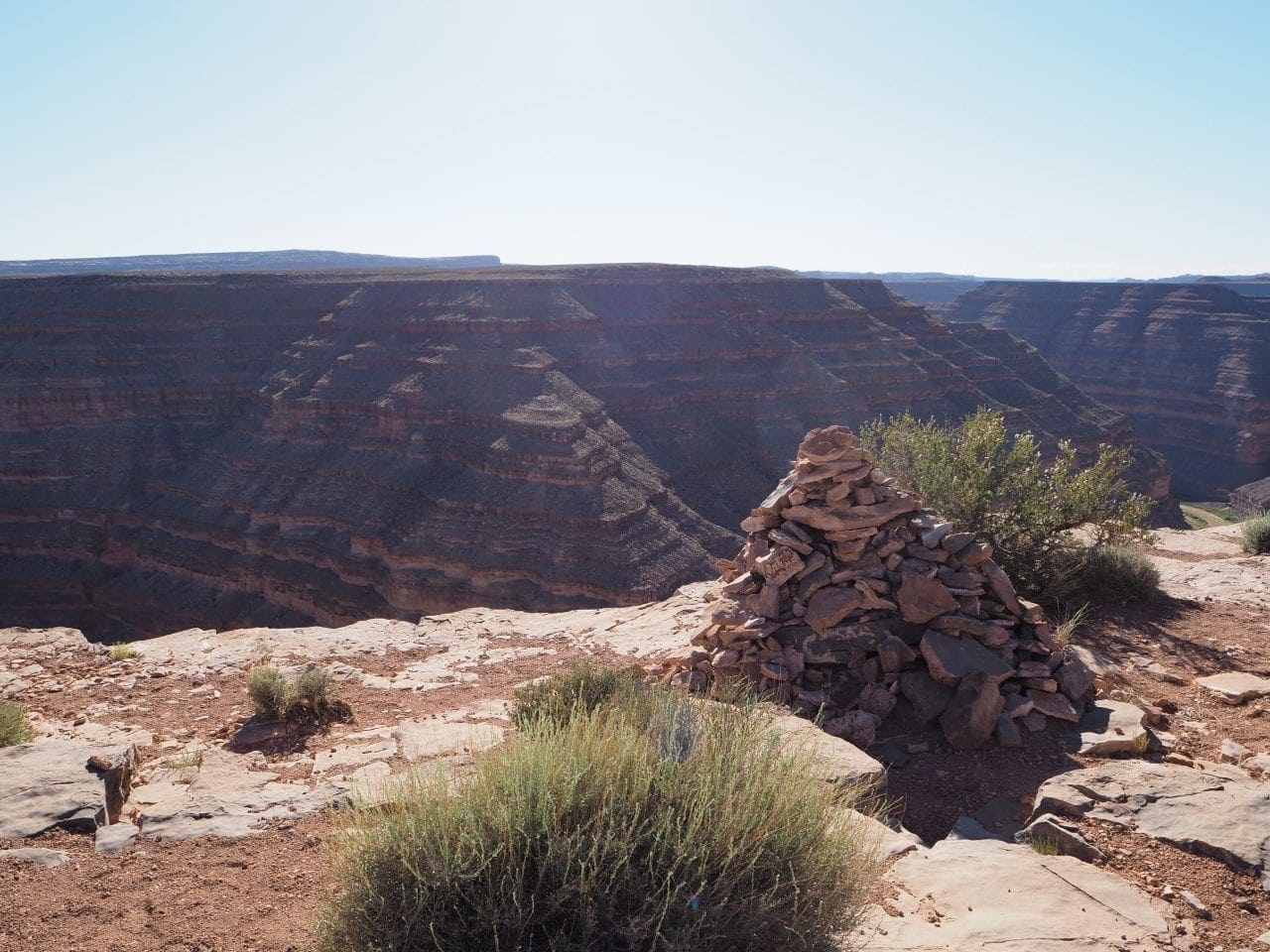 Dinner with a view
We decided to stop at the outcropping and have our dinner. What a view! After some thought, we decided it was probably going to take a while to climb back up so we didn't go all the way to the end of the trail. We chose to stop just above the yellow marking with the number 80. It appears to get much steeper and rockier at that point. The numbers along the trail are markings left by geologists who were studying the area decades ago.
We took a much-needed rest and were able to cool down a bit since we now had some shade. It was so relaxing being there all by ourselves and taking in the scenery. There is just something about the silence of nature that calms.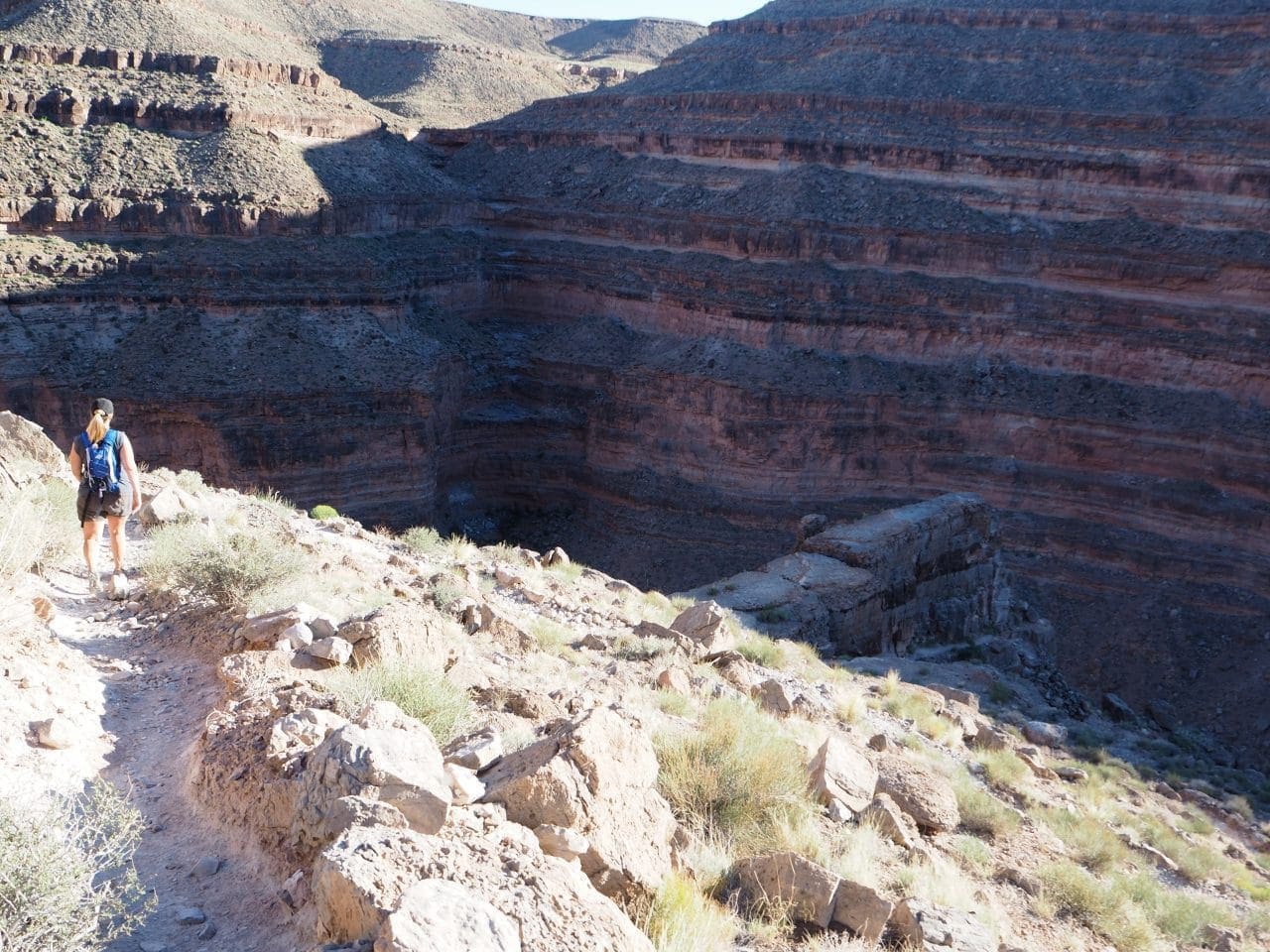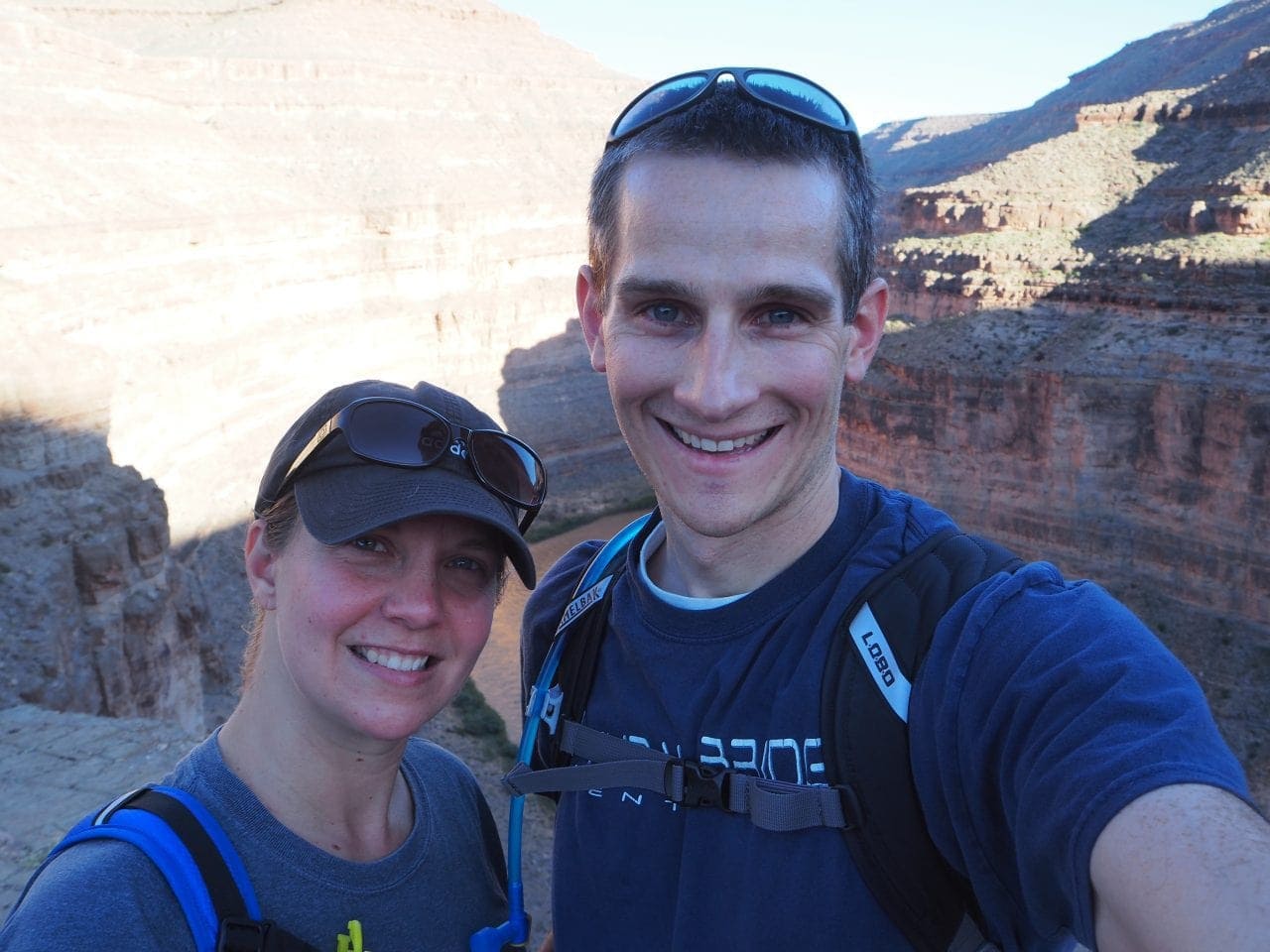 The exit of the hike
We thoroughly enjoyed this hike! The views are breathtaking and the color/textures of the rock are equally as interesting. Keith and I have both said that we would love to go back and hike all the way down to the river. Oh, did I mention it was hot this day... like seriously hot!!! 🥵