Jeep Drive to Toquerville Falls
Written by Lindsey Huster
/
3 min read
/
Last updated 5 months ago
Toquerville Falls is much more exciting than I expected it to be! Once again, a unique area of southern Utah that isn't a national or state park, but is equally beautiful just on a much smaller scale. There are not only falls that you can drive across, but a small wading pool and a large swimming hole!  This is a great place to visit for the entire day or for just a couple of hours.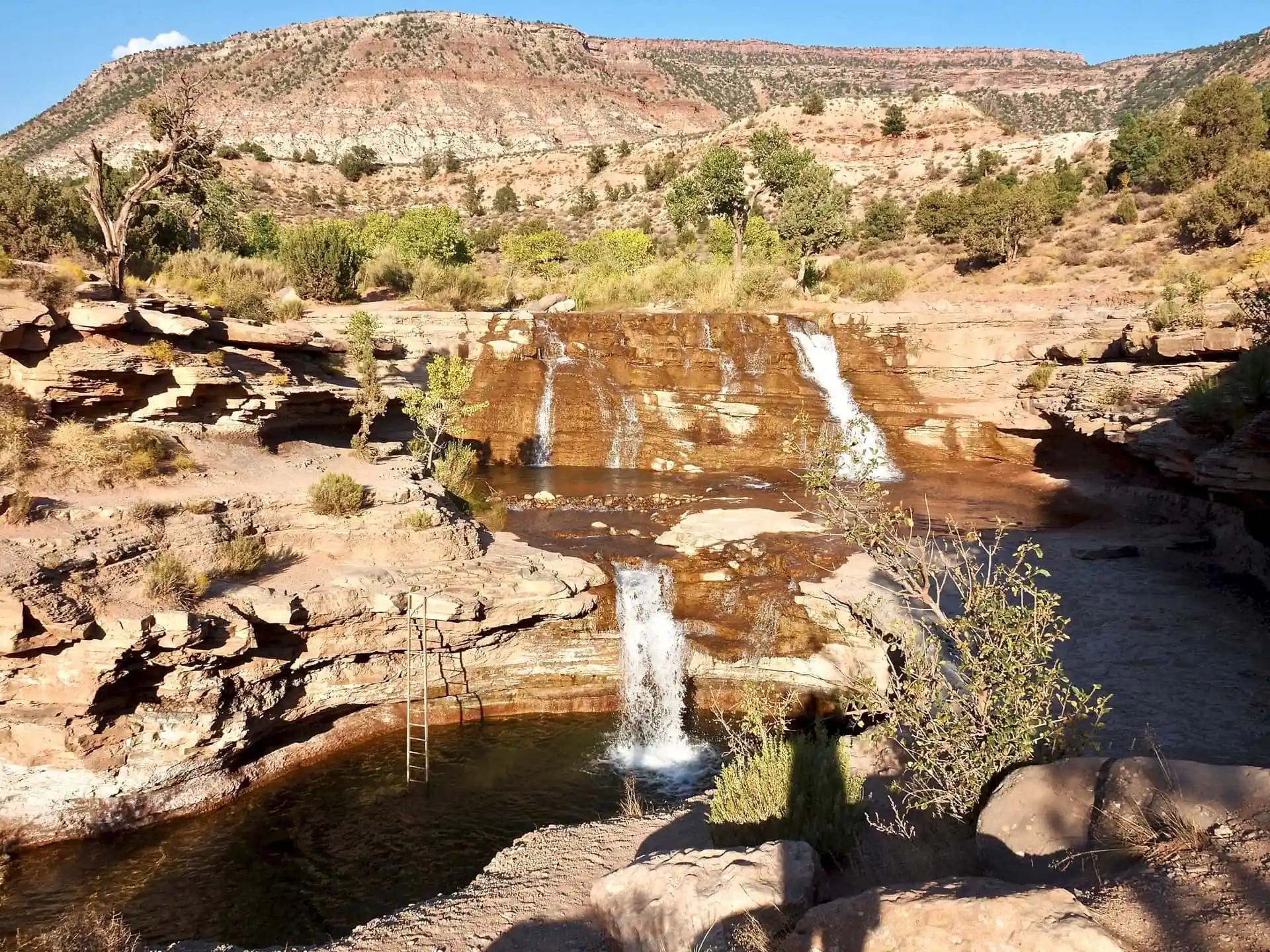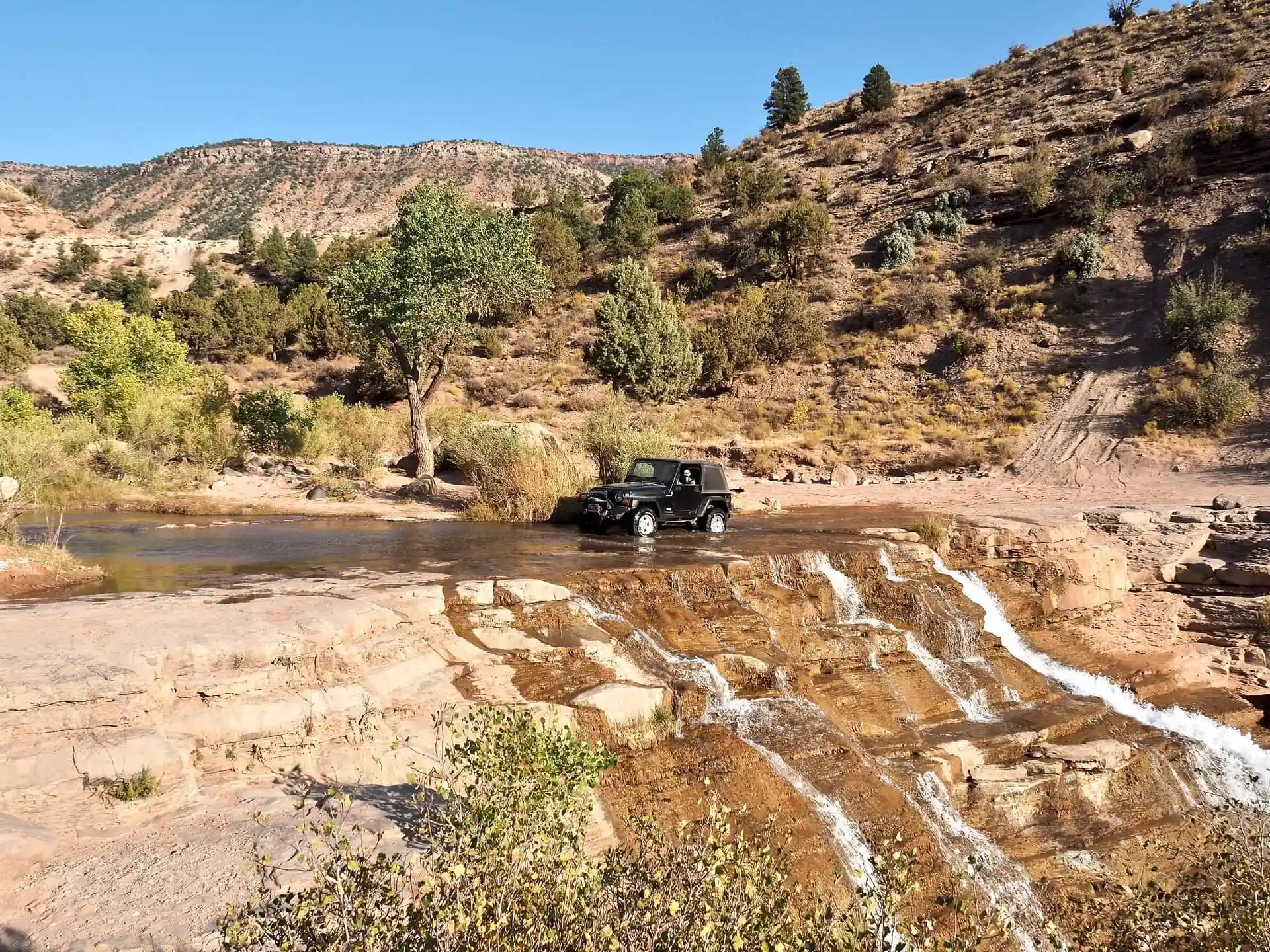 Check out our video
Quick facts about the drive
High clearance vehicle required
There is a parking lot just off the main road if you choose to trailer a UTV, ATV, mountain bike, etc.
Swimming and camping permitted
Full-sun exposure
Pets allowed
No restrooms or drinking water
No/very little cell service along the entire route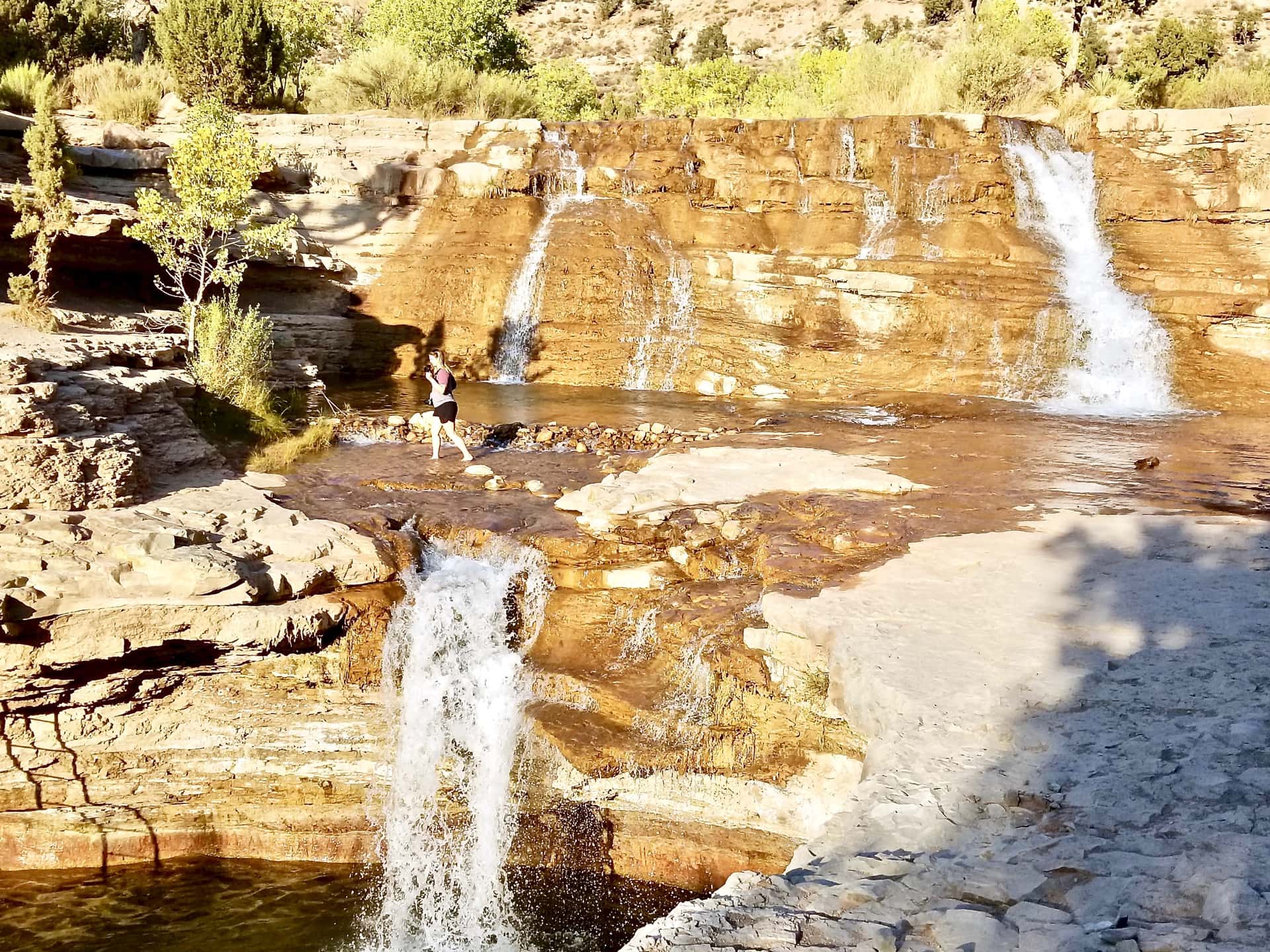 Our drive
Keith and I were stoked to experience Toquerville Falls.  The pictures we had seen were amazing.  We chose a weeknight to make this drive.  We were staying in nearby Leeds so it was less than an hour to the trailhead.  The road then turns to dirt, gravel, and rock… the road was much rougher than we expected!  It took quite a while to drive the 5-6 miles to the falls, maybe 45 minutes.  It was a slow bumpy ride, but so worth it!
Upon arriving at the falls we were immediately awestruck with the falls, the large pool of water, and the general beauty of the area.  There were a couple of vehicles at the falls when we arrived, however, they left within minutes so we were the only ones at the falls for the next couple of hours.
First, we walked around the upper level and drove the jeep across the falls.  Then we made our way down to the next level to feel the water and view the falls from another vantage point.  Here we were able to get a good look at that ladder, consequently, we realized just how far down the big pool of water really is.  It was fun to check out these falls in person and spend a relaxing evening at this beautiful location.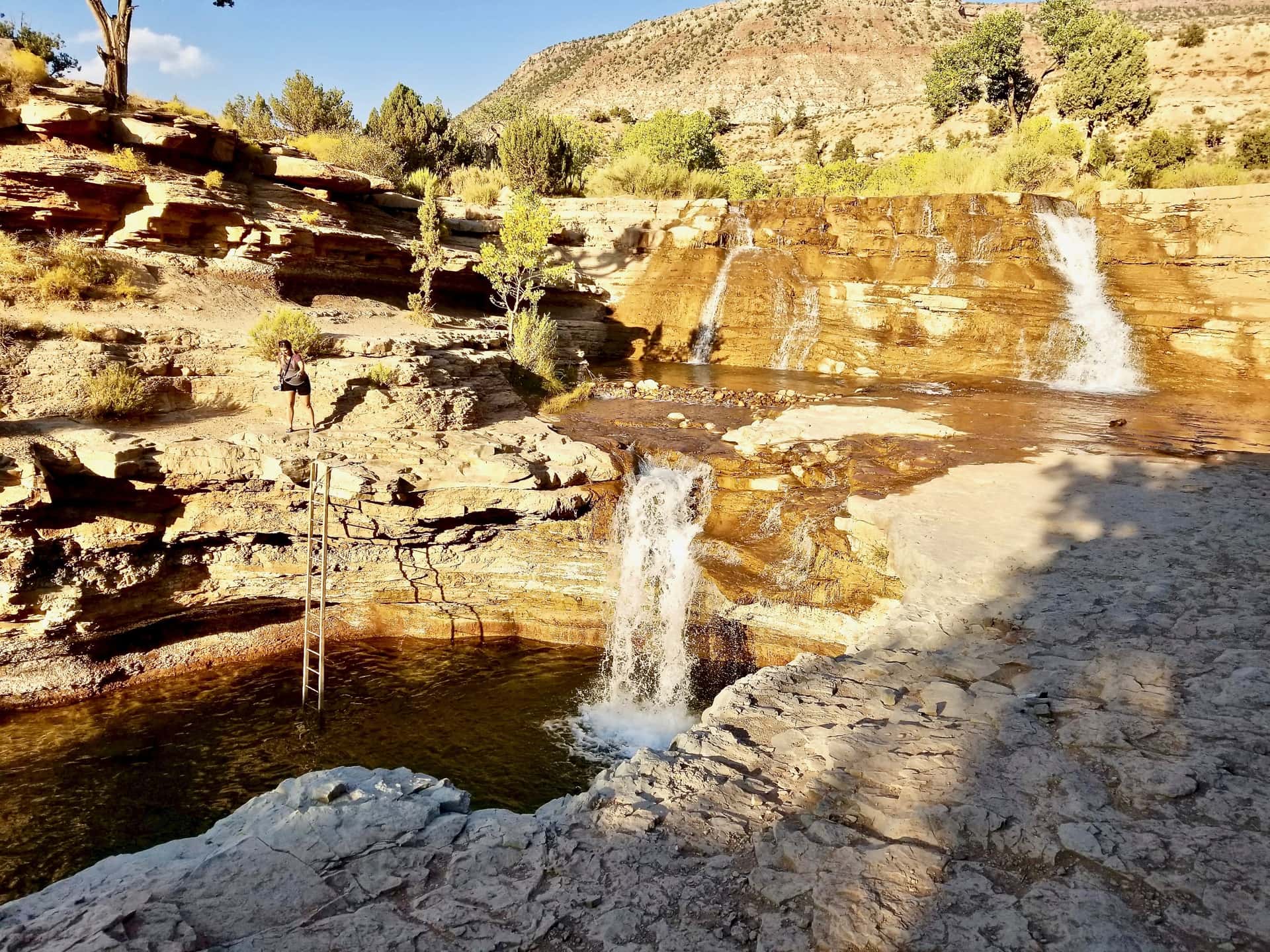 Pro tips for visiting Toquerville Falls
Take a raft and enjoy the swimming hole.
Pack a picnic, and take plenty of drinking water and food/snack.
Drive across the falls for a picture.
Do your research and try to visit when less busy.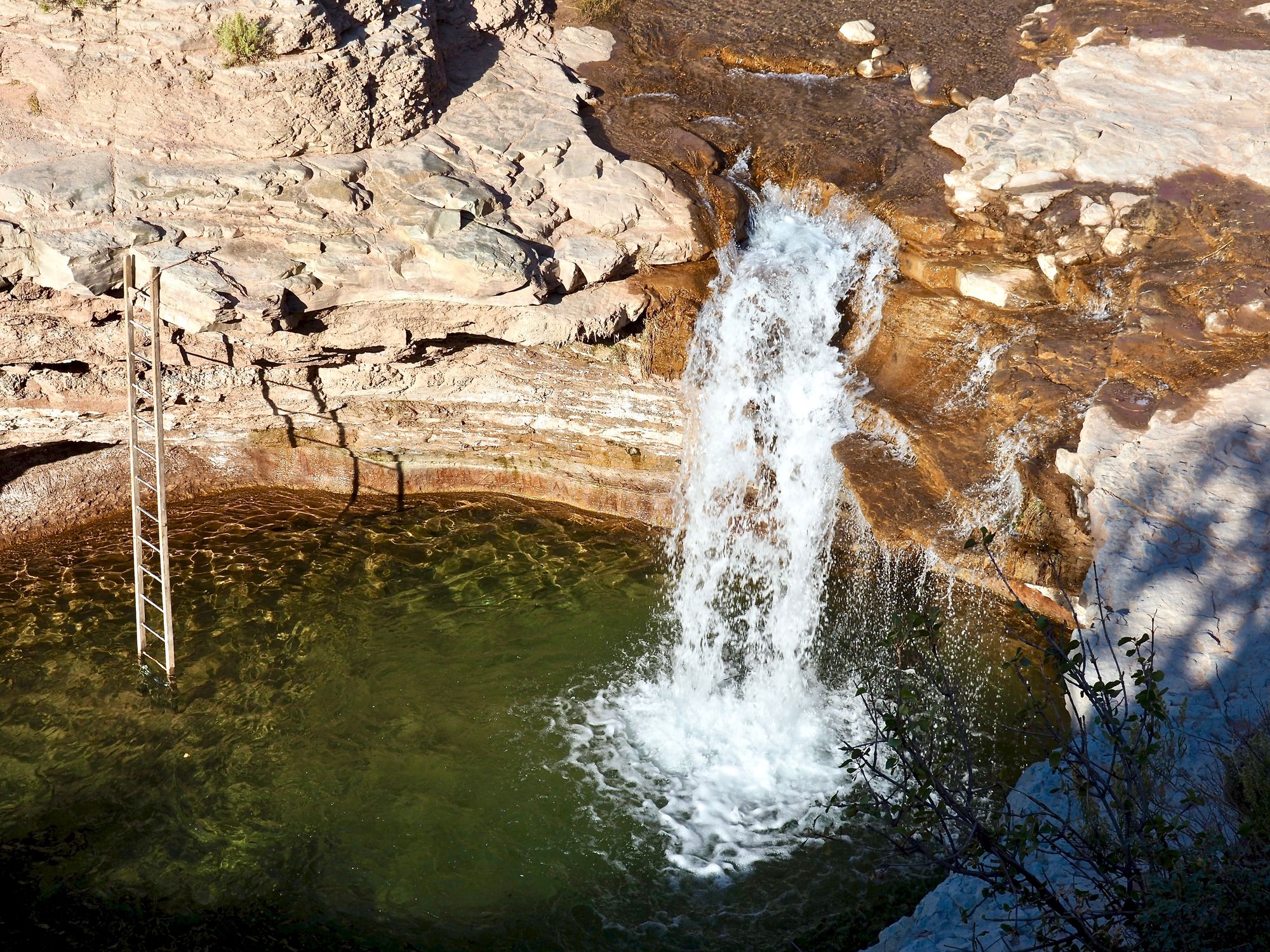 Have you ventured to Toquerville Falls?
How was your experience at Toquerville Falls?  What type of vehicle did you use to access the falls?  Did you have a chance to go swimming?  I'd love to hear your thoughts on that ladder.  Share your thoughts in the comments below.