Kanarraville Falls Hike
Written by Lindsey Huster
/
7 min read
/
Last updated 10 months ago
Kanarraville Falls was for years one of Utah's best-kept secrets, according to locals. Over the past 15 years, this hike has exploded with interest and caused the town of Kanarraville quite a lot of trouble. You can read more about that here – Kanarraville Falls: Best Kept Secret Becomes Nightmare.
Not so secret anymore
Since moving to Utah, we've learned time and time again about how this type of thing happens and the impact it has in various ways.  It's always interesting to hear both sides of the issue and learn more about how a compromise can be made. I'm appreciative of Kanarraville for having these policies and procedures in place.  This helps to protect the area while still allowing visitors, such as Keith and I, to enjoy the hike and the natural beauty of this place.
Check out our video
Quick facts about the hike
1.6 miles to the lower falls (one way) and 1.9 miles to the upper falls (one way) = a round trip hike of approximately 3.2 miles - 3.8 miles.
Moderate hike with water, climbing, rope, and ladder challenges
Elevation change - 600 ft.
Pets - NOT ALLOWED
Permit REQUIRED - 150 hikers per day
Park only in the designated lot for the hike
Flash flood potential - always check the weather before hiking
Limited facilities - no available water, porta-potties in the parking lot, one restroom near the beginning of the trail (pit toilet)
Practice Leave No Trace Principles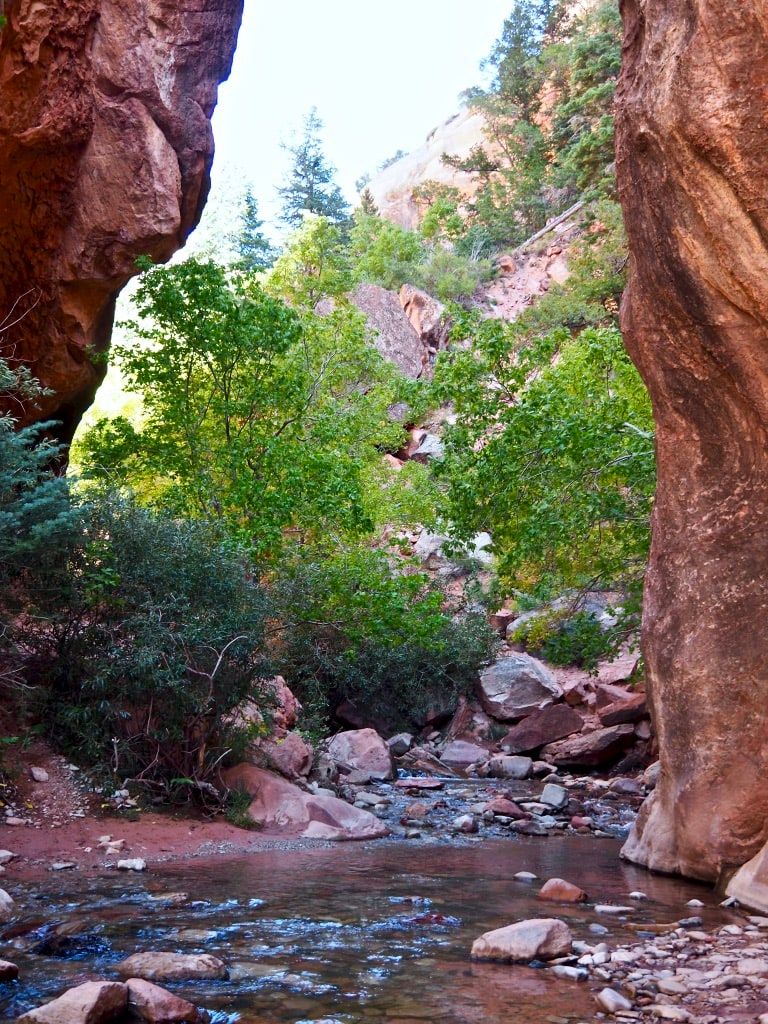 Hiking Kanarraville Falls
This hike is also known as Kanarra Falls or on the AllTrails app as Kanarra Creek Canyon Trail. Although the elevation change is only 600 feet, this hike is rated as moderate because you are hiking in water, climbing ladders, using ropes, etc. Hiking to the lower falls is 1.6 miles and another 0.3 miles to the upper falls. This can take between 2-4 hours and you need to be back at the parking lot by dusk.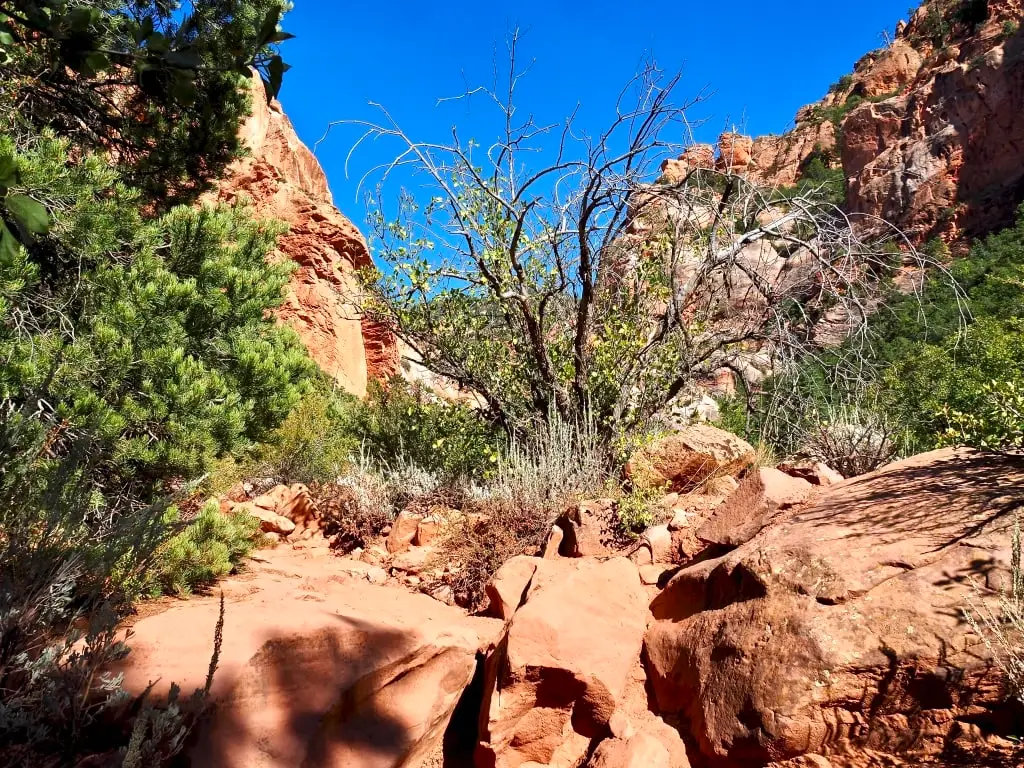 A hiking permit is now required
I believe the permit process just went into effect a little over a year ago and you do have to obtain a permit to do this hike. We ordered our permits online, which currently cost $12 per person (September 2019).
It was easy to log onto the site, pay the fee, and in return receive an email with a QR code to present at the permit kiosk. The hike is limited to 150 people per day. If that quota hasn't been met for the day, you can get a permit in person. To order permits or learn more about the hike, check out their website: Kanarra Falls
Our hike
Our trip to the falls was incredible! Since the trailhead is only a 30-minute drive from our campground, we did this on a Tuesday evening after Keith finished working for the day.
As we meandered along the waterway in and out of the stream, we were already in awe of this place. Since we were getting a late start, we ended up being the last ones to go in for the day. We saw people as they were headed out and each time visitors kept telling us how awesome it is.
At the 1.6-mile mark, you encounter the first waterfall and a ladder to climb. We were in awe of this sight! We've seen so many pictures of this, but seeing it in person truly is unforgettable.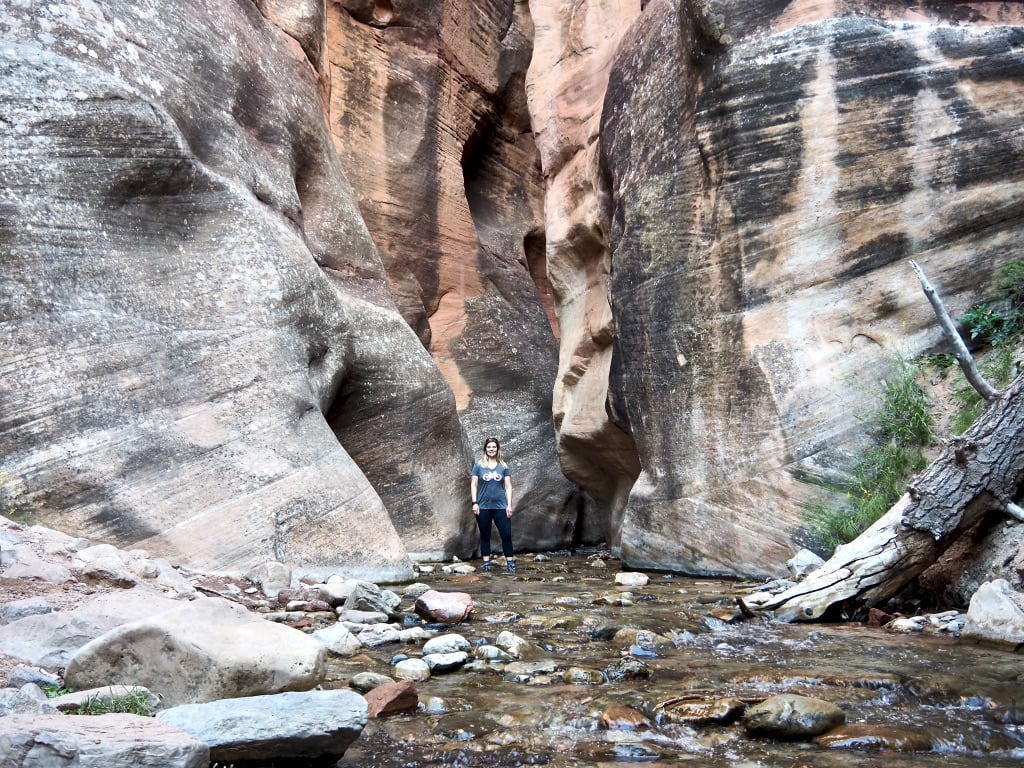 Climbing the first two ladders 😨
As we inspected the ladder, we found that it was quite scary!  It's a bit steep, the rungs are made of metal and slippery, and the upper rungs swiveled a bit.  It was almost enough to scare us off. Even if you don't climb the ladder, just this location is worth the permit and hike, in my opinion.  Walking in the water is fun the scenery and beautiful!  Plus, you can get that epic picture at the ladder.
Immediately after conquering the ladder, you are faced with the next obstacle.  If it weren't for people coming down, I'm not sure we would have gone up this precarious-looking log leaned against another log, leaned against the rock. We were able to watch the three before us and determine our best strategy for this waterfall.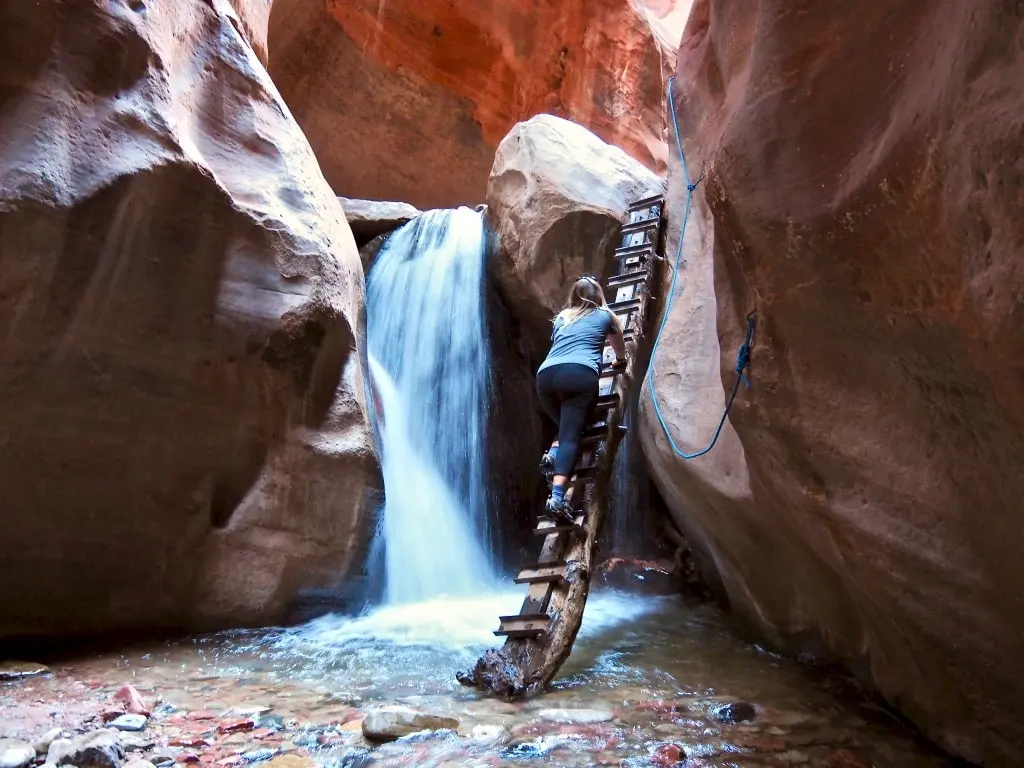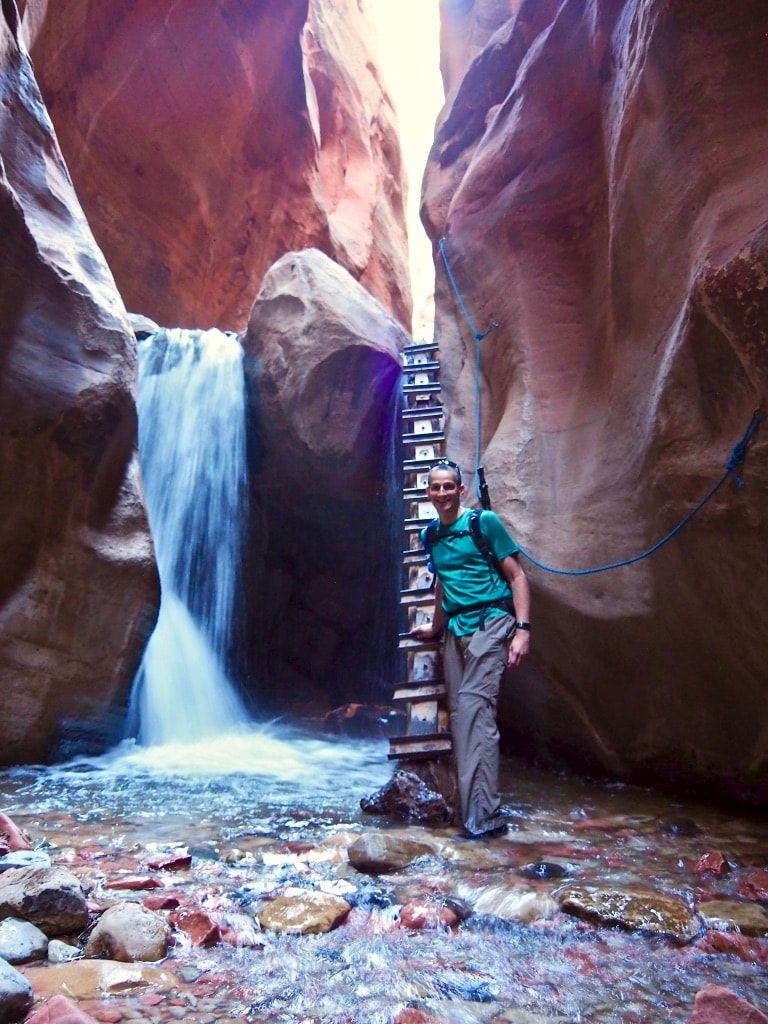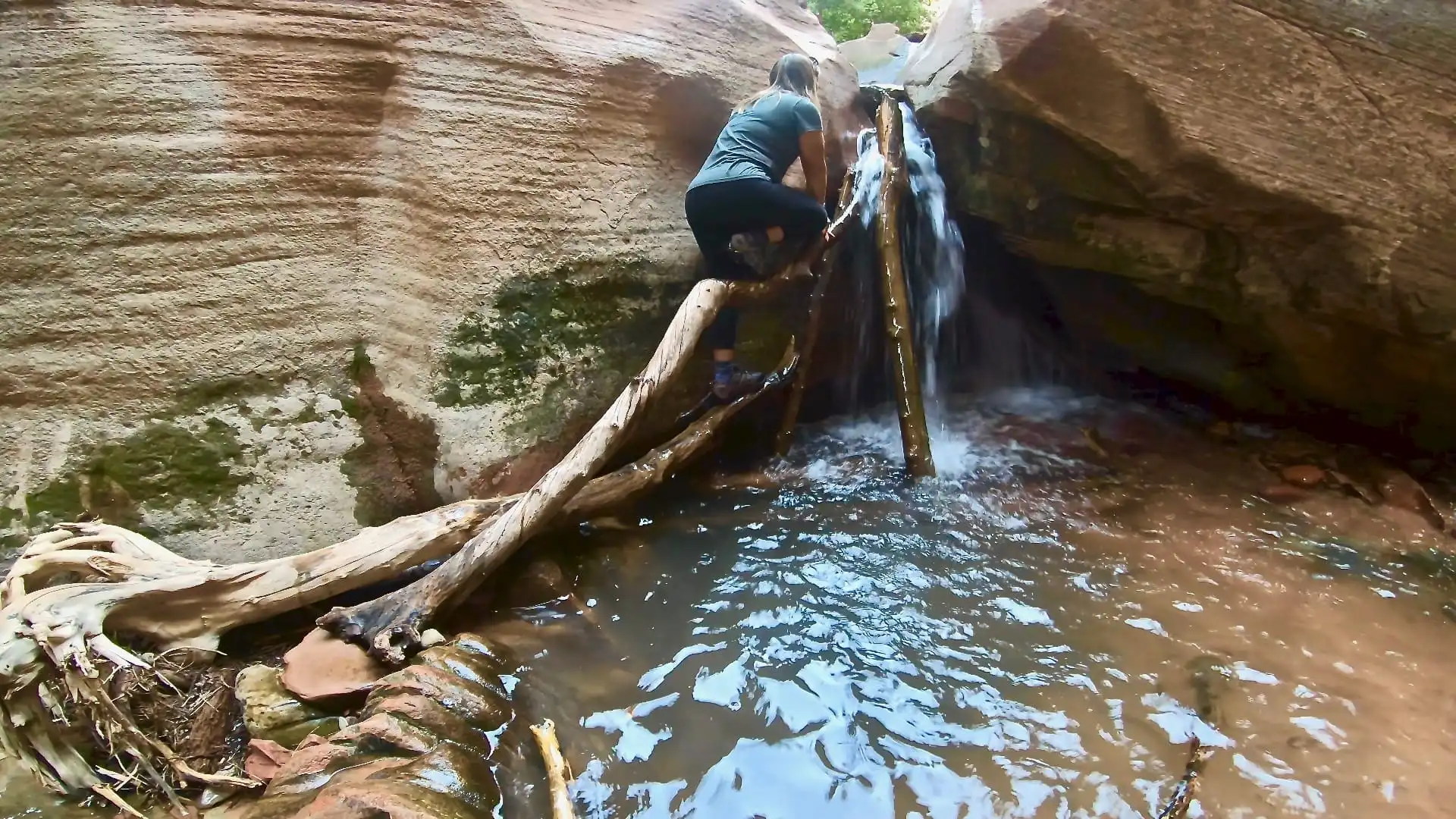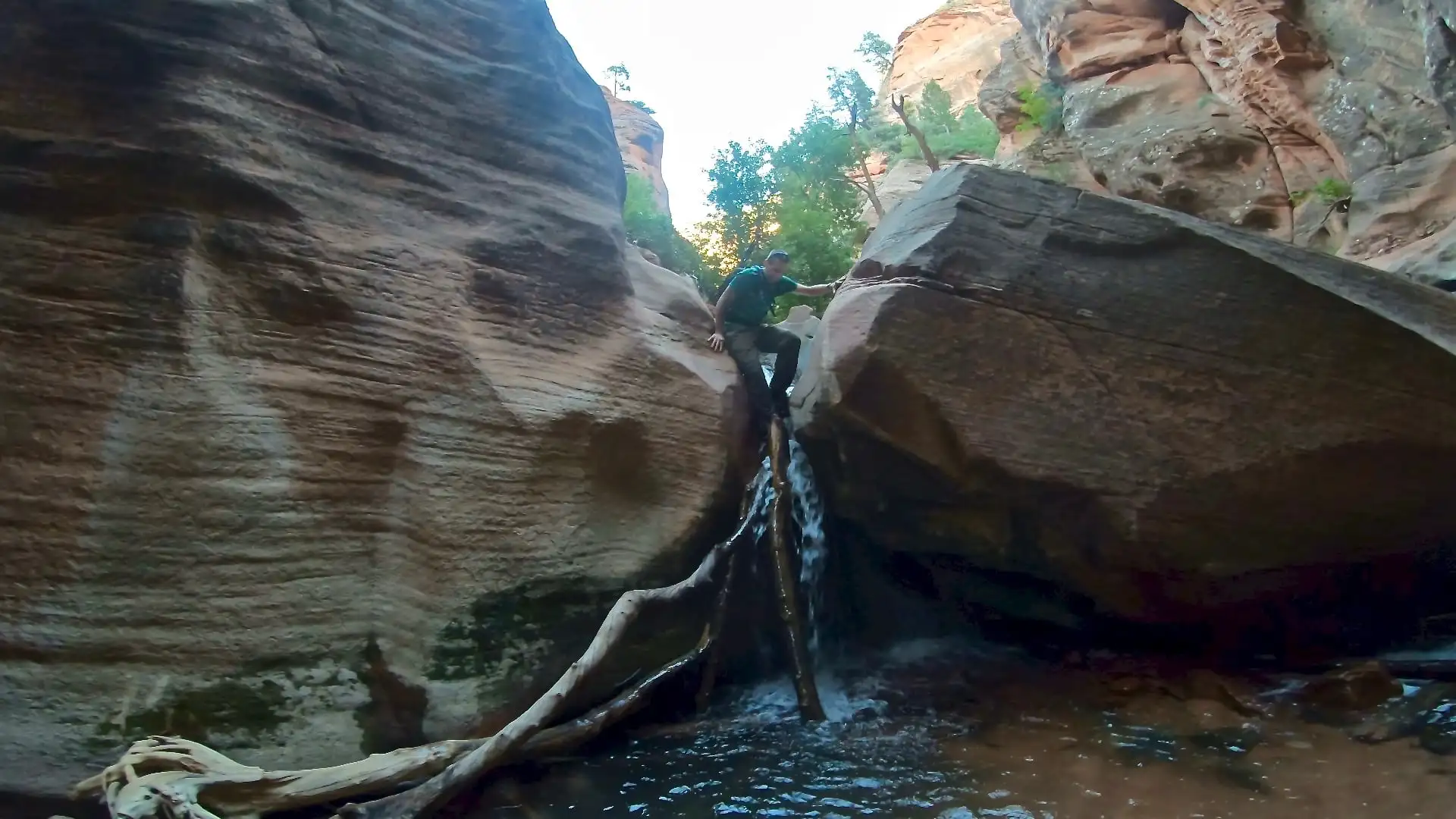 Playing on the natural water slides
Not far after, we nearly missed the "water slides".  Keith took this opportunity to take a few pictures and as I explored around.  All of the sudden, I recognized the water slides from pictures I'd seen.  It's hard to balance previewing the highlights of a hike and seeing them for the first time during the hike. In this case, it paid off to preview the slides, otherwise, we would have not realized they were there.
We had been walking in ankle-deep water, got wet during the second climb and it was a bit chilly, but I decided I couldn't pass up the opportunity to ride the slide!  It was a little scary not knowing how this would go or how deep the water was, but it was so much fun that I immediately headed back up to do it again!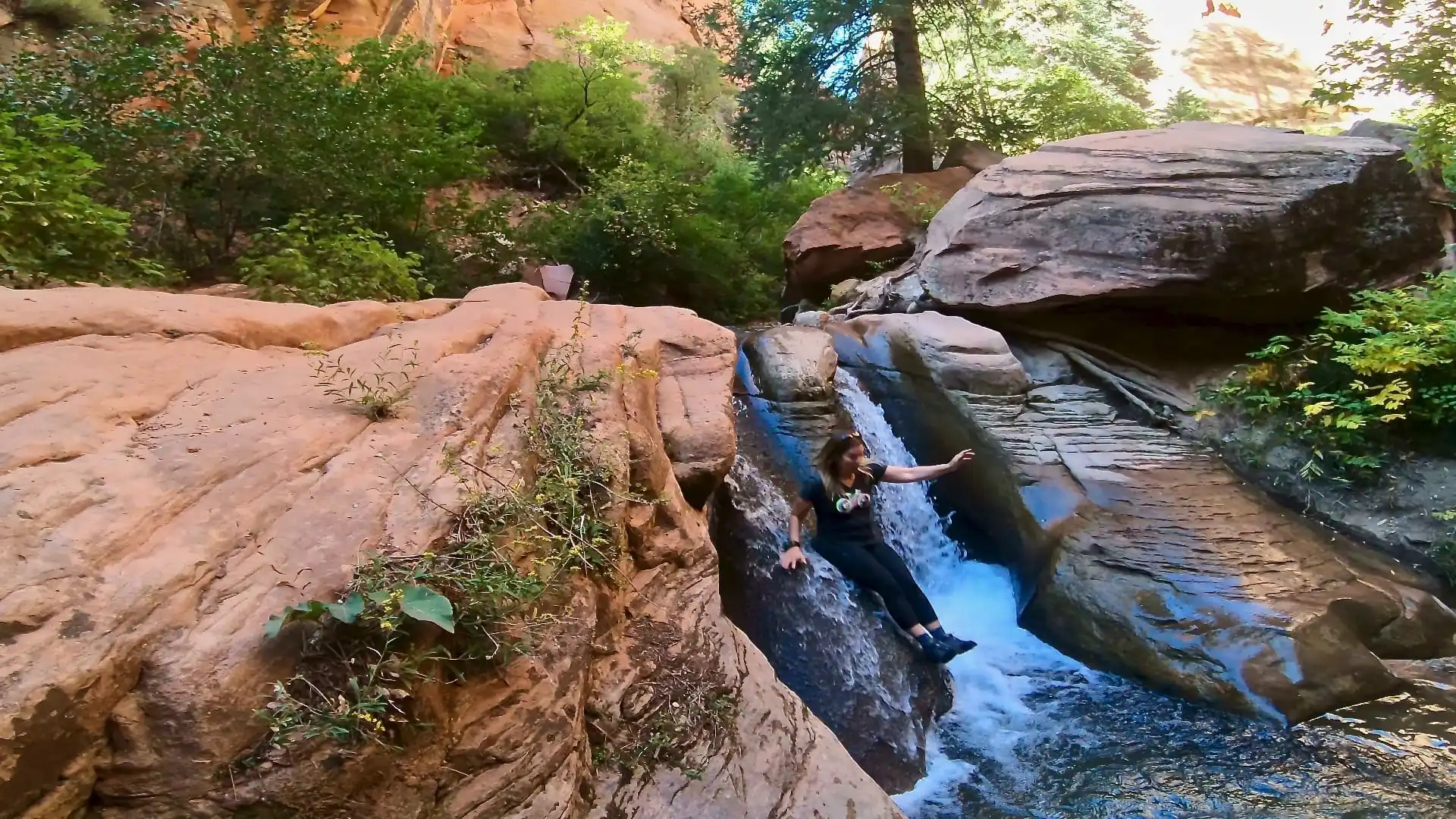 Reaching the third ladder and deciding to turn back
We continued to the next waterfall.  It looked much more intimidating and we weren't even sure if it was passable.  We thought there would be a ladder at this point, but only a small branch offered a risky way up.  Keith and I decided this would be the end of our hike as it was getting late and we weren't sure of this obstacle.
Later, I reread the information on the Kanarra Falls website and although you can surpass this obstacle it isn't recommended, especially if there isn't a proper ladder.  This is the end of the hike and soon after the canyon becomes impassable without special gear.
We were both beyond thrilled with our experience hiking Kanarraville Falls.  As we started back towards the entrance, we pondered the idea that we may have just found the highlight of the entire trip!!  Even though we were only getting started and had planned to do several other epic hikes!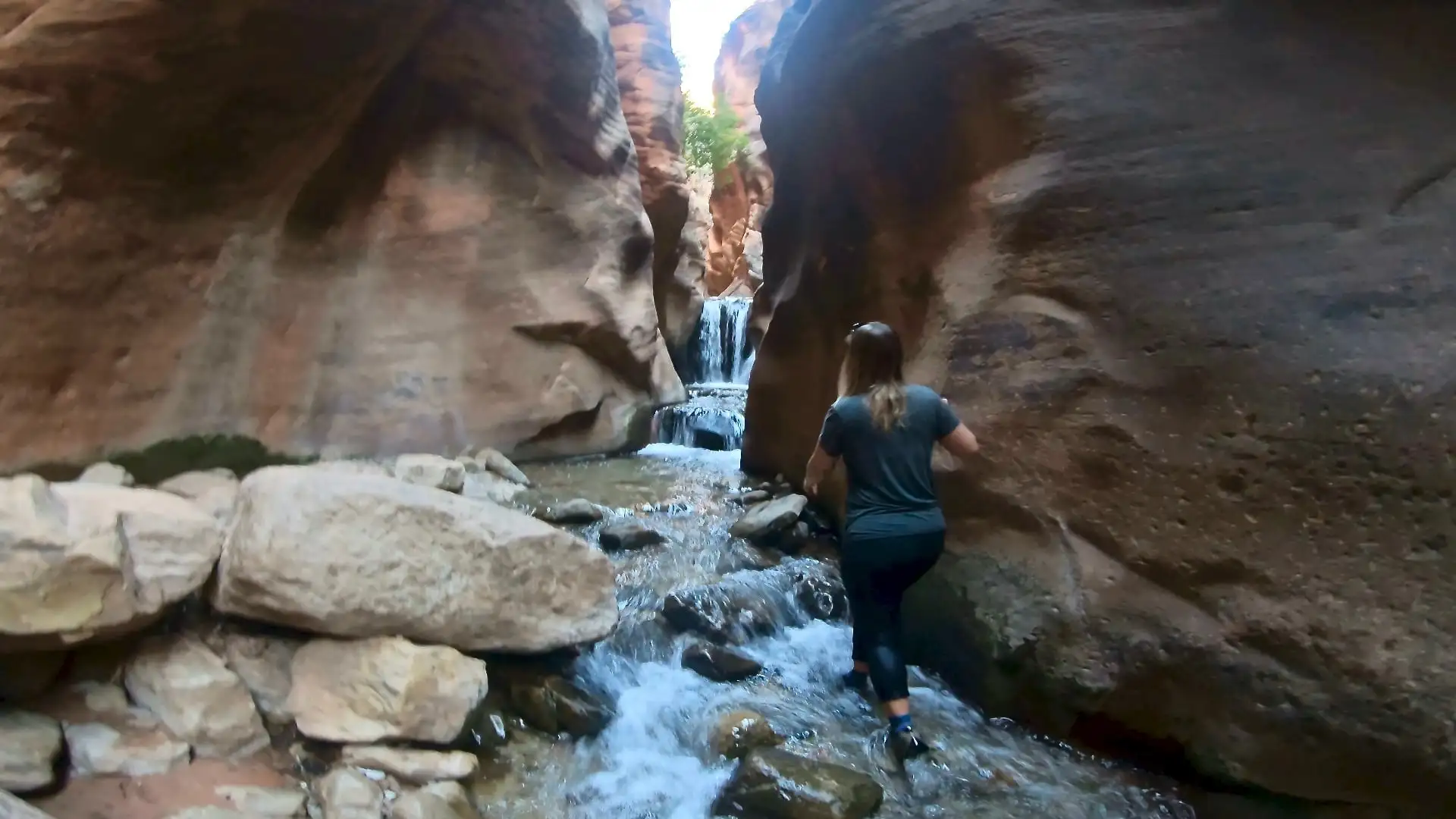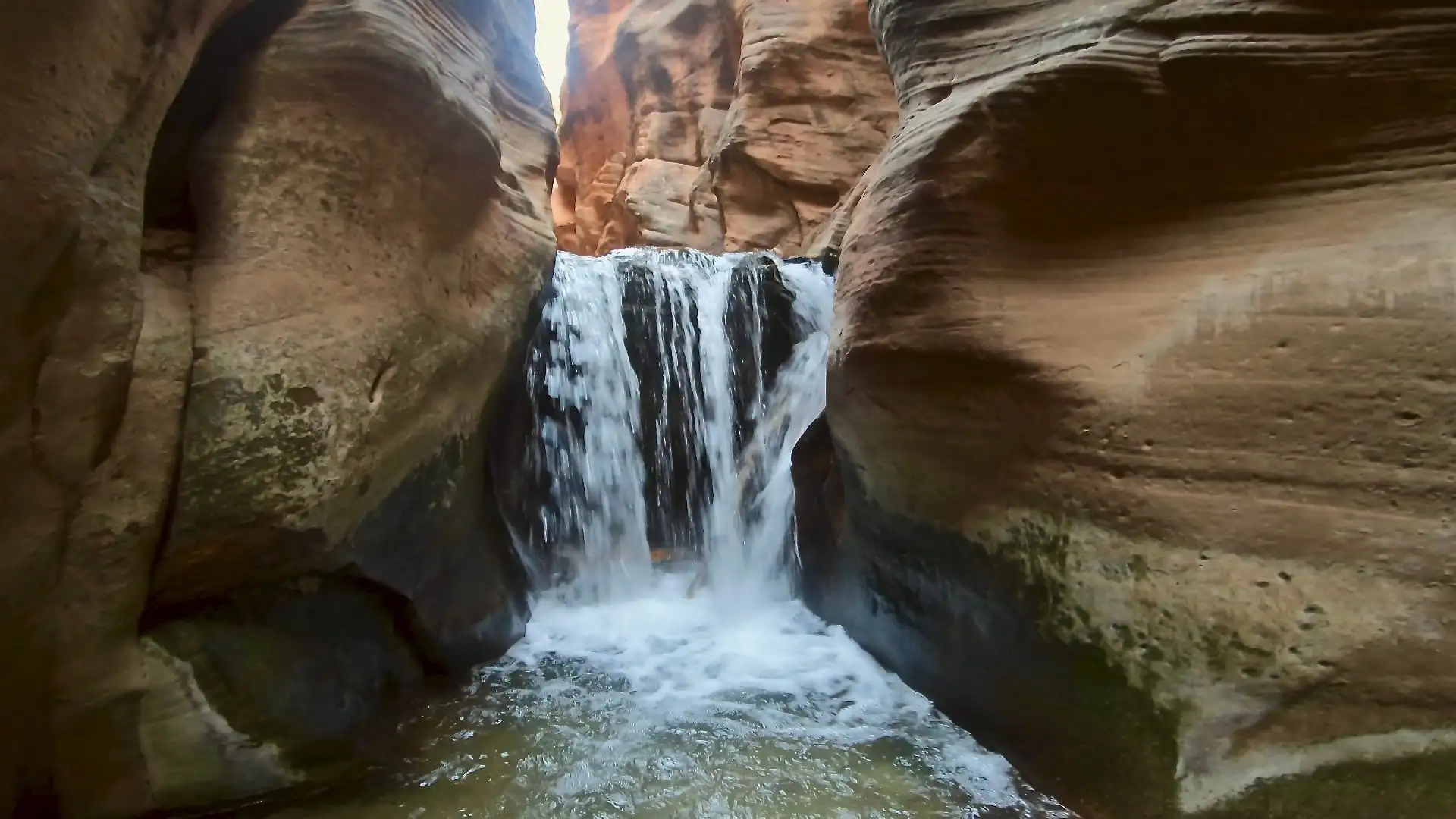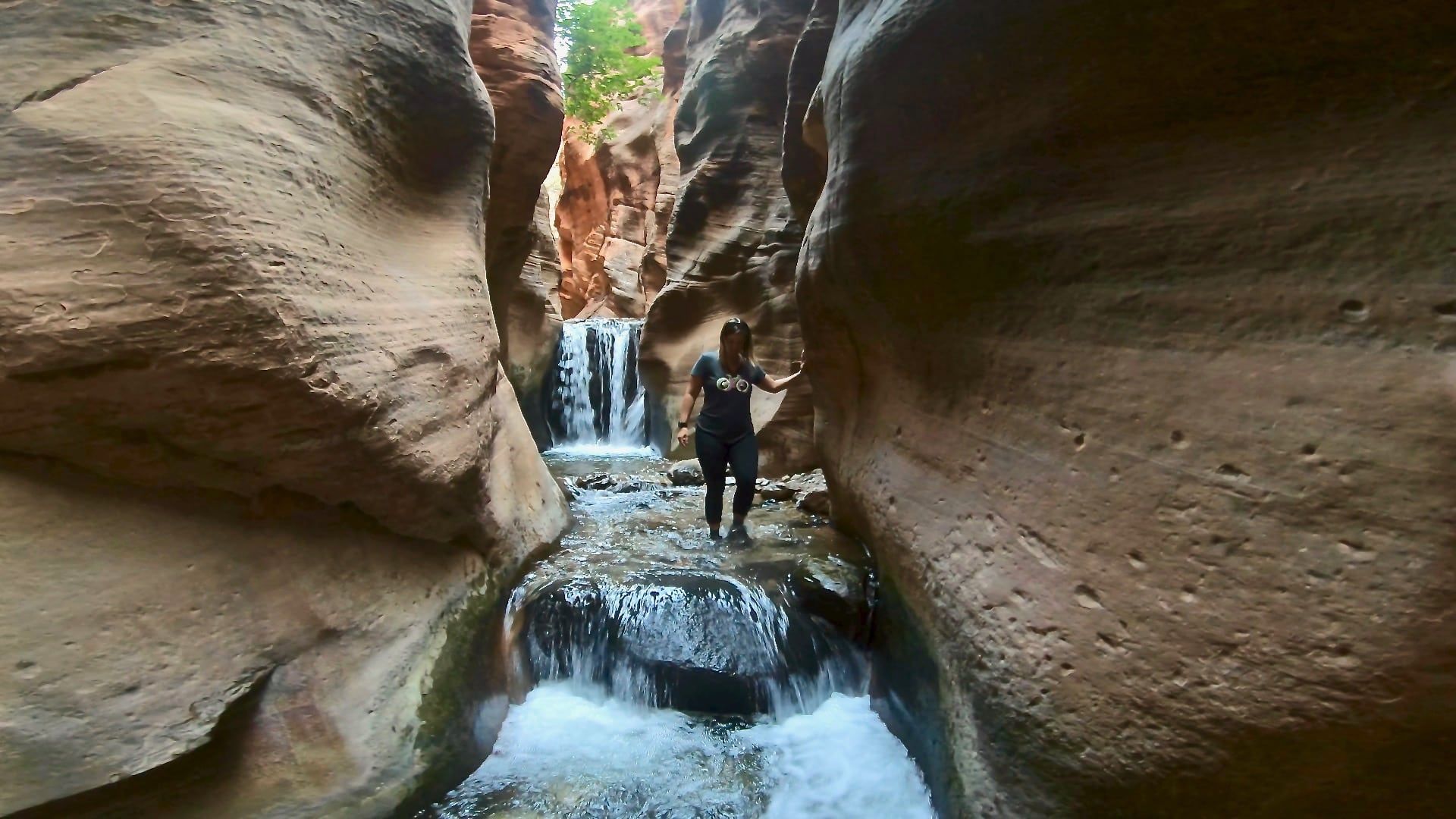 Renting hiking gear for water hikes
It is common for visitors to rent gear for hiking in the water, especially for The Narrows at Zion National Park. The typical gear package includes neoprene socks, boots, and a walking stick. We opted to buy wool socks, and use our existing hiking boots and hiking poles.
This ended up being a good option for us and we used our wool socks for this hike, The Narrows and The Subway. We were quite comfortable each day and I don't think renting the gear would have made our hike any more comfortable. I would caution that if it were any colder, the gear might be essential for the enjoyment of the experience.
What we wore while hiking in the water
We did not bring this type of socks with us so I went to the Sportsman Warehouse in St. George, UT to purchase new socks.  I was searching for the highest blend of wool I could find in a mid-calf sock. First I found the Drake Merino Wool Mid-weight Crew Sock for Keith.  These are quality socks, high wool percent (80%), and very reasonably priced at around $10-$12. If they had a smaller size for me, I would have bought these for myself too.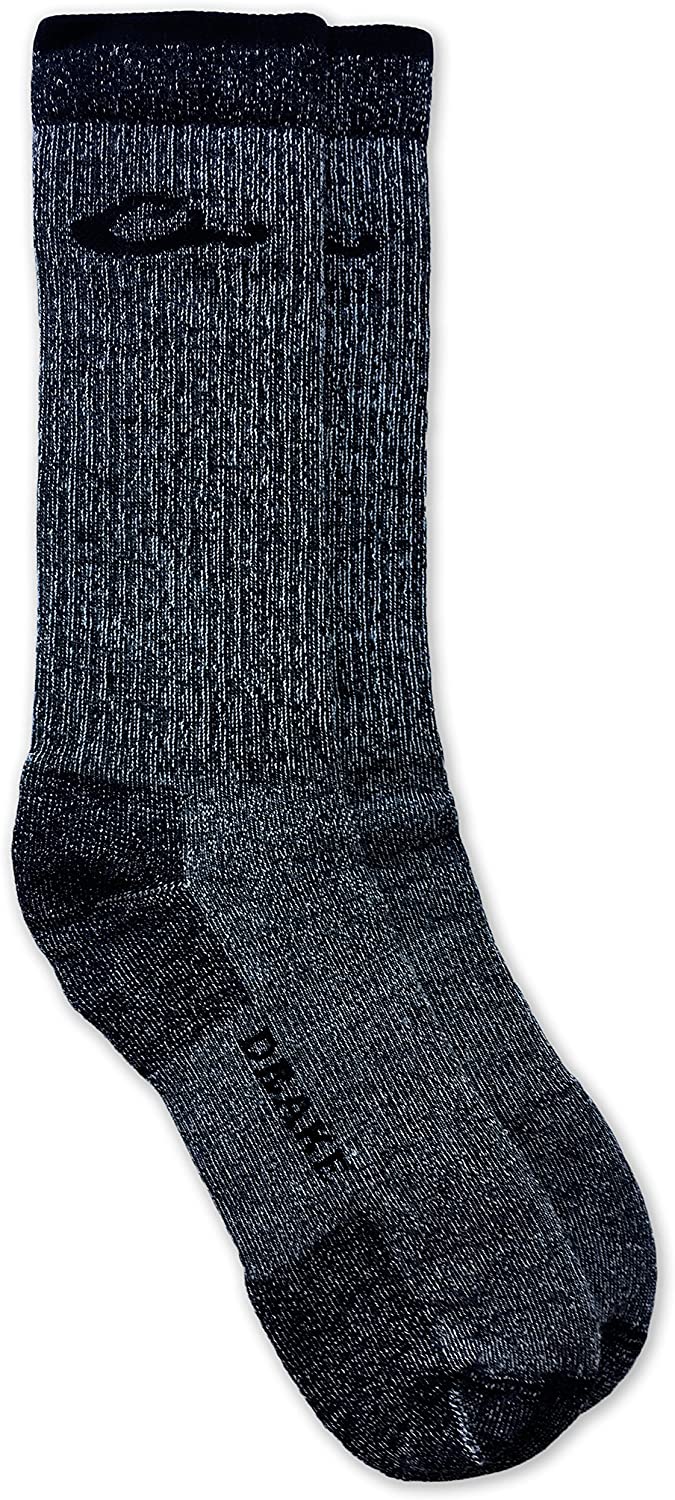 Drake Men's Premium Thermal Merino Wool Smooth Toe Hiking Crew Socks
70% Merino Wool, 26% Nylon, 4% Spandex
Made in the USA
Machine Wash
Buy on Amazon
I ended up buying the Smartwool Outdoor Advanced Light Crew Hiking Sock for myself and was very pleased each time I wore these.  I have Smartwool socks for hiking and skiing. Love my skiing socks, but don't wear my hiking socks very often. Now I am thinking they are a size too big since they seem to rub my feet the wrong way.  After loving these new socks, I might have to give the hiking socks another try and/or get a smaller size.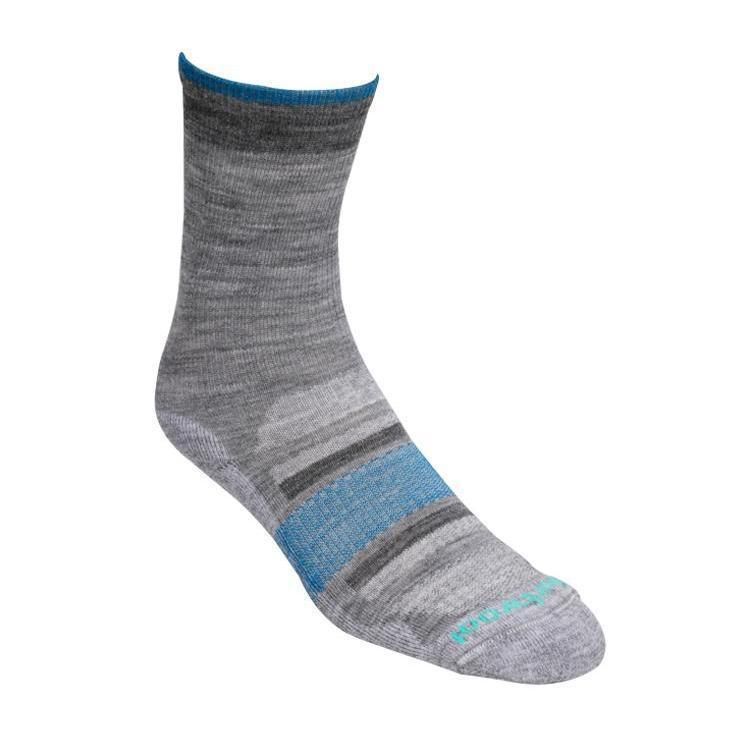 Smartwool Women's Outdoor Advanced Light Crew Hiking Socks
Reinforced heel and toe for durability
Flat-knit toe seam
All day comfort
Blister free fit
Mountain tough
Buy from Sportman's Warehouse