Kodachrome Basin State Park
Written by Lindsey Huster
/
4 min read
/
Last updated 9 months ago
Kodachrome Basin State Park is located 12 miles south of Highway 12 and 20 miles southeast of Bryce Canyon National Park. If you are visiting Bryce I highly recommend visiting this park and the nearby Grosvenor Arch.
Highlights of the park
Kodachrome features nearly 70 monolithic spires, ranging from 6 – 170 feet in height. From the park guide, "Kodachrome Basin is a spectacle of towering sandstone chimneys, changing in color and shadow with the day's mood; from red-tinged spires against a blue sky to soft evening light settling over the desert. This color and contrast prompted the National Geographic Society in 1949, with consent from Kodak Film Corp., to name the park Kodachrome." In 1963, the area opened to the public as a state park. The park is mainly used for camping, hiking, horseback riding, and mountain biking.
Check out our video
Grosvenor Arch
Grosvenor Arch is located about 10 miles southeast of Kodachrome Basin State Park. Formerly part of the park, but now within Grand Staircase Escalante National Monument boundaries. It is well worth the extra drive, especially if your vehicle allows it. It is a dirt road and probably impassable if wet. There are no fees and it is open year-round.
This massive arch is named after a former president of the National Geographic Society, Gilbert Hovey Grosvenor. He was the first full-time editor of National Geographic Magazine.  The arch stands 152 feet high and spans 92 feet. It's actually a sandstone double arch that has been compared to a children's cartoon castle. The main parking lot offers restrooms and the .25-mile trail is paved and handicap accessible. The trail does continue into the sand and leads you to different vantage points of the arch. This is great for taking photos.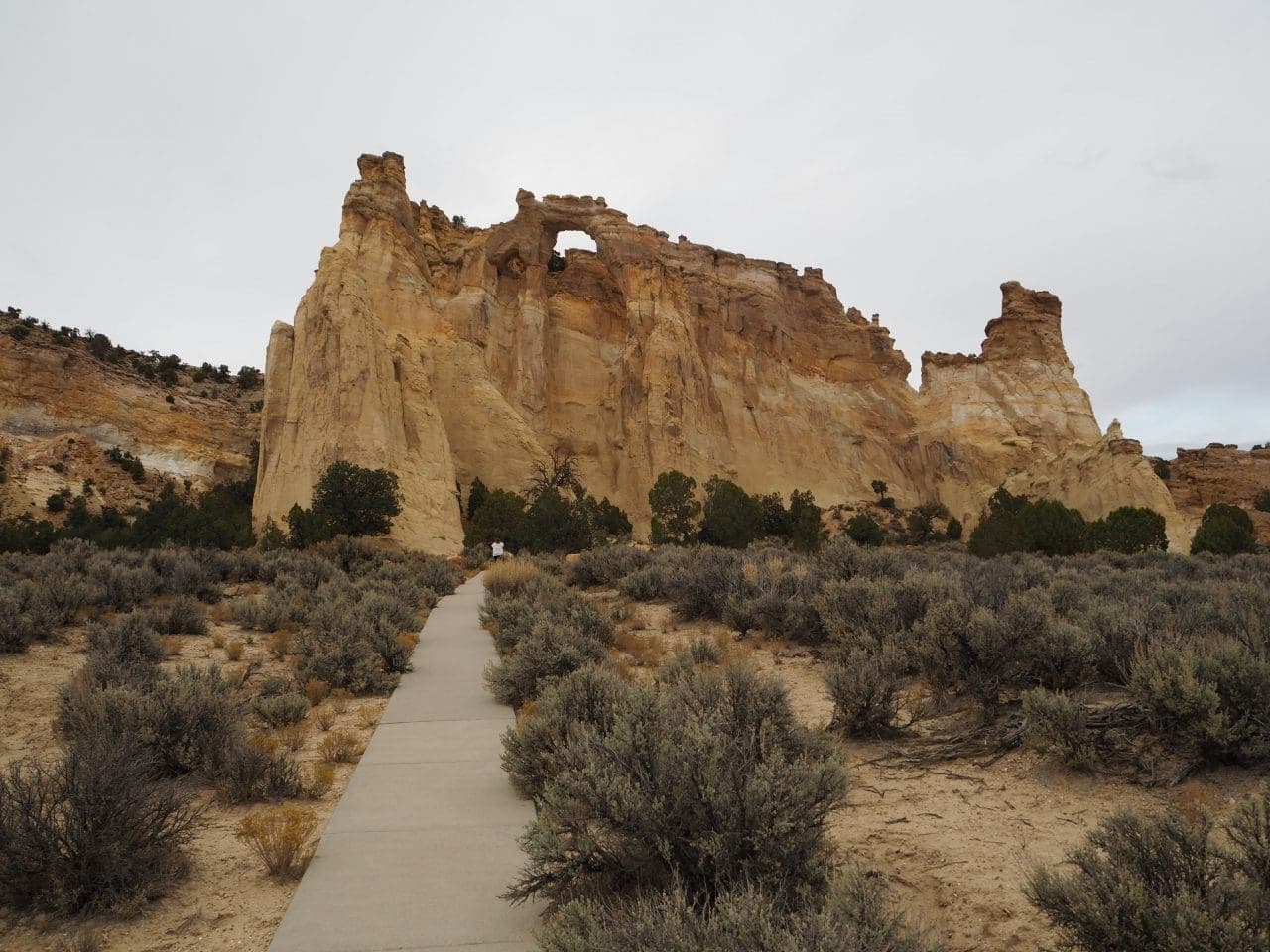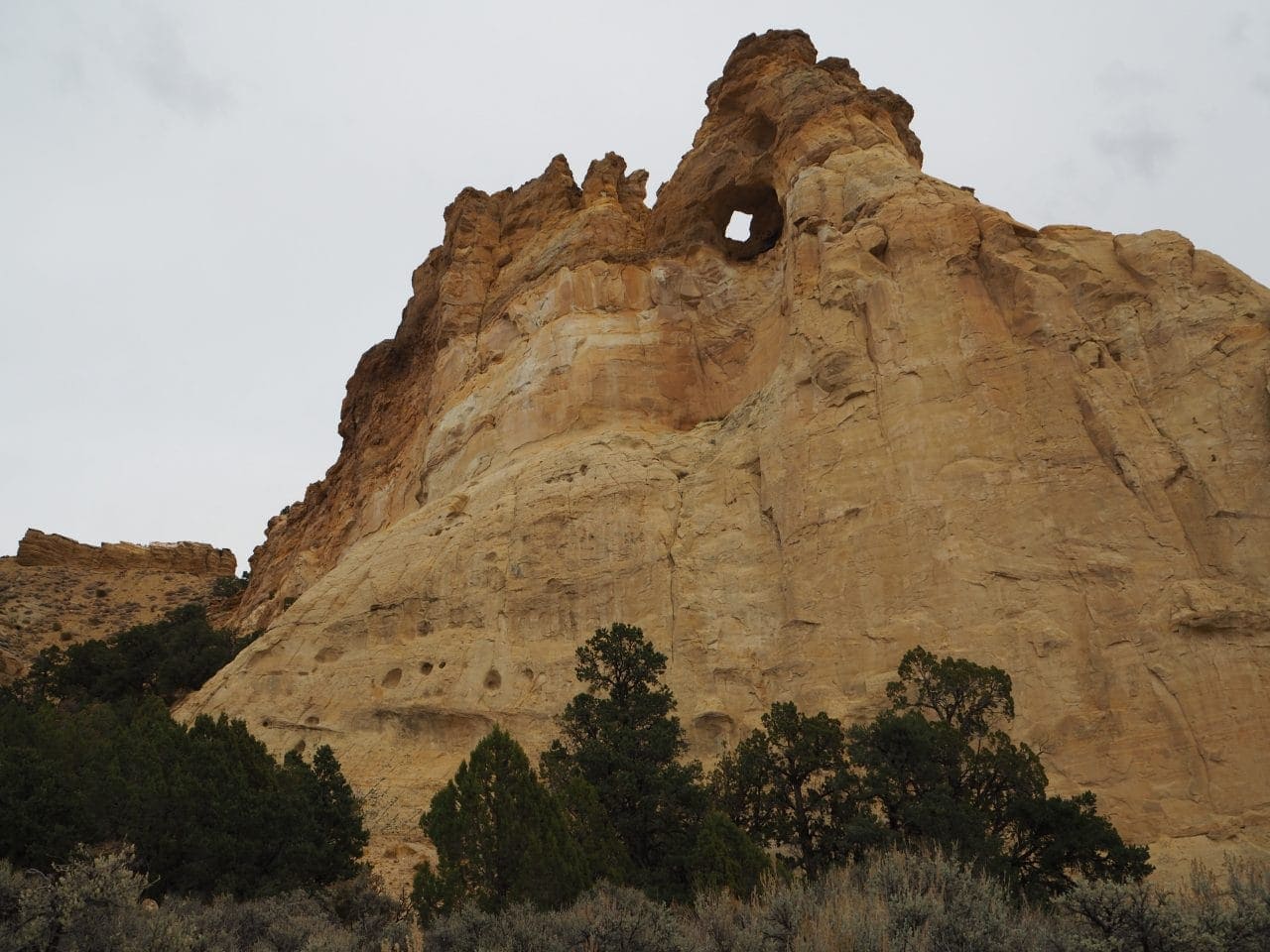 Lexi's day out
We started the afternoon by visiting Grosvenor Arch, we passed the small sign and dirt road leading to the arch so be on the lookout. After getting back on track, we arrived at the empty parking lot. This is a lesser-known park and it was fall so we had the whole place to ourselves. We were super excited about the short walk to get a better look.  Even Lexi was ready to explore.
We started down the trail and Keith walked into a huge bug swarm. At about that time, Lexi had an accident. So Keith cleaned it up and took the bag back to the jeep. Lexi and I continued down the path and I was videoing her. By the time Keith caught back up to us, remember this is only a .25 mile walk, I was on the ground! I had fallen and landed in a bush scraping up my face, hands, and knees. This trip was starting out a little rough. 😉 Now I had to walk back to the jeep and clean off my face and determine if I needed band-aids. Two more cars showed up and we met some really nice people to share the arch with.
This arch was different than others arches we've seen.  Most that we've seen are red rock and this arch is gray in color.  It's also a compact arch, tall and skinny.  We really enjoyed walking around the area and looking at all the different angles of the Grosvenor Arch.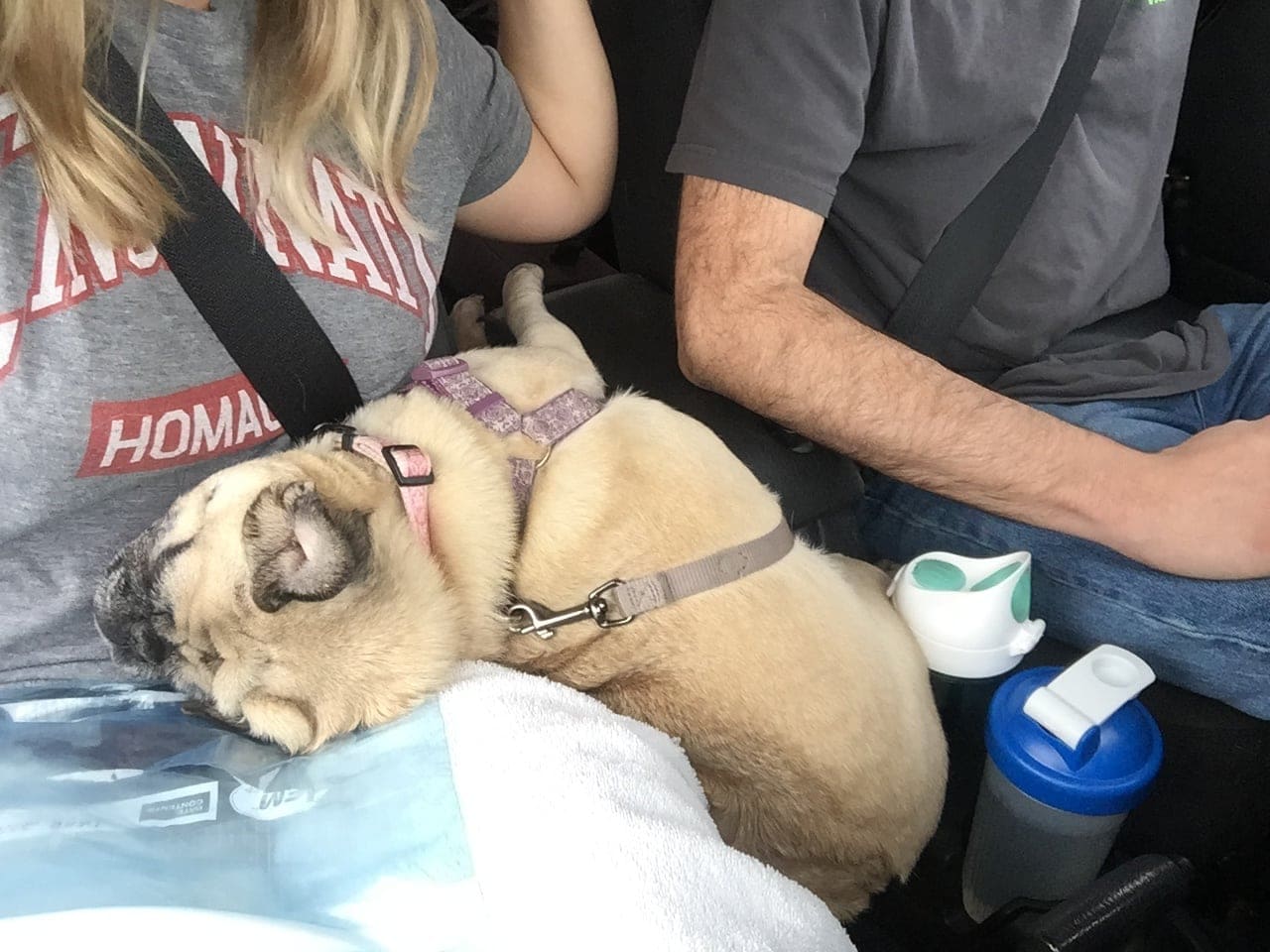 Angel's Palace Trail
Next, we drove into Kodachrome Basin State Park to hike the Angel's Palace Trail. The park is dog-friendly and this would be a great hike for Lexi.  We thought that the hike was a 1.5-mile loop trail with a 288 ft. elevation gain.  The hike we took ended up being an out-and-back trail and we think it was more like 2.5 – 3 miles.  Not sure if we read it wrong or went the wrong way.  Either way, we really enjoyed this hike.
Lexi also loved it!  She was running a little and smiling the entire time.  She hiked all the way out and then I used a backpack, for the first time, on the way back. It got dark quickly and we wanted to get back quicker than she can walk. We had brought dinner with us and found a covered picnic area across from where we had parked. It was VERY dark while we ate!