Long Weekend to Ski Powder Mountain: Part 1
Written by Lindsey Huster
/
7 min read
/
Last updated 10 months ago
Several resorts are located within an hour of our home, but there are two resorts just a little further north that we wanted to ski this season.  Last winter we took a day trip to Snowbasin Resort, which is about 1.5 hours from our house.
Powder Mountain and Snowbasin
The pampering of the luxury resort combined with the epic terrain made it easy to enjoy. Snowbasin hosted the 2002 Winter Olympic Games; downhill, combined, and super g races. We loved Snowbasin and planned to ski it again last season, but unfortunately that just never worked out.
Since moving to Utah, we've run into skiers who rave about Powder Mountain and we had never even heard of it before.  Sure, there are plenty of resorts across the country that we've never heard of, but Powder Mountain boasts the most skiable acreage in the United States!  How had we never heard of it before?
Powder Mountain was added to the top of Keith's wish list and we wanted to make it happen this year.  Spending a long weekend skiing in these two great mountains was the goal, but things didn't go as planned.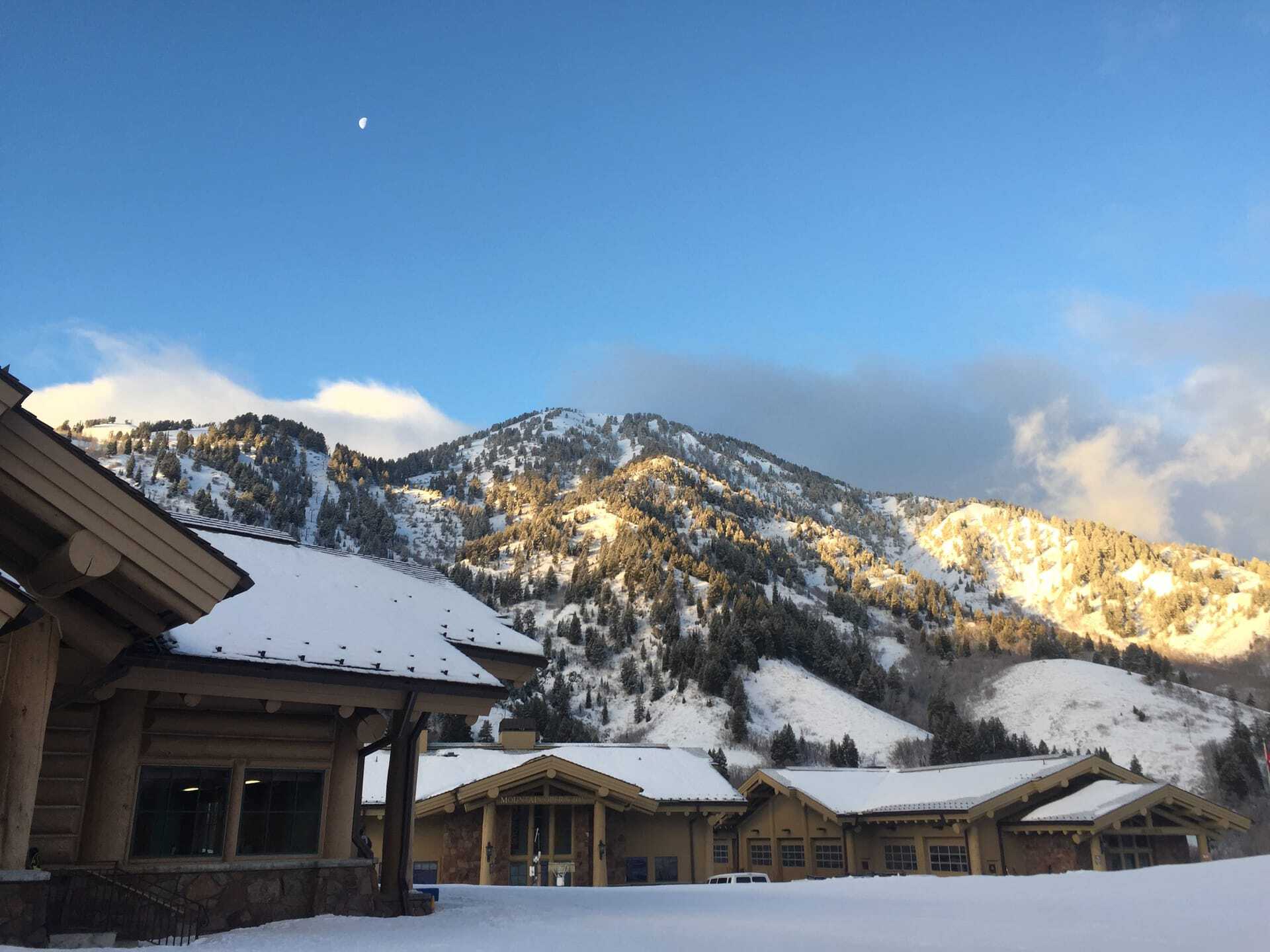 Weekend Overview
Keith and I planned to head to Eden, UT after he got off work on Thursday afternoon so we would have all day Friday and Saturday to ski Powder Mountain. Then, we would check out of the bed and breakfast Sunday morning, ski Snowbasin and drive home. This would allow us three full days of skiing while Keith would only need to use 1 vacation day for the trip.
Check out our video
Snowberry Inn Bed and Breakfast
Initially, we chose the Snowberry Inn Bed and Breakfast for the location between the two resorts we'd be visiting.  Upon learning further details about the B&B and the hostess, we were staying for much more than location. Andrea is not only a former ski racer for Snowbasin and shares a love for skiing, but she's an excellent chef and baker.  Pictures of her incredible breakfast creations really won us over! The spacious cabin looked comfortable and relaxing with the many common areas and gorgeous views of the area. Little did we know how important this would end up being.
Our long weekend started as soon as Keith got off work on a Thursday.  I already dropped off Lexi at the boarding facility so we left town right away.  It was a nice 2-hour drive to the Snowberry Inn. We were impressed with how quickly you pass through Ogden, a small city, to Eden, which is much more countryside.  Eden is a quaint little town that appears to be making some huge developments with resort-style housing, restaurants, etc.  It made us wonder how commercialized it might become in the future and if the locals support this change.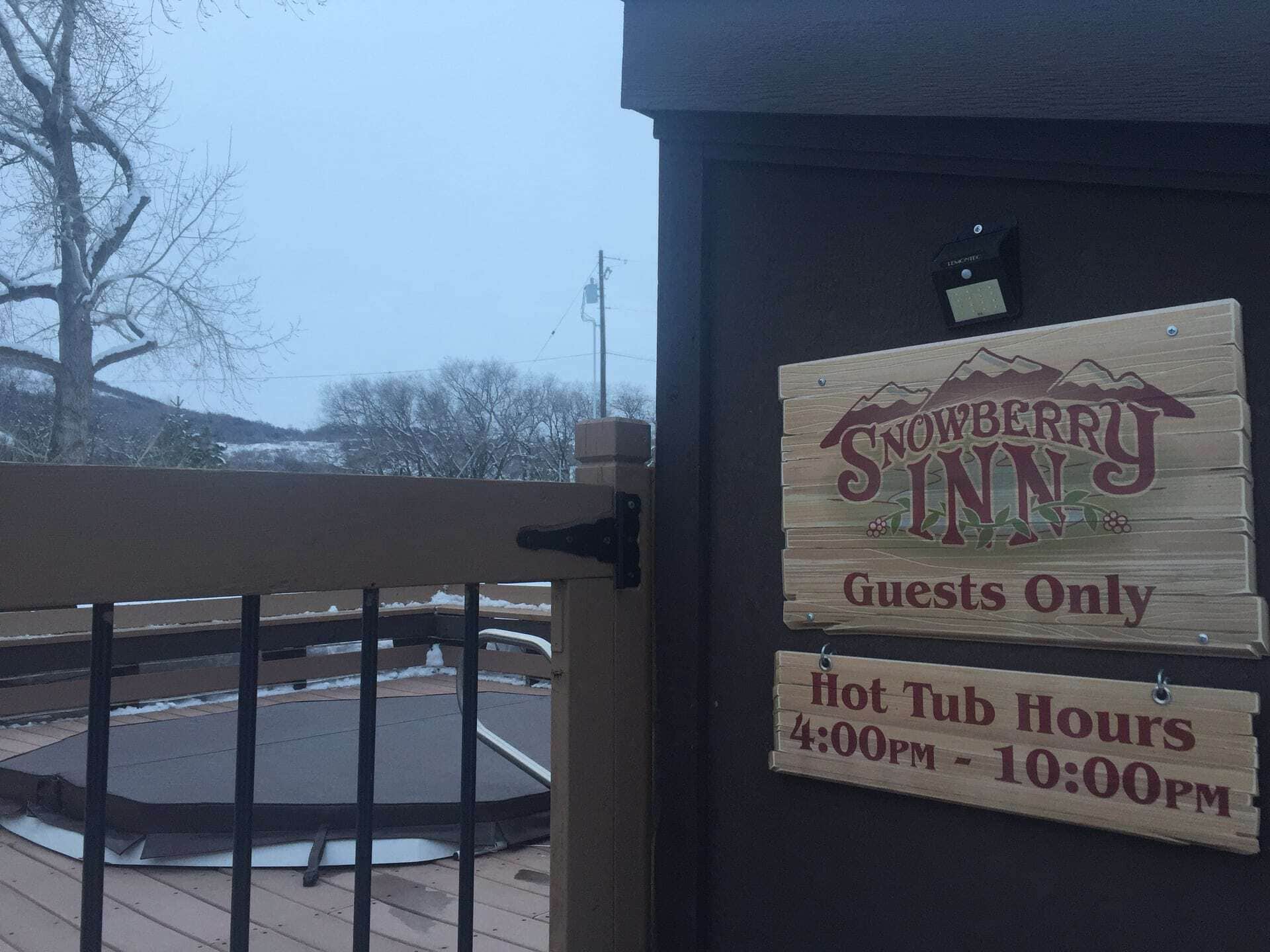 Arriving at the inn
Driving up to the Snowberry Inn, we were anxious to check out the place and start making more detailed plans for skiing the next day.  Glancing at the trail map online was a little confusing about different peaks and backcountry skiing. We knew as soon as we arrived in town we'd get the scoop and the inside tips.
The Snowberry Inn was exactly what we thought it would be.  The perfect bed and breakfast cabin to spend the long weekend.  Sure enough, we walked in and there were a couple of guys discussing the great ski conditions from the day.
After settling into our room, we strolled around the common areas to familiarize ourselves with the inn.  There are three floors that each have guest rooms and different types of common areas. We were on the main floor with the entry, dining areas, laundry, and front desk.  The bottom floor is made up of guest rooms, a tv room, plus a game area with a pool table and foosball game. The upper floor has guest rooms, sitting areas, a tv room, and a board game/library nook.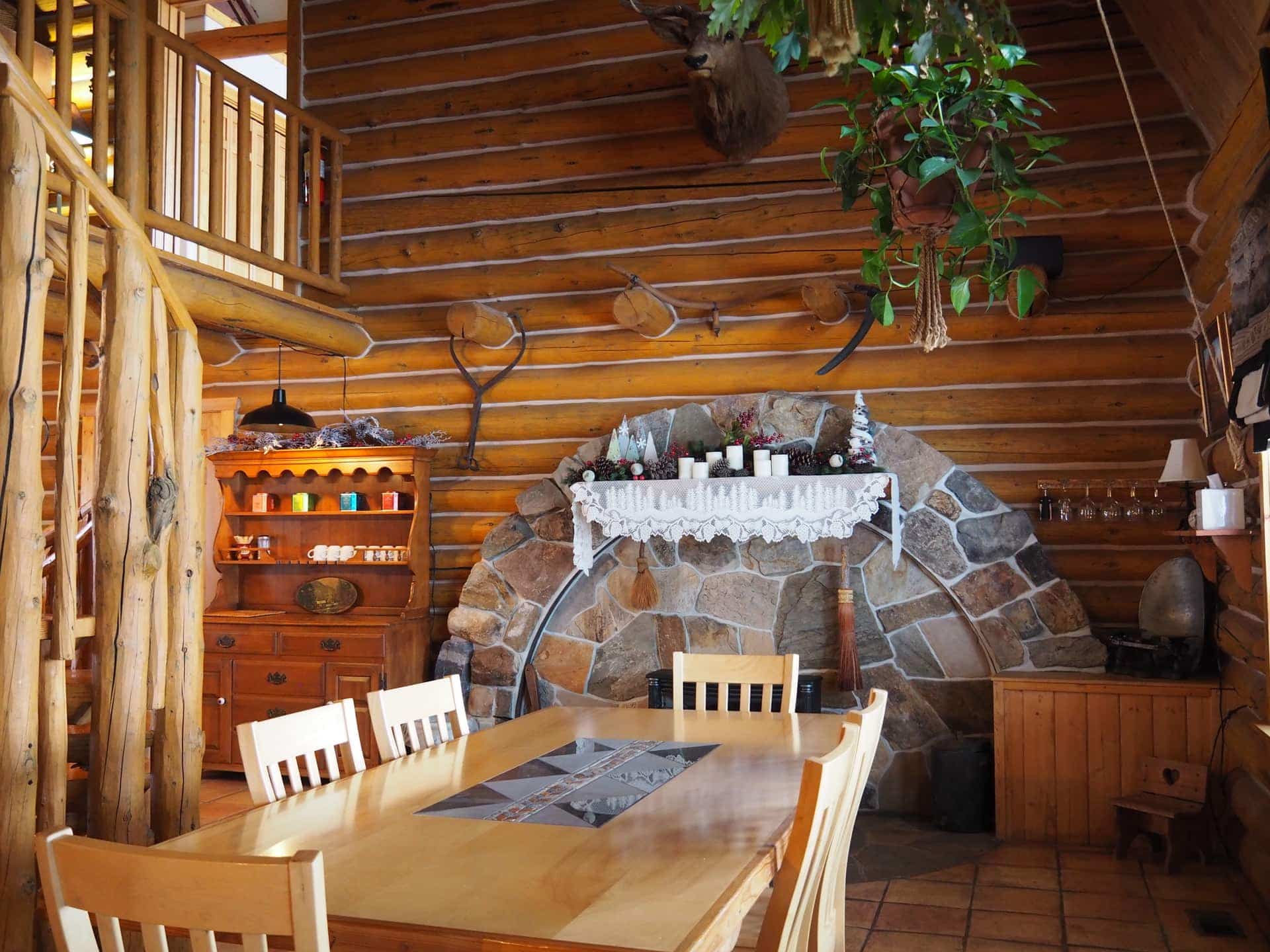 Local touches
Exploring all the unique little touches was fun and we got to discover what makes the inn so charming. It was easy to understand why guests stay year after year.
I love the tie-in with local businesses. Local products are for sale in the lobby and the inn uses soap and room spray from Simply Eden.  It was a nice touch to be able to try the soap and spray before buying.  I really liked the smell and feel of the soap and will likely order from Simply Eden in the future.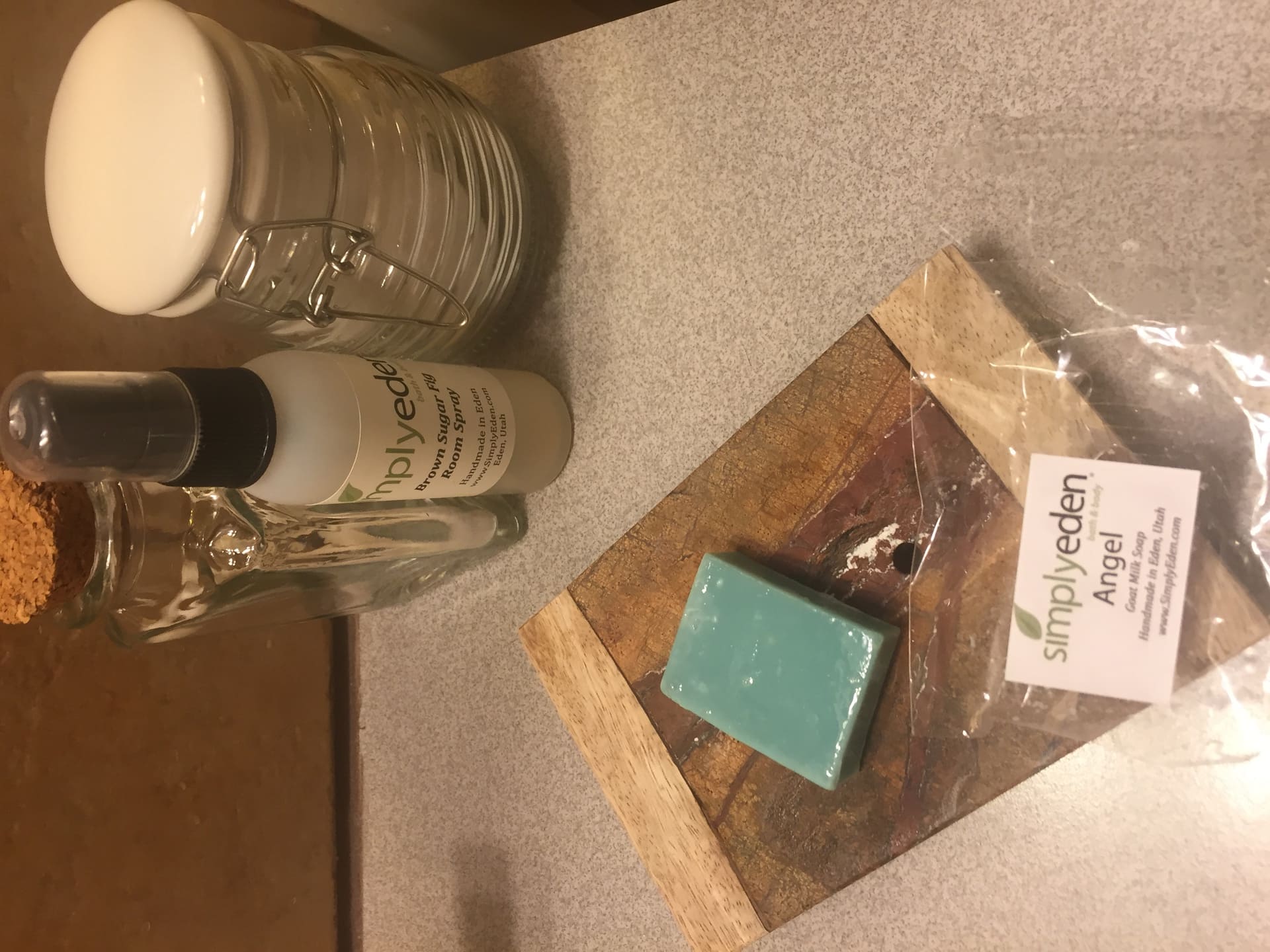 Dinner at the Links Bistro
Andrea recommended Links Bistro just down the road from us for a nice dinner out.  This gave us the chance to see just a little more of the area before dark. Upon arriving at Links, it wasn't quite what I expected but then the dinner itself far exceeded my expectations.  The bistro is set up a little differently than I imagined. You enter a large dining hall that is set up with tables and chairs. The seating wasn't all that impressive as it appears to be nice folding tables and chairs.  I think that is what threw me off.  Then you begin to notice that you are in more of a golf cart storage area for Wolf Creek Golf Course, "The Club." It was getting dark when we arrived, but the sunset view of the golf course was quite nice since the entire back wall of the bistro is made up of large garage doors with glass panels.
As I mentioned, our dinner was absolutely delicious and top-notch!  The standard for the food was excellent; fresh and of high quality. I thoroughly enjoyed the beef medallions with fresh vegetables while Keith had the creamy pesto pasta with chicken.  I would recommend Links Bistro if you are in the area.
We were heading back to the inn when some lights caught our eye on the hill, we quickly realized we were looking at Nordic Valley Ski Resort.  Nordic Valley is quite tiny and we wondered how it compares in size to our hometown resort, Perfect North Slopes, in Lawrenceburg, Indiana.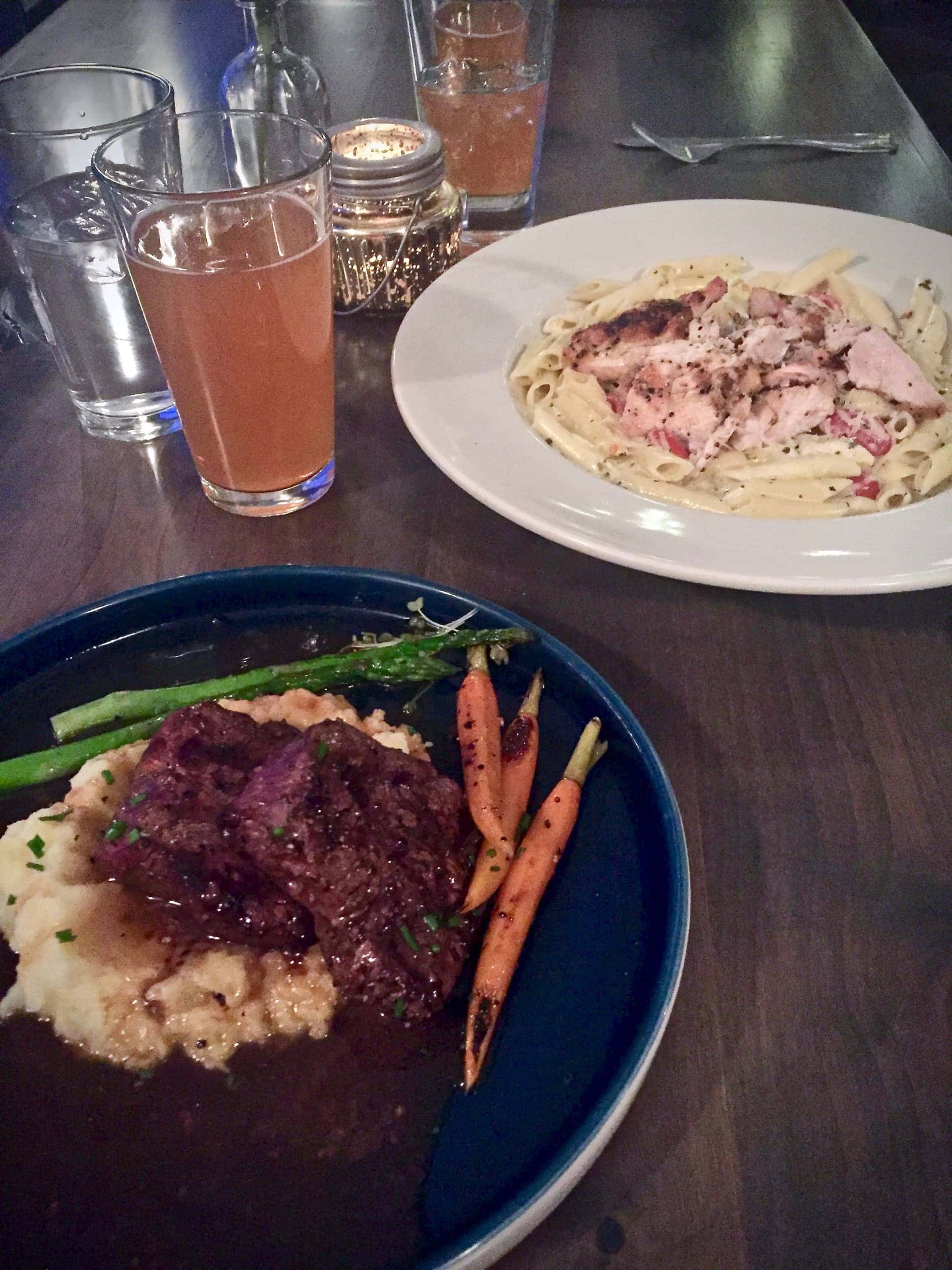 Relaxing at the Inn and Stoked to Ski
Arriving back at the inn, we decided to check out the sitting area upstairs.  I grabbed a magazine from the fireplace as Keith began to scout out our day on the Powder Mountain map.  Just as Keith was getting familiar with the map, our friend from earlier came in and sure enough, he had all the information about where to go and why.
Listening intently, we gathered as much information as possible.  Energy breeds energy and we were feeling the stoke level rise as we make a plan for the next day. We knew that our weekend would be filled with epic skiing and started to think we were better off skiing all three days at Powder Mountain since it's a little further away, therefore, harder for us to access from home.
We turned in early to get a restful night of sleep.  As much as we love our Lexi, it was nice to not be woken up every couple of hours.  She's had a rough few months with her spinal condition and gets up several times throughout the night to go potty.  Sometimes she then assumes it is morning and is ready to play. Lexi has also become very "verbal" so it's impossible to ignore her. Poor girl!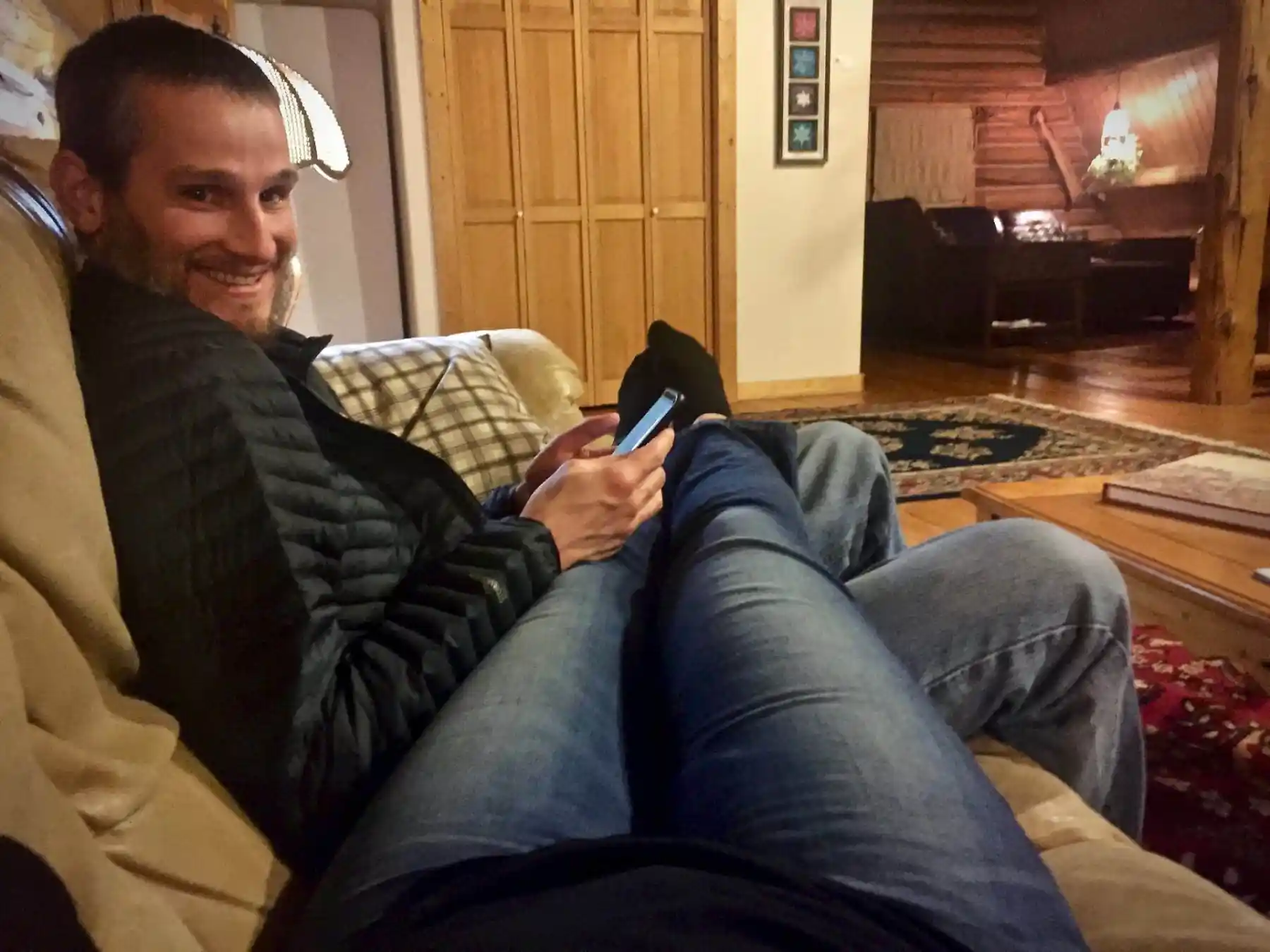 To be continued ...
Check back next Tuesday to find out more about the Snowberry Inn, Powder Mountain, and why the day didn't go as planned. 😢