Meeting Family and Friends in Moab
Written by Lindsey Huster
/
5 min read
/
Last updated 9 months ago
What are the chances that two of my cousins, from opposite sides of my family, and one of my best friends would all be in Moab around the same time?? I felt as lucky as can be to have these three groups planning their own family vacations and being able to meet up with them.
What are the chances?
My two cousins and their families would be on a similar route road trip to see parts of Nevada, Arizona, and Utah. My friends would be visiting family in Colorado, meeting us, and then traveling back to our house to visit.
The next few days would be filled with family and fun!  I was looking forward to the Jeeping, hiking, and quality time with all these special people!
Check out our video
Lunch in Moab
Keith and I dropped off Lexi at the boarding house and headed for Moab. Once we arrived, we immediately went to the Arches visitor center and were so happy to get permits for the self-guided hike in The Fiery Furnace (ranger-led tours were full). Then we headed to town to meet my cousins, The Lobensteins, for a late lunch. We had a yummy meal at Zax and squeezed in as much conversation as possible. Keith and I were eager to hear about their trip thus far and see that they were as excited about Utah as we are.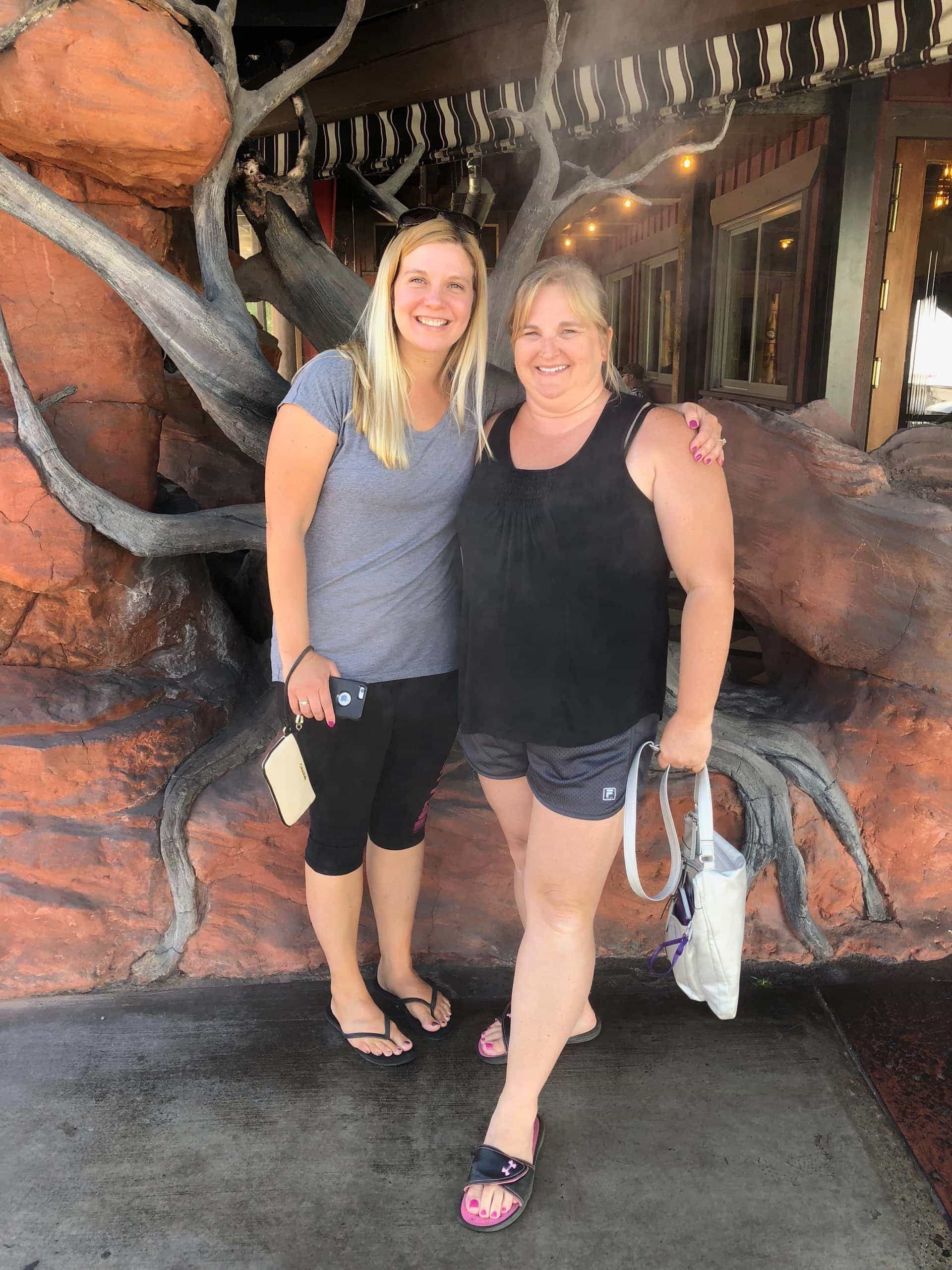 Jeep ride
Keith and I have been to Moab several times, but haven't had an opportunity to do much Jeeping or hiking. We were excited to spend the first few days checking some items off our list. Keith's dad had given us a book for jeeping called Guide to Moab, UT Backroads & 4-Wheel-Drive Trails. We really liked the format of the book.  It has a mileage log so that you know what to expect every so often and details where and when to turn.  This is super helpful since signage can be sparse.  We are still new to off-roading so this was the perfect chance to get out and explore.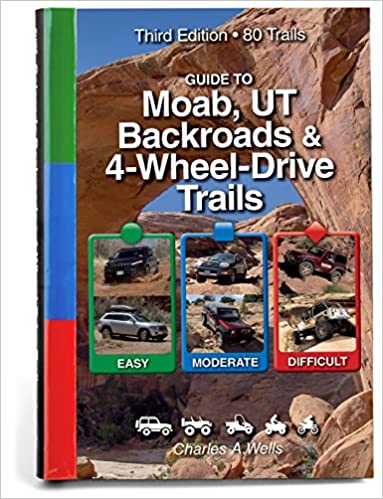 Guide to Moab, UT Backroads & 4-Wheel-Drive Trails 3rd Edition
Every trail represented has been freshly driven and documented using the latest GPS technology for extreme accuracy. Over 500 color photos show scenery as well as trouble spots. Tips and advice from local experts help to get you through the trail. All trails are BLM approved and are legal routes.
Buy on Amazon
We found an "easy" trail and headed out to Spring Canyon Bottom.  The road was quite easy and we enjoyed some of the backcountry areas near Moab.  We eventually came to a spot along the road where a gate was closed, the book indicated this could mean the trail wasn't safe, and to proceed with caution, so we decided to just head back and take some offshoots to keep exploring.
It's important to know the "rules" of the roads when off-roading somewhere new.  Be sure to ask locals, at a visitor center, etc.  For example, while jeeping in southeastern Utah (during our Bluff trip) it was explained to us that the rule with gates was as follows: a closed gate usually means free-range cattle and you are to leave the gate as is; open if open or closed it behind you after passing through.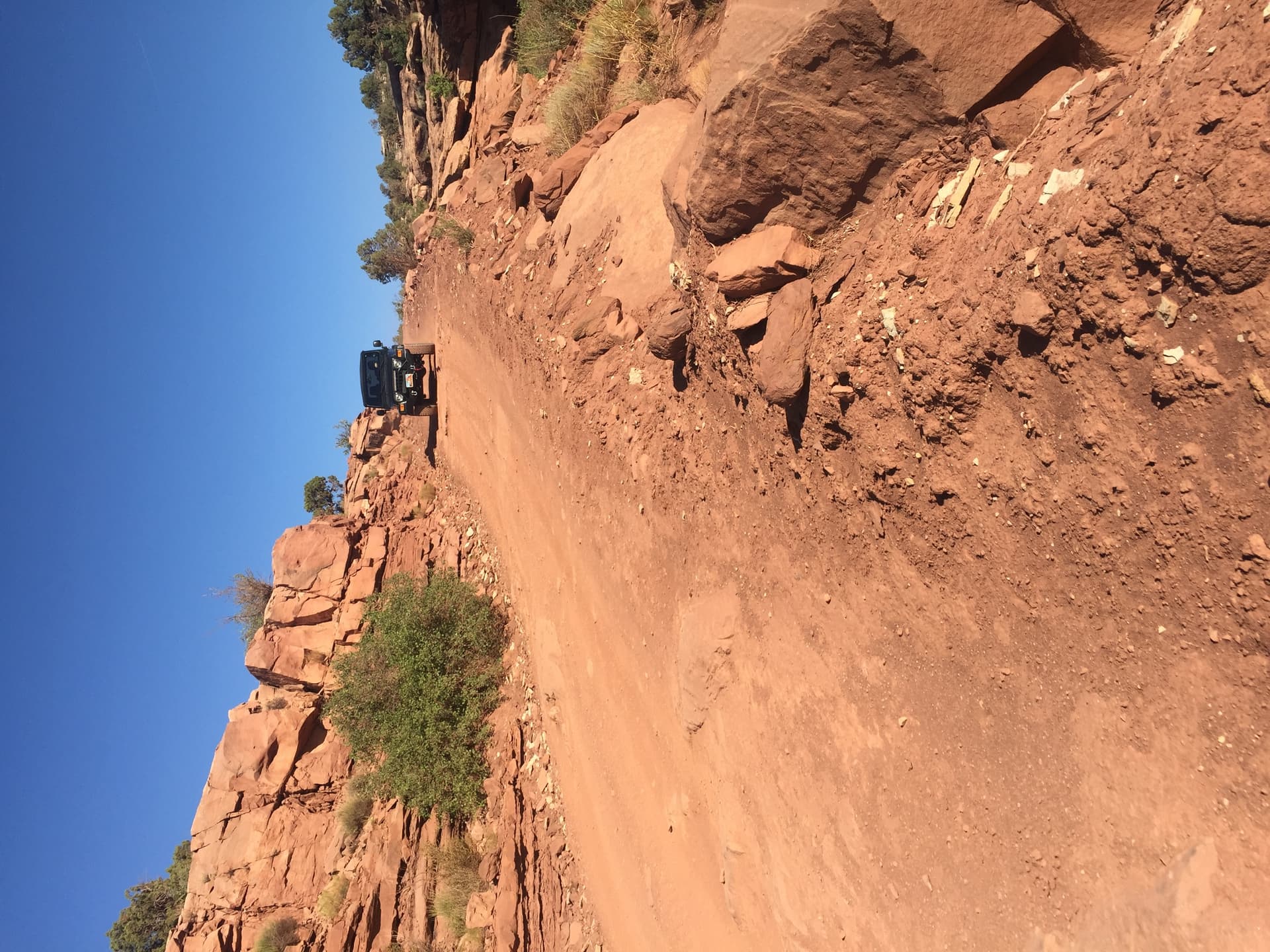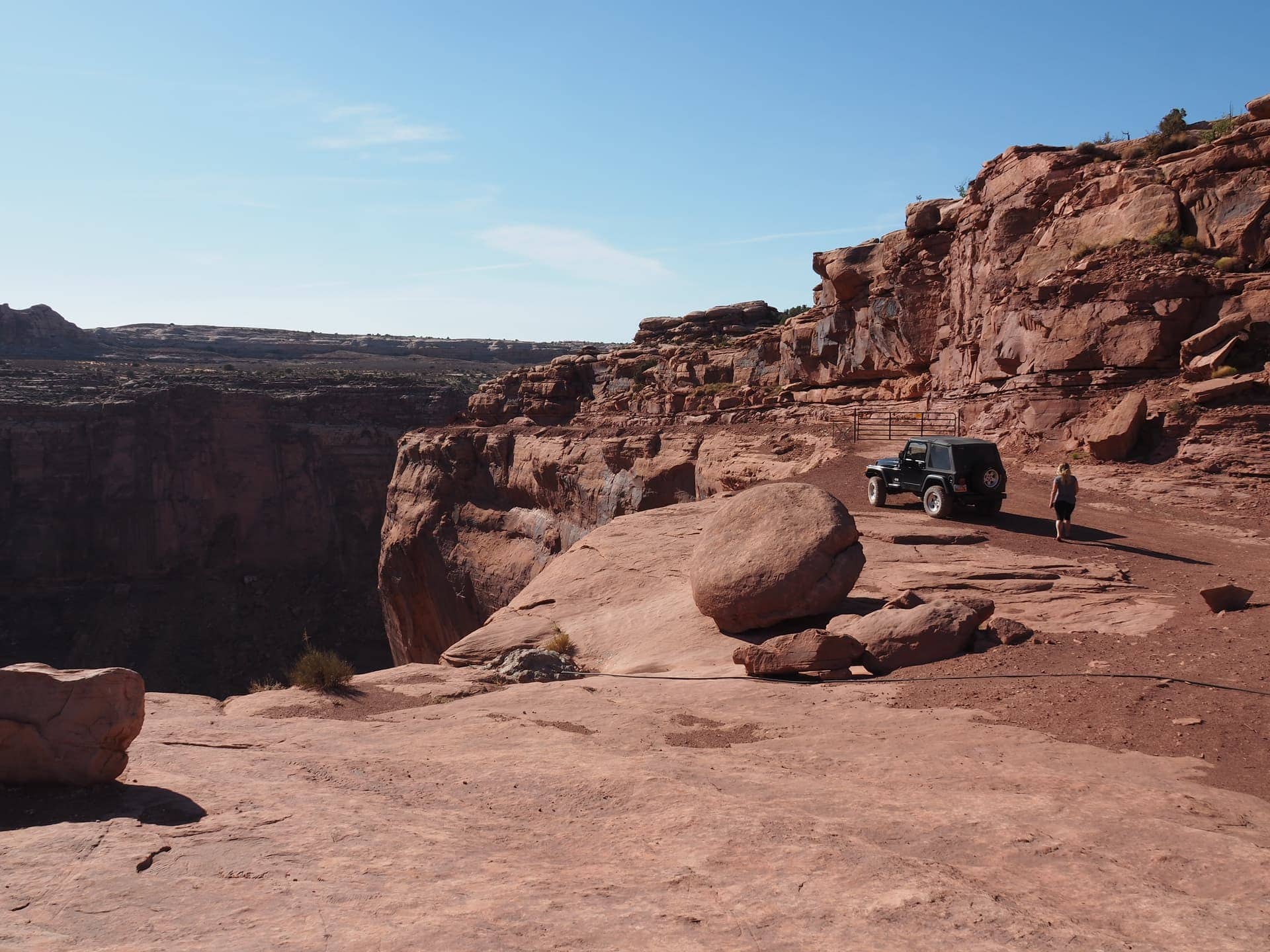 Jeep upgrades
When we bought the jeep we knew it would be a good vehicle for towing with the motorhome and offer us a different way to explore the areas we wanted to travel. We didn't realize how many more opportunities the jeep would open up to us. After Bluff, we decided to make a few upgrades to allow for a smoother and safer off-road experience.  We upgraded to larger tires and added a lift kit and disconnect bars.
This road was pretty flat, but immediately we could tell a difference in smoothness in the jeep.  This allowed us to travel at a faster speed thus we were able to cover more ground at a nice pace.  We could not be happier with the choices in upgrades.  While on the trail we did lose a clip needed for the disconnect bars.  We always carry a small tool kit so we made a temporary repair, but would need to stop by a parts store the next day since we planned more off-roading.
Dinner and camping
Arriving back in town we decided on the Blu Pig Bar for dinner and a couple of drinks. Now it was time to find somewhere to camp. Originally we planned to stay on BLM land to get away from town to view the stars. Since we needed to stop in at the parts store the next morning, we decided Ken's Lake would be a great place to camp for the night.
Ken's Lake was a great find for us!  For only $10 a night our site was clear, flat, and had a picnic table. There were also very clean pit toilets nearby. We were really happy with this option and pleasantly surprised by the clear sky and stargazing quality right outside of Moab.