More Stuff about Bluff, UT!
Written by Lindsey Huster
/
6 min read
/
Last updated 9 months ago
How much more stuff about Bluff could there be? This is the 15th post about Bluff, Utah and there is more to share! We were busy nearly every single day while in Bluff. Here are some other places we visited or things we did that didn't make it into a previous post.
Bluff Fort
We had been in Bluff for over two weeks and drove by the Bluff Fort a dozen times before we finally made it there on June 19th. The Bluff Fort tells the history of the Mormon pioneers who settled in the area and what life was like in the 1880s. A replica of the co-op store serves as the visitor center and there are several family cabins that have been restored/replicated with donated heirlooms from the ancestors who made this impossible journey. The visitor center has a small theater where you can learn more about these dedicated pioneers. There are knowledgeable volunteers who can answer any questions you have and provide you with even more details about these families. The center has a gift shop that sells souvenirs as well as original art from local artists. Bonus: They sell ice cream cones!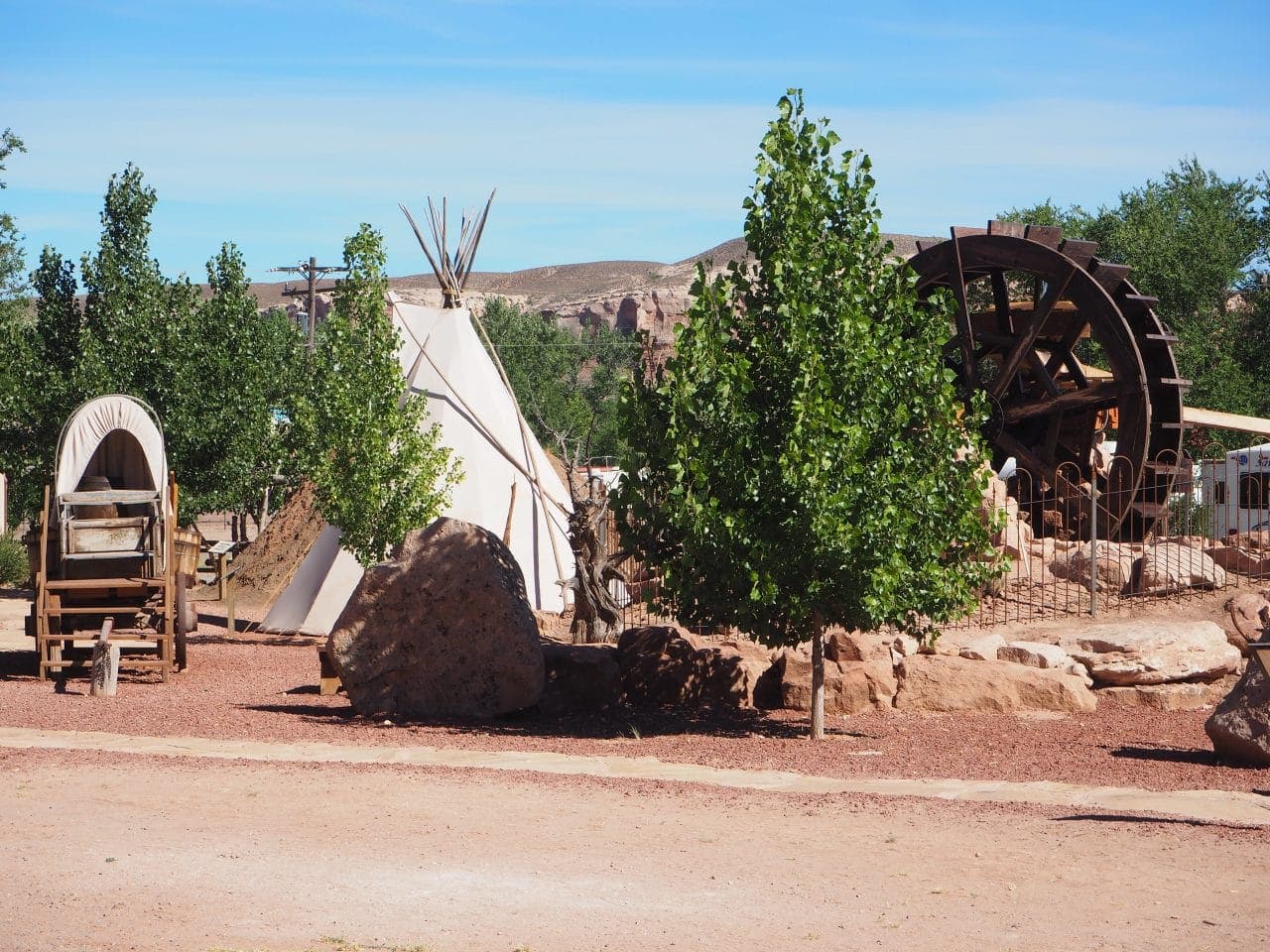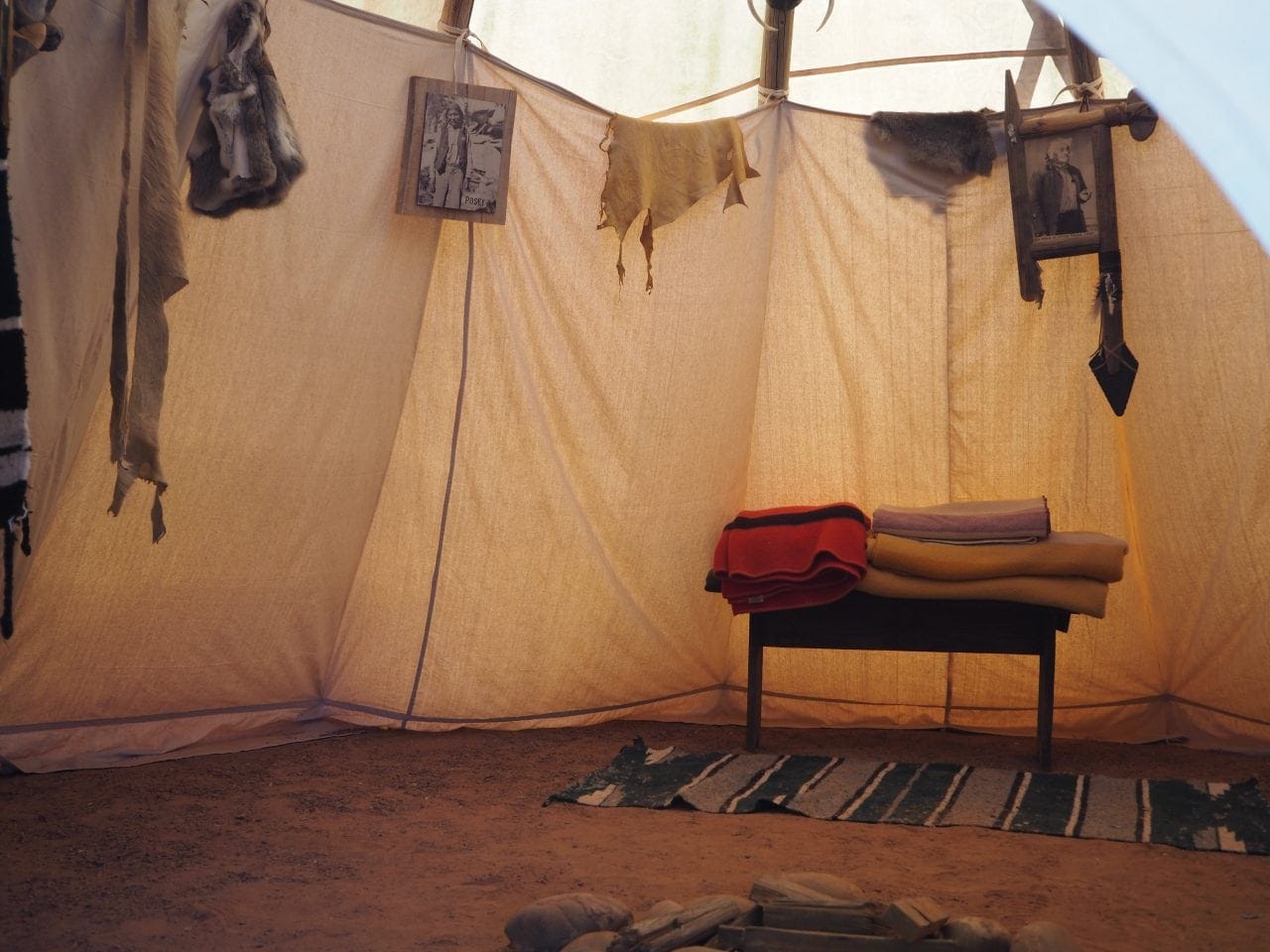 Comb Ridge Bistro
We were staying right across from the Comb Ridge Bistro and it got excellent reviews on Google so naturally, we had to try it out! It's a good thing it took us about two and a half weeks to make it there because this is the type of place that I'd love to visit every day! It has a certain calming element even though I agree with reviewers who describe it to be quirky and cool. I felt this walking up to the building, maybe it's the cute patio on the front, or the local art inside, or the friendly staff, or the healthy dining options, or, or, or…. I could go on and on.
Perfection! The blue corn pancakes with real maple syrup and bacon are the perfect start to a great day. Comb Ridge Bistro also has an espresso bar and my mocha was the best I'd had in a very long time! It can be hard to come by good coffee in Utah, but if you search you can find some top-notch local coffee houses that are simply amazing. This is one that I won't soon forget. I cannot believe that neither of us took pictures of our food! We are already planning on returning with my mom and John this summer, so I'll have to get some pics then.
We also returned for dinner one evening before leaving Bluff. Earl, the campground manager/our new friend, joined us and we all enjoyed dinner. I think the first 15 minutes of dinner were commenting on how good the food was. Our burgers were cooked to perfection and Earl thoroughly enjoyed the fish and chips.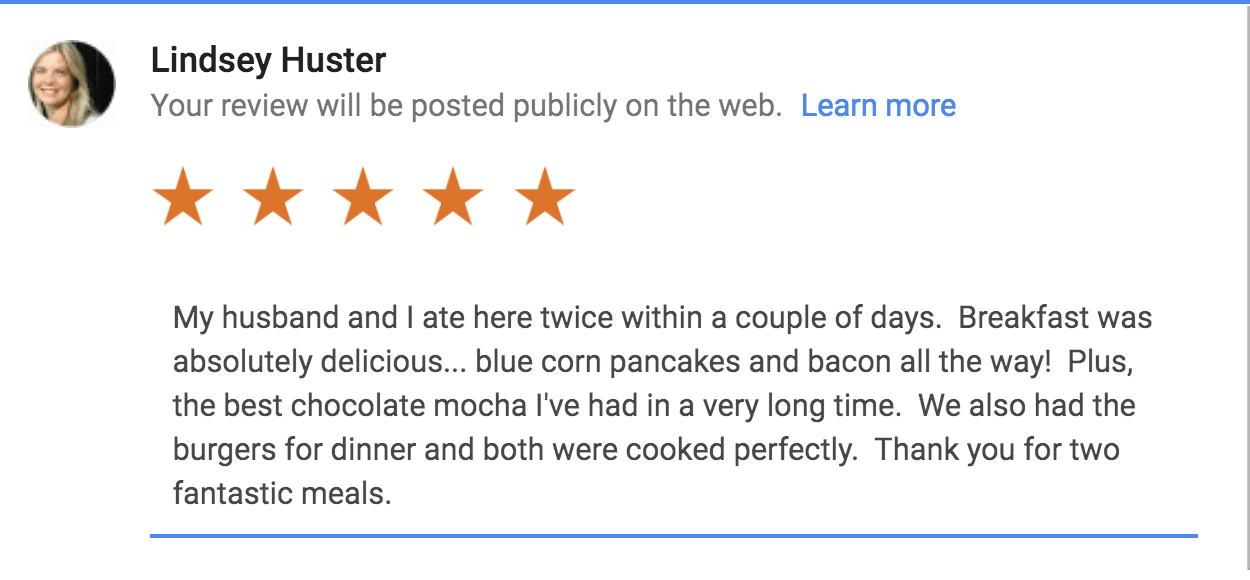 Twin Rocks Trading Post and Cafe
The Twin Rocks Trading Post and Cafe are located beneath the Navajo Twins geological formation in Bluff, Utah. The Trading Post was established in 1989 and offers an extensive collection of fine art. You can feel the passion for cultural tradition as soon as you step foot in the door. We spent quite a bit of time admiring the contents of the trading post, which really is more of a museum in my opinion.
The Twin Rocks Cafe is an icon of Bluff and we waited until our last night to enjoy dinner there.  We each placed an order with the plan to share.  It was as delicious as we hoped and we really enjoyed sitting for a while and reminiscing about our time in Bluff.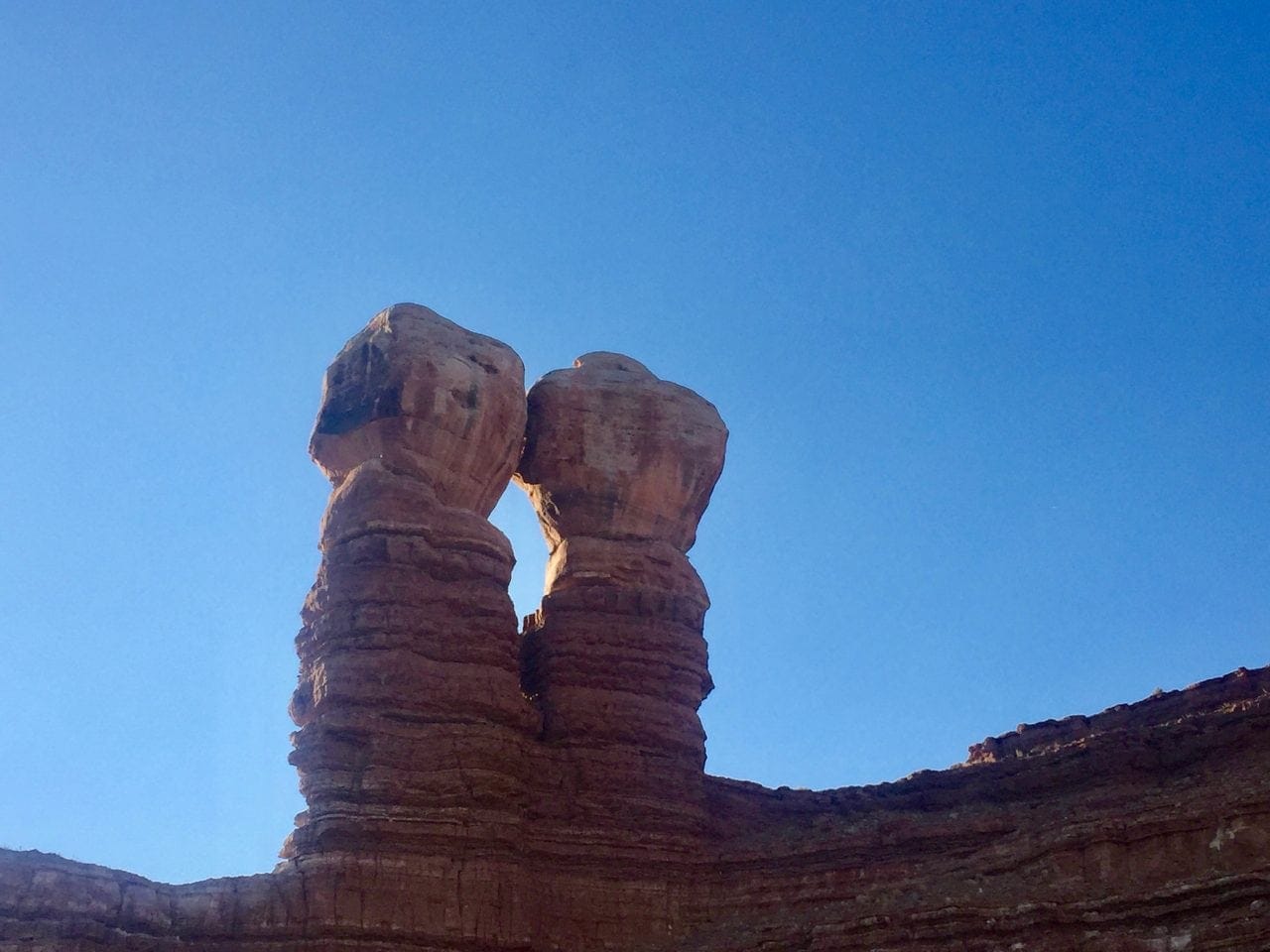 101 Ways to Experience San Juan County
One of the free guidebooks we picked up was titled, "101 Ways to Experience San Juan County." This is the 2017 edition. I'm curious to stop in the area again this summer and see if there are any changes for 2018. This book gave us a great outline of the local area and it's a contest you can enter. You earn points for certain adventures and complete different challenges. We didn't quite meet all the criteria but came very close. It was fun to keep track of and a great way to learn about San Juan County.
Lexi
Lexi was a real trooper on this trip! She had to make some adjustments while living in the RV. First, she had to learn to go to the bathroom on the sand. This is a big deal! Walking in the sand and rock almost became an issue. I think it hurt her feet a little. We really only could take her out late in the evening because it was so hot and the ground got hot. Lexi quickly adjusted to our new routine, which wasn't much different, but still a change.
All in all, I think Lexi loved this trip. She got to see and do things she's never done before and she got to spend so much time with us! Keith and I constantly tell her what a lucky dog she is. 😉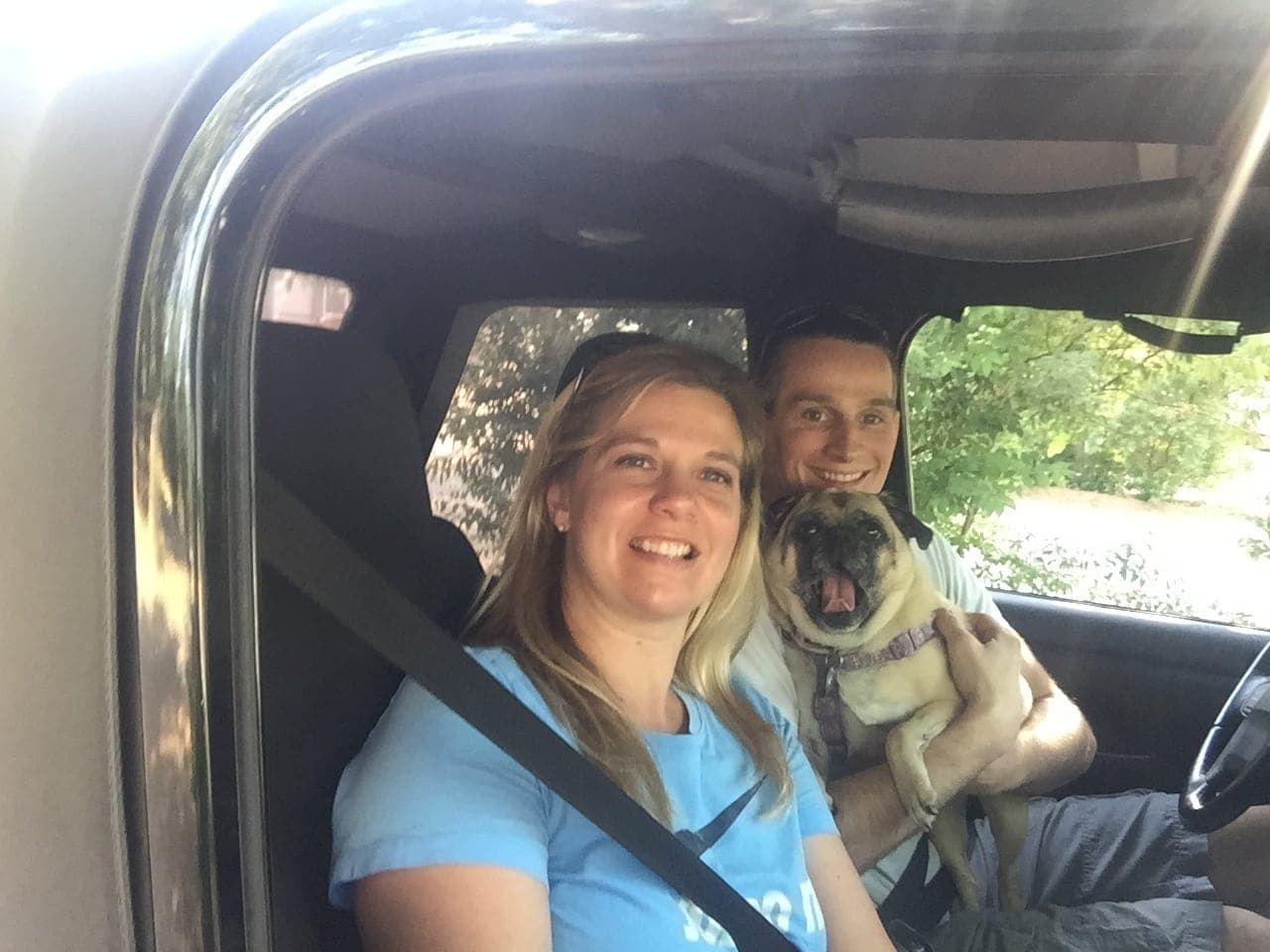 By the end of the trip, Lexi began hiding "under" the bed so she didn't have to explore with us! I think we totally wore her out by week three.
Bluff, Utah . . . what a great first extended trip experience!
We really like the way it feels to stay in one area for a whole month. It allows us to create a routine, spend time with local residents, see so much of the area and almost get a sense of what it would really be like to live in that town. Bluff was our first month-long trip and we weren't sure what to expect. It turned out to be so much better than even our highest expectations. I think this experience really got us started off on the right foot of travel. We've researched different aspects of RV travel for a few years prior and we were doing something a little different than what we most often read about. This really fit us and we both knew immediately that it would be part of our plans for the future.