Preparing for Bluff, Utah Trip
Written by Lindsey Huster
/
4 min read
/
Last updated 20 days ago
The start of summer was flying by. Keith's parents' trip in May had come and gone. Now we were preparing for our first long trip in the RV. Previous to this, our longest trip was 8 days at Red River Gorge, Kentucky in our pop-up. This trip would be 28 days in our motorhome!
Our first long trip in the motorhome!
Check out our video about preparing for the Bluff trip and arriving at the campground!
Packing and loading up the motorhome
Two days before departure, we started loading things like bedding, towels, and clothing. The night before leaving we packed the rest of our clothes, canned goods, Keith's computer equipment, shoes, dog food, etc. We also filled the gas on the RV, checked the tire pressure, etc. This really cut back on what needed to be done the morning we left.
I've got to say that I was really surprised at how easy it was to pack for this trip. I basically took whatever clothes would fit in the wardrobe and drawers. I knew we'd be doing laundry so it wasn't like packing for other trips where you really think about what you want to wear each day and pack it.
It was the same with food. I packed the freezer full and actually ended up with some extra room in the fridge. I had bought vegetables that didn't require refrigeration, at least for the first day or two since I wasn't sure how much would fit. Plus, I didn't want to overload it and risk the chance of it opening during travel.
Morning of departure
Saturday morning Keith got up early and turned on the refrigerator so it would be cold by the time we left. We showered and went to our local fireman's breakfast. We filled up on pancakes, ham, and hashbrowns. It took a little over an hour to load the food, and other last-minute items, and hook up the jeep…. then we were off!
We had a nice day driving. Nice, day, driving…. Yep! We really enjoyed the time we spent driving! The landscape in Utah seems to change so often that just looking out the window really keeps our interest.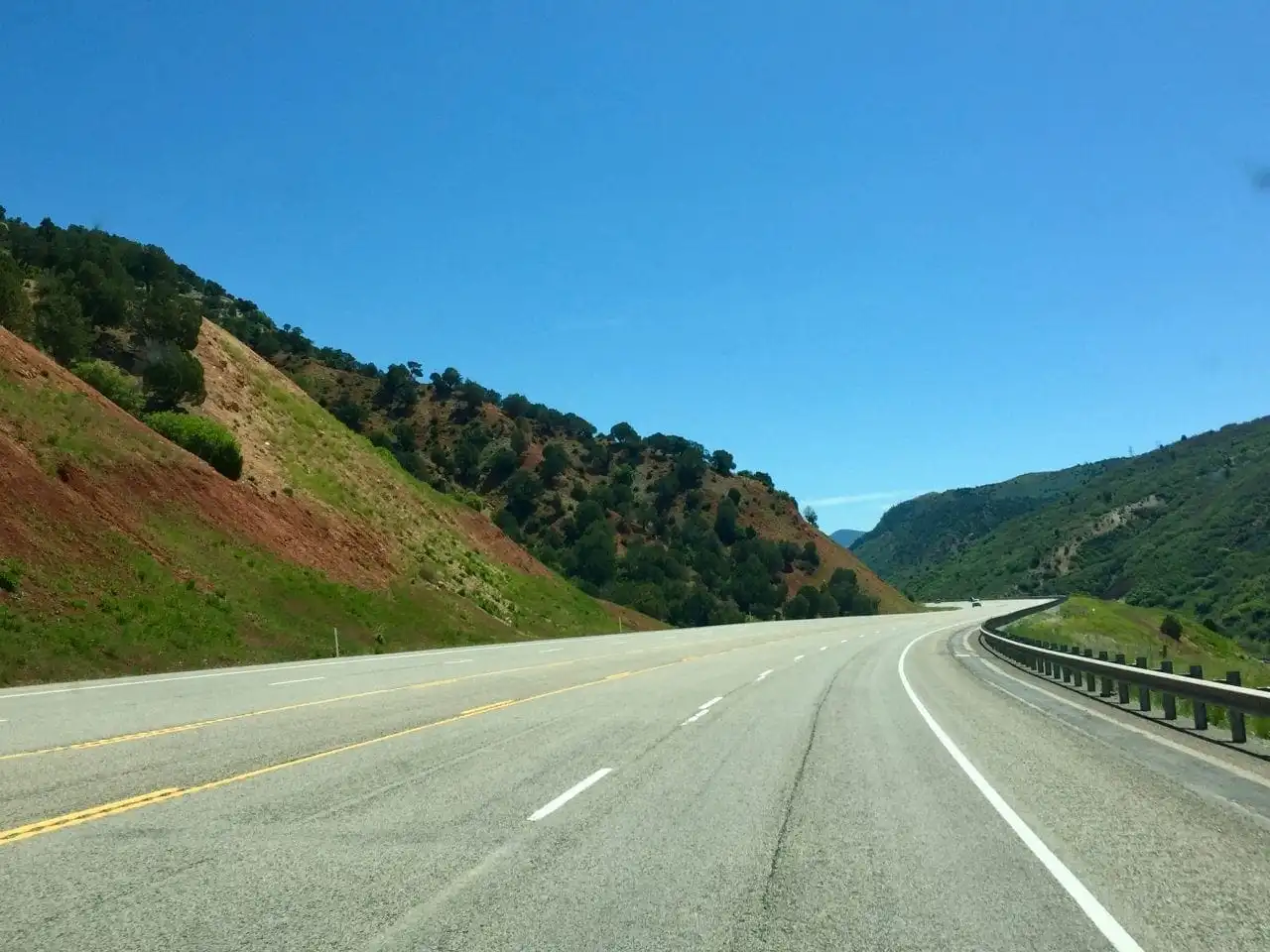 Lunch and driver switch
We grabbed fast food for a late lunch when we stopped for gas. This ended up being a pro we hadn't thought of. We can eat comfortably at the dinette in the RV with the dog! I could have had food prepared for us, but it's nice to get junk food sometimes.
I drove the RV for the first time! I've been in the driver's seat for tasks like moving, parking, and locking the tow bars, but never on the actual road. When we stopped for a lunch, it worked out great because we'd just gotten on I-70 and would be heading toward Moab and getting on UT-191. This gave me some beginning experience driving on the interstate with big trucks passing and some two-lane roads. I was able to see how the RV handled those two situations.
I only drove for about 45 minutes, which was about right for me. I tend to over worry so this was a great learning experience. Plus, we'd be heading through Moab and I didn't want to drive through the town. We'd been there twice before so I knew there would be lots of cars, motorhomes, and off-road vehicles parked alongside the road. The town is only a couple of miles long, but I thought I'd try that another day.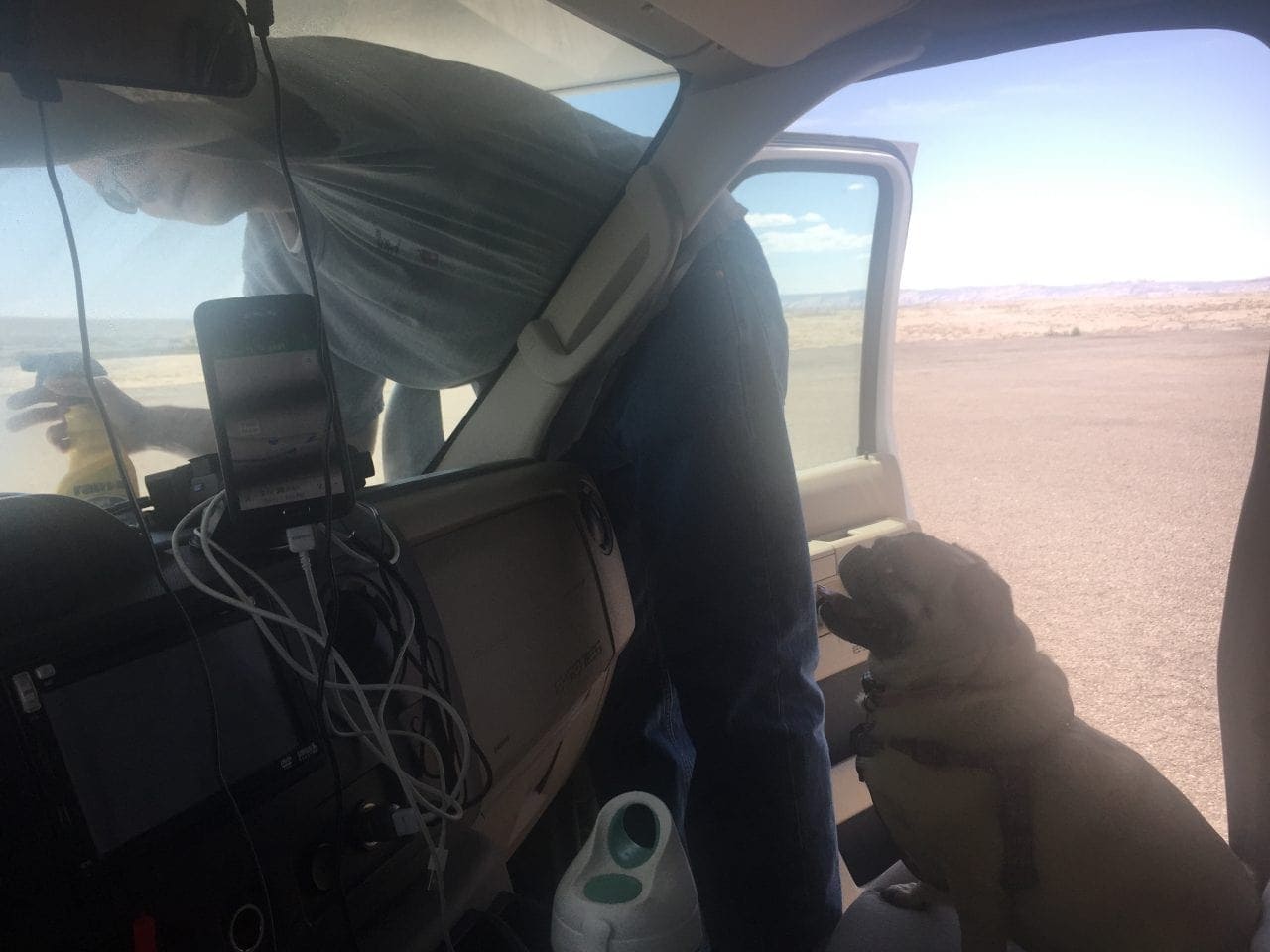 Arriving at Coral Sands RV Park
We arrived at Coral Sands in time to get set up, make dinner, shower, and go to sleep early. It had been an exciting day and we were a little exhausted from the excitement of our new adventure!