Skiing: Our New Christmas Tradition
Written by Lindsey Huster
/
6 min read
/
Last updated 9 months ago
During our first winter season in Utah, we heard that skiing on Christmas Day is typically pretty great! Often times it is snowing or has just snowed that week so the conditions on the mountain are good. We were told that the mornings are pretty bare since most people are celebrating with family and only a few more skiers arrive by afternoon. With that, there were also warnings about the week after Christmas getting super busy with vacationers and locals who are off work/school for the week.
Shredding the slopes on Christmas day
This was our third year of skiing on Christmas Day and we love it! We've run into others who are in similar situations where they don't have family in the area and some are actually in Utah specifically for skiing in the winter. The slopes sort of bring everyone together on this day as their own family. Everyone is enjoying themselves, cheery and bright on Christmas Day. It's just a special feeling! In the years past it's been snowing and with few people at the resort, it's just a calming feeling. This can be such a contrast to the hustle and bustle leading up to Christmas and the usual busyness of the resorts.
I wasn't sure at first if I would want to spend my Christmas skiing, but it truly does feel magical. We've been invited to spend Christmas with friends, but that doesn't quite feel right for us and being home alone isn't quite right either so skiing, one of the main reasons for moving, just fits!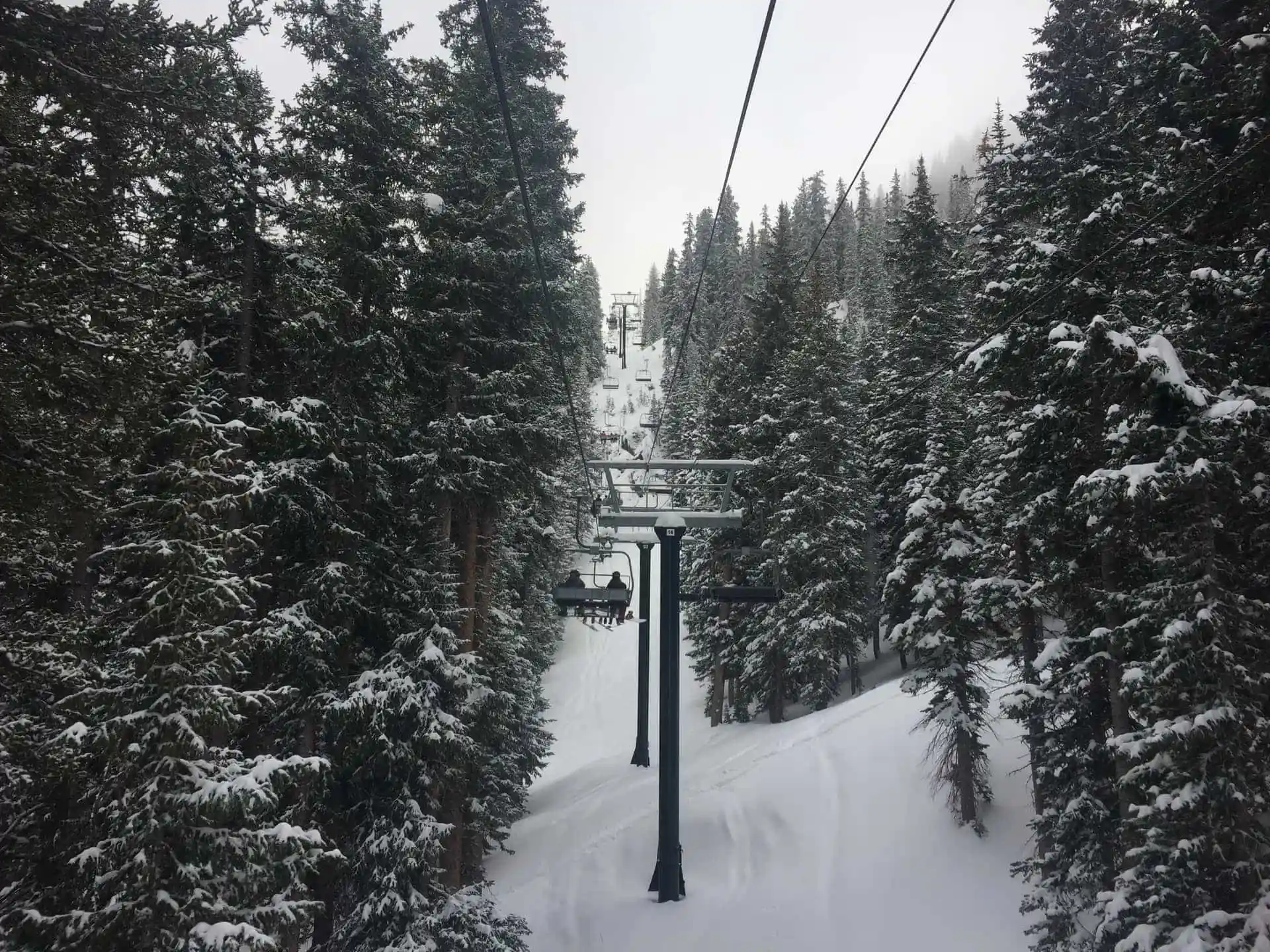 Check out our video featuring skiing Santas
Christmases of years past
During our first winter in Utah, in 2016, I made sure that Keith and I planned lots of special things to do. I figured this way we'd create our new traditions in a new place and it would keep my mind off being away from our family.
This wasn't hard since we were still "new" to the area and there is so much to do at Christmas time. Along with seeing the lights at Temple Square, attending our town's tree lighting, Christmas markets, skiing, snowshoeing, etc., we kept very busy.  Keith and I spent our first Christmas skiing at Snowbird.  We met our friend, Randy, and skied all day!  It snowed pretty heavily the entire day so I didn't even take any pictures. 🙁
That plan worked so well the first year that we did the same for our second Christmas in Utah. We created a list of activities/places we wanted to visit and started marking it on the calendar. We attended Luminaria, Hogle Zoo Lights, Festival of Trees, etc.  You can read more about that in this post, Getting in the Christmas Spirit.  Christmas 2017 was spent at Alta.  Again, it snowed all day and was a true winter wonderland for us.  Randy wasn't able to make it since we were visiting his family in Indiana/Ohio.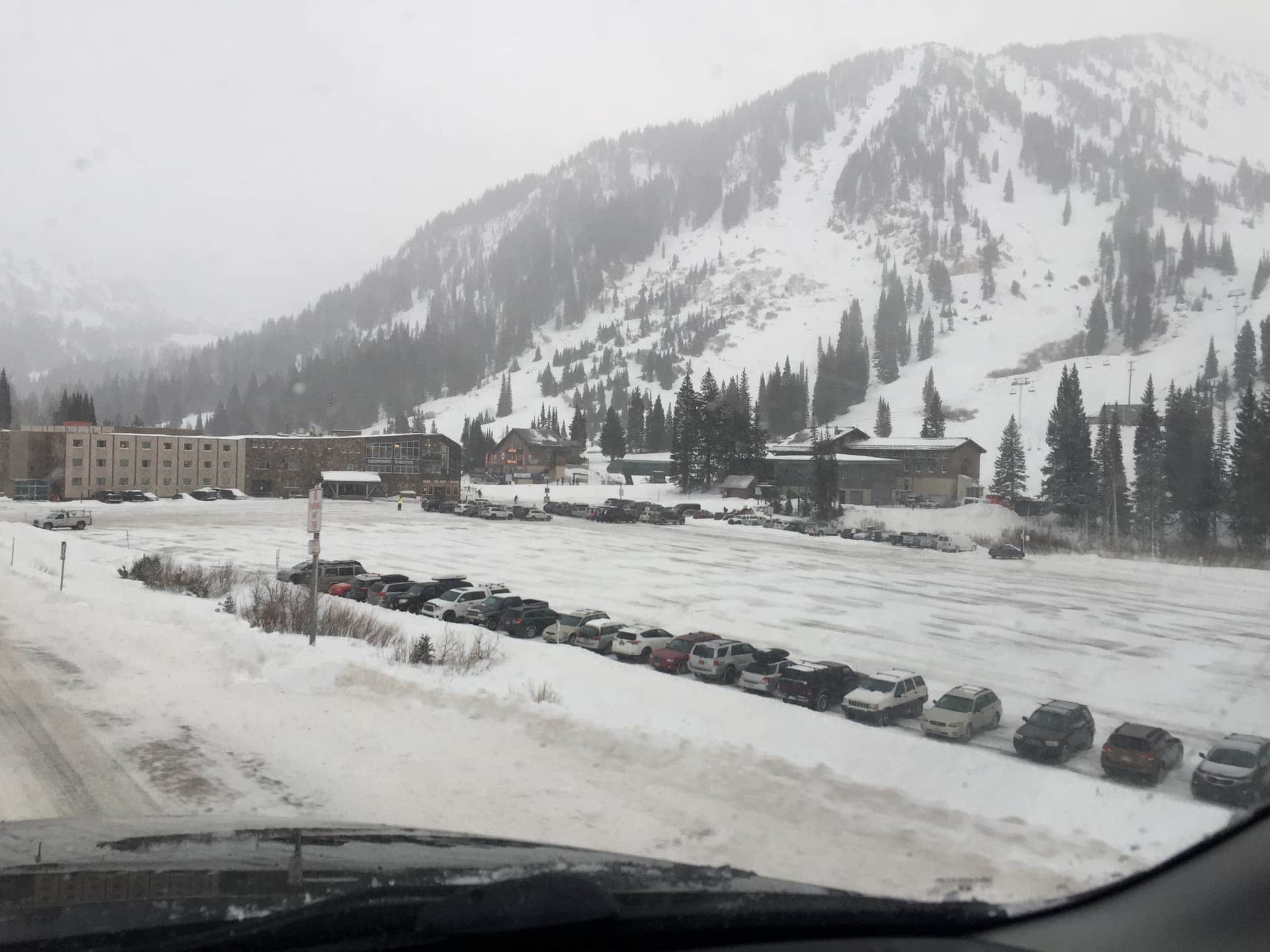 Christmas 2018
Once again we knew we'd spend Christmas on the slopes.  Randy would be joining us this year and we decided to ski/board Brighton.  We've been to Brighton a few times over the last couple of years, but have probably spent the least amount of time there compared to the other 4 resorts we frequent.  Actually, Keith and I had just skied Brighton about two weeks prior to Christmas.  We went for a half-day and it was pretty windy so some of the lifts were closed; plus, there were some issues with the other lifts.  Since we didn't get to explore much of the mountain that day, we were excited to return.
Keith posted a YouTube video about our day at Brighton, check it out here:  RESCUED by a Snowcat!!!  We do post additional pictures/videos on YouTube and Instagram, be sure to follow and subscribe!
Arriving at Brighton we were immediately in the Christmas spirit!  It was snowing, the parking attendant was dancing and there were tons of Santas.  If you dressed as Santa, you could get a free lift ticket.  It was so much fun to see all the skiing Santas!  We also got to see some of the Brighton staff filming Christmas videos while caroling on the slopes.
The fresh snow slowing falling added to the excitement of the day!  Skiing was absolutely fantastic; fresh powder, comfortable temps, and just the right amount of people on the mountain.  We had fun exploring the runs from Great Western, Snake Creek and Crest Express lifts.  I (Lindsey) worked on my turning and speed mainly on the groomers which had several inches of snow.  This was the fun and great practice since I'm still learning to ski in powder!  Keith and Randy found plenty of fresh tracks between the trees and on the steeper runs.  The morning flew by and soon we found ourselves enjoying food and drinks at Molly Green's.
After lunch, we headed over to Milly's Express and finished out the day on that side of the mountain.  It was later in the day and lots of people had already left so it felt like we had the whole place to ourselves.  No lines equal lots of runs!  This was the first day of the season for Randy and although it was our tenth day skiing, it was the first time we skied open to close this season.  We were all beat by the end of the day and ready to head back to our house for dinner.  I had chili in the crockpot and Randy shared homemade cookies from his family… a delicious way to end the day.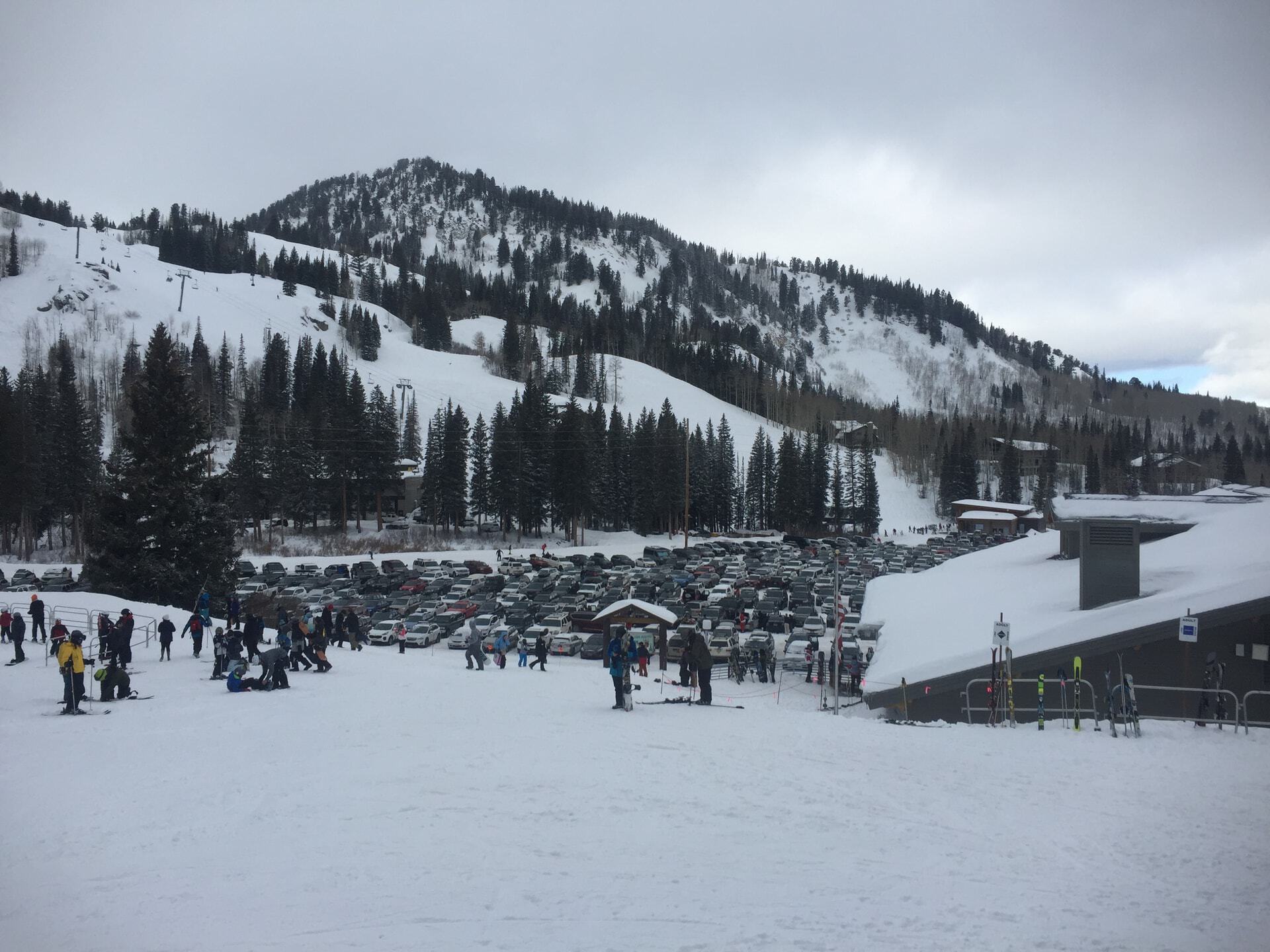 Lexi the red-nosed reindeer
Lexi has had this reindeer coat for several years and some of my favorite pictures are of her wearing it.  She really only "smiles" when she's hot and panting. 😉  You may not be able to see it here, but she loves her picture being taken.  Of course, she mainly loves the attention and extra treats!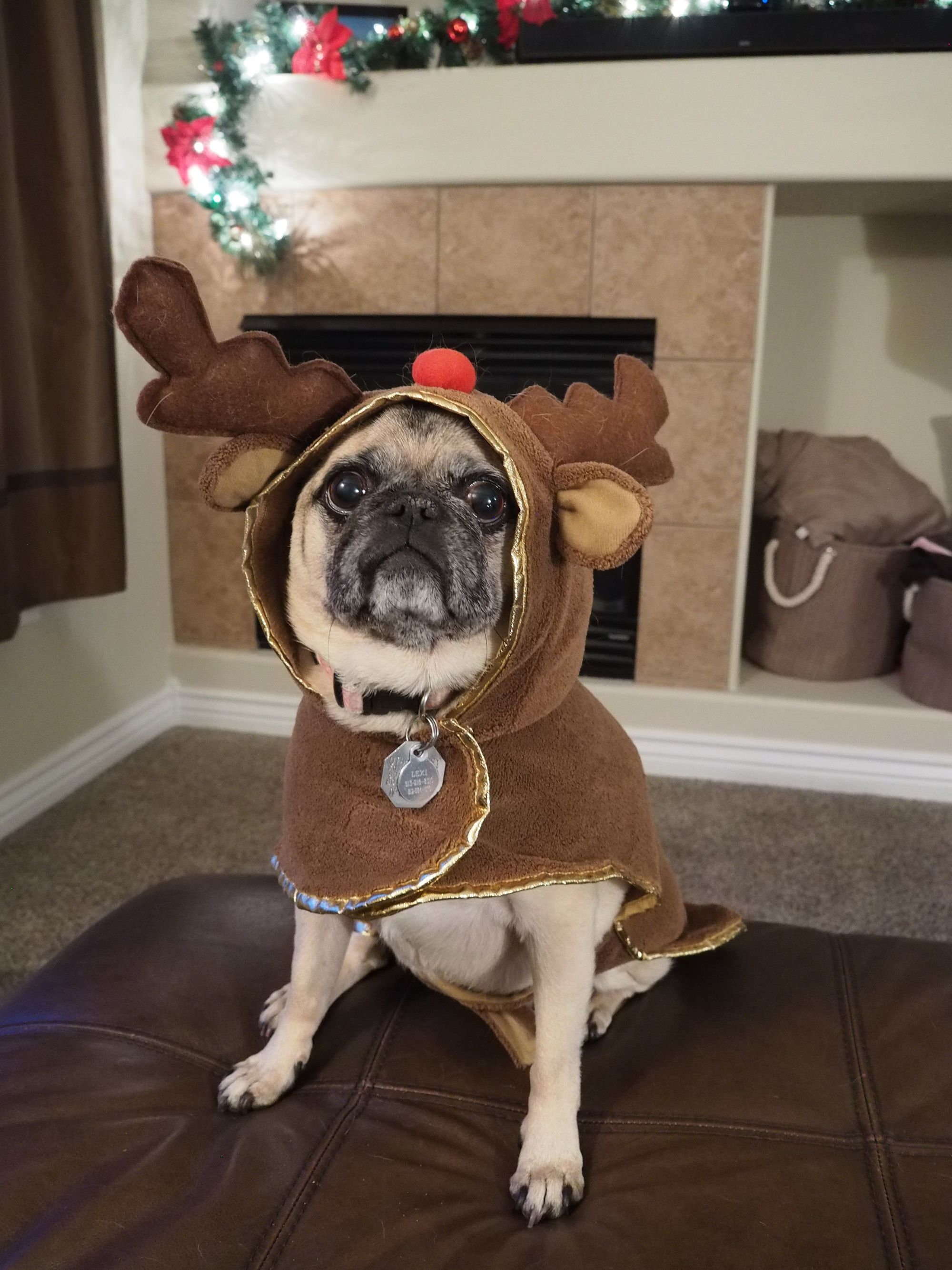 How did you spend your Christmas?
What traditions do you have?
Have you created any new traditions recently?
Have you thought to spend time outside in nature on Christmas?