The Salty Lizard 100: Keith's First Gravel Race
Written by Keith Huster
/
12 min read
/
Last updated 5 months ago
I had been training all summer for something that I never actually thought would be possible; my first 100-mile gravel race! I spent countless hours training on long-distance singletrack mountain bike rides, gravel routes through the mountains, and road rides every chance that I got. I also spent nights and weekends researching all things gravel cycling: tire choice, tire pressure, repair gear, cycling kit, hydration/meal strategies, pacing and racing strategies, etc. Needless to say, I had become a bit obsessed with the idea of riding in this race. Would all this hard work pay off or would I crack under the pressure and physical demands of the race? Keep reading to find out...
🚵‍♂️
This is the first in a series of posts about the Salty Lizard 100 gravel race. Be sure to subscribe to our blog so that you don't miss out on the rest of this series.
Check out the video of the race
What is the Salty Lizard 100 gravel race?
The 2022 rendition of the Salty Lizard 100 was a 104-mile course with over 4300ft of elevation gain through the Silver Island Mountains Backcountry area east of Wendover, NV. The course was nicknamed "Revenge of the Death Squirrel" which was a fitting name considering that the "Salty & Stupid Cycling" association was hosting this event. 🤣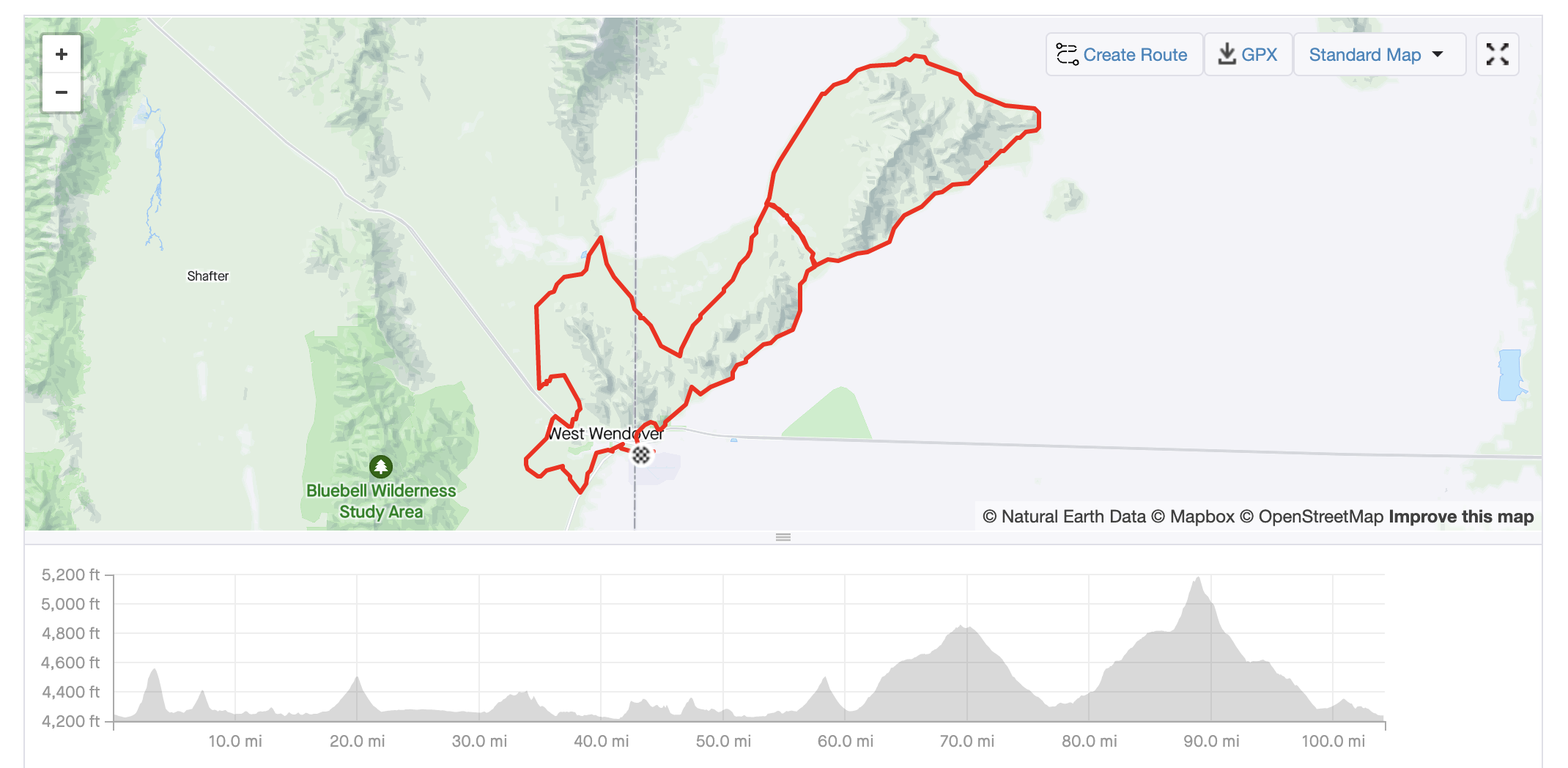 You have probably never heard of the Salty Lizard 100 gravel race. We hadn't either until Lindsey happened to run across an advertisement for it on social media. She mentioned it to me in passing but that was all it took to spark the necessary interest in me. I had been looking for an excuse to push myself to ride a true off-road 100-mile route and this was the perfect way to force myself to finally do it.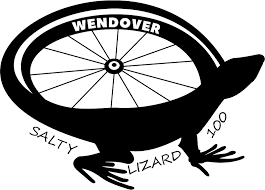 I reached out to John Hernandez, the head of the Salty & Stupid Cycling association to learn about the race and decide if this would be the right event for me. I was concerned that this would be an overly competitive event that might suck all of the fun, type II fun that is, out of it since many gravel races are becoming more and more competitive each year. John quickly calmed my nerves and told me to "come out, bring whatever bike I have, and have some fun riding in the desert!" I was sold and quickly signed up for the race. I was now physically, emotionally, and financially committed...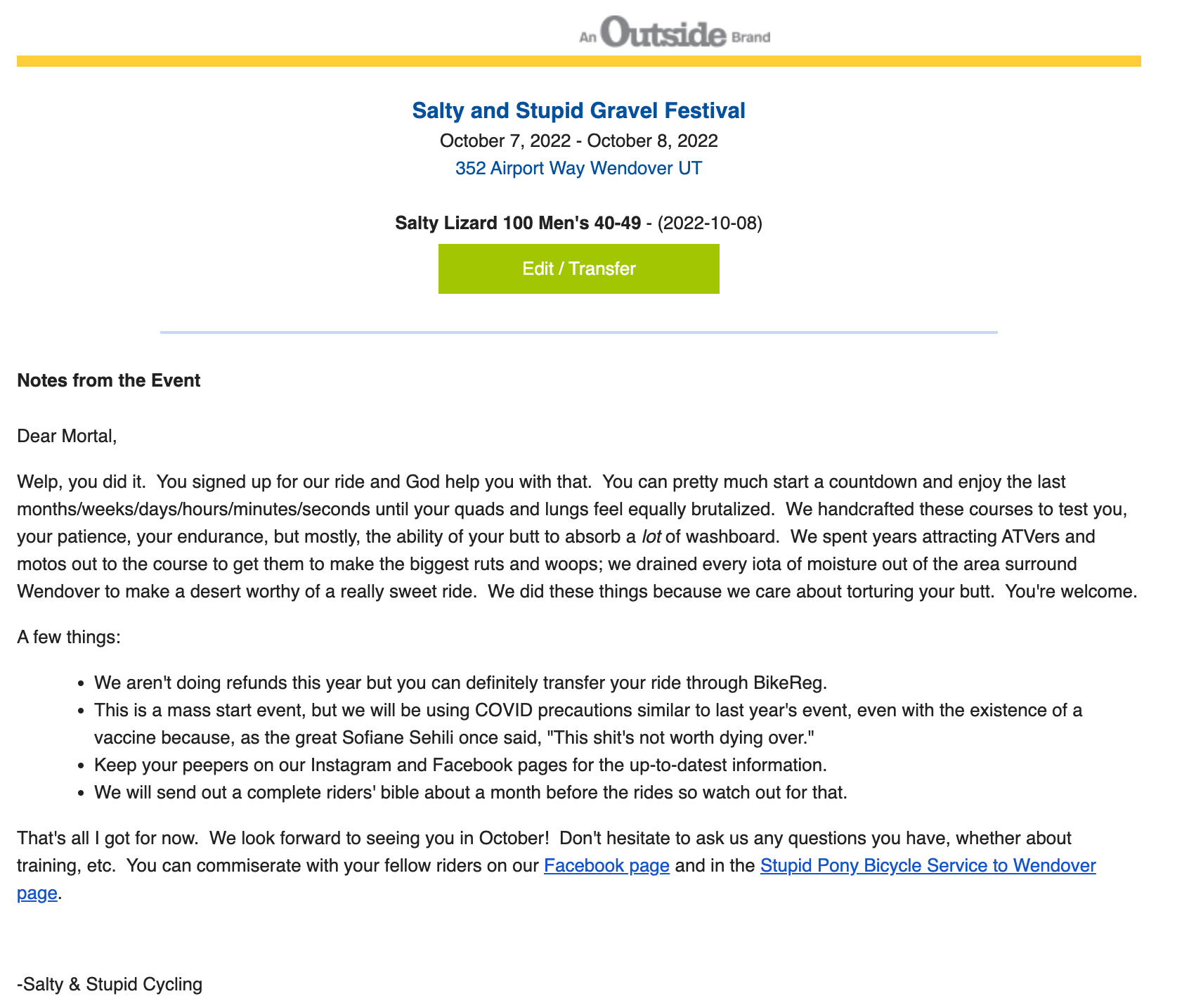 Preparation starts months before the race
As I previously stated, race preparation started months before the actual race. The race was scheduled for October 8th, 2022 but I was already deep into my training plan by the start of the summer.
I am very fortunate to live in an area with so much wilderness to explore and an endless supply of singletrack and gravel routes throughout the surrounding mountains. My typical weekly training plan went something like this:
Typical weekly training plan
Two 2-3 hour training rides during the week mixing in pavement and some short sections of gravel/singletrack. These were typically anywhere from 20-40 miles with 1000-2000ft of climbing.
One 3-5 hour training ride during the week (mostly paved). This ride was typically a 65-mile route with 1000ft of climbing that I designed using the excellent paved trail systems throughout Utah County.
One half-day mountain biking ride with my friends through the Wasatch Mountains. This often included trails such as the Wasatch Crest, Snowbird Big Mountain Trail, and other famous mountain biking routes in the area. These days included brutal climbs up steep singletrack and long fire roads.
One half to full-day solo ride on a gravel or mountain bike route through the Wasatch Mountains. These rides allowed me to focus on building my confidence, self-awareness, and energy management strategies since I was often all alone for the majority of the route.
I also spent countless hours researching all things gravel racing. There is so much to consider when preparing for a race of this length. The last thing that I wanted to do was put myself in a bad situation 50 miles into the race. I had never ridden this distance or spent this many consecutive hours on my bike before. This was completely uncharted territory for me and I wanted to arm myself with as much knowledge as possible prior to the race.
Key areas of pre-race research
Bike setup: Tire choice, tire pressures, shock pressures, bike bags, etc. Proper bike setup is crucial to ensure that you have a proper balance of comfort and efficiency. A wrong choice here can result in a rough, high-exertion ride and generally a bad day.
Hydration/nutrition strategies: How much and what types of food would I need to eat? How much water and electrolyte drink would I need for 8+ hours on the bike? How would I carry all of the necessary food and water? These were all critical questions that needed to be answered. A miscalculation here could easily result in the dreaded "bonk" mid-race.
Pacing/racing strategies: Pacing would definitely be required for a race of this length. Start off going too hard and you are pretty much guaranteed to fall apart later in the race. Racing strategies, even though I was really only racing myself, are also important to understand. These strategies include learning to ride in groups to help manage the efforts required on higher-speed sections.
I'll delve deeper into the specifics of my training plan, bike setup, nutrition plan, etc. in future posts. Be sure to subscribe to our blog so that you don't miss out.
Bringing a mountain bike to a gravel race
So... here I am... in Wendover, NV at my first gravel race. But, I don't have a gravel bike. I brought my 2021 Intense Sniper T mountain bike to the race. Was I not thinking clearly? Had I made a critical mistake? Well, no... I had planned to ride my mountain bike the entire time.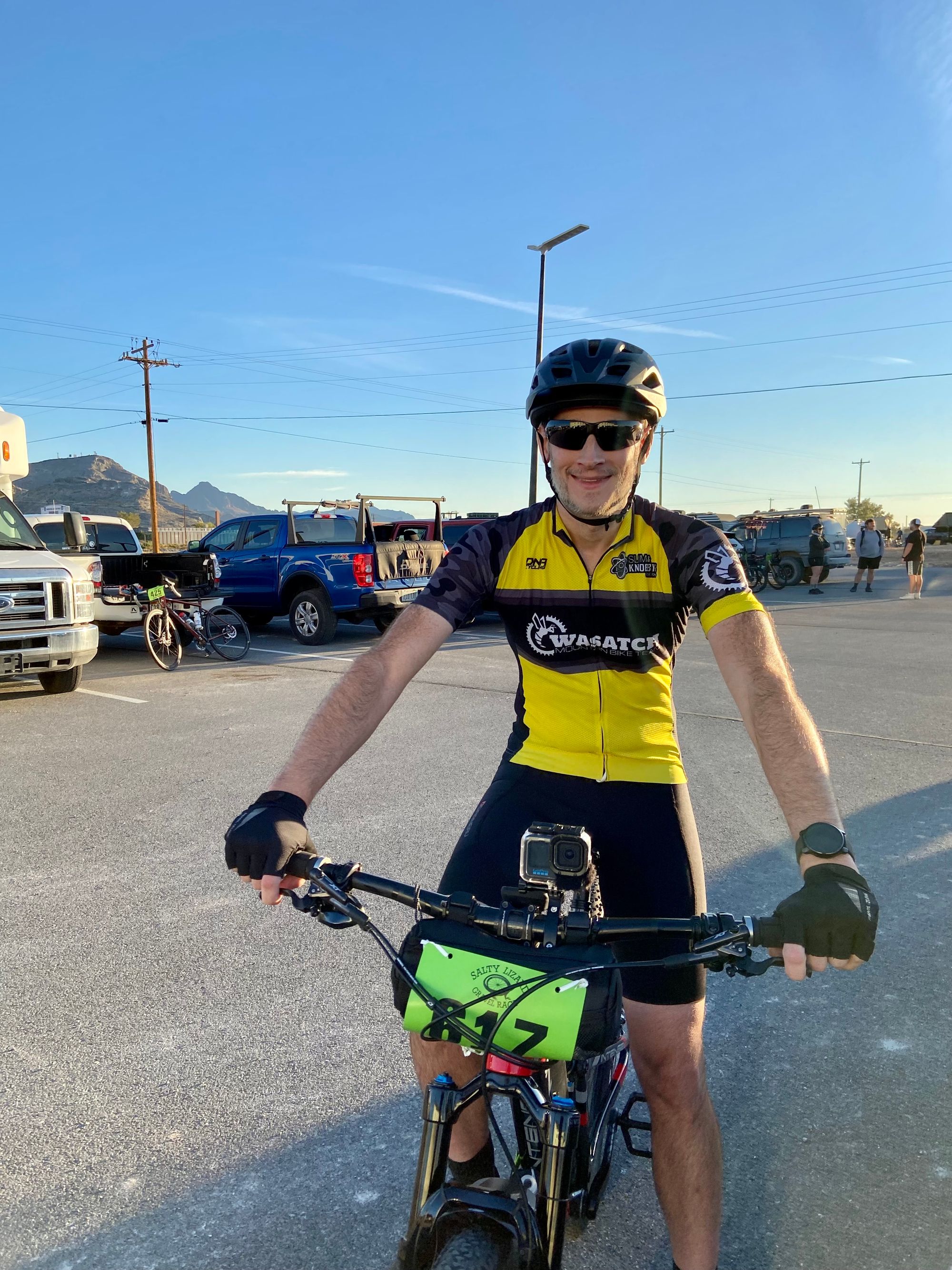 I had done all of my training on this bike and I also confirmed with the race organizers that a mountain bike would be well-suited for this course. I did run a more gravel-specific set of tires (i.e faster rolling) and added some additional carrying bags to the frame but other than these minor changes I was planning to ride my mountain bike for the next 8+ hours!
I chose to bring my mountain bike for two specific reasons; the race course and it's my only bike. 😅 I knew that the race course would be littered with deep sand areas which would warrant the use of wider mountain bike-style tires. I also knew that there was a steep climb late in the race that would, at least for me, require the use of an extended gear range offered on modern mountain bikes. Also, as I previously stated, I only own one bike. So, bringing a gravel-specific bike was out of the question for me.
The race course was absolutely amazing!
The race course was truly incredible. The course started in the city of Wendover, NV (think mini-Reno, NV), and quickly headed out into the desert. The route took us around the foothills of the Silver Island Mountains which gave way to breathtaking views of the Bonneville Salt Flats.
The first half of the race
The route ran a sort of figure-eight design which had us cross over multiple mountain passes throughout the day. The first 50-60 miles went surprisingly well. I was feeling great... I was riding fast... and I was keeping up with other riders that I had expected would drop me early in the race. I knew that I needed to be cautious and play it safe though so that I didn't overdo it. It's one thing to feel great at the 50-mile mark. It is an entirely different thing to still feel that well after 100+ miles.
There were several key aid stations located throughout the course. Each played a crucial role in surviving this race. The two most crucial, for me, were located roughly 30 miles and 60 miles into the race, respectively. The first was a water-only stop along the far eastern edge of the Silver Island Mountains at the Donner-Reed Pass. I was running low on water at this point and didn't want to have to stop to access my emergency bottle. The second most critical was a full-service stop just before crossing the Silver Island Pass for the second time.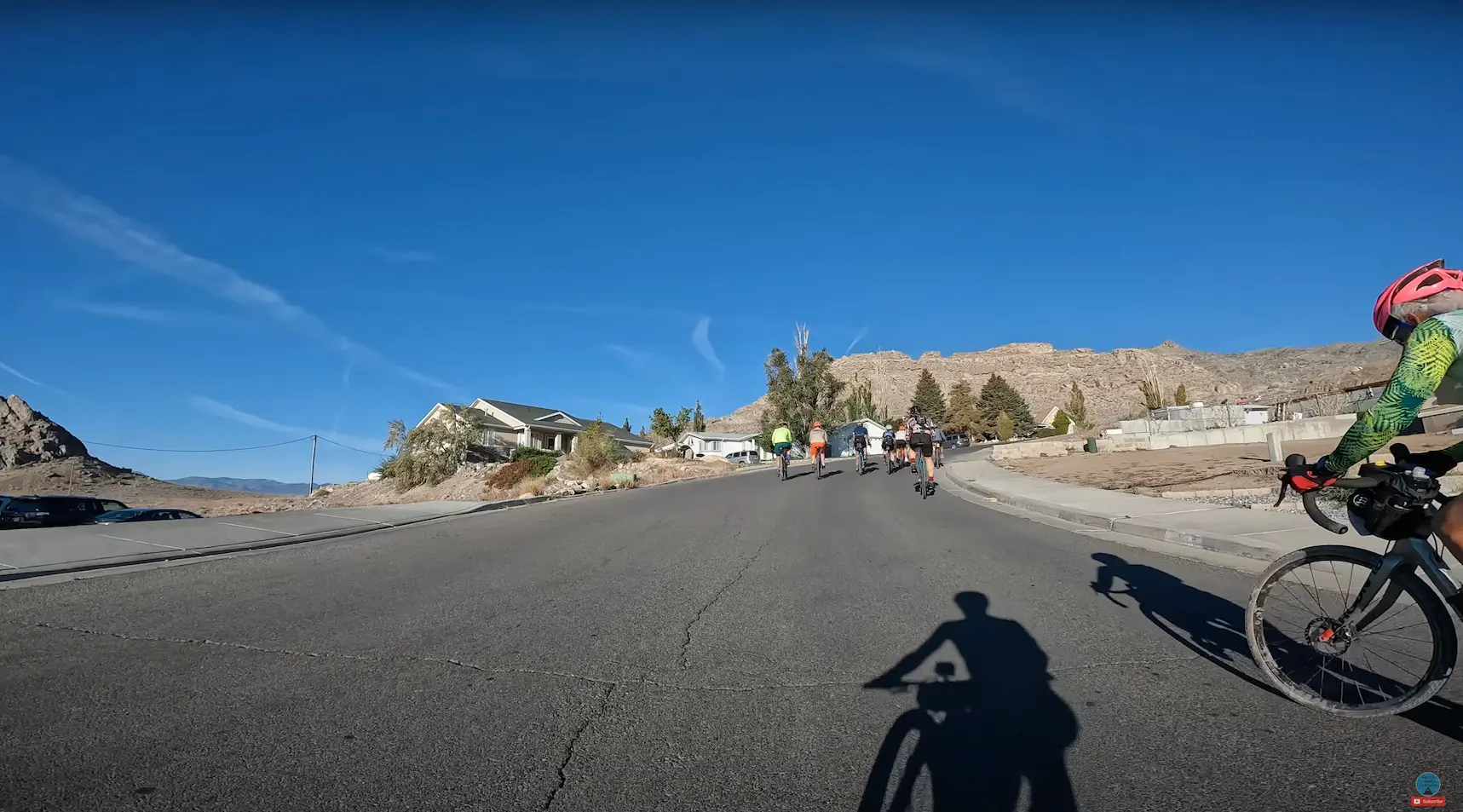 At this stop, I had a crucial list of tasks to accomplish in order to prepare for the remainder of the race. I had been making this checklist in my head throughout the morning and now it was time to smoothly, yet quickly, execute the plan. I didn't want to waste any time here and I couldn't risk skipping any crucial tasks that could lead to mechanical or nutritional issues later in the race.
Key maintenance tasks for the second half of the race
Look over the bike, check for loose bolts, check tire pressures, and lube the chain.
Change GoPro batteries and clean the GoPro lens.
Check the battery on my Wahoo Elemnt Roam bike computer.
Drink as much water and electrolyte drink as I could from the aid station.
Refill my top-tube food bag and take inventory of my remaining food supply.
Refill all water bottles with water and Skratch Labs electrolyte mix.
2-minute cooldown/stretch to rest my body and check for any muscle cramping.
Use the restroom facilities (port-a-let) before heading out!
The second half of the race
The second half of the race was where things really started to become challenging; both physically and mentally. After crossing the Silver Island Pass for the second time I was greeted with an immediate strong headwind and my first taste of the deep sand pits that I had been hearing about.
The sand pits were, let's just say... BRUTAL! 🥵 I found myself putting out huge power numbers yet barely making any forward progress. Eventually, I had to succumb to the sand and walk my bike the rest of the way through. The difficulty of this section was exacerbated by the false flat nature of the course. It looked like you were riding a generally flat course but in reality, the course had a mild 2-4% grade for the next 10-15 miles. That small grade was enough to require pedaling throughout the entire section. There would be very few opportunities to coast and catch my breath.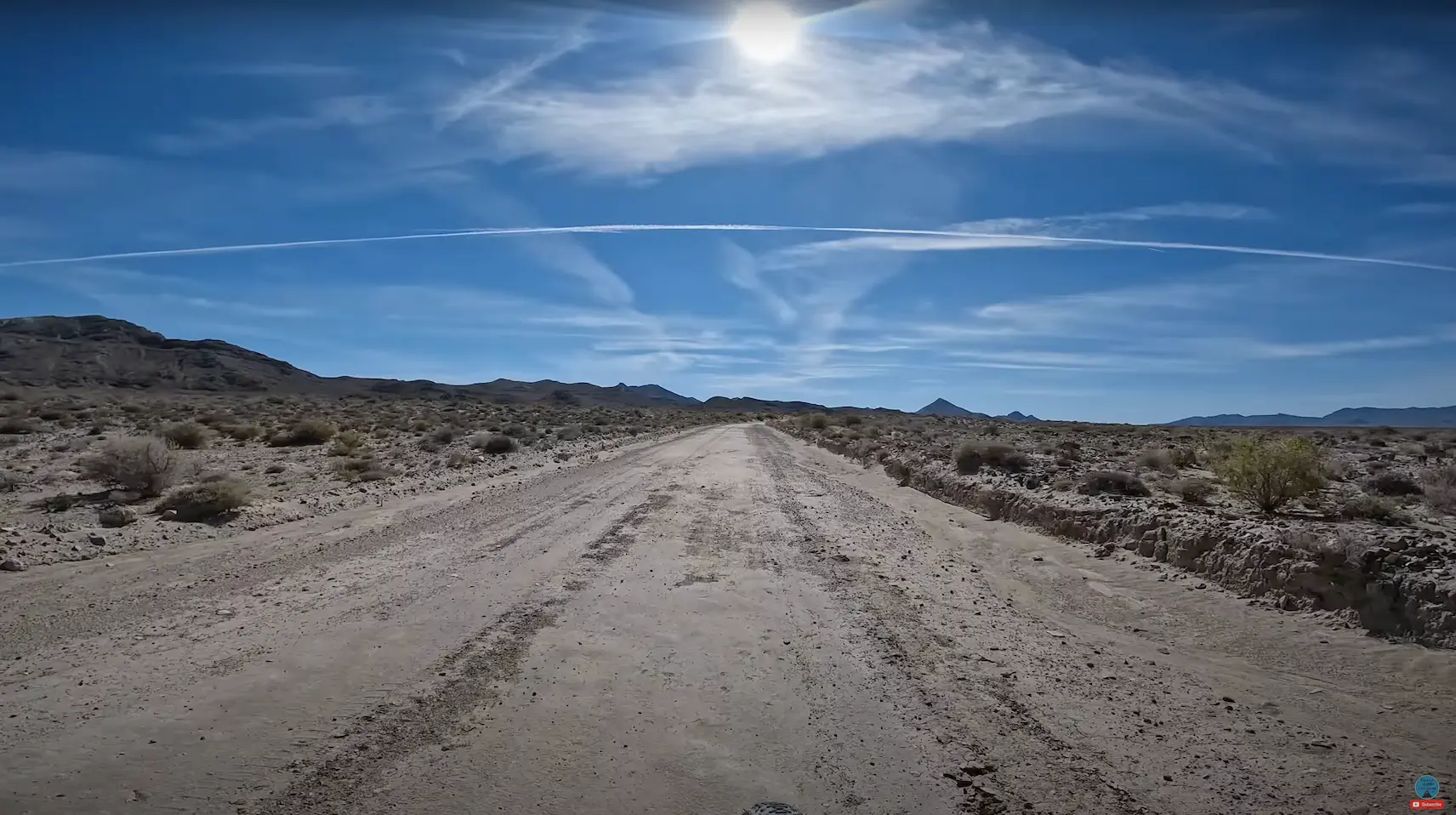 Eventually, I reached the next aid station which also marked the transition to the first paved section that I had seen in over 50 miles. That section couldn't have come at a better time. This gave me about 15 minutes to recover as I descended back into the desert. At this point, I knew that I was approaching the toughest climb of the day.
The "big climb" of the course was located roughly 90 miles into the race. However, I first had to get through a long sustained low-grade climb that lasted for over 5 miles! I did well here though by pacing myself and trying to shove as much food into my stomach as I could. Eventually, I reached the final climb. This is where my MTB setup and skills paid dividends. I had all of the necessary physical fitness, climbing skills, and gear ratio to make quick work of the difficult climb. I actually passed a couple of riders while tackling the climb!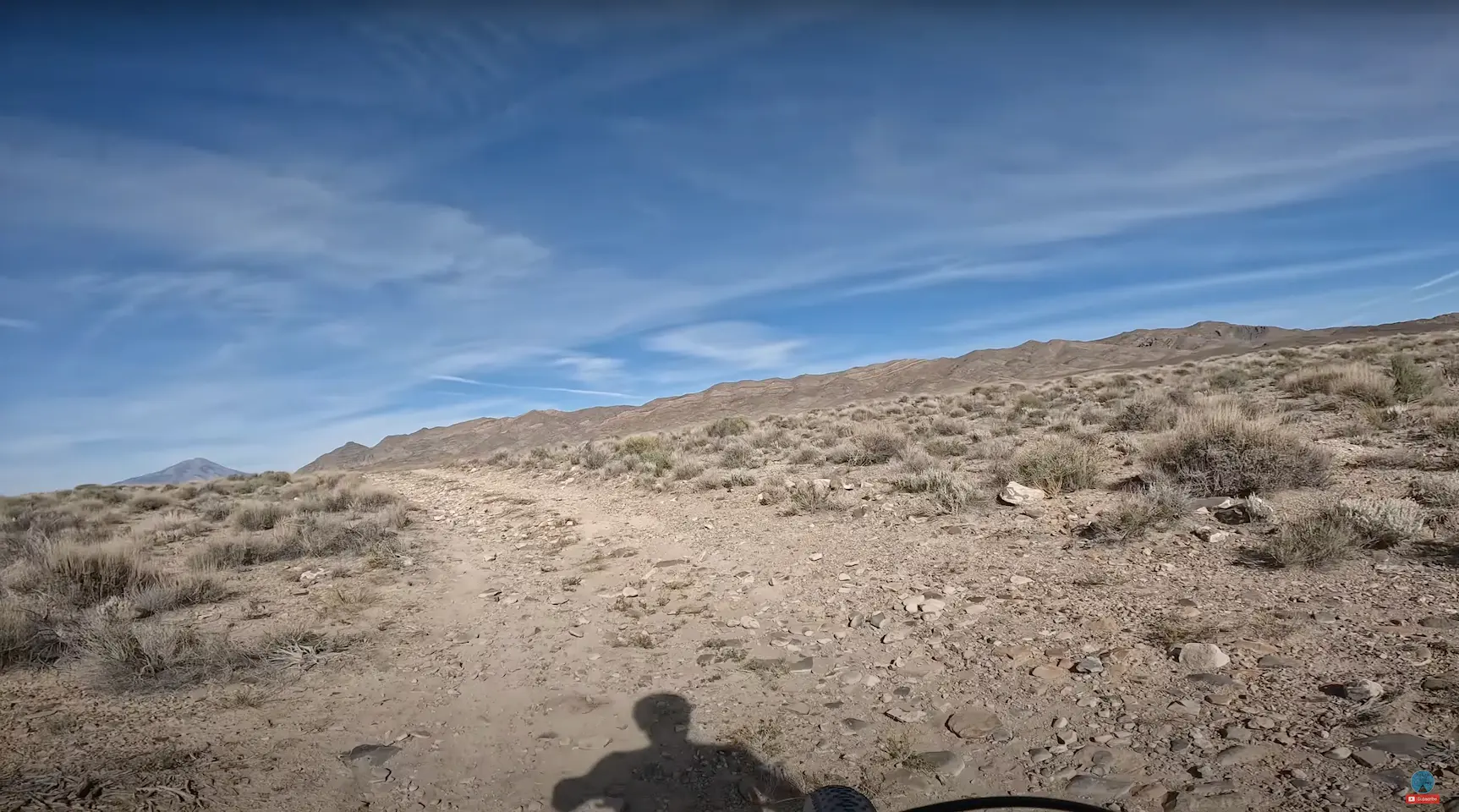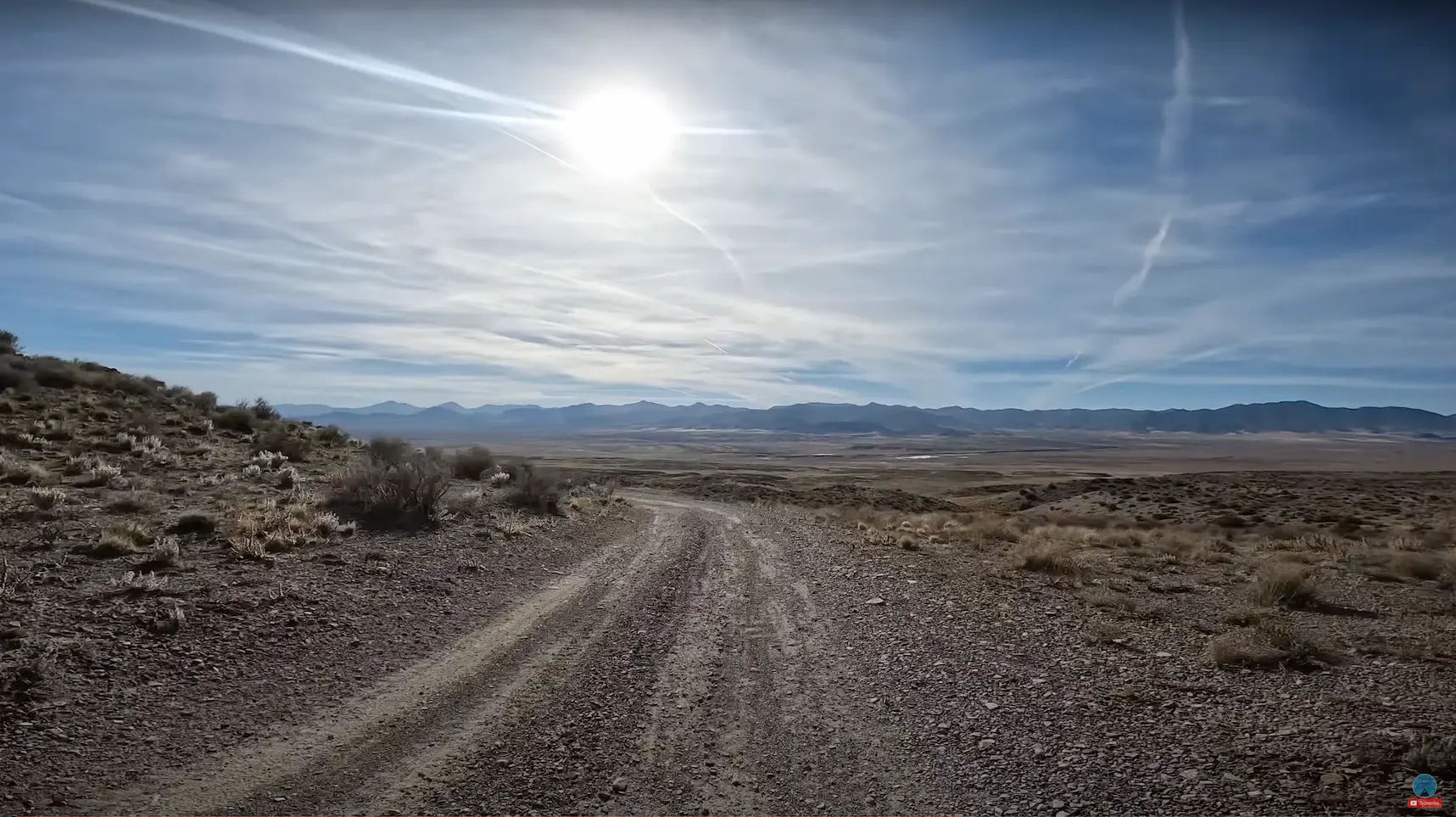 At this point, all that was left was to survive the final 10 or so miles back into the town of Wendover. I made a quick water refill stop at the final aid station and then pushed on to the eventual end of the race.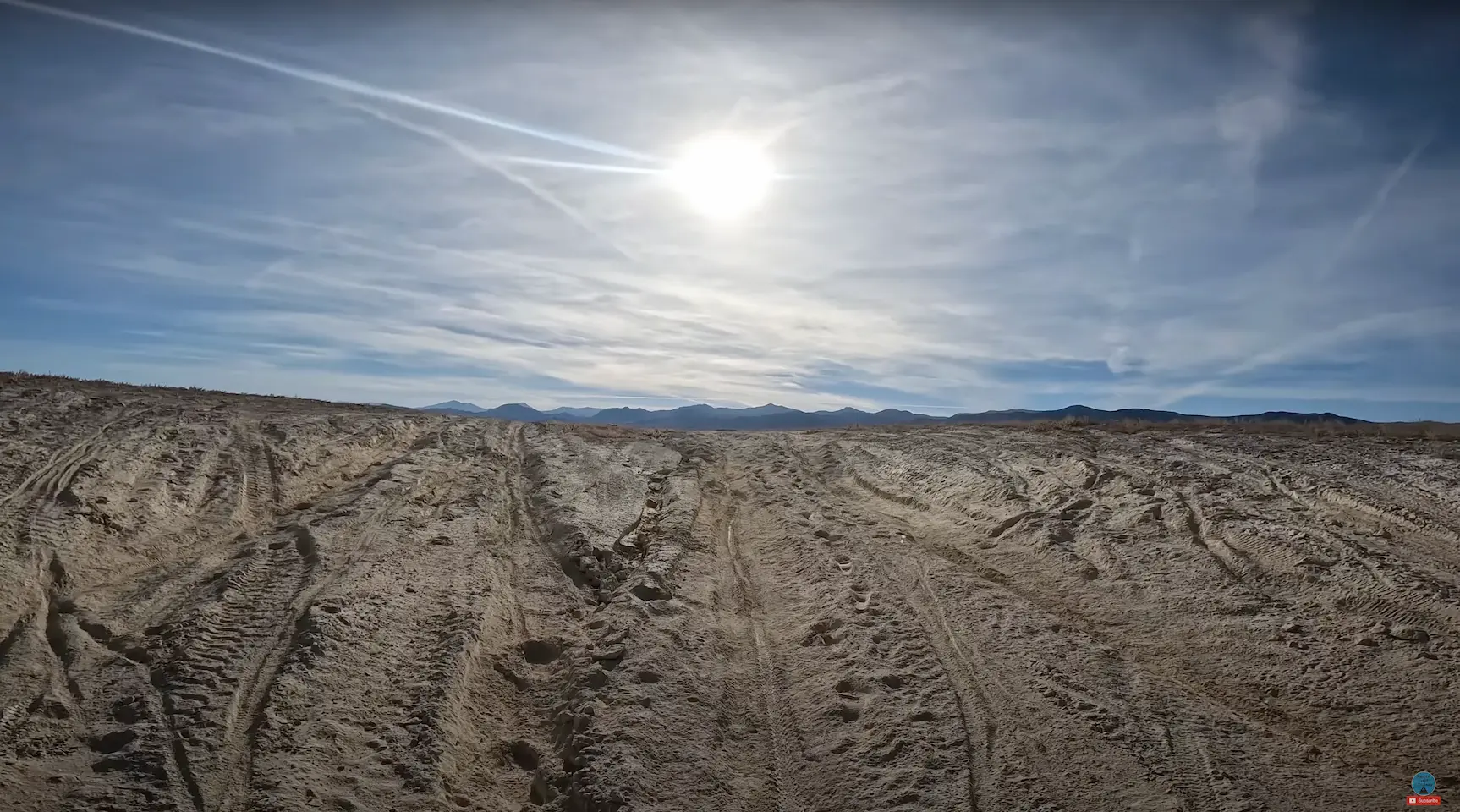 Meeting my goals (and thinking that I had exceeded them 🤦‍♂️)
Prior to starting the race, I had set a goal for myself to complete the race in approximately 8 hours. So, how did I come up with this goal? Well, that was a result of all of the training that I had completed throughout the summer. I knew that the course was roughly 100 miles in length. I also knew, based on the elevation profile and course surface, that I should be able to sustain an average speed of 12 mph over the entirety of the course. The only real question was, had I estimated the difficulty of the course correctly or had I completely underestimated it?
Well, the good news is that I hit my target goal almost exactly! I finished the race in 8:07:10.08 (8 hours and 7 minutes) with an average speed of 12.3 mph. Not too bad!!! However, this isn't the whole story.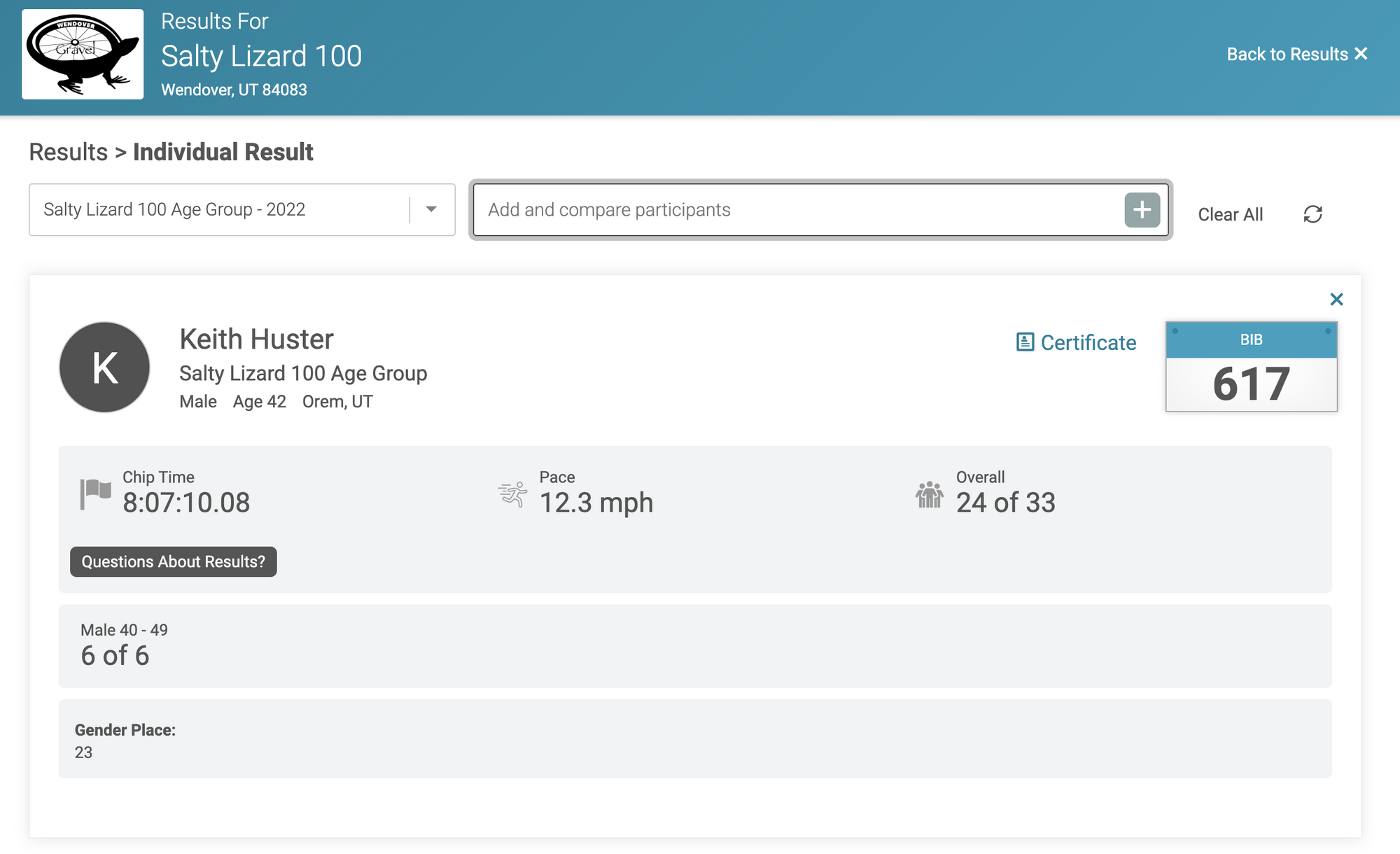 Funny story... When I finished the race, Lindsey came up to greet me and tell me how well I did. I was so excited to tell her that I thought I had finished the race in just over 7 hours, nearly an hour faster than I expected. However, when I told her this she gave me a funny look like I was crazy. She then proceeded to tell me that I had finished in just over 8 hours which was sort of soul-crushing at the moment. We figured out that I had forgotten to lock my watch and bike computer clocks to the Nevada timezone. The race course crossed between Nevada and Utah multiple times. Each time, my clocks would switch between DST and non-DST time zones. I was completely unaware of these shifts which caused me to miscalculate my total ride time. ⏱ 🤦‍♂️
Even with this timing snafu, I couldn't have been happier with my results. I finished the race feeling strong and in a reasonable amount of time for my fitness level. The final results showed that I came in 24th place (out of 33 riders) and nearly 2 hours faster than the slowest riders.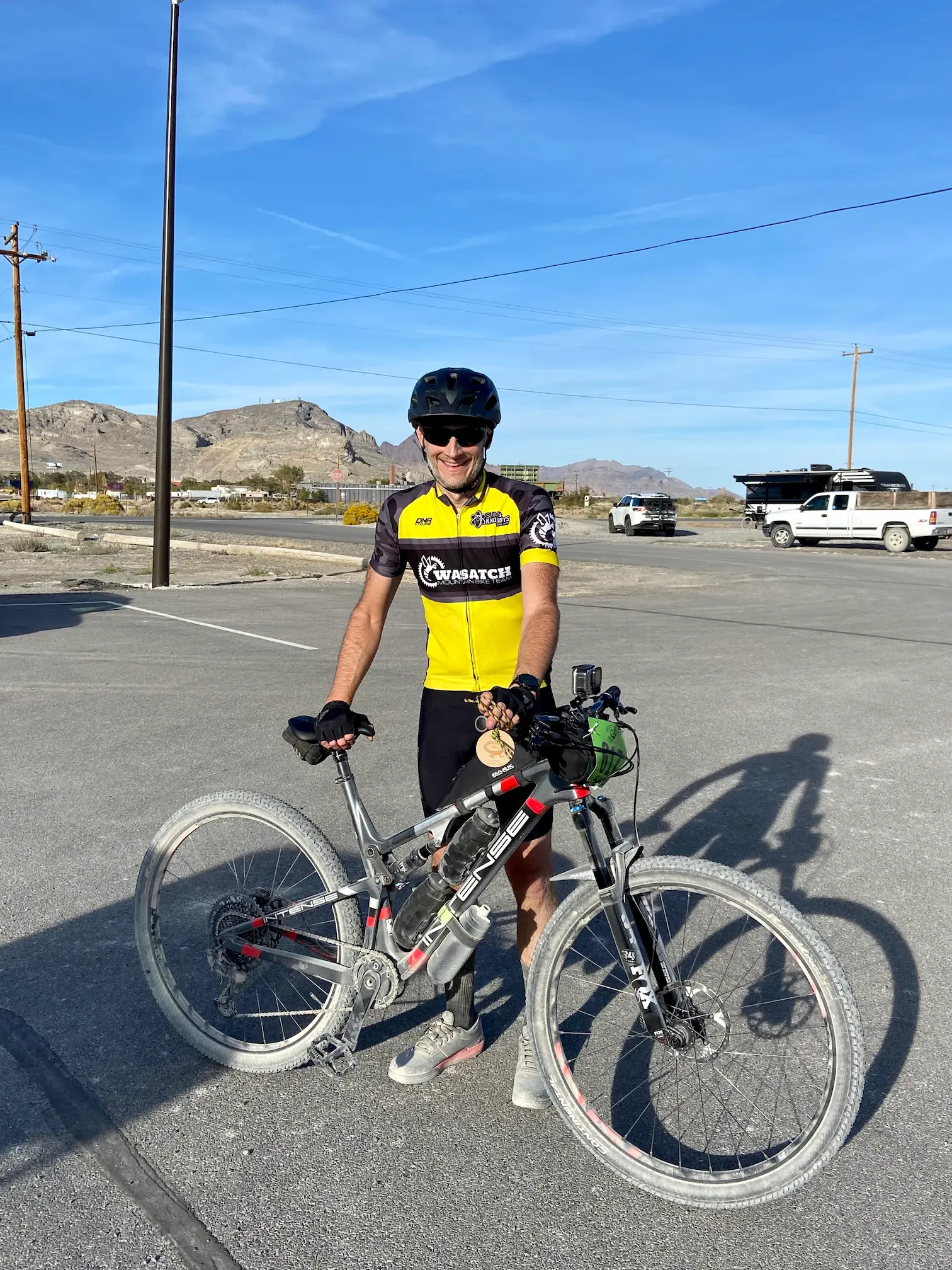 Was it all worth it? Would I ever enter another gravel race again?
Was it worth it? ABSOLUTELY! Would I enter another gravel race? YES!
I had so much fun at this event. I met so many fun people and I loved the challenge that a gravel race such as this provided. I have already started thinking about which event I might take on next year. One event on my shortlist was the Leadville Trail 100 MTB in Leadville, CO. However, that race will need to wait until 2024 since I missed the cutoff date for entry.
I might consider riding in the Salty Lizard 100 again next year. They have several course options and I would like to see what the southern course has to offer. However, I will also have to balance my summertime training regimen with some trips that we have planned for this coming summer. So, I may have to consider an off-season for my gravel racing career. 😆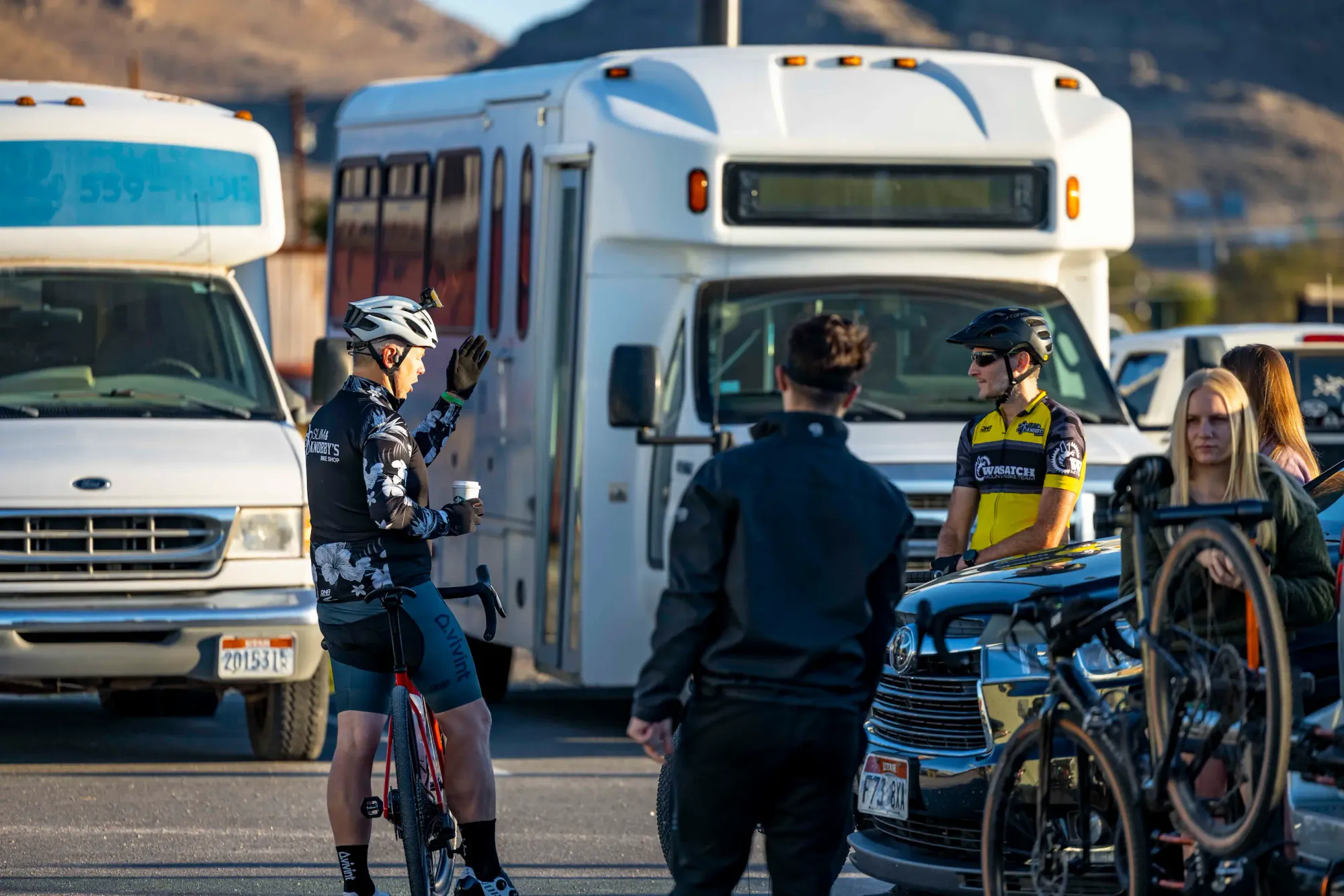 What are your thoughts?
What an amazing day in the desert! I accomplished a physical endurance feat that I never thought possible and I can't wait to do it again! 😁
Am I crazy for taking on physical challenges like this? Do you have any recommendations for future gravel/mountain biking events that I could attend? Have you ever entered a gravel race? Engage with us in the comments section below. 👇 💬