Visiting Arches National Park and The Slickrock Park
Written by Lindsey Huster
/
5 min read
/
Last updated a year ago
My cousin, Nancy, and her family would be meeting us at Arches National Park for a full day of exploring!
The whole gang is finally together
We started out early to avoid the crowd and experience as much as possible together in this one day of family and friends fun! Since Renee and I have been friends forever, she knows Nancy but hadn't seen her in quite a while. This worked out really nicely because it wasn't like they were strangers. They knew enough about each other to strike up a conversation and everyone intermingled throughout the day.
Check out our video
Arches National Park
I insisted we get an early start because the day before Keith and I saw how quickly the entrance gate became backed up and this would mean that the stops would become crowded quickly. We had two cars so finding two spots at each stop might be difficult as the day went on. I think our 8:00 am timing was just right. We made it to several stops before it got busy and only one time did we have trouble finding two parking spaces. We stopped at nearly every viewpoint and made a few shorter hikes. Everyone really enjoyed wandering around the area of The Windows (1 mile) and Double Arch (0.5 miles). Landscape Arch (1.6 miles) was also a big hit for the group.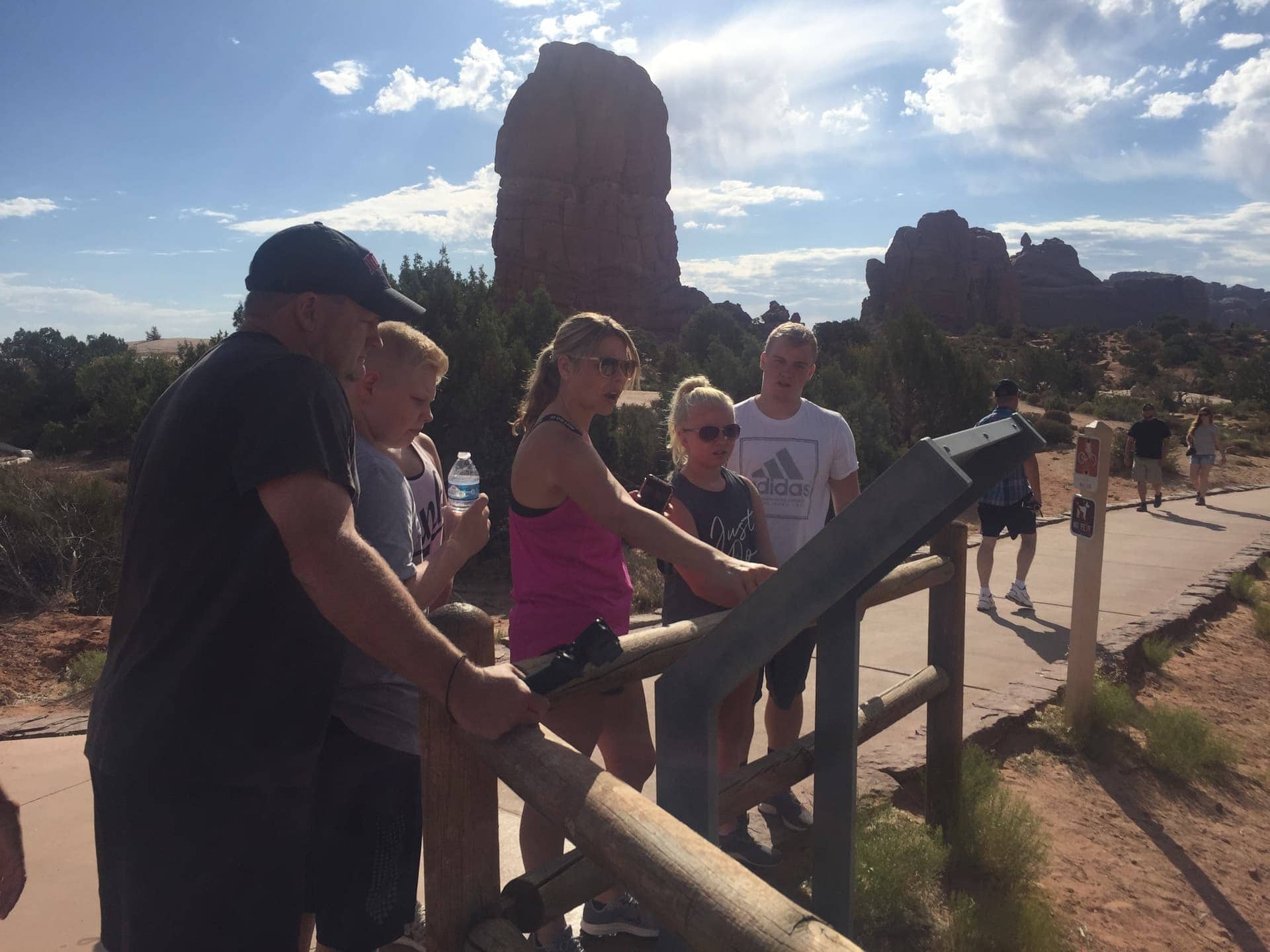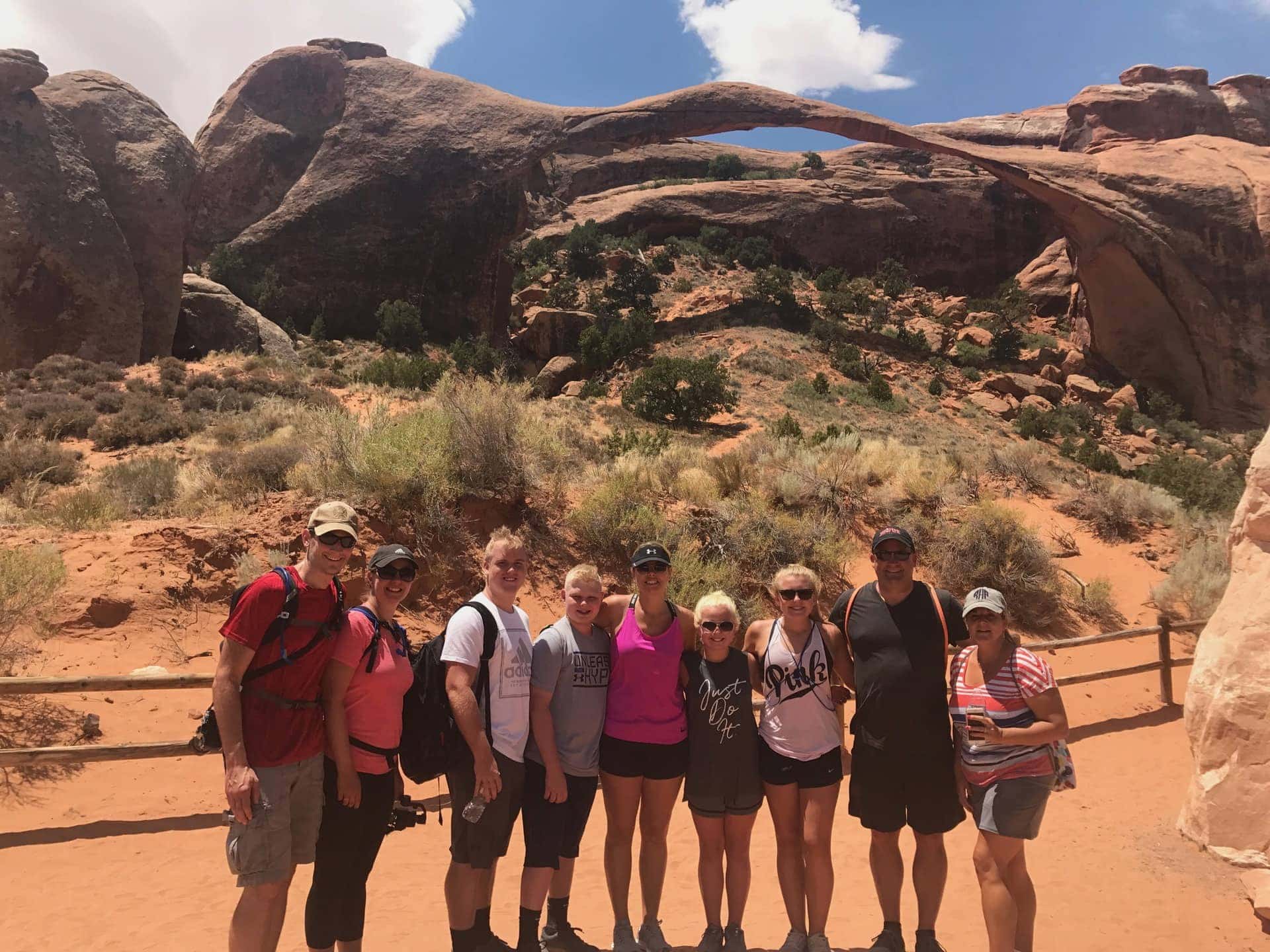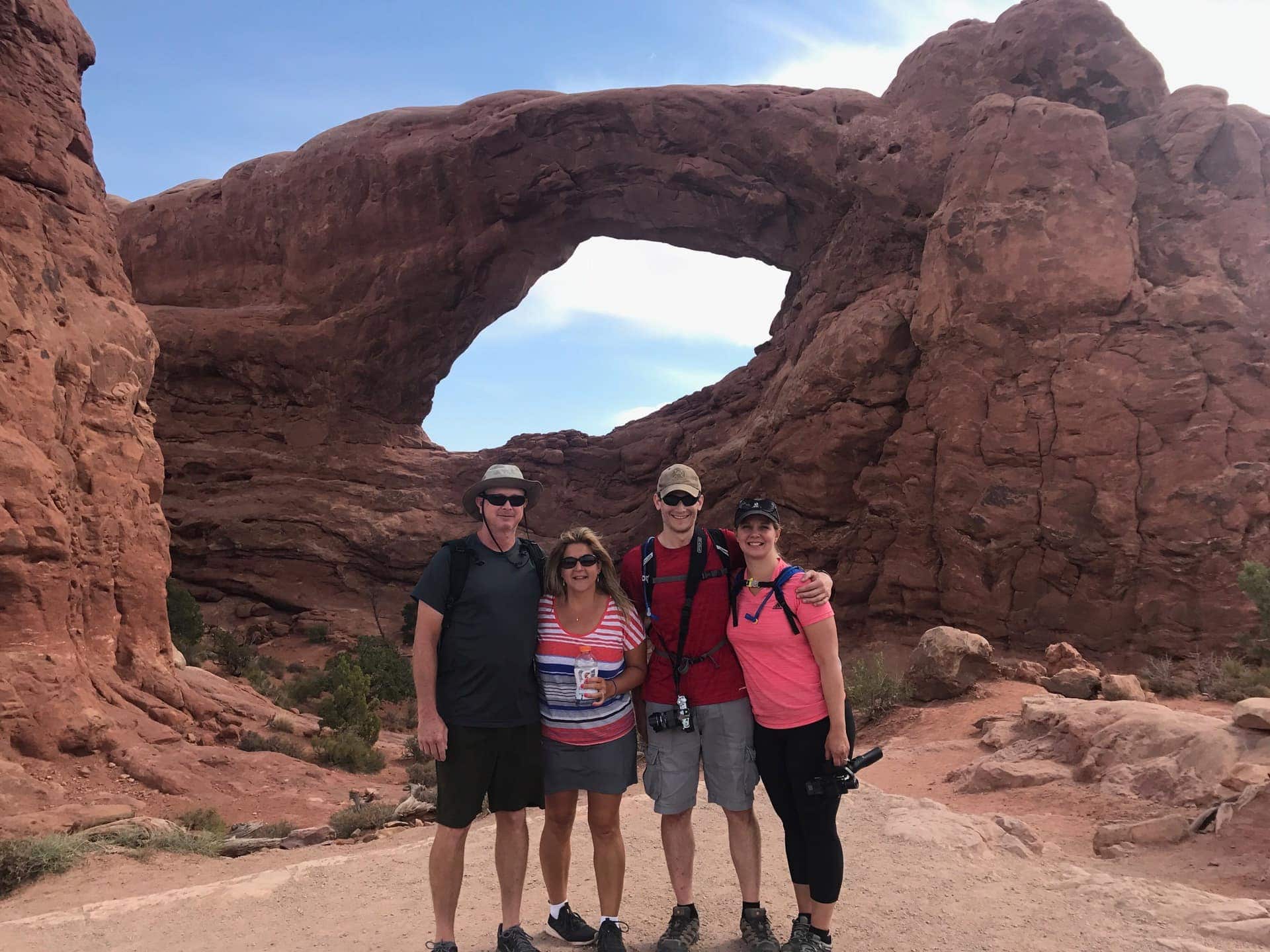 Lunch and a break
Downtown Moab is such a fun place! The main street is lined with delicious restaurants and various shops. Just sitting and watching all the off-road vehicles, jeeps, campers, motorcycles, etc. pass by could be an all-day activity for me.
The feeling of excitement and adventure is contagious in Moab. Moab appeals to all your senses; the smell and taste of great food, listening to the rumbling of souped-up vehicles, the sight of unusual modes of transportation, the hot sun on your skin, and the soft breeze all around you. Trust me, take the time to just sit and relax on Main Street to see what I'm talking about.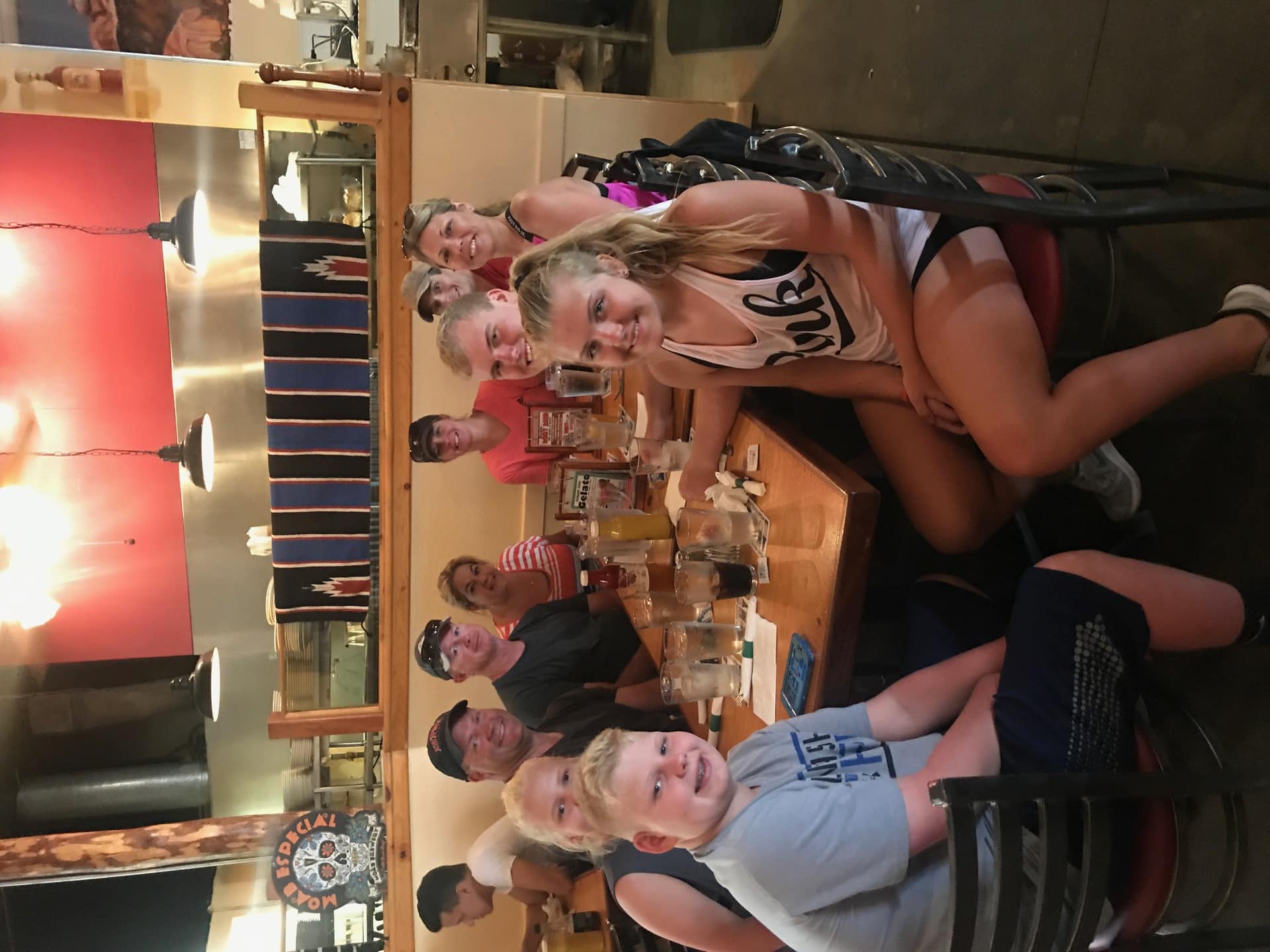 Sunset Hummer tour
In my opinion, taking a tour of Moab is a must. Right after visiting the National Parks, that is. This was the second time Keith and I have done this tour and I'm certain we will do it again.  I was so excited that everyone in the group wanted to do the sunset hummer tour. We booked with Moab Tour Company, which was again as excellent as the first time. This tour would be a great way to see another part of Moab that many passing through don't even know is there.
The Sand Flats Recreation Area, known as the slickrock park, is only a couple miles outside of downtown Moab. This area is nationally known for off-roading; rock crawlers, Jeeps, UTVs, mountain bikes, etc. You really can't get a good view of it without going into the park. I would highly recommend going with a guide. Even as we gain a little experience, I don't know that I would ever even feel comfortable enough going without a guide. You are so much safer and therefore able to enjoy the experience.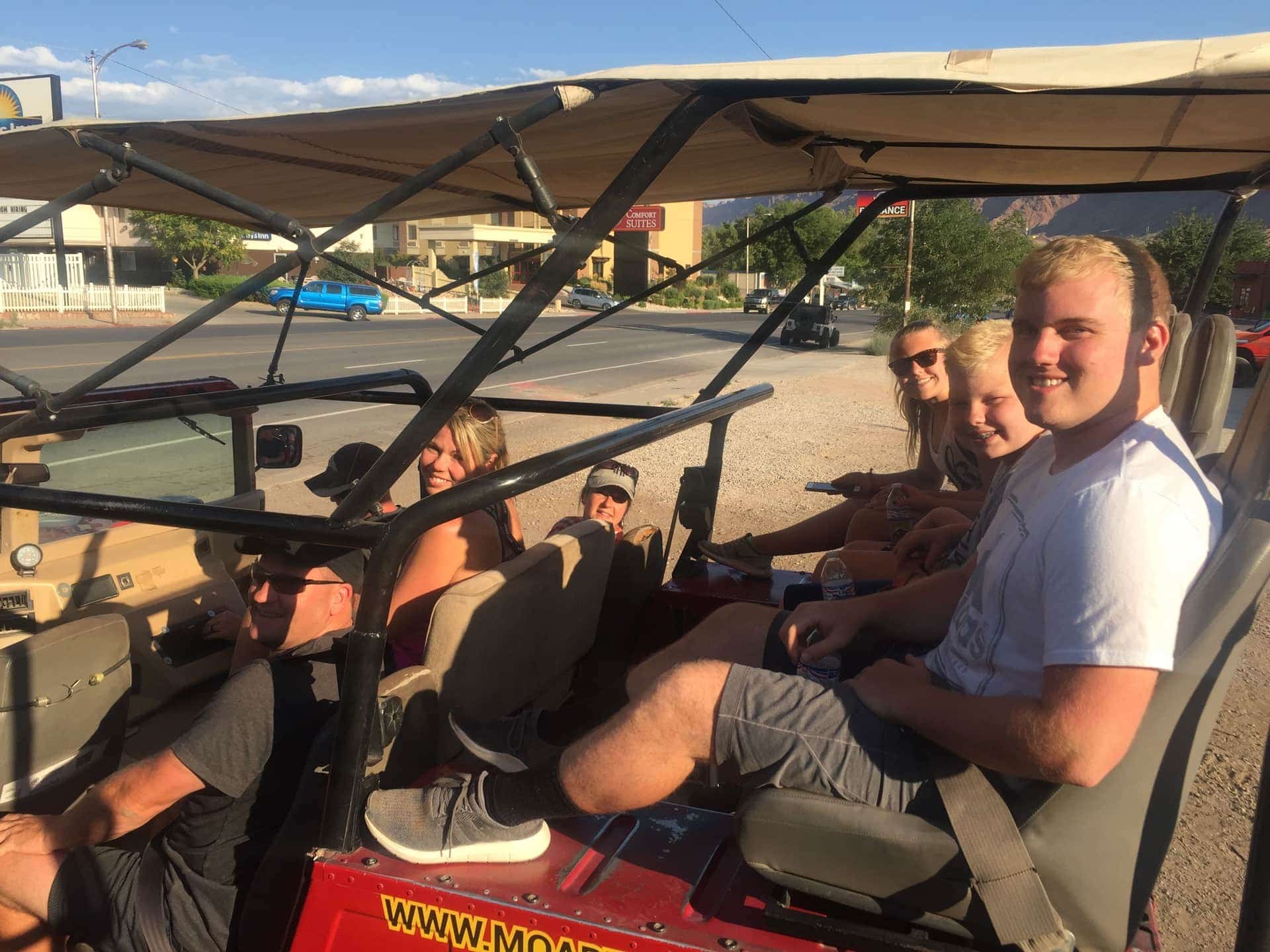 More about the tour
We met at Moab Tour Company and left their building downtown. It's fun to drive down the main street in the hummer and then enter the Sand Flat Recreation Area. The tour guides are a mix of class clowns and teachers' pets. They are knowledgeable and will answer any questions you have. Our guides have always been locals who have grown up playing in the slick rocks and have a lot of experience.  They are also full of jokes, and tricks and will keep you laughing long after the tour is over!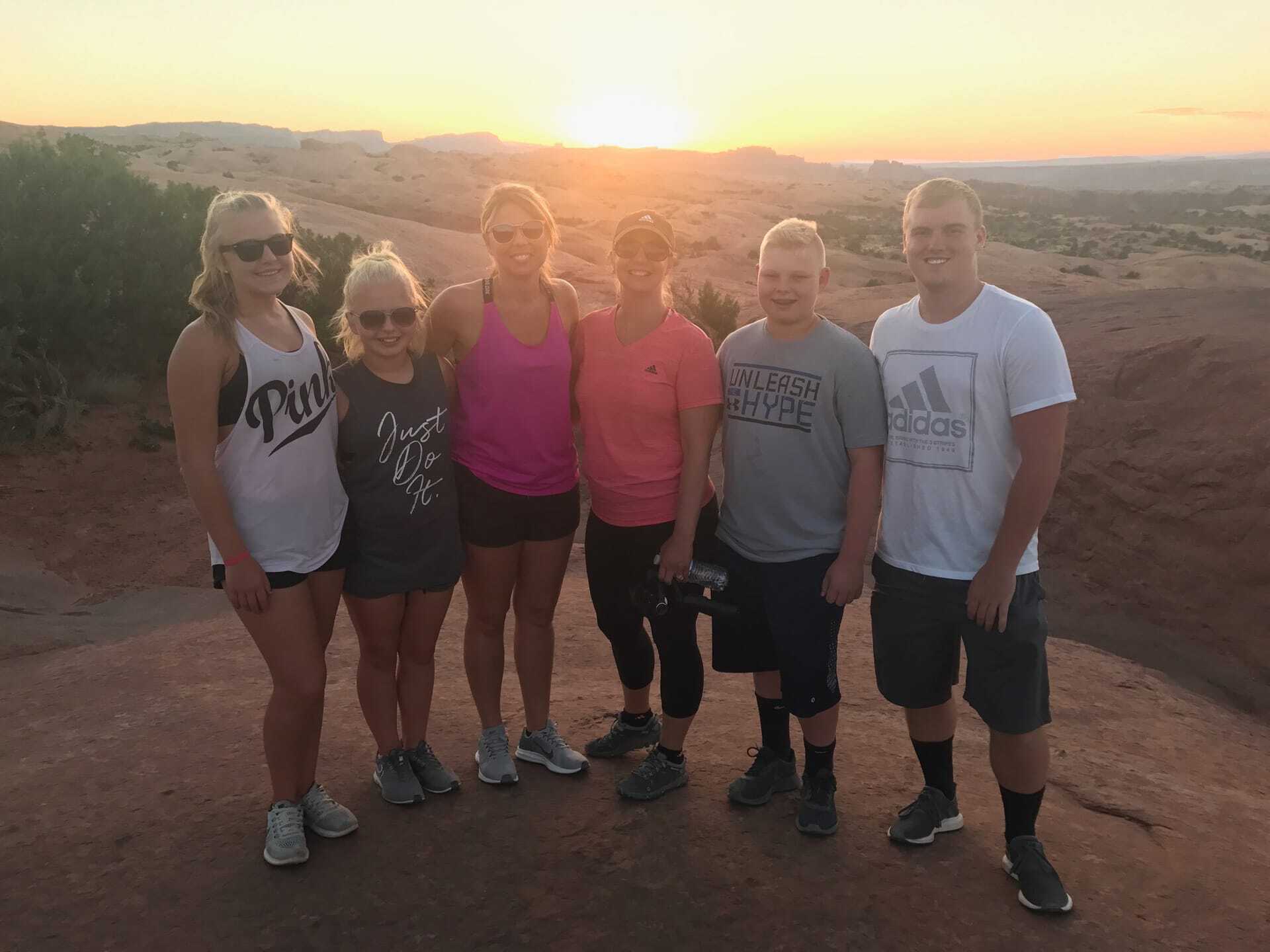 What a memorable day!
What a memorable way to end this fantastic day. It made me so happy to look around and see my family members and my friends so happy. The sunset was just perfect, everyone had a smile on their face and I felt like the whole group got to experience all that Moab is about!