My Dad Experiences Life in Utah
Written by Lindsey Huster
/
6 min read
/
Last updated a year ago
Keith had been off for Labor Day weekend and would have to work the next few days.  Therefore, I planned activities for dad and I to do during the day and then we'd meet up with Keith after work to do something altogether.  This was the perfect time to do a little more hiking, visit some of my favorite local parks, go for a jeep drive and take him up Little Cottonwood Canyon to see Alta Mountain Resort and visit Snowbird Mountain Resort.
Our longest visitor so far
My dad was visiting us in Utah for 13 days! We had already done so much, but there was much more on the list to show him and experience together.  I wanted to give him a good taste of life in Utah!
If you missed last week's post, check it out here – My Dad Visits Us in Utah!
Check out our video
Hiking with my dad
As you know, Keith and I have added hiking to our list of hobbies since moving to Utah.  I've shared so much about the hikes we do and all the things we get to see and the places we can visit by hiking.  This got my dad wondering what it's really like when we go out for a hike.
He wanted a little taste of hiking so we did a practice trail first and then he worked his way up.  Dimple Dell Park was a great choice because the path we took was covered in wood chips so we didn't have to worry about rocks, roots, etc.  The trail had a couple of small, but steep hills and even a section of deep sand. This gave my dad a taste for conditions and helped us decide where to go next.
Another day while we were out for a jeep drive in American Fork Canyon.  We stopped to enjoy nature and I was able to show my dad a few trails in the area.  We just walked a few yards past the trailhead to give him an idea of the terrain.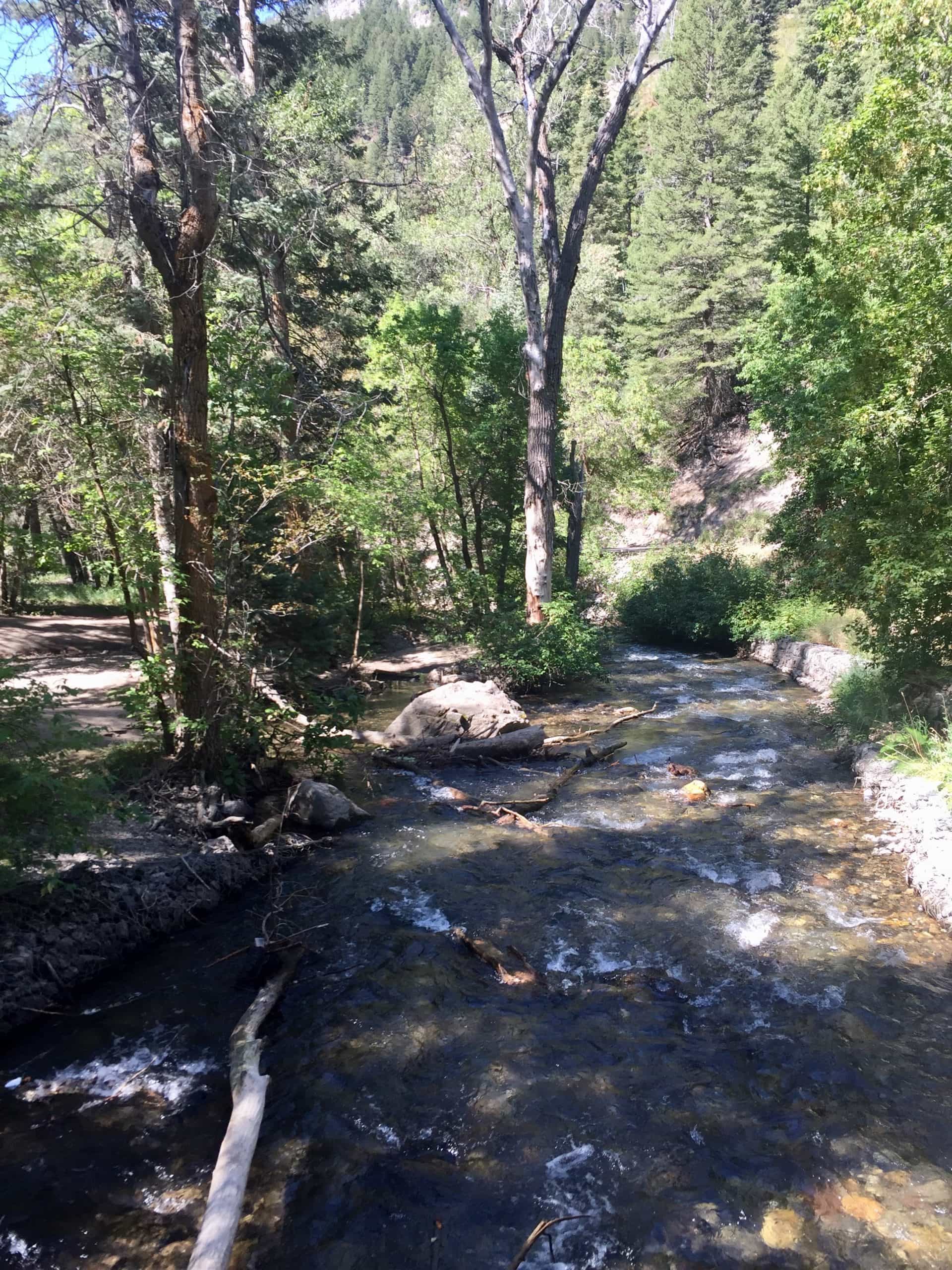 Hiking the Scout Falls trail
Keith and I had recently hiked the Scout Falls Trail so I decided to take my dad on this trail since he had done so well with our practice hikes. We hiked for a while and although we didn't finish the hike, this was another good experience for my dad. I was able to talk to him about trail etiquette and we were even able to practice as there were a few others out that particular day.
I'm really proud of my dad for wanting to hike in Utah!! It's quite a big change in elevation from what we mid-westerners are used to.  He tackled it head-on! I'm sure he has a better idea of our hikes now that he got to experience this with me.
Visiting local parks
There are several local parks that Keith and I visit often and we were able to hit several of these since my dad was in town for so long.  Each of these parks is a little different so it was exciting to share these with my dad. It was nice to get outside, walk around and just spend quality time together.
Utah Lake State Park is nearby and always offers an incredible view of the lake with mountains in all directions.  The park isn't far from town but always makes me feel like I'm out in the middle of nowhere. It's typically a bit windy at the lake and that adds to the experience because you really don't hear anything else besides your own thoughts.  It's also a place to see airplanes and/or helicopters. With Salt Lake City International Airport just north and the Provo Municipal Airport just a couple miles away, it's likely you'll spot aircraft and sometimes you get awesome views of the planes coming into Provo.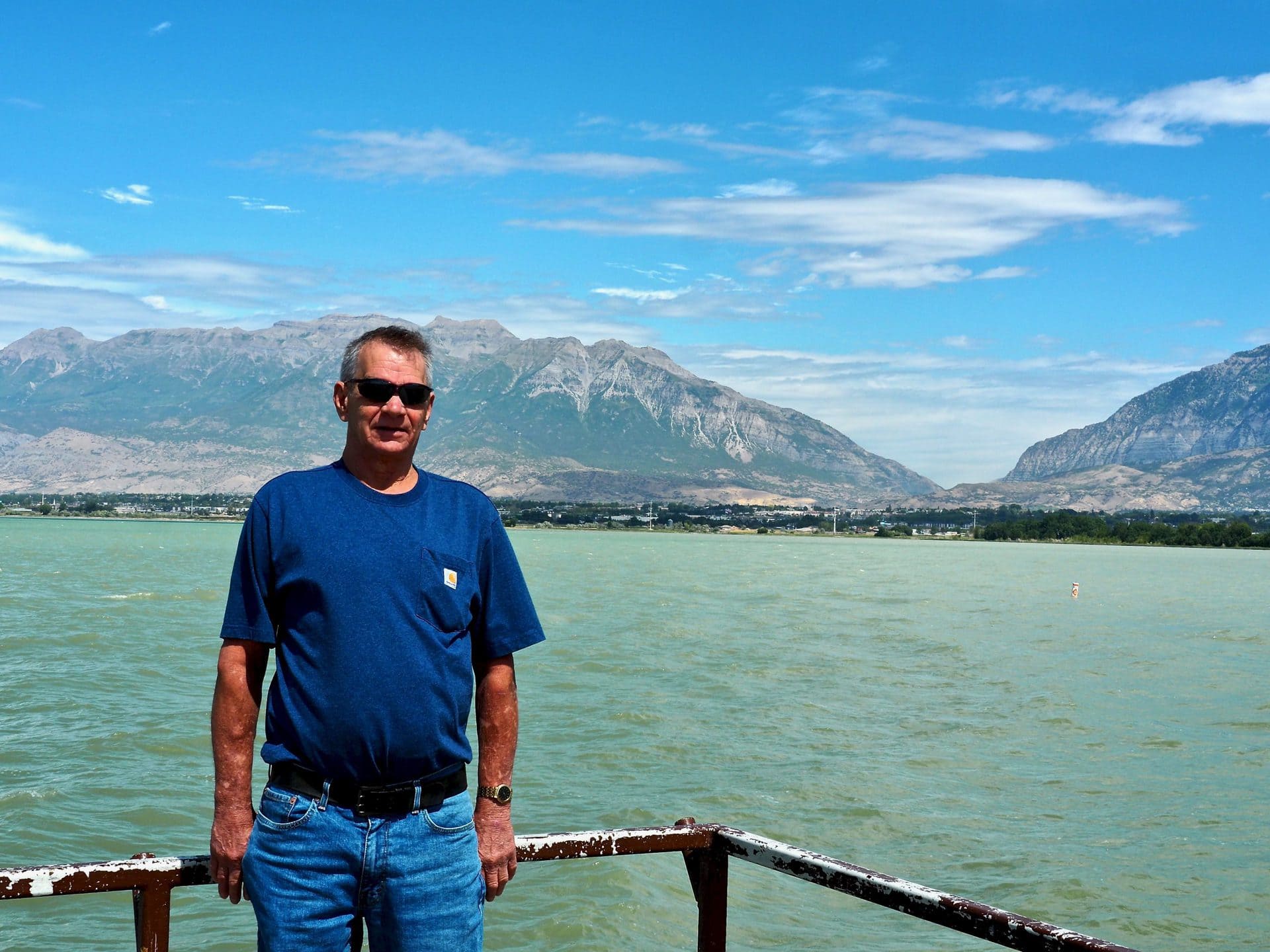 Highland Glen Park is always a favorite of mine.  I like to stop by this park with Lexi and walk after her laser treatments.  It's always a great stop for visitors. Again, nearby with gorgeous views of the pond and mountains.  It's also fun to see others out swimming, kayaking, fishing, walking their dogs, etc.
Neilson Park is quite large and offers so much.  A great walking path, water features, flower gardens, picnic areas, and even a giant swing!  I wouldn't say this day was unusually spectacular or anything but then all of the sudden something happened and now it's one of the highlights of the trip for me!  We came across the giant swings and my dad decided he had to swing! It was just a super fun moment, we were cracking up and I don't think I've ever heard my dad "giggle" until then.  One thing I have realized as an adult is that it's so heartwarming when we get a glimpse of our parents' youth. That was the gift I think we both received at that moment.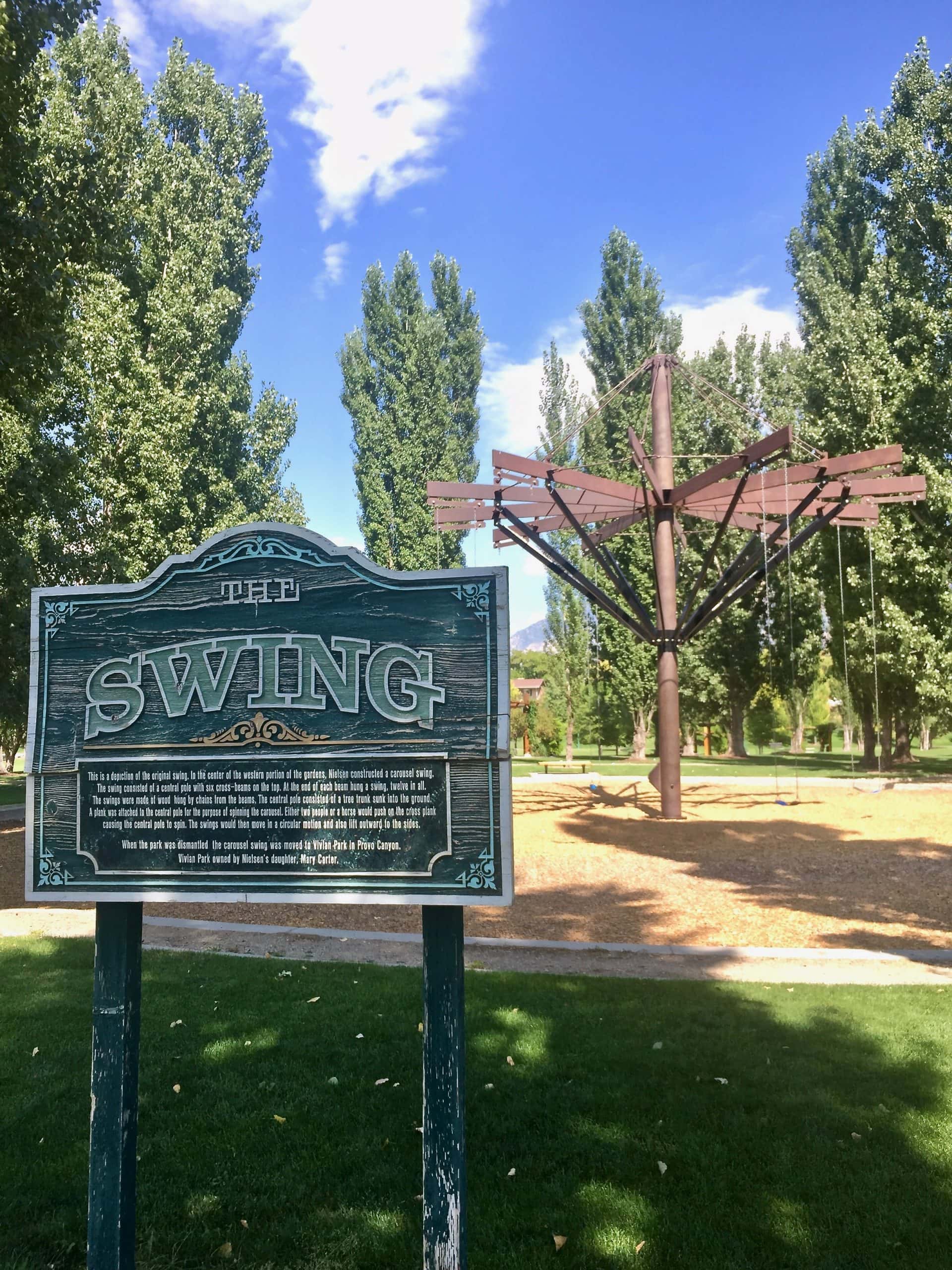 Experiencing Little Cottonwood Canyon
Alta and Snowbird are located in Little Cottonwood Canyon and it's always a scenic drive to visit this area.  Once again we were treated to the natural beauty of the mountains. We also got a fun surprise while in the canyon on this day.  There was a helicopter that was placing supplies high up in the mountains. These supplies would be used for avalanche mitigation during the upcoming winter.  It was pretty awesome to watch the precision of the pilot as he performed this important safety task.
Riding the Snowbird tram to Hidden Peak is a must!  The views along the ride are impressive minute by minute.  You really get a feel for how big the mountains are and see how they are layered.  It's hard to imagine from the more one-dimensional view while standing at the bottom of the mountain.  My dad was able to see for himself the terrain that we ski in the winter. We enjoyed lunch on the patio at The Tram Club and meandered around the resort as I gave him a tour of everything you can do at Snowbird Mountain Resort.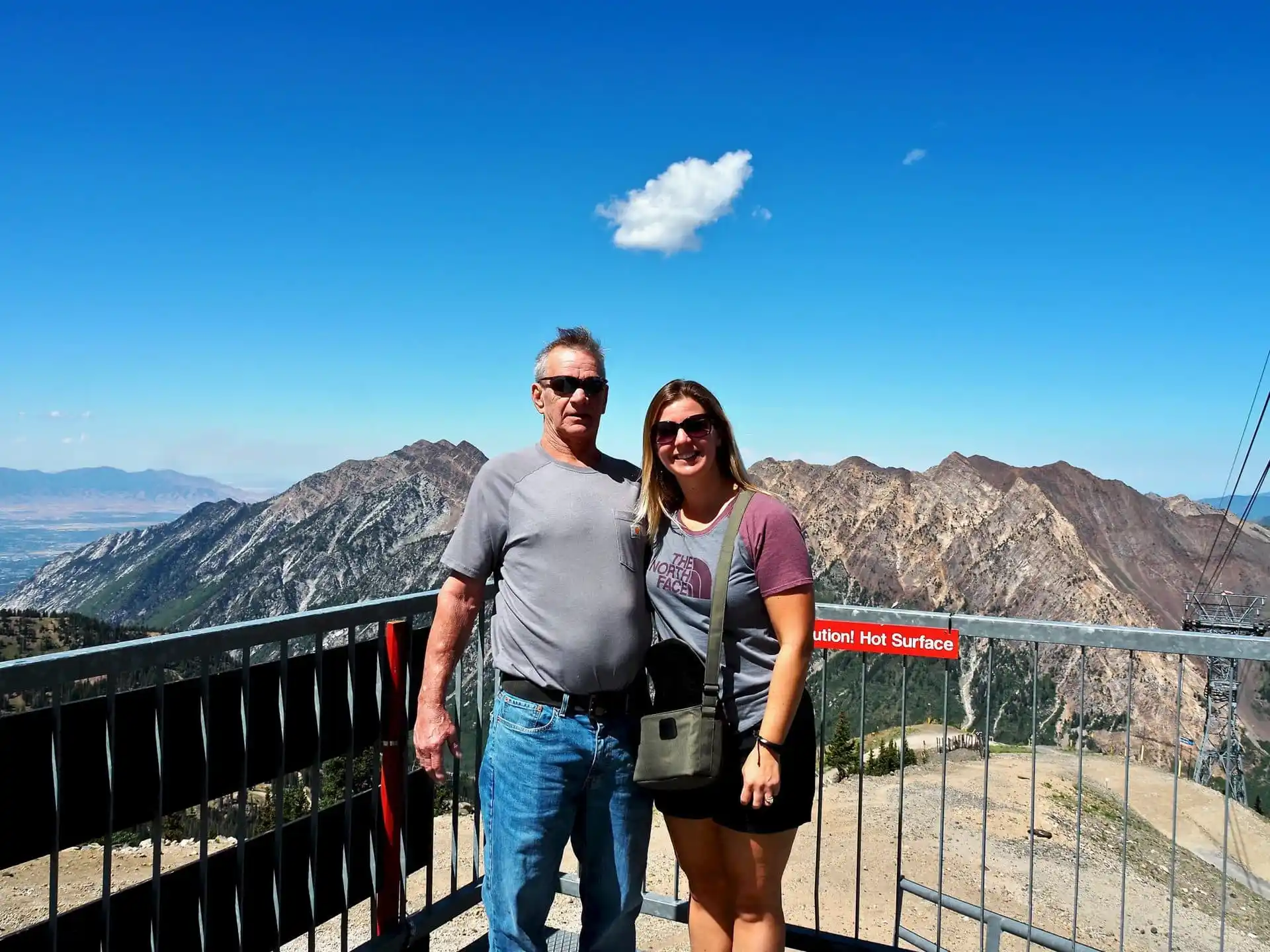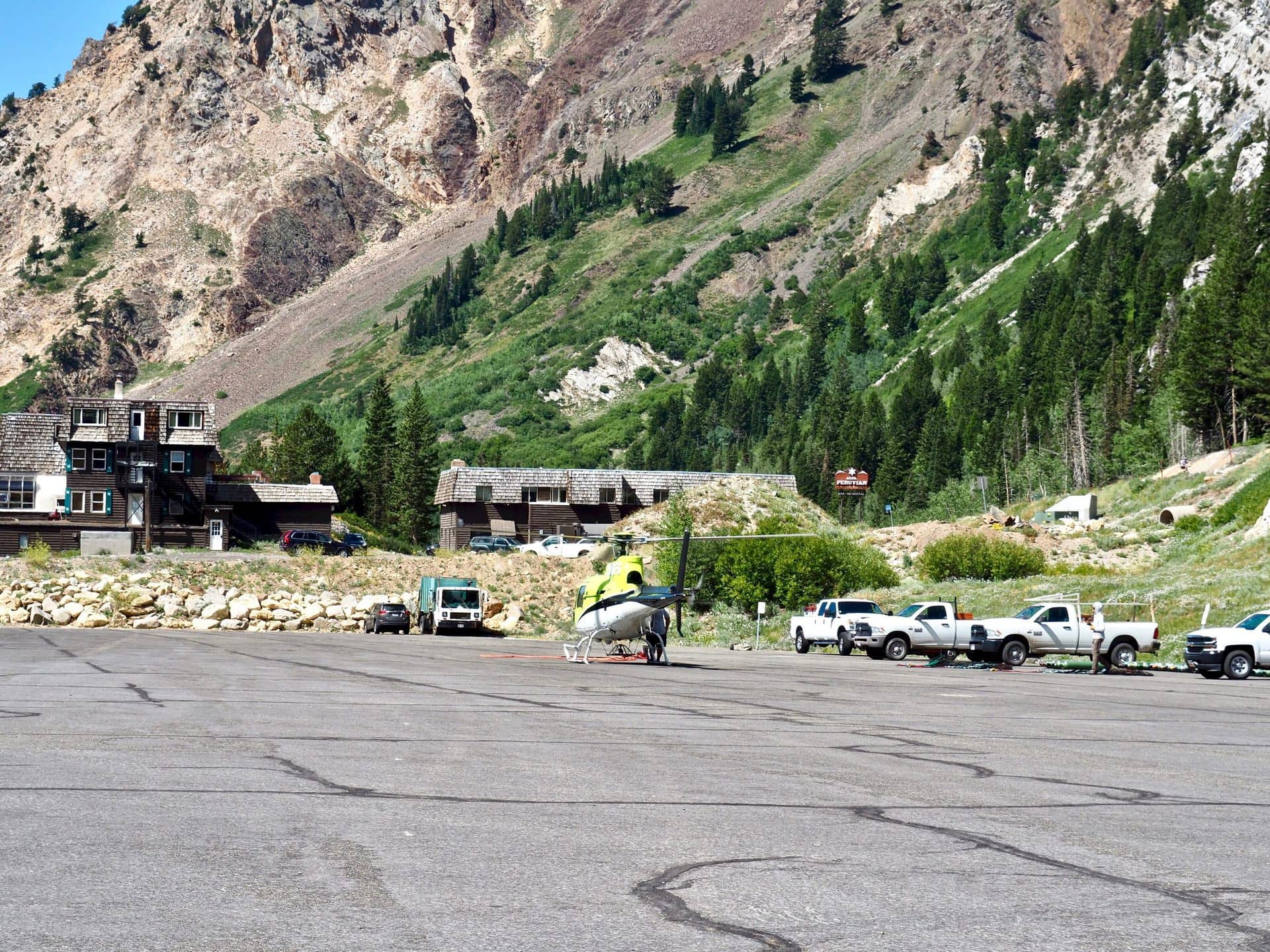 More pictures from my dad's trip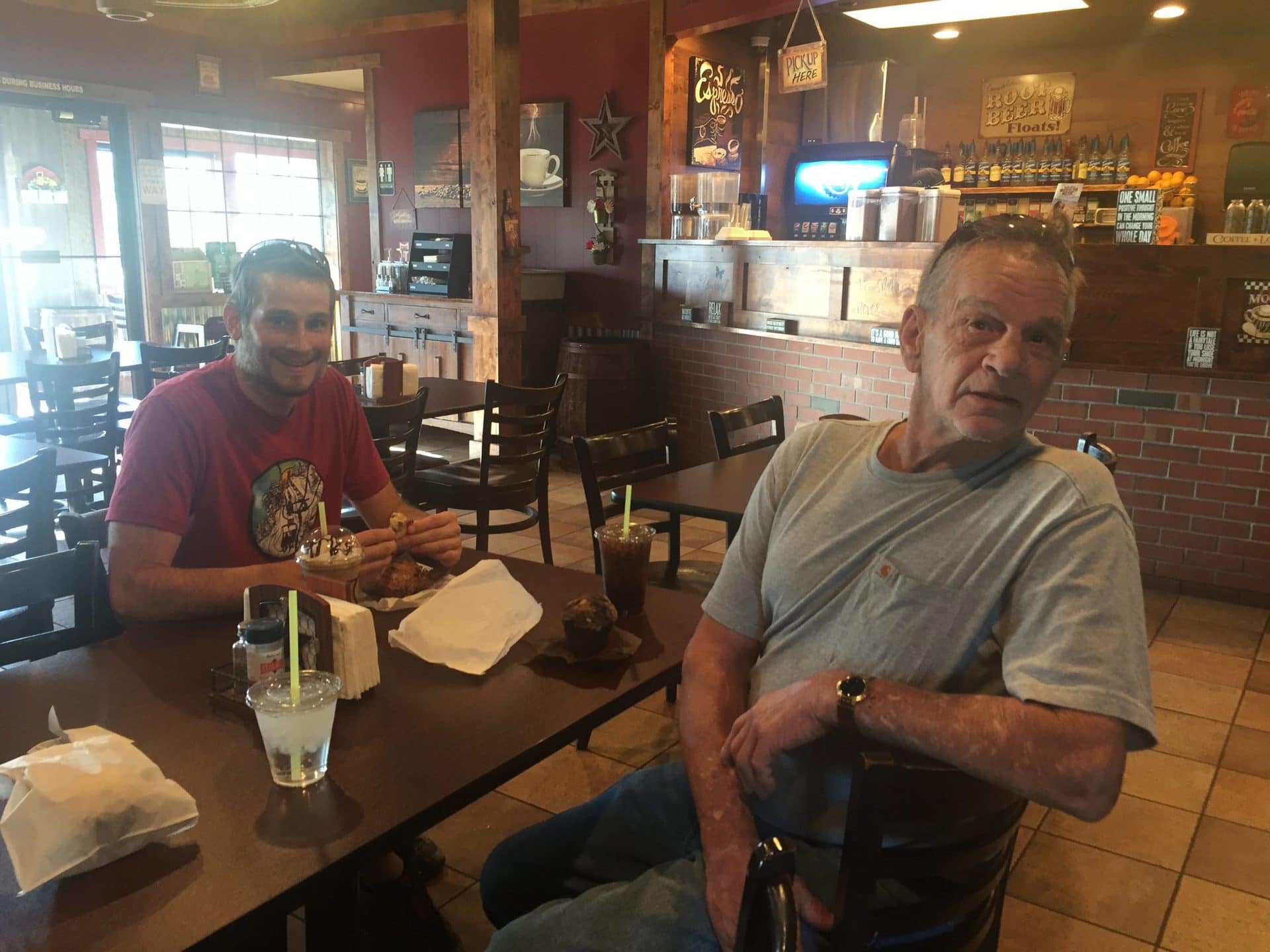 Next up, we head to Moab
Check back next week as we head to Moab for a weekend of exploring Arches National Park, Canyonlands National Park, Sand Flats Recreation Area, and much more!