My Dad Visits Us in Utah!
Written by Lindsey Huster
/
6 min read
/
Last updated 10 months ago
Originally I had these grand ideas of my dad being able to stay with us for a month or two per year. However, this was not necessarily something that ended up working for him for various reasons.  In fact, he hadn't been able to make it out at all until now.  Keith and I were so excited for him to finally visit Utah!
A little about my dad
When Keith and I first decided to move to Utah the hardest factor was leaving family and specifically my dad since in recent years he has had several health issues.  Without getting into too much personal information, the biggest health issue was when my dad had two brain surgeries to repair brain aneurysms. Although both procedures were successful, the second surgery resulted in some side effects and challenges both for him and for those closest to him.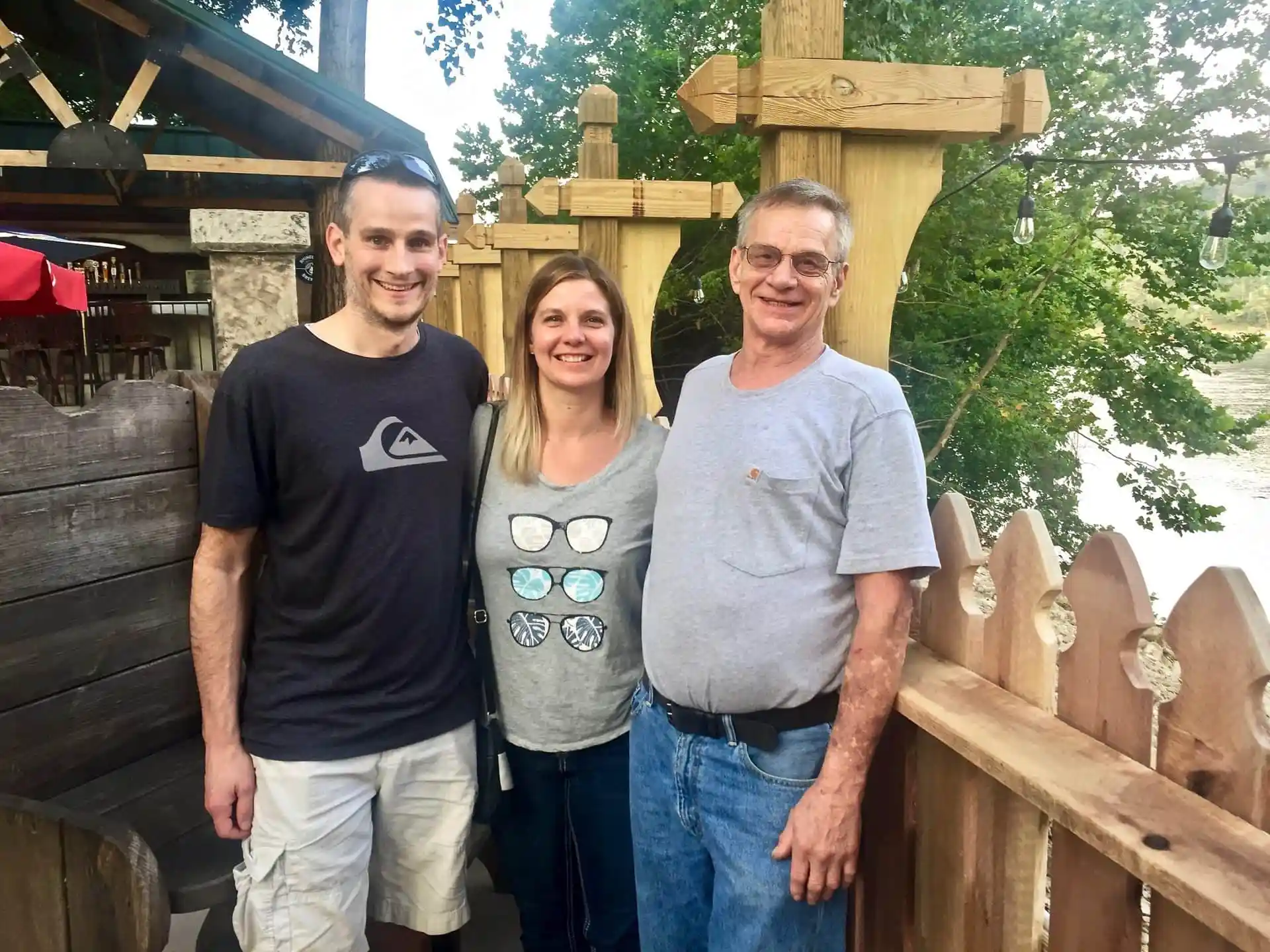 I booked his flight to Utah! 😃
While Keith and I were in Indiana this summer (2019) my dad approached me about coming to visit Utah and I'll be honest, I was apprehensive. Not because I didn't want him to visit, but because we had started to plan a trip before and he wasn't able to follow through (due to those side effects and challenges).
He persisted while we were in town and I continued to give him more and more information about flying to Utah, what it would be like staying with us, and generally what to expect to prepare him. Before we left Indiana, I booked my dad's flight and it was only weeks away!
Check out our video
My excitement level was off the charts!
As the days counted down and now we were talking in segments of hours, I was still in disbelief that he would be with me in Utah very soon. I was apprehensive to get too excited because there was still a part of me who thought he would back out or something just wouldn't work out.
As I was driving to the airport to pick him up, I had so much energy I probably could have run the 30 miles or so to the terminal to meet him! I ended up being stuck in traffic and it felt like an eternity until I arrived to meet him just in time as he made his way to baggage claim.
*I want to note here that Cincinnati/Northern Kentucky and Salt Lake City airports took great care of my dad helping him through the airport and onto the plane easily. I prearranged assistance services and from what I can tell, they both provided exactly what my dad needed for this to be physically and mentally done with ease.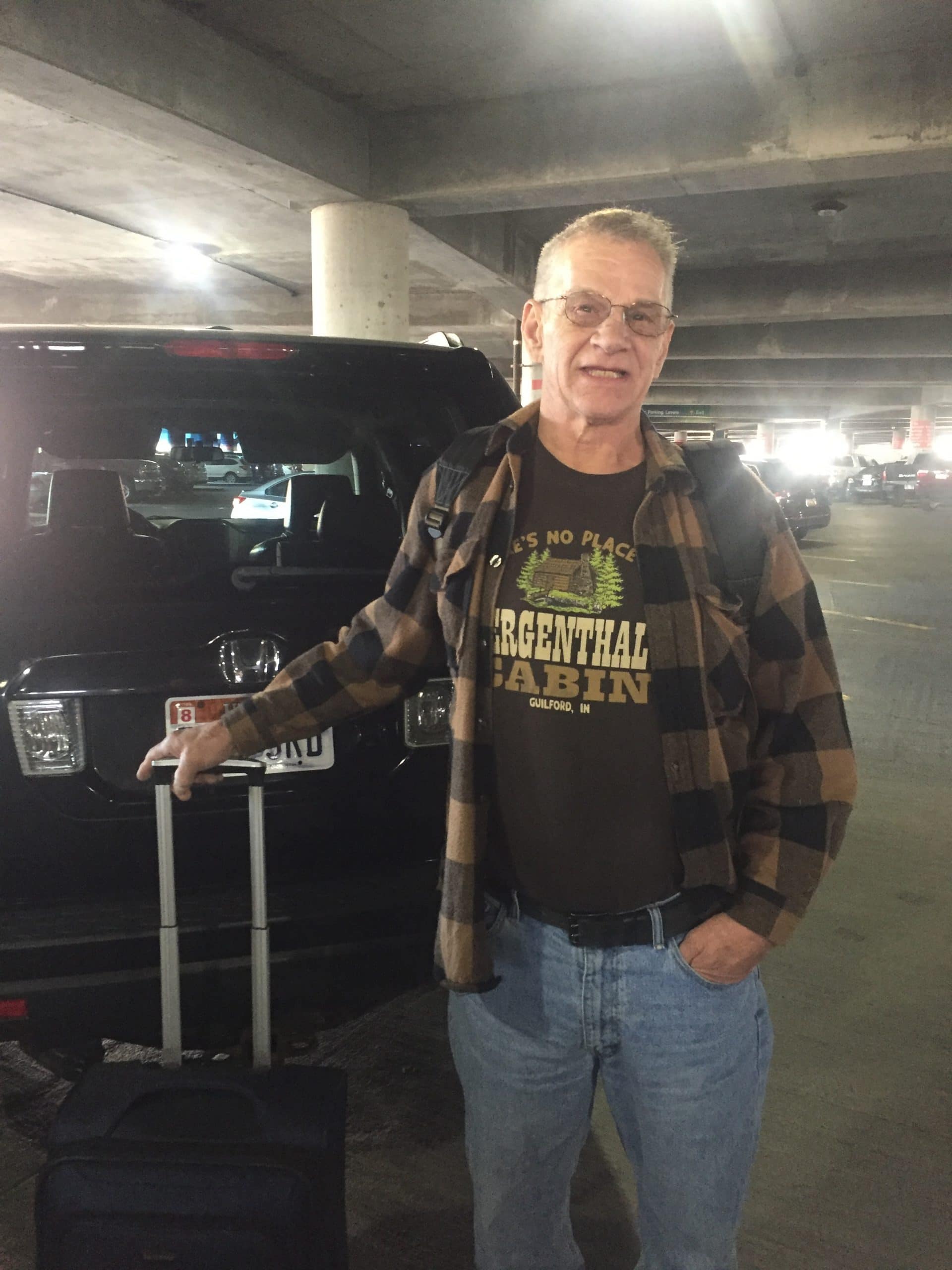 The Huster guided tour
If you've visited us in Utah or read any of our family/friend visit posts, you can probably already guess quite a bit of what we saw and did with my dad during his trip. Keith and I have established a pretty good routine of sightseeing and giving our visitors a tour of where we live and the places we love.
People often ask us if it gets old giving this tour… I'm shocked when this question or comment is made. NO! We love showing people around and sharing with them why we moved to Utah. We love being tour guides!
Downtown Salt Lake City
After leaving the airport, we headed downtown for a quick driving tour of the city. Next, we stopped downtown to visit Temple Square, walk through City Creek Mall, and have lunch. As we were walking around, I was so giddy about having my dad here for 13 days!! I just kept looking at him in disbelief that he was in Utah with me and I wanted to cherish every minute. It's always such a surreal feeling to have family and friends in Utah. Even though we've had quite a few visitors and we plan ahead, it's always surprising to me what a dreamlike feeling I get just seeing my loved ones in my new home state.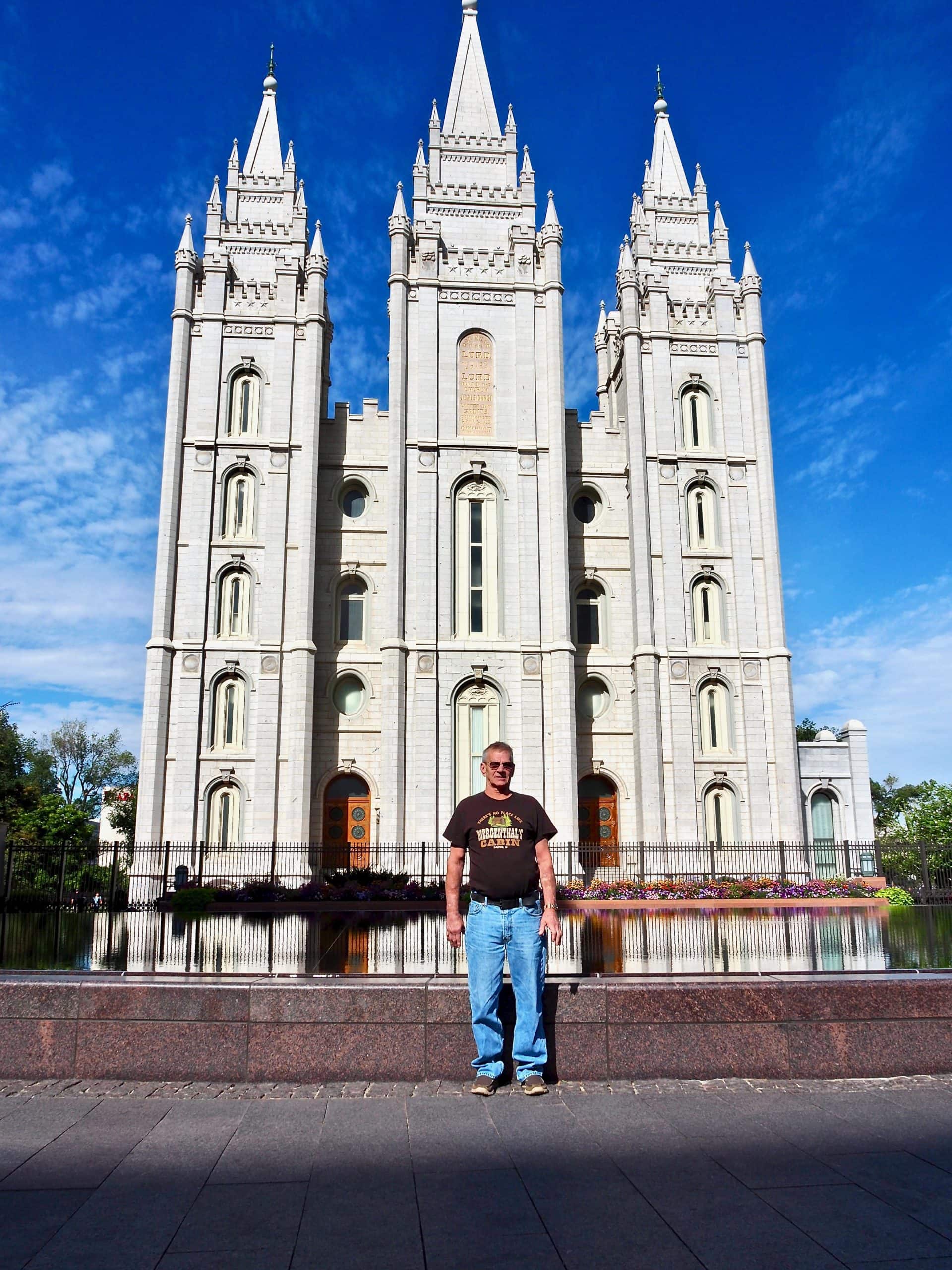 Back to our home
It's always so special when we can have family and friends visit Utah and specifically our home. Moving over 1600 miles away is not easy on us and having loved ones make this trip is so humbling to us.
Bringing my dad to our house and showing him around is something I've looked forward to, as with all our guests. As much as we talk about the area and send pictures, I don't think you can get the full effect until you see it for yourself. Even the video doesn't show the whole experience!
Not The Only Visitor!
Yi, who had visited Fall of 2018, was also in town and staying with us! He and his friend had been on a road trip from Colorado. Christian and Yi arrived two nights before my dad. They spent the night at our place and then parted ways. Christian continued on to Idaho to visit family and Yi spent another night with us.
Yi and my dad were only at our house 1 night that overlapped. We dropped off Yi at the airport and continued on our tour of the area. We visited Big Cottonwood Canyon to see Solitude and Brighton ski resorts before crossing Guardsman Pass to Park City. Our tour of the Park City area typically covers downtown, the ski areas, Olympic Park, and whatever else we have time for on the way back.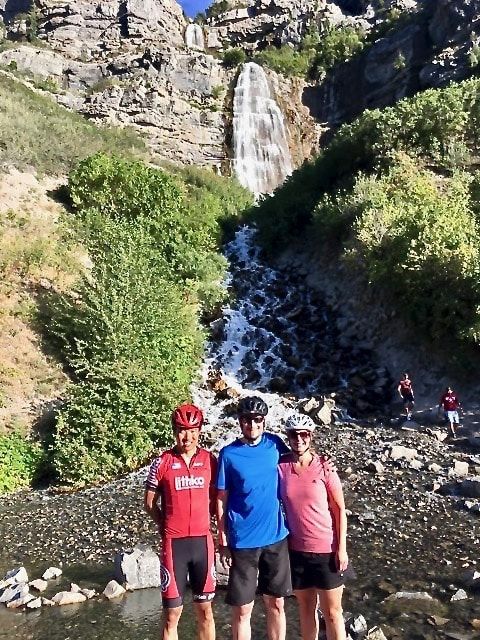 Driving the Alpine Scenic Loop
The Alpine Loop is another favorite of ours and I knew my dad would love this area. Making our way up American Fork Canyon is always so beautiful and it is especially pretty as the leaves begin to change color. Tibble Fork Reservoir always offers an impressive view of mountains and water. We continued on to Sundance Mountain Resort where we rode the lift to the summit and had nachos at the Bearclaw Cabin. Bridal Veil Falls is always a grand way to end the loop.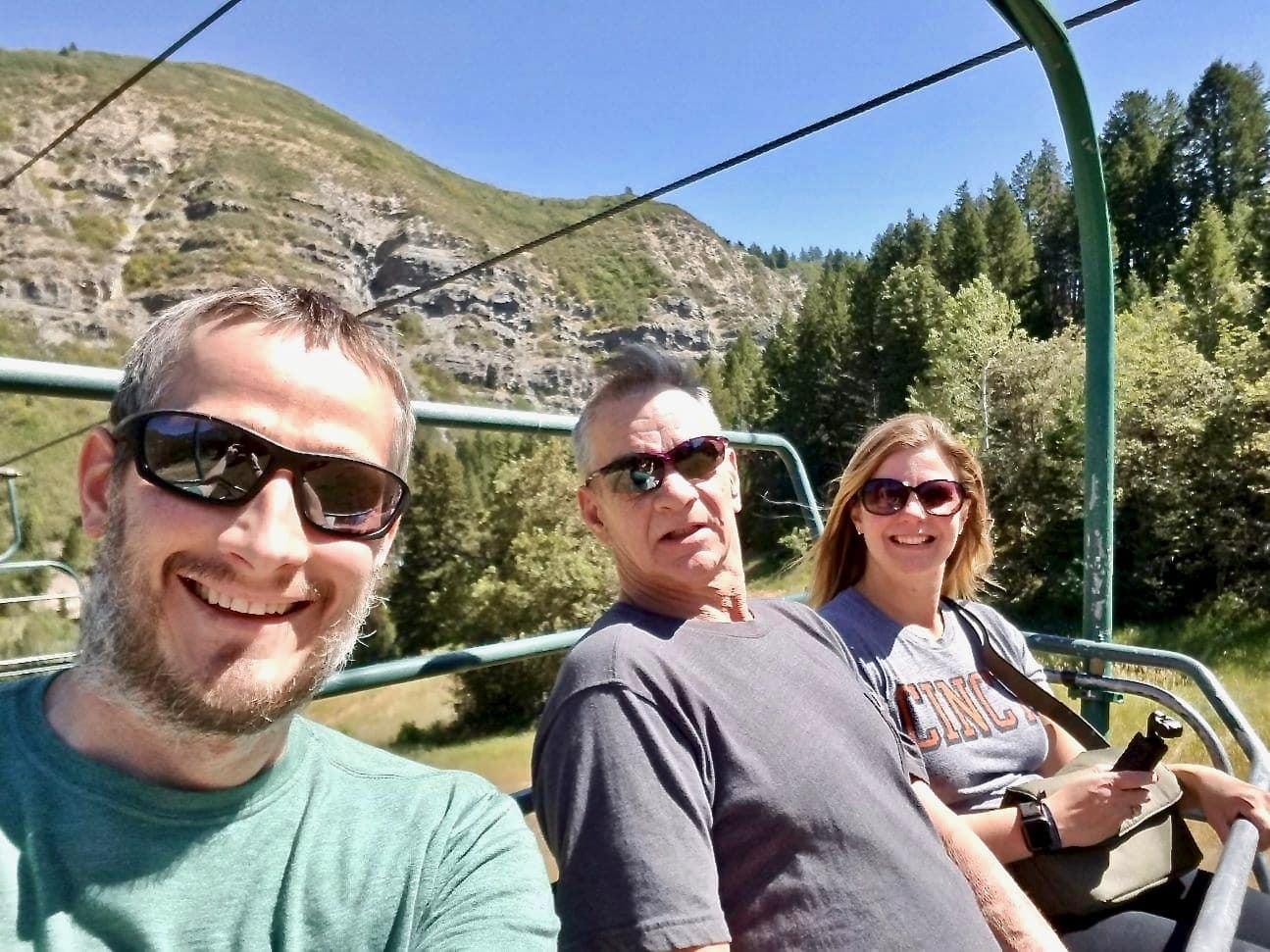 This trip is just getting started
My dad was in town for 13 days and this was just the start of his visit to Utah! We had so much more to do around our hometown and would be spending a few days in Moab. Check back next Tuesday for more about our trip!