Road Trip Part 2 of 6: Lake Powell
Written by Lindsey Huster
/
6 min read
/
Last updated 9 months ago
We woke up at the Red Feather Lodge near the Grand Canyon and by evening we would be at the Best Western near Lake Powell. I booked all reservations through hotels.com.
You can read more about the previous day's trip here --> Road Trip Part 1 of 6: The Grand Canyon
Check out our video
We did not necessarily want to film everything while we were traveling with family. We got enough shots to make a short video each day, but other than that we just wanted to be more present in the moment.
Picnic lunch
The drive to Page, AZ was about 4 hours as we made a couple of roadside stops along the way. Once we arrived in Page, we were so excited to see the lake, but we were also hungry! We looked up the Wahweap Marina on Google Maps and headed towards the lake for a picnic. We ended up finding a great picnic area along the way. When I say great, I mean one of the best picnic areas I've been to. Great picnic tables (handicap accessible), grills, garbage and recycling bins, clean restrooms, etc.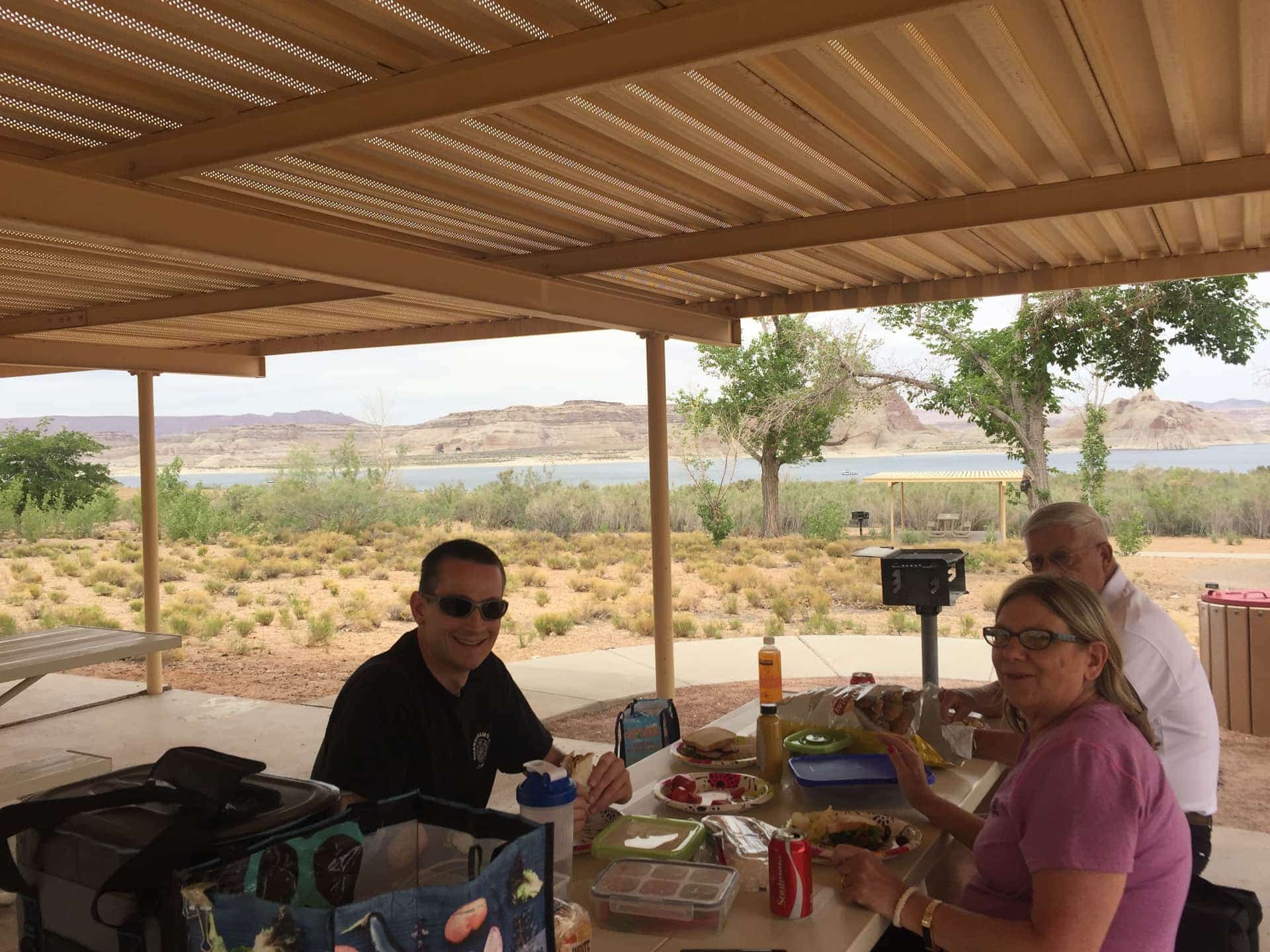 Glen Canyon Dam, Carl B. Hayden Visitor Center
We had driven by the Glen Canyon Dam on the way in and I had read that this was a must-do while in the area. The Carl B. Hayden Visitor Center has lots of information about the dam from various learning viewpoints; history, science, etc. There are three videos you can watch for free, we did one and it was excellent. I think I've said this before, but visitor centers and the videos they show are very informative and worth the time to explore.  I would watch all the videos if it were up to me... but I usually get vetoed. 😉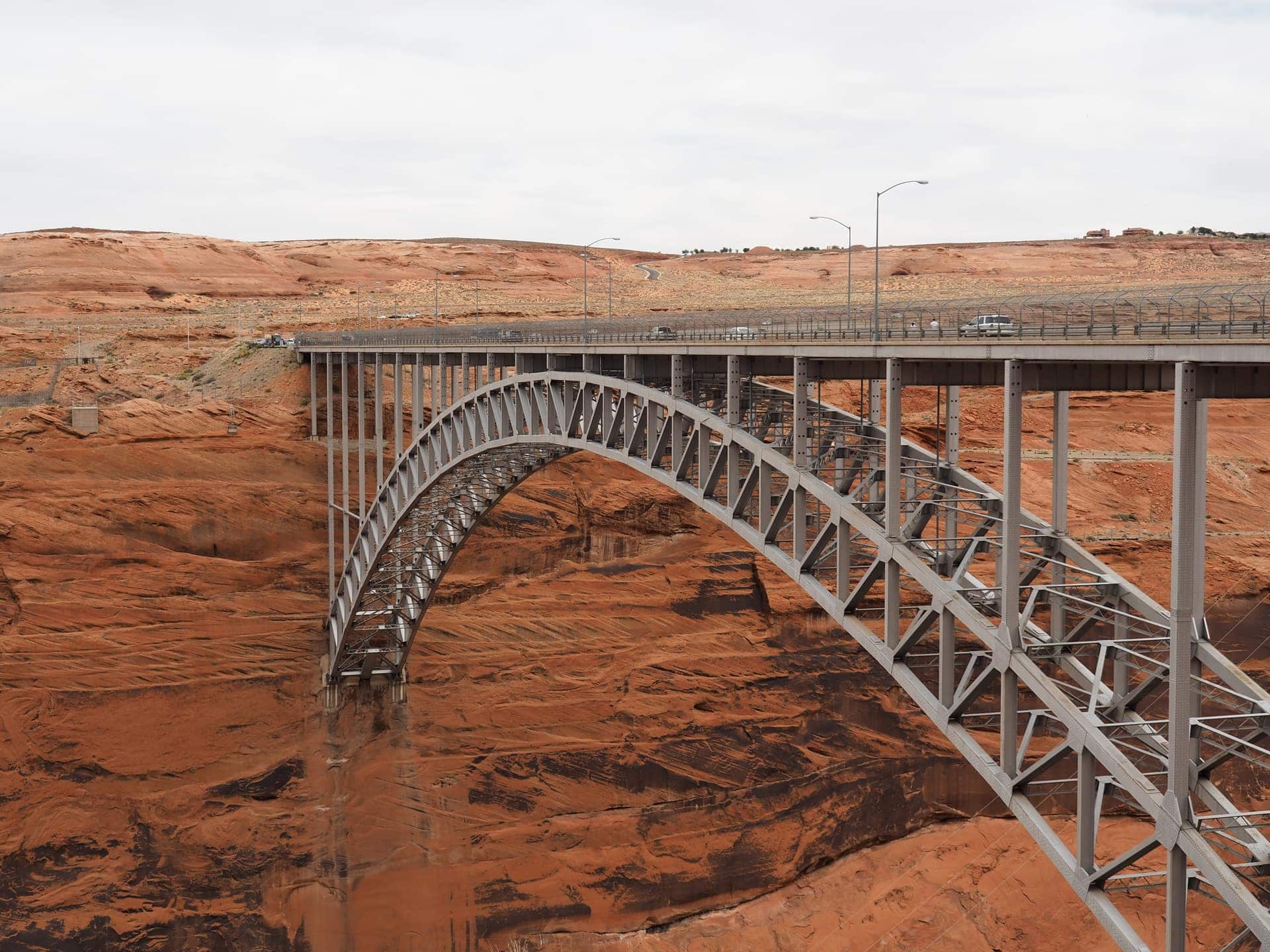 Hotel and dinner
The Best Western View of Lake Powell was the perfect place for us to stay. Located in Page, AZ, and only a few minutes' drive from the lake. The name of the hotel is "Lake View," but that is stretching it. I had read enough reviews online to know that the room would not have a lake view so we weren't disappointed as others were upon arrival. The view from the "lake" side of the hotel may not have had a lake view, but it was gorgeous. I would recommend asking for the lakeside when booking, otherwise, you are looking at the parking lot.
There was also a nice outdoor patio off the hotel lobby where we used to relax before heading to dinner. After dinner, we were all pretty wiped out and we knew there was a big day ahead of us. We would be going on a boat tour and had dinner reservations with a show planned for the next day.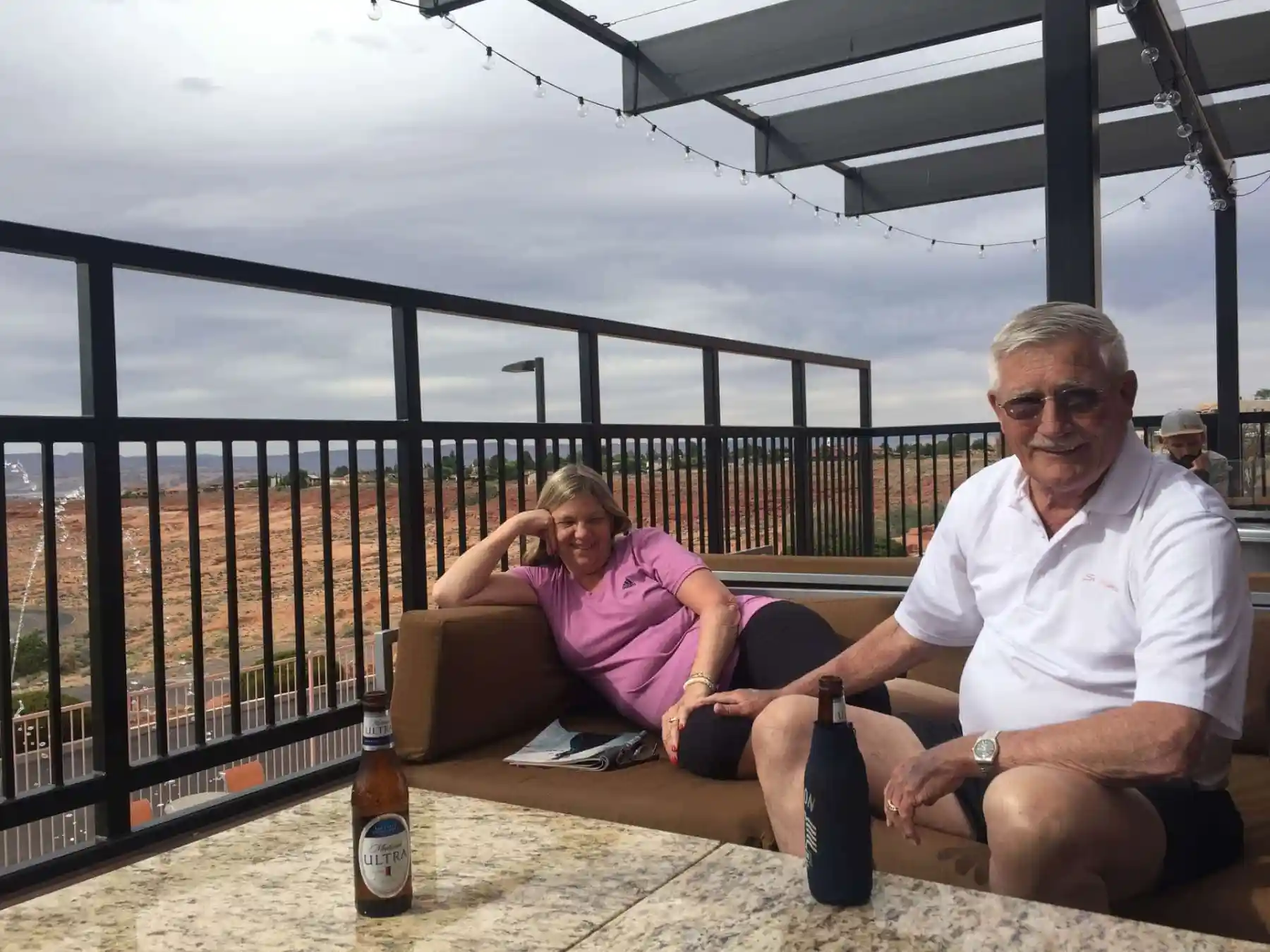 Getting on the lake!
Be sure to book an activity on the water! This trip wasn't about staying on a houseboat or renting a ski boat for the day, but we did want to get on the water. The Canyon Adventure Tour was the perfect activity for all of us.
The 2.5-hour tour gives you the history of the lake and stunning views of what makes Lake Powell so beautiful. Our captain and crew on the tour were amazing; professional, fun, informative, etc.! Every minute of the tour was impressive and the only thing we wished for was that it lasted longer!  There are longer tours available.  I wasn't sure how warm it would be or how long we'd want to be on the boat so I opted for the shorter tour.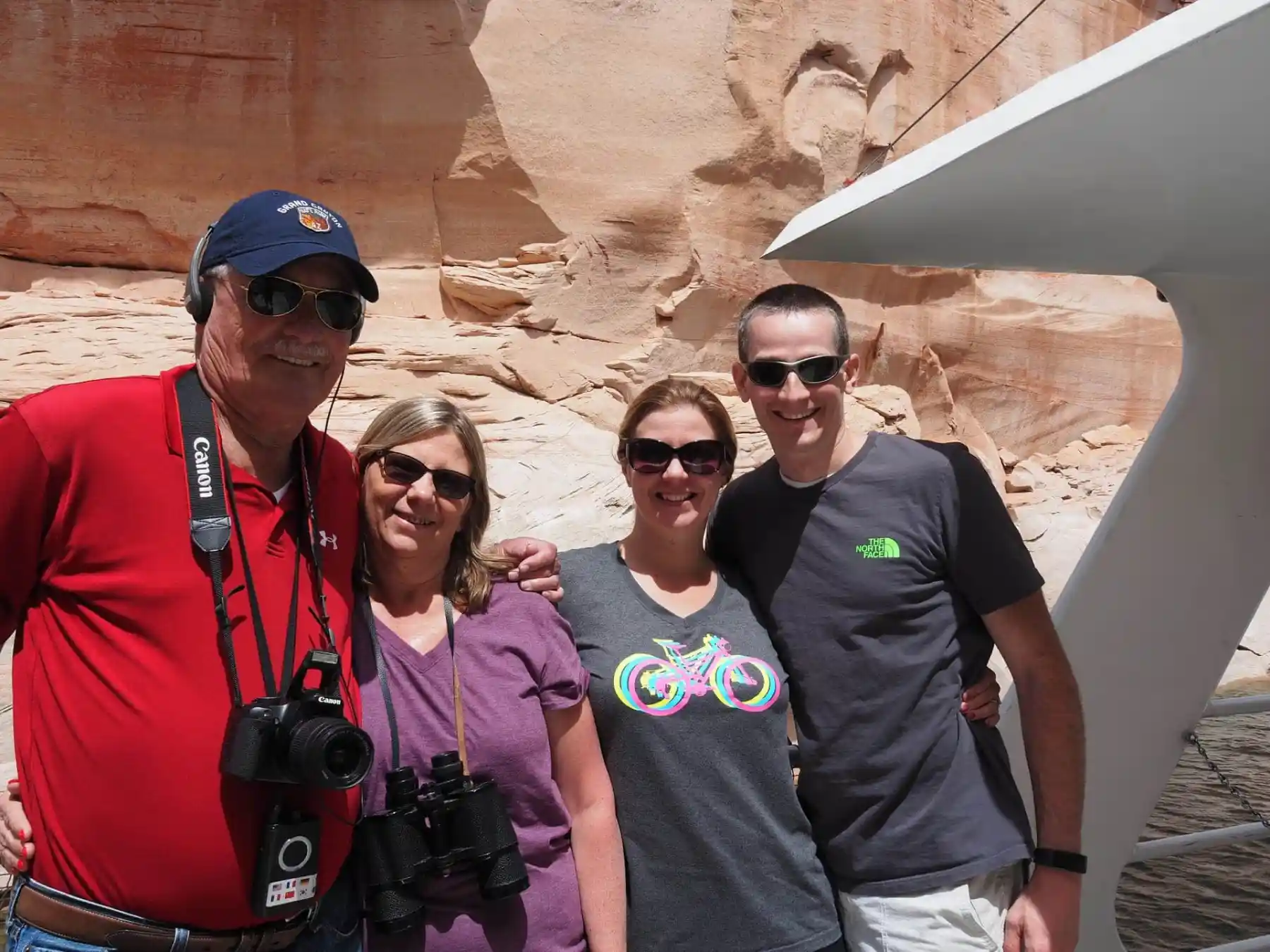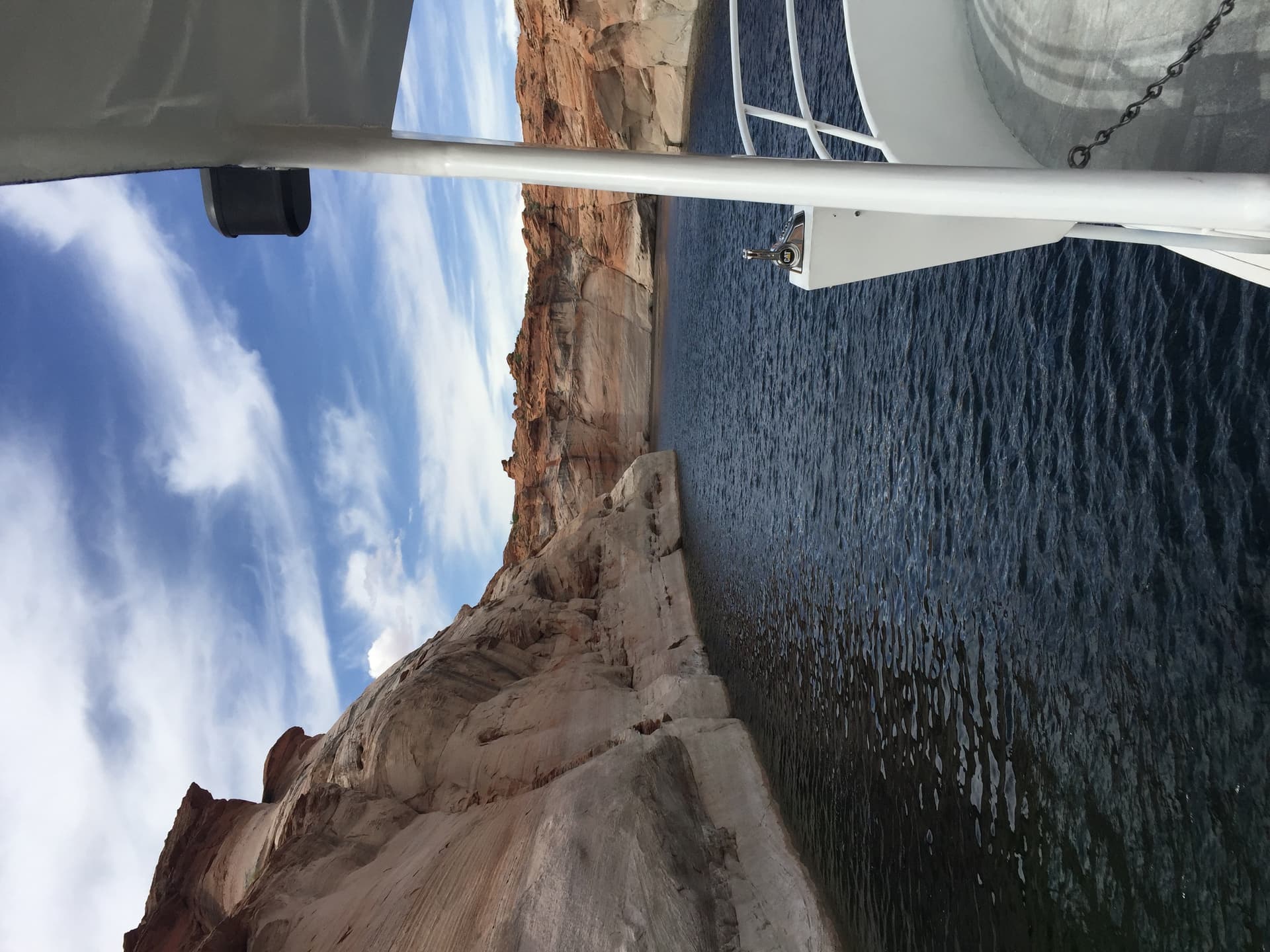 Break time (for most of us)
I planned some downtime for us after the tour since I wasn't sure how warm it would be and if the heat would wear on us. The weather ended up being perfect, but we each still used this time to do our own thing before plans for the evening. Again, John just had surgery on his heart so this was the perfect time for him to get a little extra rest. Keith ended up going on a hike to the Hanging Gardens and then scrambled up some rocks to the Rim trail above Lake Powell. He explored this area for a couple of hours. My mom and I chose girl time at the pool. We took our magazines and chatted while soaking in some sun.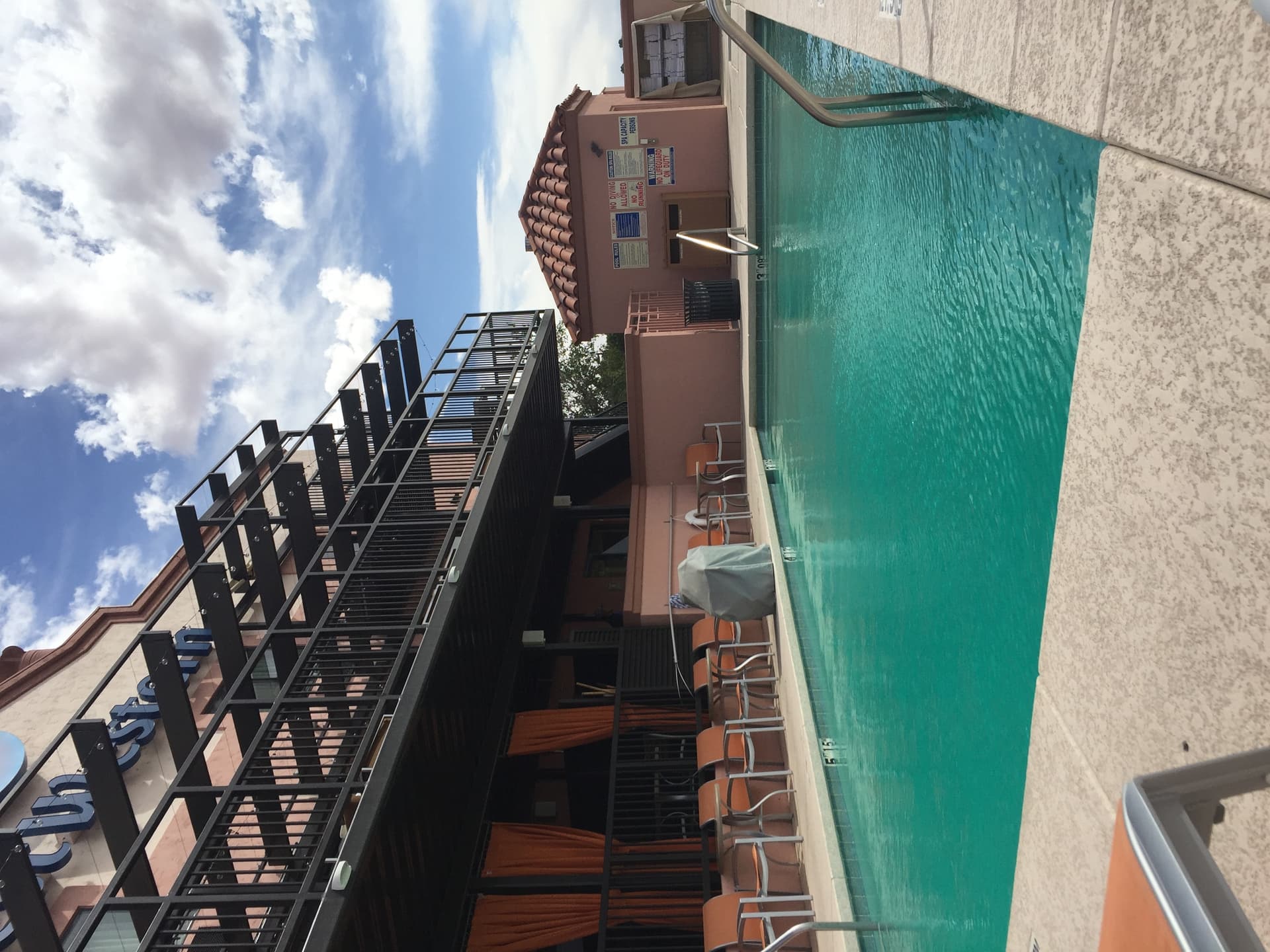 Into the Grand: An amazing dinner theater experience
I read online about Into the Grand, described as one of a kind Native American dance and a taste of local culture. The reviews were a little confusing and I went back and forth about making the reservations prior to the trip. There is only one show per night so reservations are strongly recommended. I didn't want to miss out so I booked this in advance. As you can probably tell, I like to know what to expect of something before I do it…. research, reviews, etc. I know this can take the element of surprise away, but it also helps set me up for success, and the risk of disappointment is lowered. After saying all of that, this night was a big hit for all of us.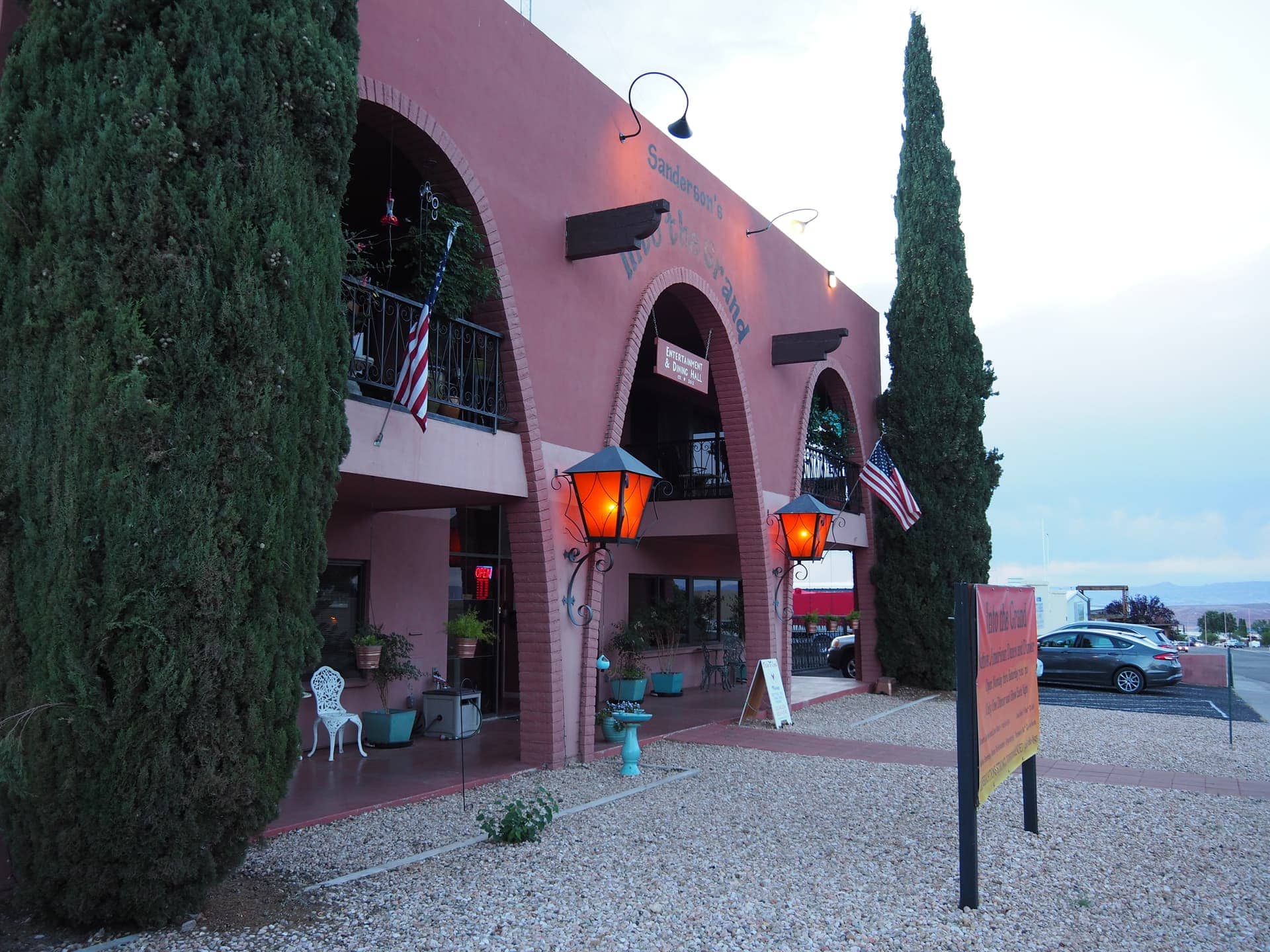 We arrived at this unique building where we were seated for dinner. The menu is small, but everything we ordered was really good.  There was live acoustic music from a local guy, which was excellent! He played a variety and you could tell that he thoroughly enjoyed performing for the audience.  Dinner is served from 7:00 pm-8:30 pm, our reservation was at 7:15 pm so we had plenty of time to eat and enjoy the music.
The Native American dancers begin at 8:30 pm and that lasts about 45 minutes. At this time the owner gives you some background on the facility and what you will be seeing for the night. The Native American dancers do an excellent job at not only describing what is being performed and why, but the dancers of all ages are absolutely the best at what they do. Again, this was a big hit for all of us!