Keith's Pain Cave: Stages SB20 Smart Bike + Zwift Virtual Training
Written by Keith Huster
/
14 min read
/
Last updated 4 months ago
Does a Stages SB20 Smart Bike paired with a Zwift virtual training subscription make for the ultimate pain cave experience? Keep reading to find out...
What is a "pain cave"? 🥵
If you haven't heard of the term "pain cave" then you may wonder what I am talking about in this post. TRIGearLab has an excellent definition for the term pain cave:
A pain cave is a space where you can work out and become stronger during the winter months. It usually contains your bike trainer at least and some other home gym accessories such as a yoga mat and a couple free weights.
- TRIGearLab
The term pain cave refers, in some ways, to a small fitness area dedicated to a specific sport. In this case, that sport is cycling.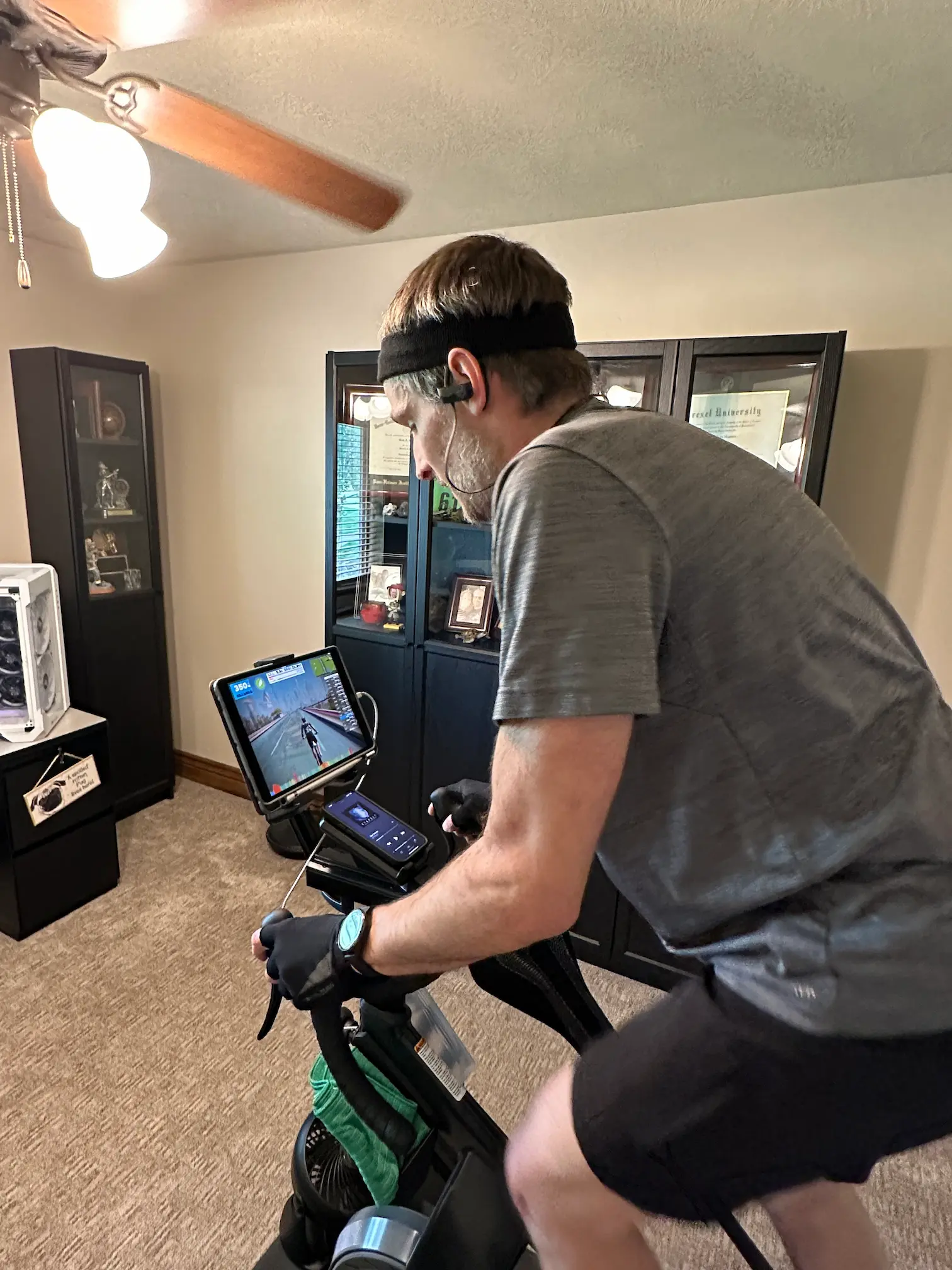 Cycling pain caves have become very popular thanks to the advent of "smart" indoor trainers/bikes. These tools allow the rider to experience a realistic road feel while training indoors. They can simulate road grades by dynamically adjusting the resistance felt by the rider thus allowing the rider to practice climbing without ever leaving their house. They can also allow the rider to work out at specific, fixed power levels thus allowing for an ERG (Ergometer) mode workout in a controlled environment.
The level of control offered by "smart" indoor trainers/bikes creates an optimum environment for executing specific workout plans. Riders can easily perform FTP tests, ramp tests, or other specific training plans without concern for outdoor cycling environment variables such as wind, traffic, etc. By eliminating these extraneous variables, cyclists can better optimize their training time and efforts. Let's face it, who doesn't want to get more bang for their workout buck?
Issues with using an outdoor bike on an indoor trainer 🚧
I have created several iterations of a pain cave over the past decade or so. Until recently, all of my pain caves have been built around an indoor trainer rather than a dedicated indoor bike. Let me define these two terms in case you aren't familiar with the difference between these two pieces of equipment.
Indoor cycling equipment terms
Indoor trainer: An indoor trainer is a piece of equipment that you attach your outdoor bicycle to so that you can ride indoors. Indoor trainers come in two primary styles; wheel-on (e.g. Wahoo Kickr Snap) and wheel-off (e.g. Wahoo Kickr).
Indoor bike: An indoor bike is an indoor-only piece of equipment that attempts to simulate riding a real bicycle. Indoor bikes typically have a weighted flywheel instead of wheels. There are several various types of indoor bikes but for the sake of this post, I am going to focus on "smart" indoor bikes such as the Stages SB20.
While I have had some success with indoor trainers, I have unfortunately found too many downsides to recommend them for casual athletes such as myself. I have listed some of my key critiques with indoor trainers below.
Issues with indoor trainers
Wheel-on trainers, while inexpensive, often require a dedicated trainer tire (e.g. Tacx Trainer Tire) to be installed on the bike. This means that you need to either swap tires when moving the bike inside/outside or you need to have a spare rear wheel (and cassette) handy.
Wheel-on trainers can be very loud when in use. This noise comes from the interface between the roller mechanism and the tire. Indoor trainer tires can help but they will not eliminate all of the noise.
Wheel-on trainers require precise alignment of the tire and roller. This means that the rear tire air pressure is critical to ensure a stable and secure connection between your bike and the trainer.
Wheel-on trainers put a lot of pressure on your bike's rear triangle. They typically clamp to the bike through the rear axle thus locking the bike in place. The locking force is then amplified when you are riding hard and/or standing and pedaling.
Wheel-off trainers solve some of the problems of wheel-on trainers but they are often very expensive, comparatively.
Wheel-off trainers require a matching cassette to be installed on the trainer itself. Thus, you need to purchase a second cassette or remove the cassette from your rear wheel to use the trainer.
Both wheel-on and wheel-off trainers use your outdoor bike's drivetrain during your indoor workouts. This means that you are wearing down your expensive drivetrain components every time you perform an indoor training session.
Sweat management is very difficult when training indoors. All the sweat that drips from your body is very corrosive to the delicate bearings and other moving parts on your outdoor bike. This can result in premature wear on expensive bike components.
Ok, I think I have covered enough reasons why most casual cyclists should NOT use an outdoor bike on an indoor trainer. So, why do they make this style of trainer and who are they for? Well, here's my best guess... Indoor trainers are best suited for those riders that need to train on a specific bike with the exact setup that they will be using when riding outdoors; i.e. bike racers! However, even with that said, most modern "smart" indoor bikes are capable of installing custom touchpoints (e.g. handlebars, grips, pedals, saddle, etc.) and offer a level of adjustability that can directly mimic any outdoor bicycle. So, that only leaves the cost and size considerations in play. An indoor trainer is typically less expensive and physically smaller than a dedicated indoor bike. So, for those that are budget or space-constrained, these can be a good option.
My essential pain cave components 📝
My current pain cave is focused around a Stages SB20 Smart Indoor Bike. This is my first experience with a dedicated indoor bike and so far I am loving it! The bike is so easy to use and quiet when compared to my prior experiences with indoor trainers. I can simply hop on the bike and start spinning. There is nearly zero prep time required to start training. Whereas, with my prior indoor trainer setups I would often need to check/set tire pressures and lube the chain before my indoor training session. This prep time minimization allows me to optimize my time spent in the pain cave.
I have paired my Stages SB20 with a Zwift virtual training subscription to maximize the "fun" (Type II fun that is) and flexibility of my indoor training sessions. With Zwift, I can choose to ride any number of virtual courses or focus on a specific training plan. This helps to alleviate the boredom that is often found with indoor cycling. Gone are the days of long grinding sessions on an indoor bike while staring at a blank wall or TV. I can now virtually ride and interact with thousands of other avid cyclists from around the world!
Those are the two main components of my pain cave. However, my pain cave also consists of several other supporting pieces of equipment. I have provided a complete equipment list breakdown below:
My pain cave equipment list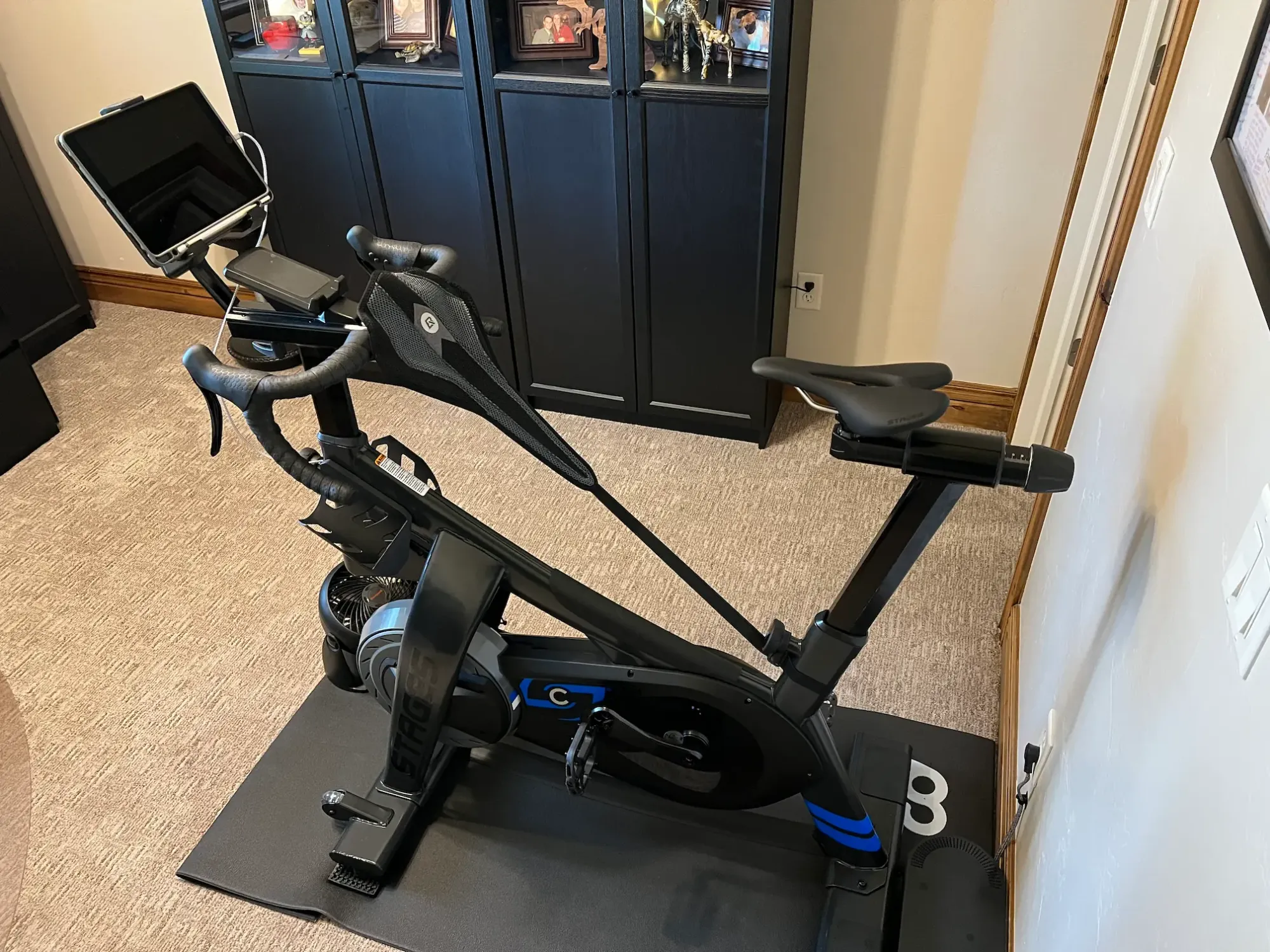 The Stages SB20 Smart Bike is amazing! 🚴‍♂️
I purchased a Stages SB20 Smart Bike after receiving an email offering a huge $2000 USD discount on the bike plus a free year of Zwift virtual training. Unfortunately, this specific discount is no longer available. 😢 Thankfully, Lindsey was on board with this purchase so I jumped at the chance to get such an incredible piece of training equipment.
Initial impressions
The Stages SB20 Smart Bike is such a joy to use. The initial setup was simple except that the bike is very heavy so lugging it up to the second floor of our home was quite a challenge. 😅 Once we had the bike in place and put together I installed a spare set of OneUp Components Composite Pedals at the 170 mm setting of the adjustable-length crank arms. This gives me the same pedal and crank length that I have on my Intense Sniper T mountain bike.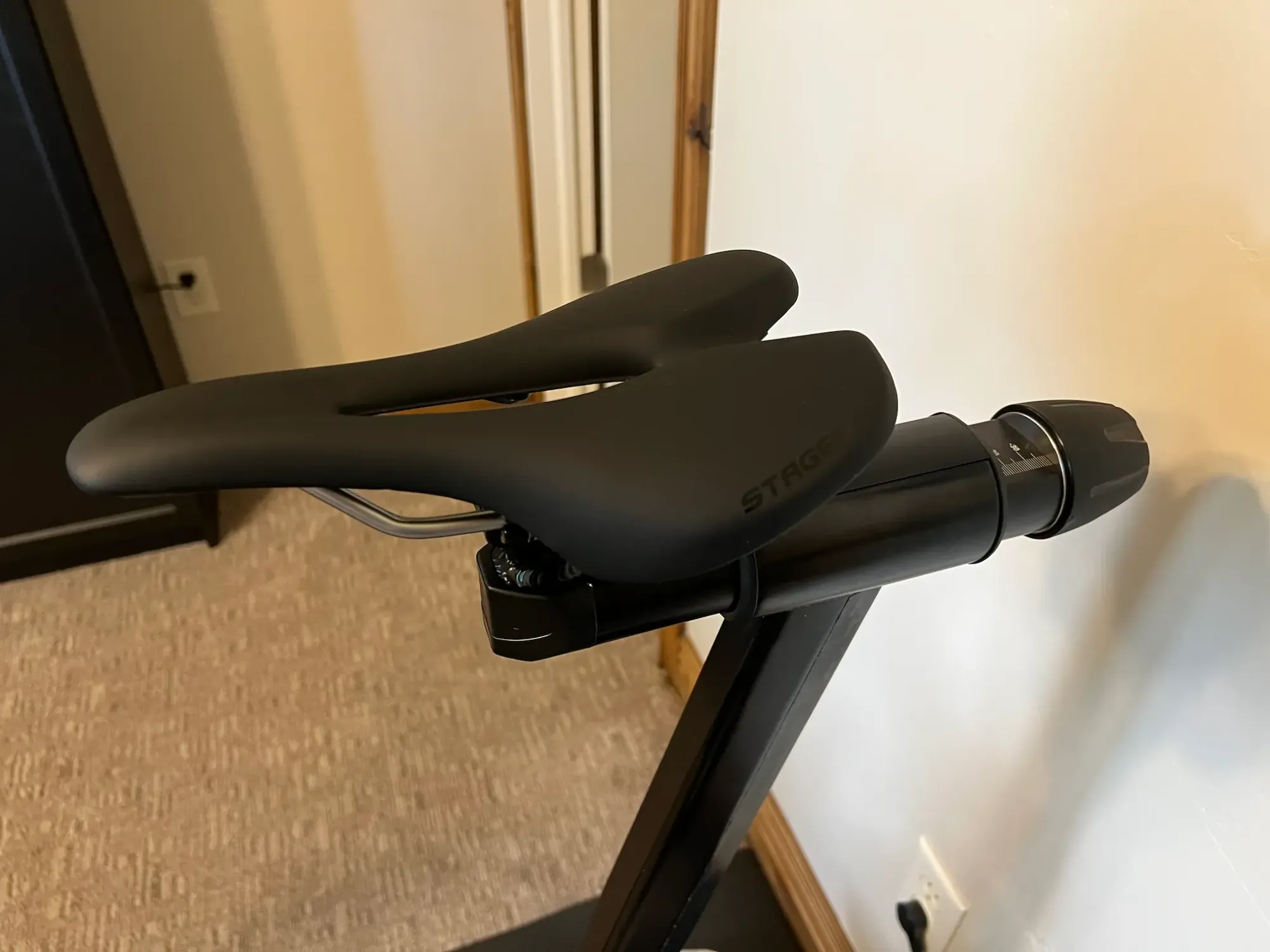 Next, I installed the Stages Cycling app so that I could update the bike's firmware and configure the bike's settings. The SB20 has an amazing feature called Dream Drive. This feature allows for customizing the drivetrain to the rider's liking. For me, this meant setting it up similar to my mountain bike's drivetrain. So, I set the drivetrain to be a 34-tooth 1x chainring with a 12-speed 10-50 tooth wide-range cassette. This is very close to the 32-tooth chainring paired with a 10-52 tooth SRAM Eagle drivetrain that I have on my mountain bike. Note that I intentionally chose a larger chainring for the SB20 since I won't typically be encountering the extended steep gradients that I see while mountain biking.
Finally, I adjusted the handlebar and saddle position to fit my body. The SB20 offers an excellent range of adjustability that should fit just about any rider. It only took about 20 minutes of trial and error to find a comfortable fit. The easy-to-read graduations (i.e. distance markings), printed along each adjustable component, made for simple adjustments. Speaking of comfort, the saddle that comes with the SB20 is quite comfortable. It is a real bike saddle and not one of those junk indoor bike seats that you find on less expensive bikes.
Long-term review
As of writing this post, I have put just under 300 miles on the SB20 Smart Bike. So, was it worth the investment? Do I enjoy riding indoors on the SB20? Would I purchase this specific indoor bike again?
Yes! Yes! and Yes! I absolutely love this bike. I have never used such a quiet, capable, and flexible indoor bike. The dream drive is simply amazing! I have already adjusted it to use a 40-tooth 1x chainring, up from the initial 34-tooth 1x chainring, since I have been getting stronger as I progress through my training sessions. This is something that I just wouldn't have been able to do with other indoor trainers. The dual-sided power meters are incredibly accurate and an awesome tool to have for indoor training sessions. The power numbers that I see during my indoor training rides directly match the associated values that I see on my mountain bike rides (at relative perceived exertion).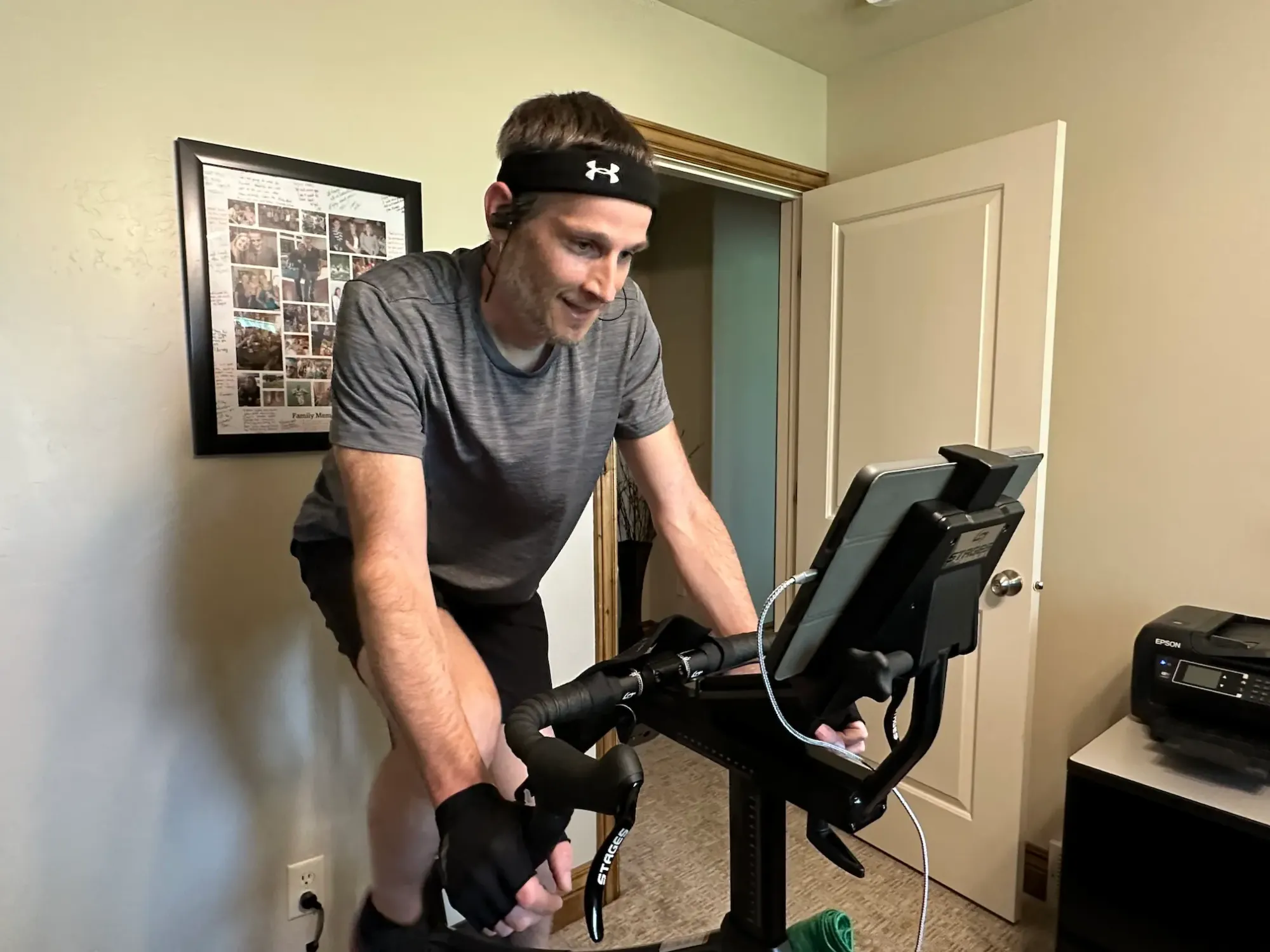 All of the bike's touchpoints (e.g. handlebars, grips, and saddle) are holding up well and are extremely comfortable. The saddle shape and dimensions are very similar to the Specialized Power Expert saddle that I have on my mountain bike so it didn't take long at all to get comfortable on it. The included road-style drop handlebars have integrated shifting mechanisms located on the hoods as well as the drops. This allows for convenient shifting regardless of how you hold onto the handlebars.
All in all, the Stages SB20 has been a dream to work out on. I am looking forward to putting many more miles on this bike.
Zwift virtual workouts and courses for the win! 🖥️
When I purchased the Stages SB20 Smart Bike, I also received a free year of Zwift virtual training! I was so excited to get back into Zwift training. My first experience with Zwift came about as part of my physical therapy program for recovery from ACL replacement surgery. Back then, I was only able to lightly spin on the bike as I was focused mainly on building range of motion and basic muscle control. This time though, I am healthy enough to truly experience what Zwift training has to offer.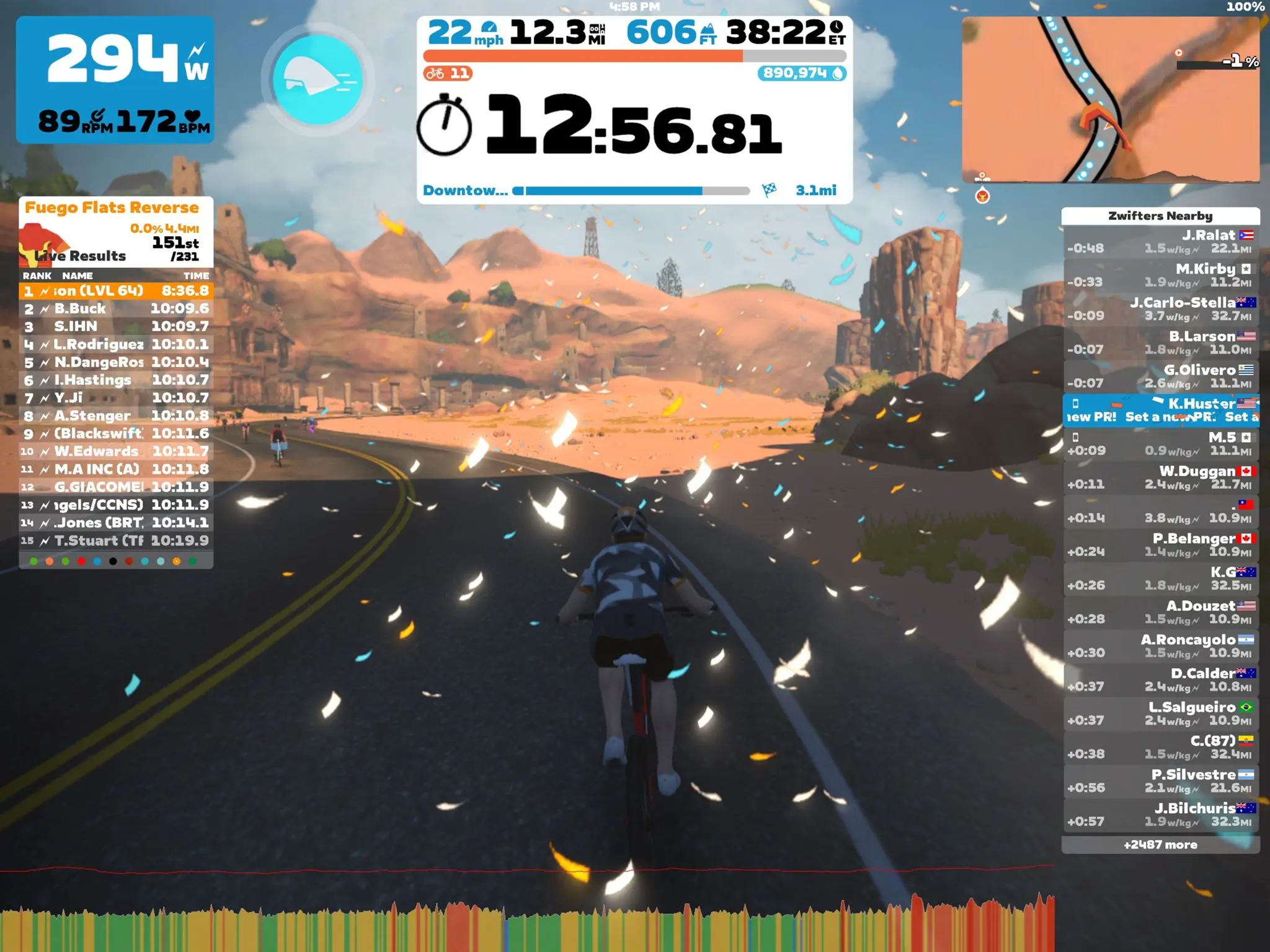 Zwift is such an amazing tool and a fun workout experience. I love being able to select virtual routes based on how I am feeling and what type of training I want to do. This allows me to pick anything from long flat road routes to massive mountain climbs all without leaving the comfort of my home. There are tons of new features that weren't available a few years ago when I first tried out Zwift. The new Robopacer and Holoreplay features create exciting challenges during my training rides.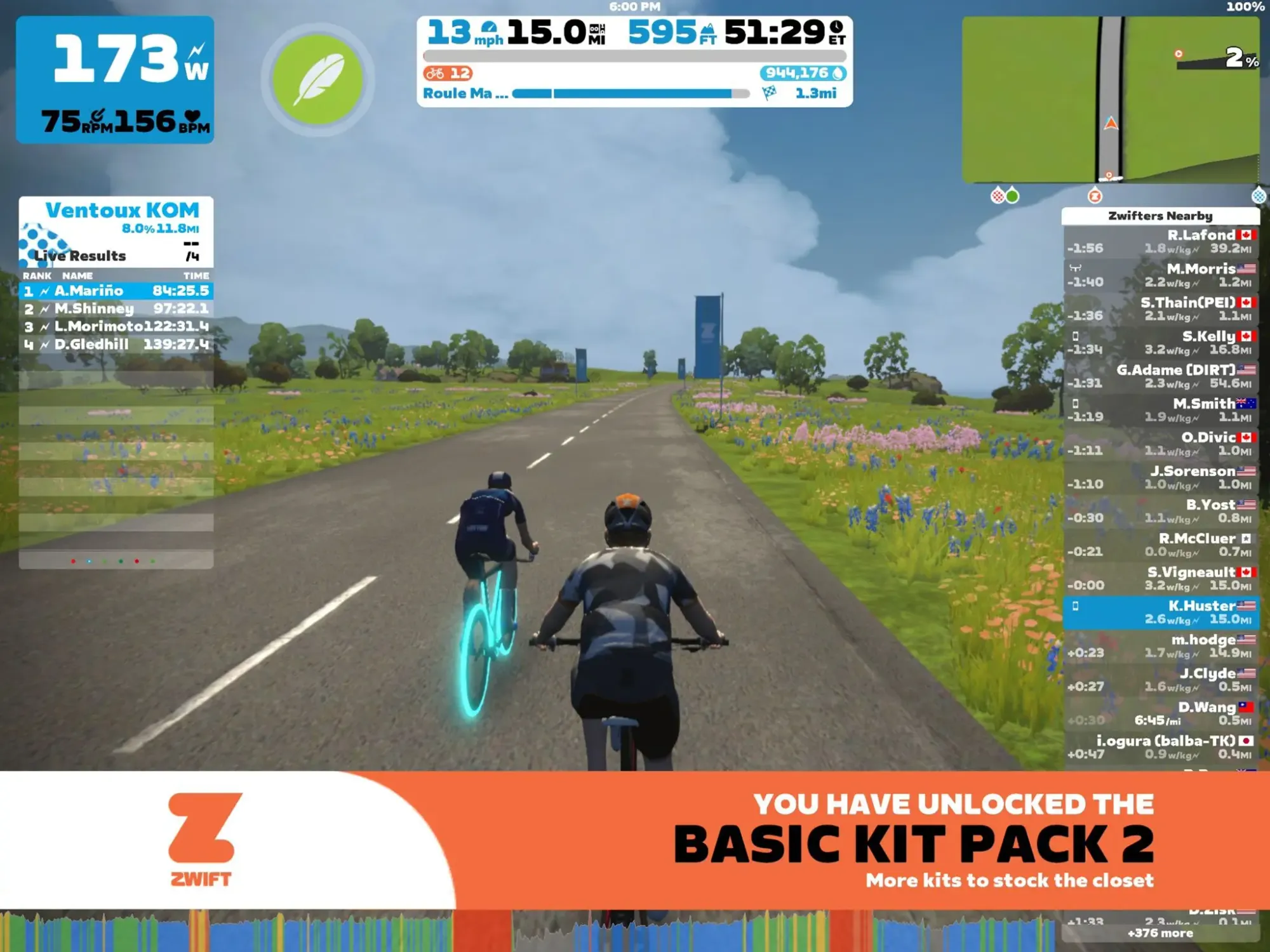 I have only been riding a couple of times a week on Zwift but I am already seeing my power numbers increase and I am feeling much stronger on the bike.  I don't plan on doing a deep dive into Zwift in this post. However, if this is something that you would like to see then please let me know in the comments section below. 👇 💬
Future pain cave upgrades ⬆️
So far, I am extremely happy with my pain cave setup. However, there is always room for improvement. One area that I still need to work on is sweat management. Specifically, I need to improve the airflow around my body so that sweat buildup doesn't lead to discomfort. The single small fan just isn't cutting it. I am still investigating options for a better fan (or multi-fan setup) so I would love to hear any suggestions that you may have. Please post your suggestions in the comments section below. 👇 💬
I am also considering installing a set of mountain bike flat-style handlebars in place of the included road-style drop bars. This would give me a better experience since I currently only ride a mountain bike and not a road bike. However, I am holding off on this change for now since I like the included drop bars and I don't want to invest in more handlebars, grips, and a Stages SB20 Flat Bar Shifter.
Finally, it would be awesome to have a larger screen to view the Zwift virtual routes. I currently run and display Zwift on my Apple iPad Air. This works great but sometimes sweat rolls into my eyes and it is hard to read the small text on the screen. This could also just be a sign that I am getting old. 🤣 Anyway, it would be nice to have a large format monitor or a TV to display Zwift routes. This would make the riding experience that much more immersive.
Wrapping up ✅
So, there you have it. That's my pain cave in a nutshell. I can't believe that I almost missed out on the Stages + Zwift bundle. I am so thankful that Lindsey pushed me to take advantage of this offer.
Do you have a pain cave of your own? Are there any topics about my pain cave that you would like to hear more about? Do you have any suggestions for further improvements to my pain cave? Let us know your thoughts in the comments section below. 👇 💬