Thea's Visit and Trip to Moab
Written by Lindsey Huster
/
8 min read
/
Last updated 5 days ago
On Saturday we set out for adventure in Moab, Utah. Keith and I wanted to share the uniqueness of the Utah landscape with Thea and Moab is the perfect location. Moab is located only about 3 hours south of us and offers a variety of state and national parks.
More about Thea's visit
Did you read yesterday's post? If not, check it out here. It tells about Thea's first couple of days in Utah.
Weekend away
As we drove south, we immediately began to see the differences in terrain. The landscape is impressive! We planned to stop in Price, Utah to stretch our legs and eat lunch. After consulting google, we decided we had to stop at Farlaino's Cafe. A year later, we are still talking about pancakes and french fries!
Next, we headed to Goblin Valley State Park, which was a little out of the way, but totally worth the extra time. A sign at the park states it's "Like Nowhere Else." They aren't kidding, we'd never seen anything like this before! We enjoyed taking lots of pictures and trying to absorb the scenery.
Next, we headed to Moab Hampton Inn to get checked in. We'd already had a busy day so we took a little time to relax and then headed into town for dinner. The Spoke on Center was the perfect place to grab some food and a beer to relax. The restaurant is located right in the middle of town and has a unique bicycle theme. We enjoyed the atmosphere and the food was delicious. What a great way to end a great day!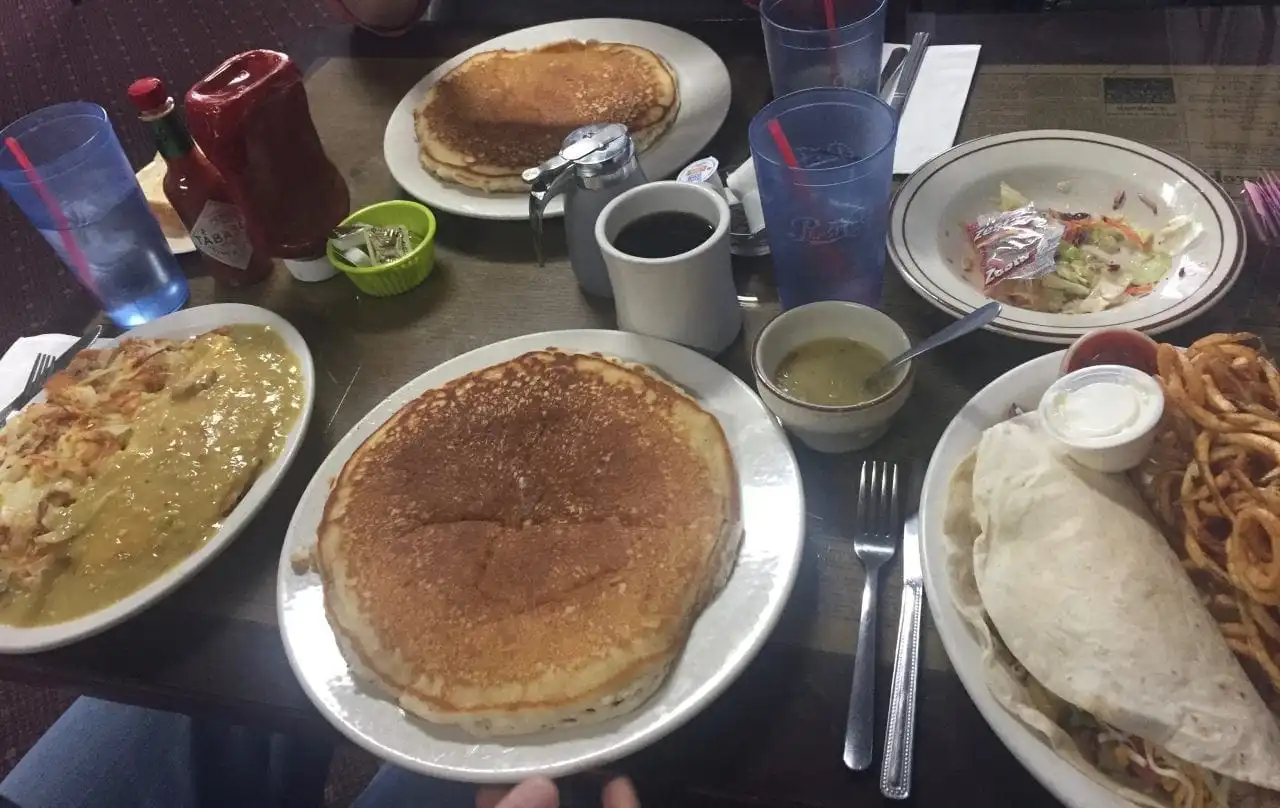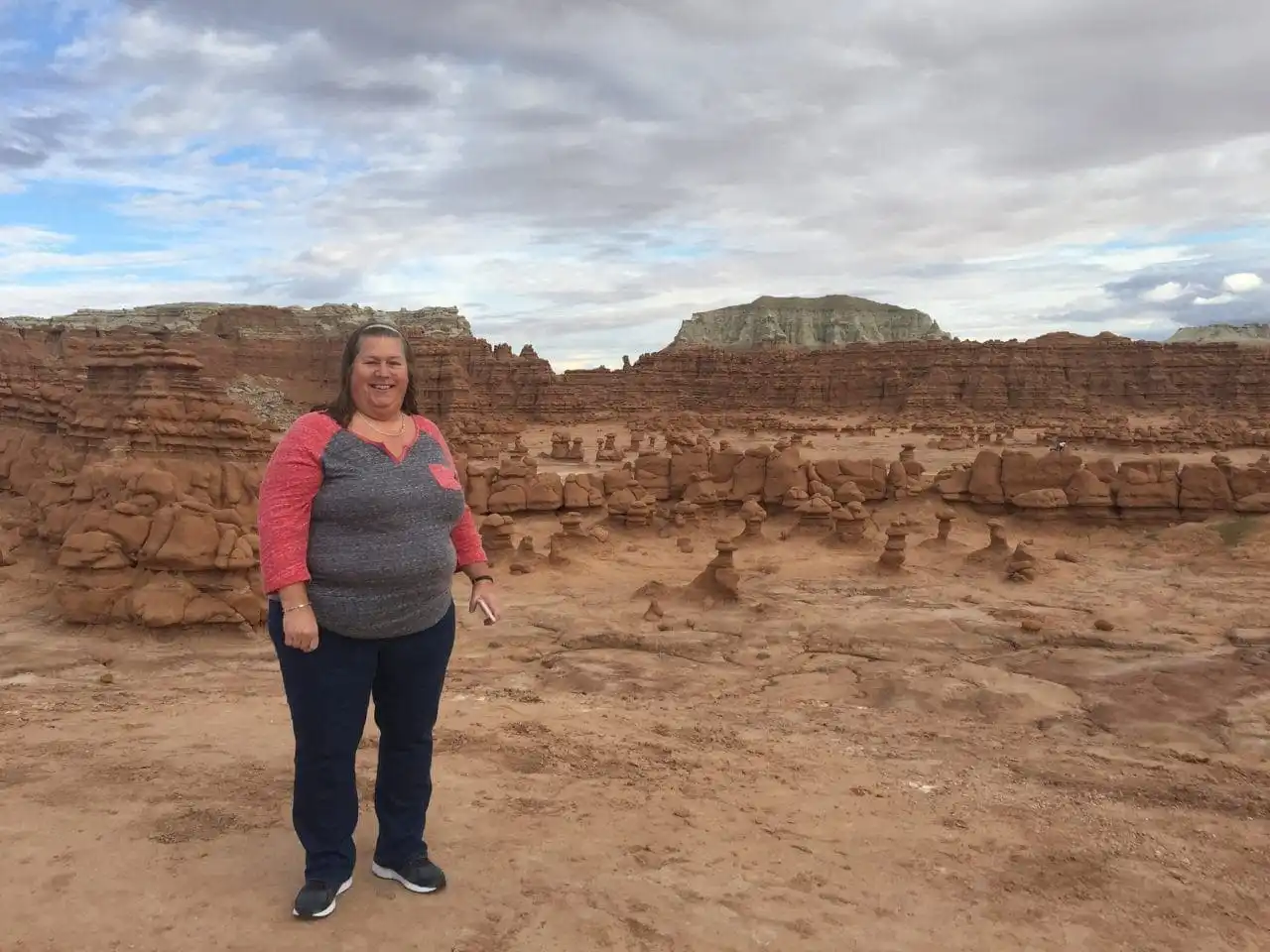 Arches National Park and Hummer tour excursion
The next morning we were ready to explore Arches National Park. The red rock formations and the vastness of the landscape around us were mind-blowing. We drove the entire loop, stopping at every viewpoint. There is so much to see and lots of information to read about at the viewpoints. We found ourselves wandering around in silence, at a loss for words with the beauty around us.
We were even lucky enough to see some rock climbers. It was amazing to think that a person could climb these giant rocks. We were just in awe of everything around us.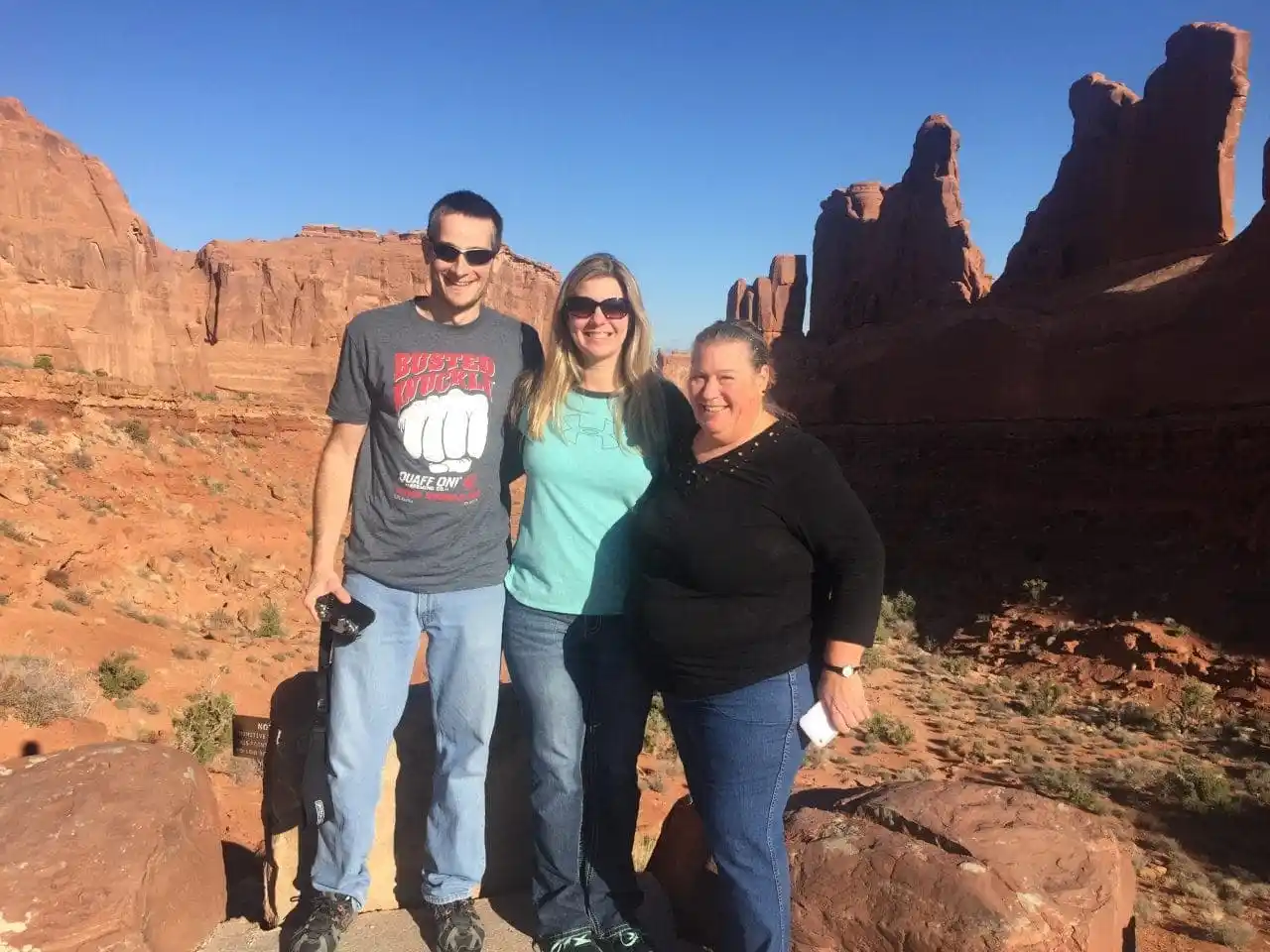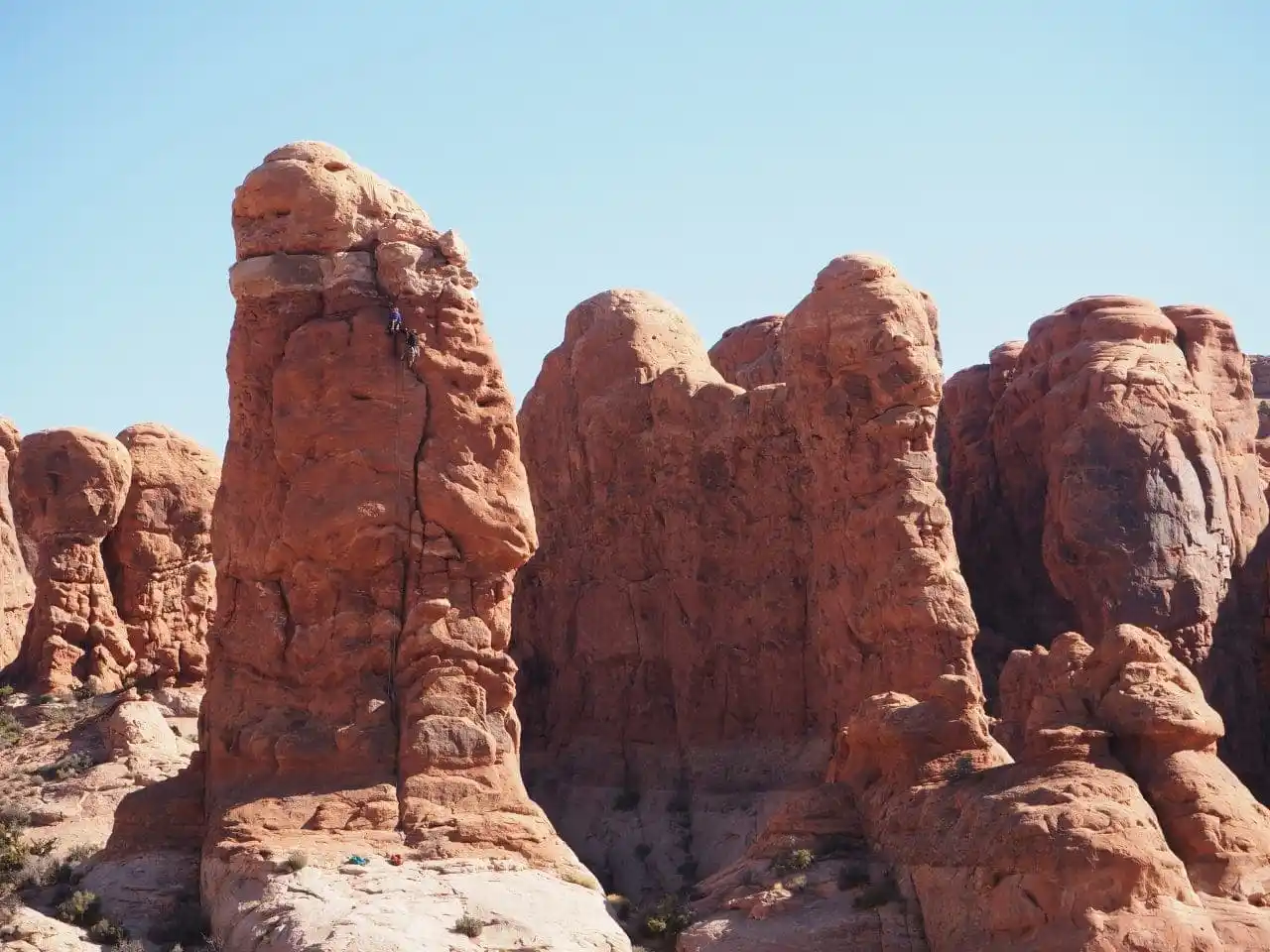 We headed back into town to meet up with Moab Tour Company for the Sunset Hummer Tour. Not knowing what to expect, we jumped into the hummer and drove just down the street to the slick-rock entrance. And by the entrance I mean one of the scariest things ever! It's called the "chicken foot" … a long narrow ridge that takes you back to the coolest off-road park you've ever imagined. We saw other hummers, off-road jeeps, standard jeeps, rock crawlers, mountain bikers, hikers, and even dogs!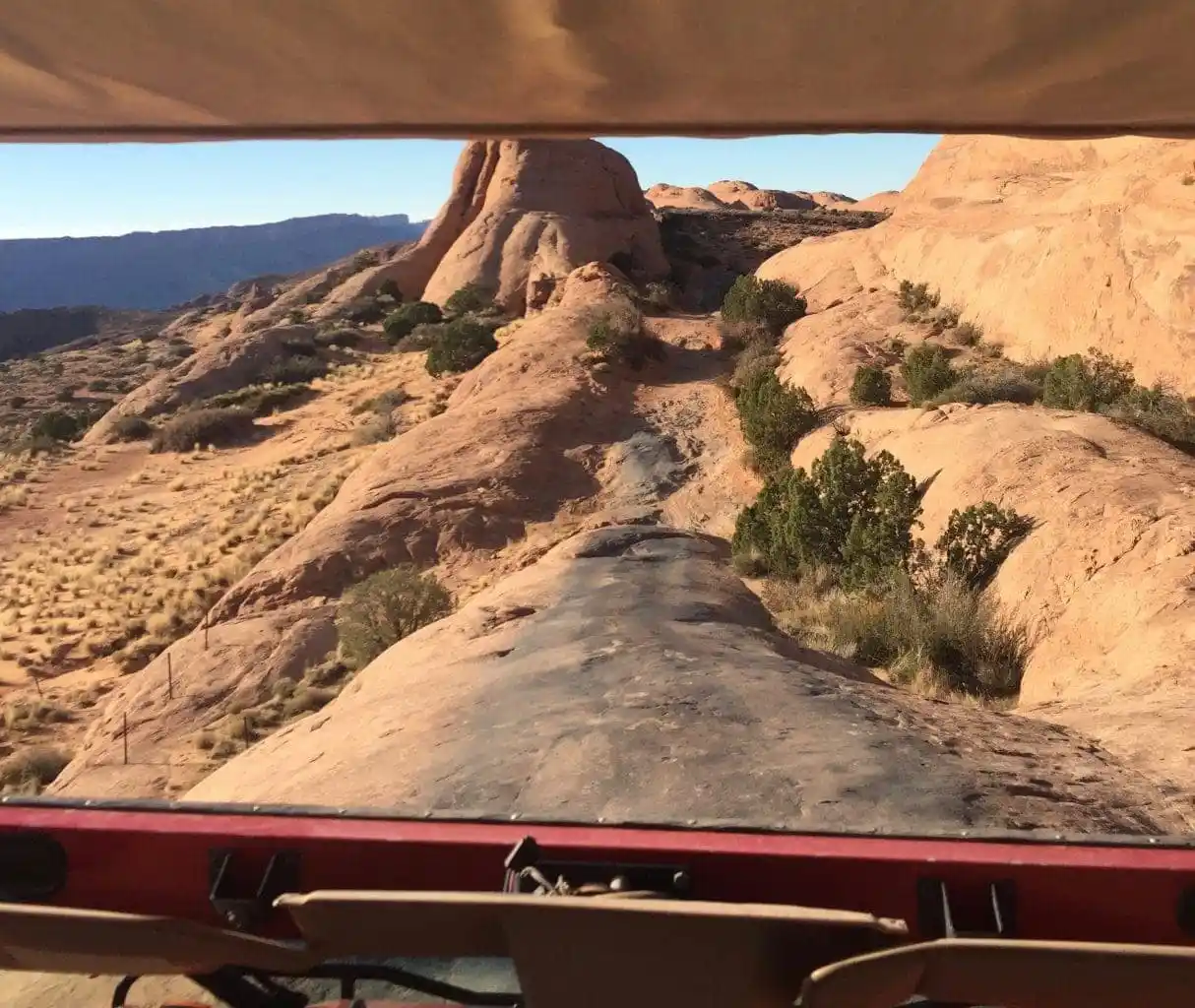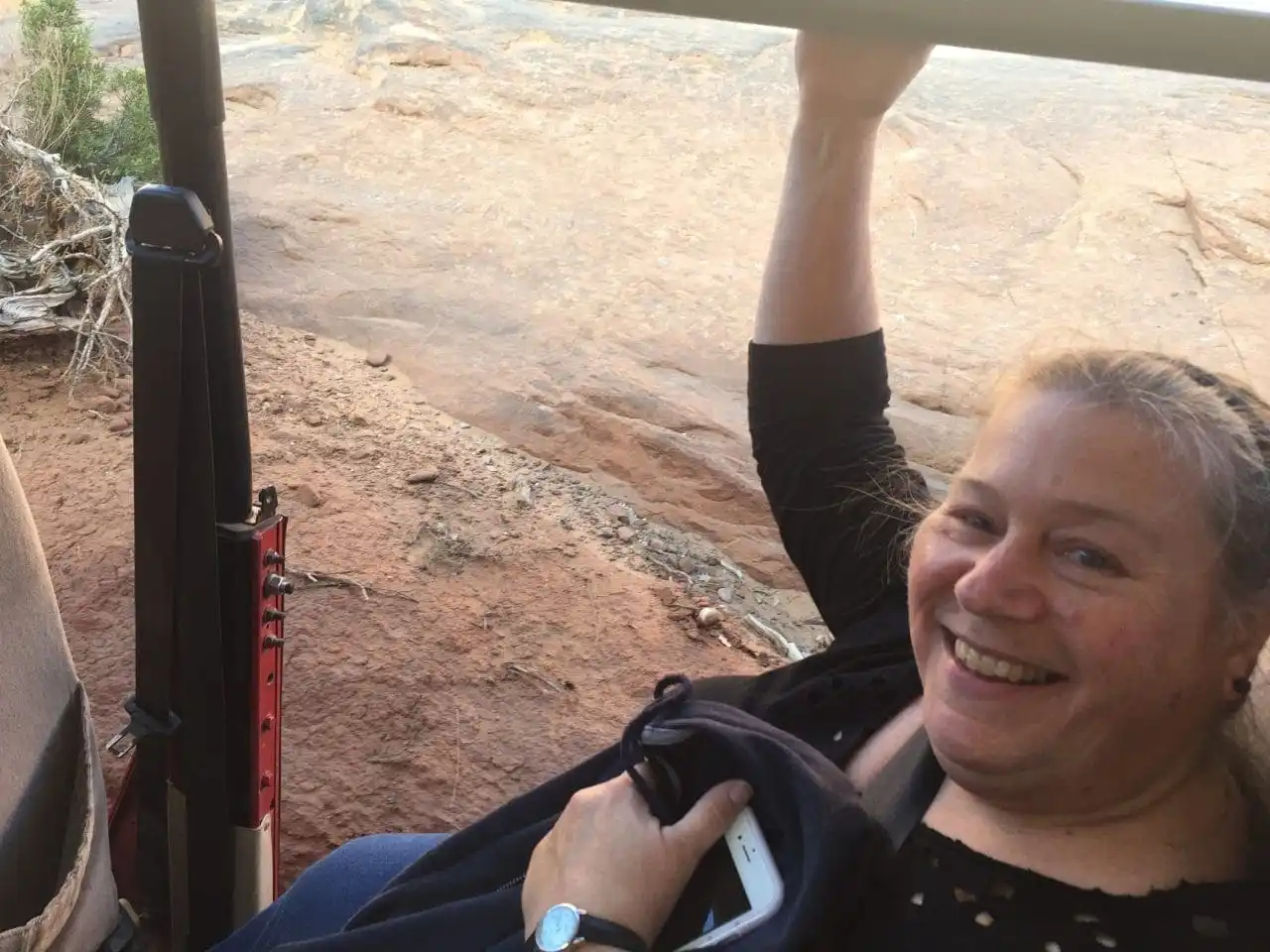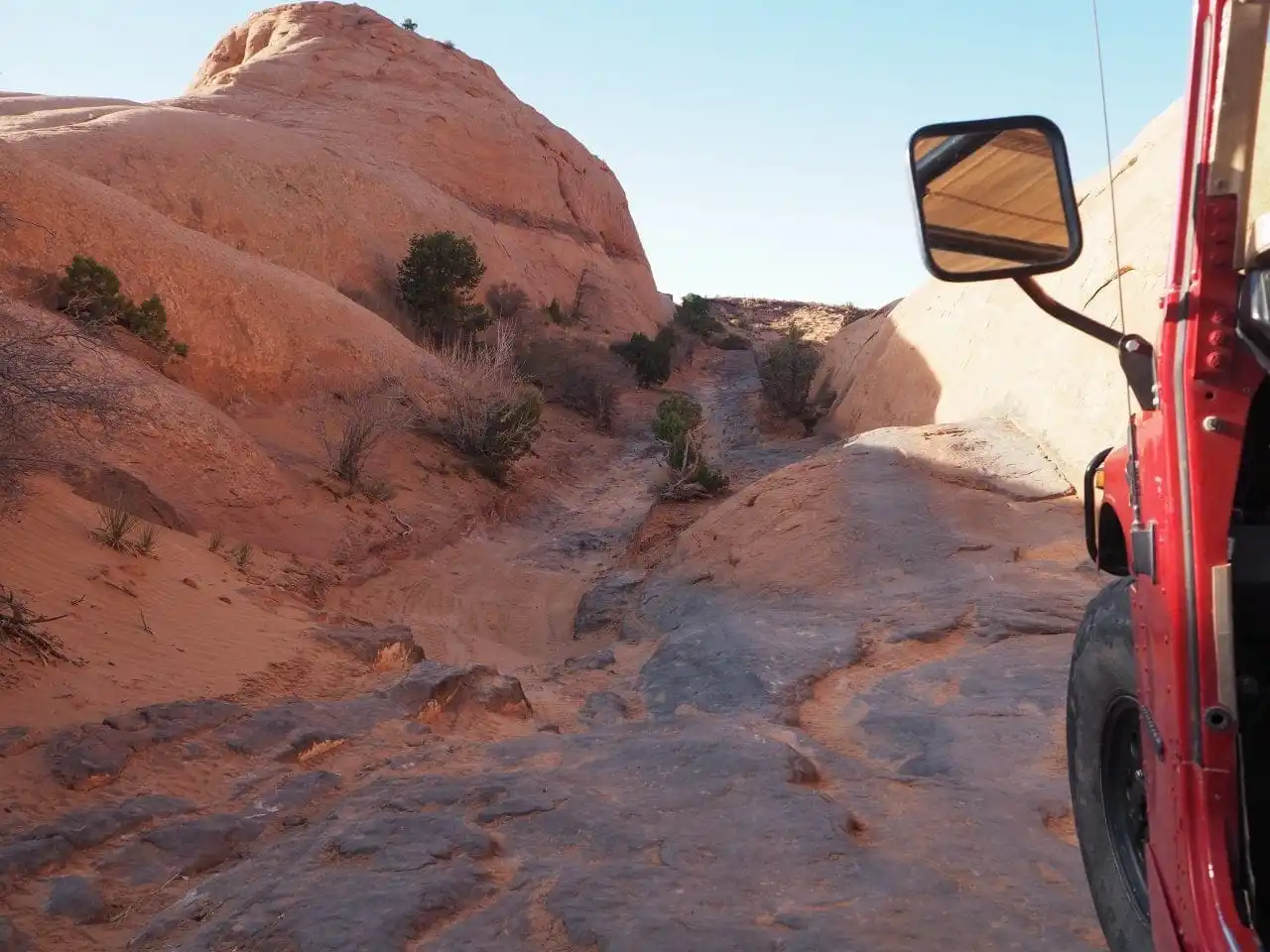 I cannot even begin to tell you about the excursion! It is SO MUCH FUN!!! We couldn't believe what we were seeing and doing, it was a total thrill. If you have never done something like this, you have to check out the Moab Tour Company for your own adventure. I know you won't regret it!
Finally, we ended our busy day at the Moab Brewery for a delicious dinner. Then we headed back to the hotel for a little downtime. It was getting late and we were pretty wiped out. We had another big day planned for tomorrow and we'd be driving back home.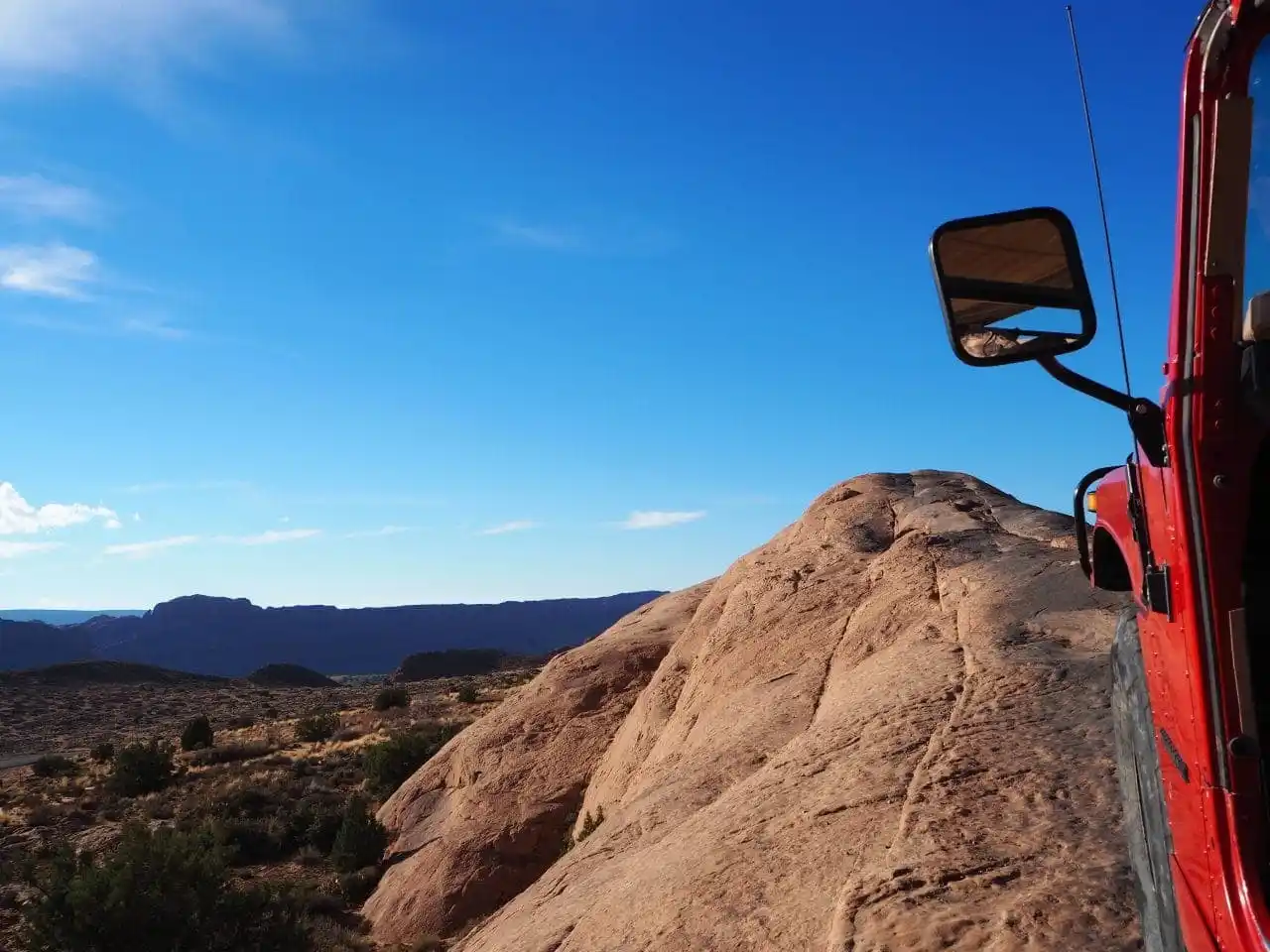 Canyonlands National Park and Dead Horse Point State Park
On Monday we checked out of our hotel and drove just a few miles to Canyonlands National Park and Dead Horse State Park. Canyonlands is a huge park and we didn't have much time so we stopped at a couple of points and then went to Dead Horse State Park. The view at Grand Point Overlook in Canyonlands is not to be missed. You are 2000 feet above a gooseneck of the Colorado River. You can see for miles and miles.
This is near the location where the Grand Canyon scenes were filmed for Thelma and Louis! While we were here we talked to a couple who say they often bring a picnic lunch to this spot. Keith and I remembered this months later when his parents were in town and planned to have lunch here. We ended up eating in the car because it rained but got to see the most amazing rainbow. You can read more about their trip by clicking here.
Keith, Thea, and I continued to explore the park and eventually stopped for a picnic lunch before heading home. I don't think any of us had ever had a view quite like that before!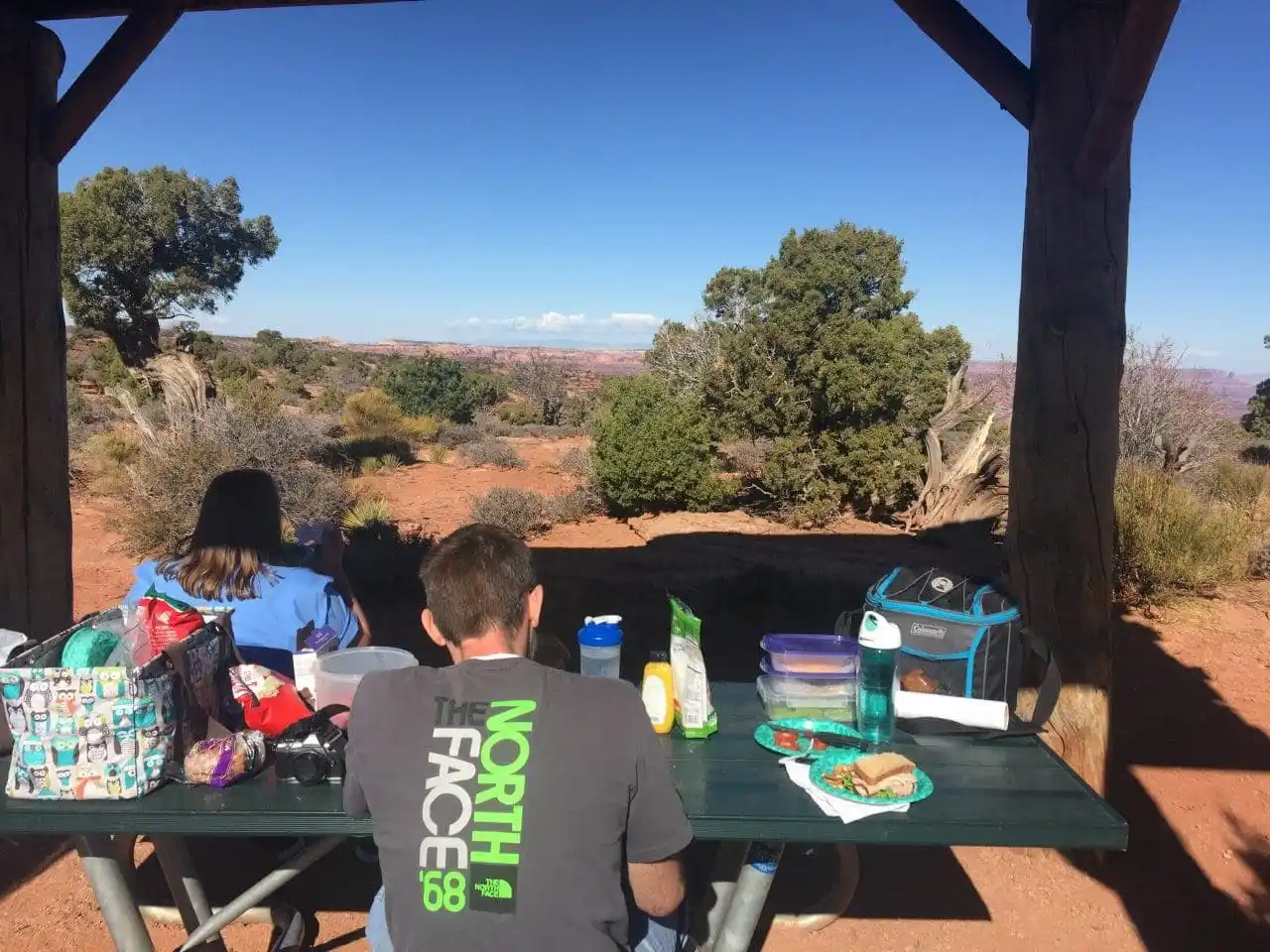 More in Pleasant Grove
On Tuesday morning we picked up Lexi from Sydney's Bed and Biscuit. She also had a weekend siesta. Keith was working, but we girls were worn out from the weekend so we stayed in most of the day.
This was the perfect time for Thea to teach me to make her famous layered chocolate cake! I always asked for this cake as a kid for my birthday or for any special occasion. Actually, Thea's made it for me over a dozen times even as an adult! Isn't she the best?!?!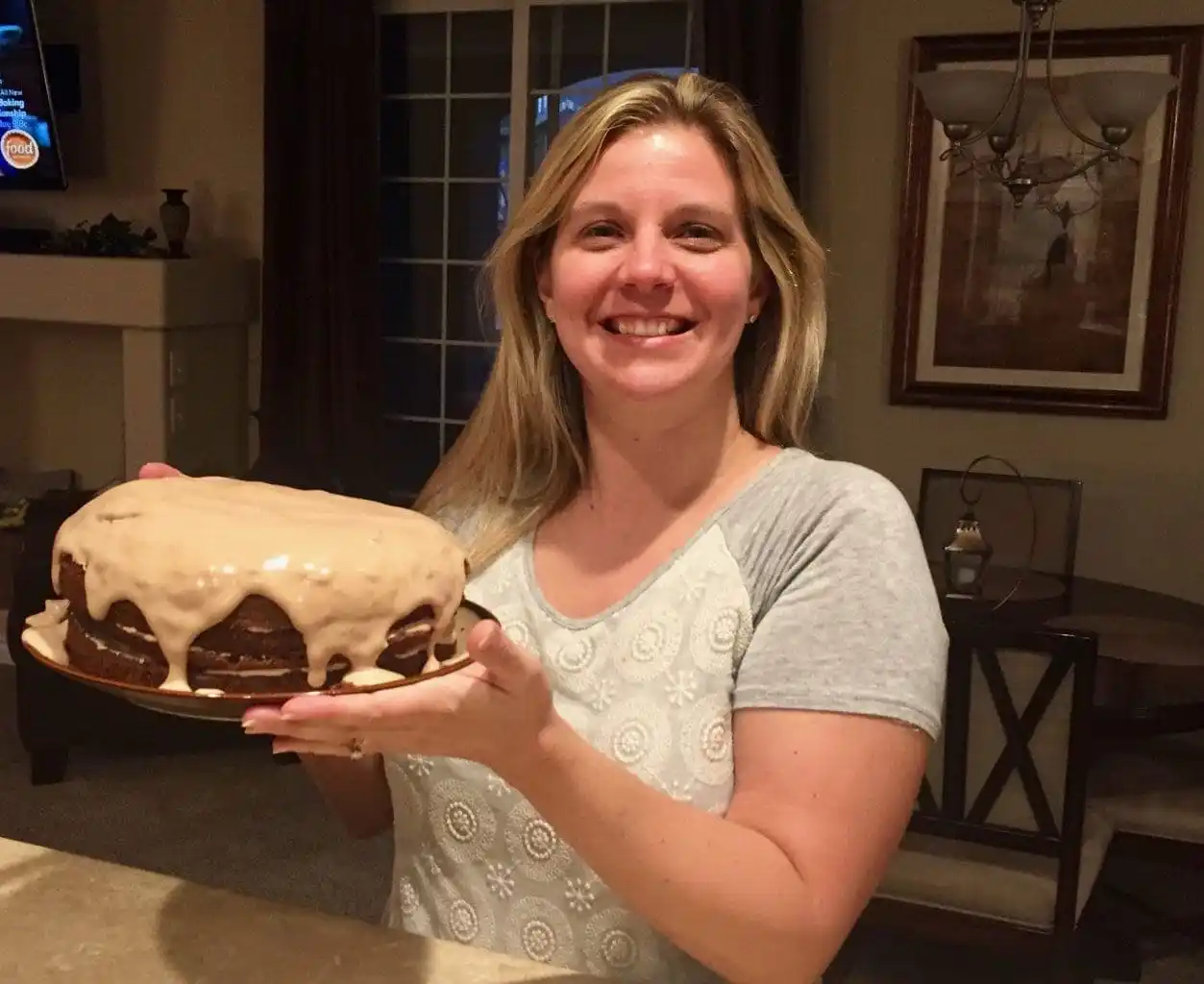 On Wednesday we headed out for another full day of exploring the area where we live. We headed up the canyon to see the beautiful colors of the trees and the mountain landscape. There wasn't much going on at Solitude or Brighton that day, but it was fun to show her show, Thea, where we planned to ski.
Next, we headed over to Park City and drove through the unique mountain town. Then we went to Olympic Park, which is the location for several events from the Salt Lake City 2002 Winter Games. We spent a couple of hours walking through the museum, watching old video footage from the games, and learning more about how the facility is still used today.
The busy day ended at Alisha's Cupcakes in Pleasant Grove. Alisha's Cupcakes was a winner of Cupcake Wars! Her twin sister also runs a gourmet grilled cheese shop just around the corner. We love visiting both places in our hometown.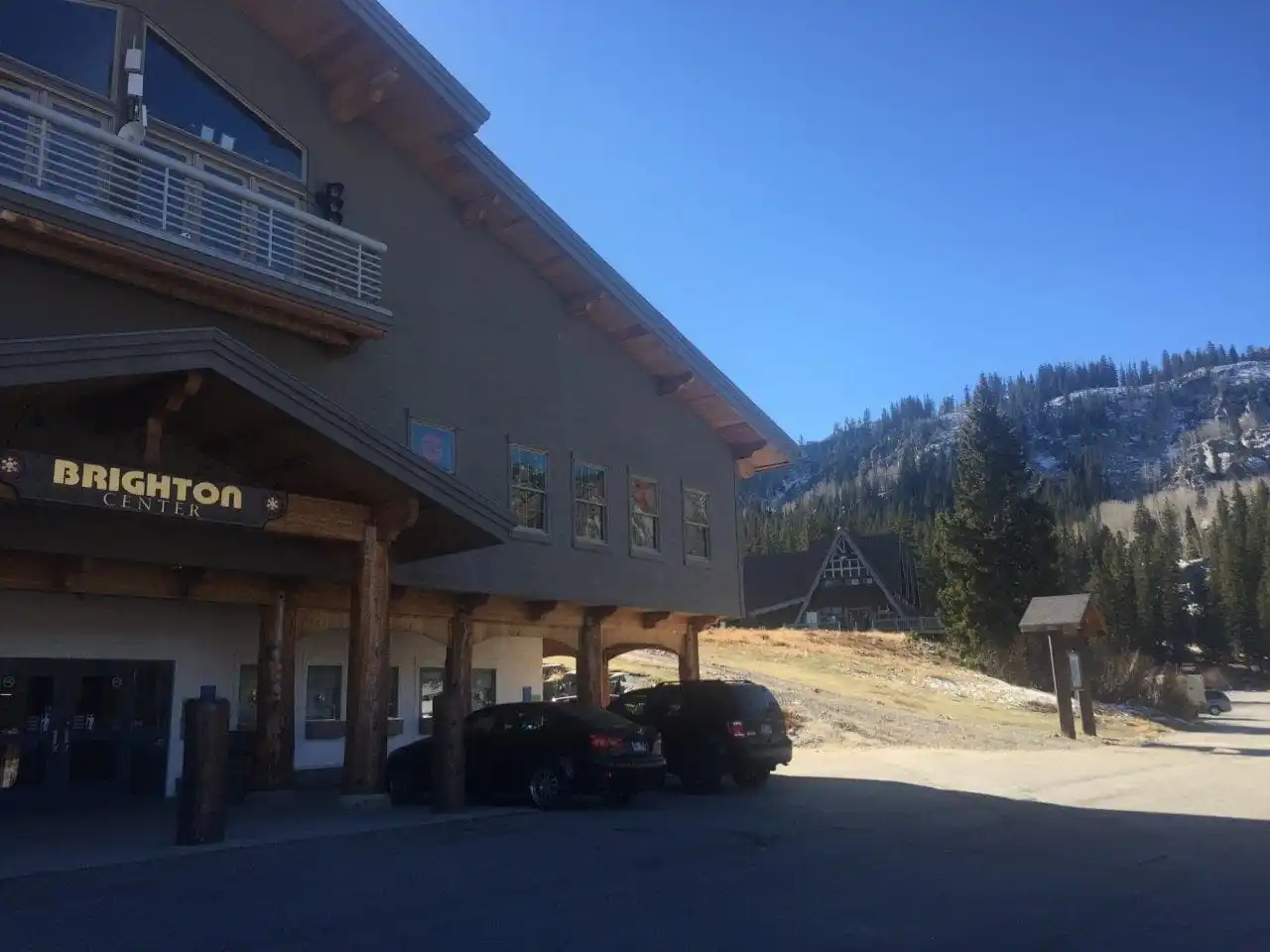 Wrapping Up Thea's Trip
On Thursday Keith was attending a conference so we had the place to ourselves. Even though we had a down day two days prior, we had been so incredibly busy and on the move that we really just wanted to sit around for the day.
We decided to stay in and create a photo album for Thea to take home with her. Thea and I worked on uploading the pictures to CVS and placed our order. Then we spent the day organizing the pictures and writing captions. When you see Thea, ask to see her photo album!
On Friday Thea left for Indiana. It was sad to see her leave, but I think we can all agree that we saw so much together and loved experiencing these new things that would never be forgotten. When you can end a trip and be more happy than sad, you know it's been successful! We hope Thea visits again so we can share even more of Utah together!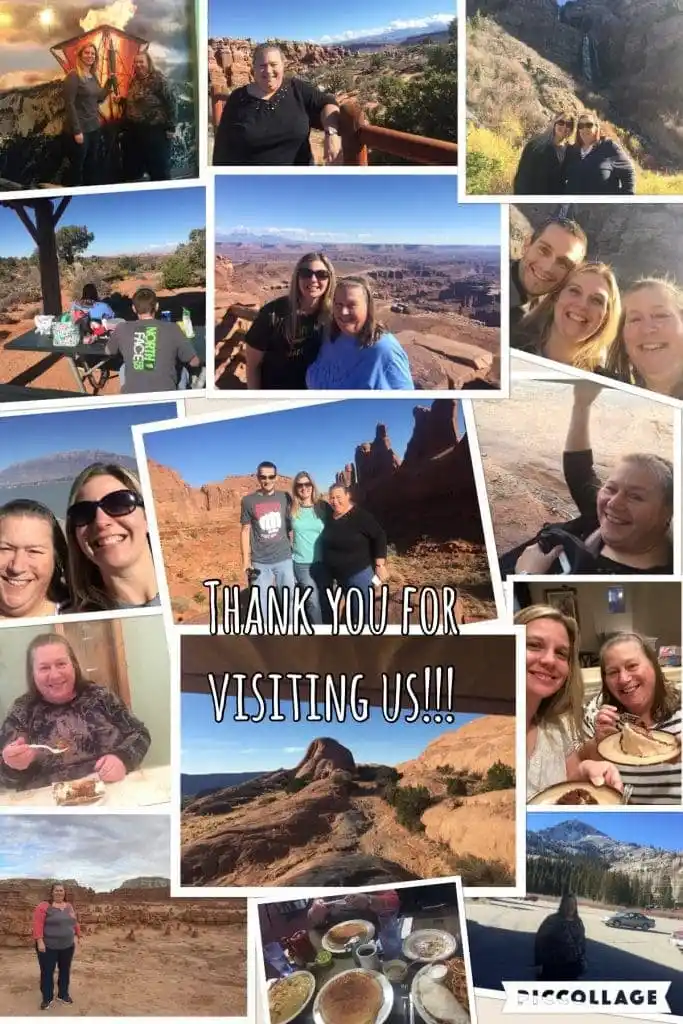 Invitation for Family and Friends
Family and Friends… we love having visitors! You are always invited! If you are in the area or interested in planning a trip to Utah, don't hesitate to contact us! We'd love to meet up with you or even plan an entire trip with you. Keith and I live in Pleasant Grove, which is about 30 minutes south of the Salt Lake City International Airport. If we are out on a motorhome trip, we could meet on the road somewhere. We hope to see you!!!