Road Trip Part 3 of 6: Monument Valley and More
Written by Lindsey Huster
/
5 min read
/
Last updated 5 months ago
This would be our sixth day of travel and the busiest day I had planned. Who am I kidding, they were all really busy! Our day would start in Page, AZ, and end in Bluff, Utah with stops along the way. We would be traveling about 250 miles, losing an hour as we entered Utah and making about 6 stops along the way.
Today's destination: Bluff, UT
You can read more about our previous days of travel by clicking the links below: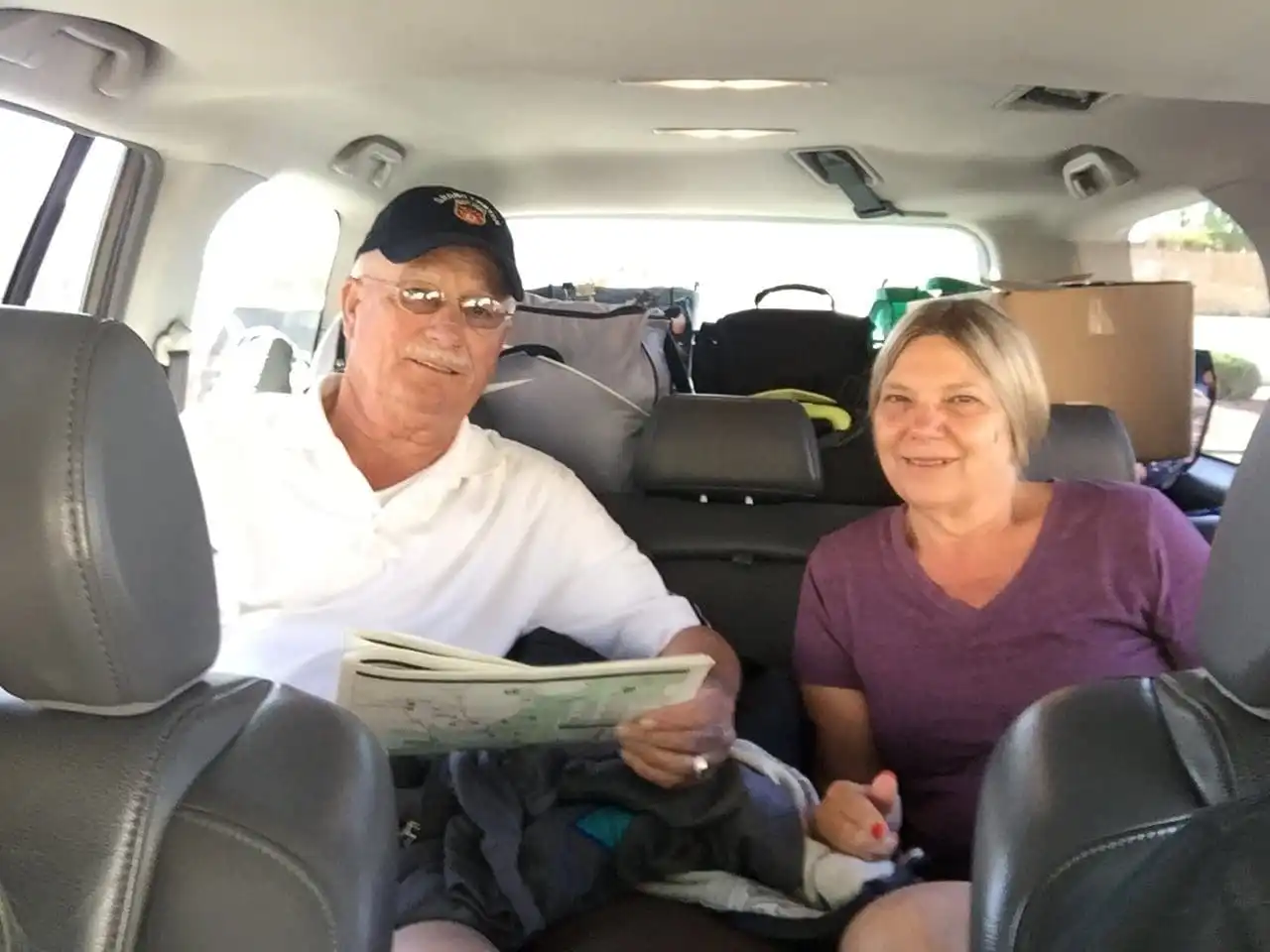 Another busy day
The majority of what we would do today would be the second time around for Keith and I, we would back to where our travels all started… Bluff, Utah. We had chosen this route mainly for Monument Valley.  Since we only had one day in the area, we knew the best things for my mom and John to see and do from our previous experience.
Impressive stories
Our first stop along the way would be Square Butte which would be about 45 minutes into our drive.  It would be a place to stop, stretch our legs and get a quick picture. We did stop, we think in the right place, but were more impressed with the man who rode past us as we were taking pictures. He was riding to D-E-N-V-E-R… Denver, Colorado! This would be about 600 miles for him and who knows how far back he started. It should also be noted that this gentleman had a prosthetic leg. It was a brief passing, just enough time for me to ask where we were going and to wish him well.
This isn't the first time we have seen examples of pure determination and dedication among travelers.  The things people are doing for various reasons are nothing short of impressive.  I'm not sure what this man's reason is, but I'm certain it's an interesting story.  I love how we meet people who have set mental and physical goals for themselves and then set out to accomplish a certain task.  I just know that the experience they gain is so much greater than they ever could have imagined!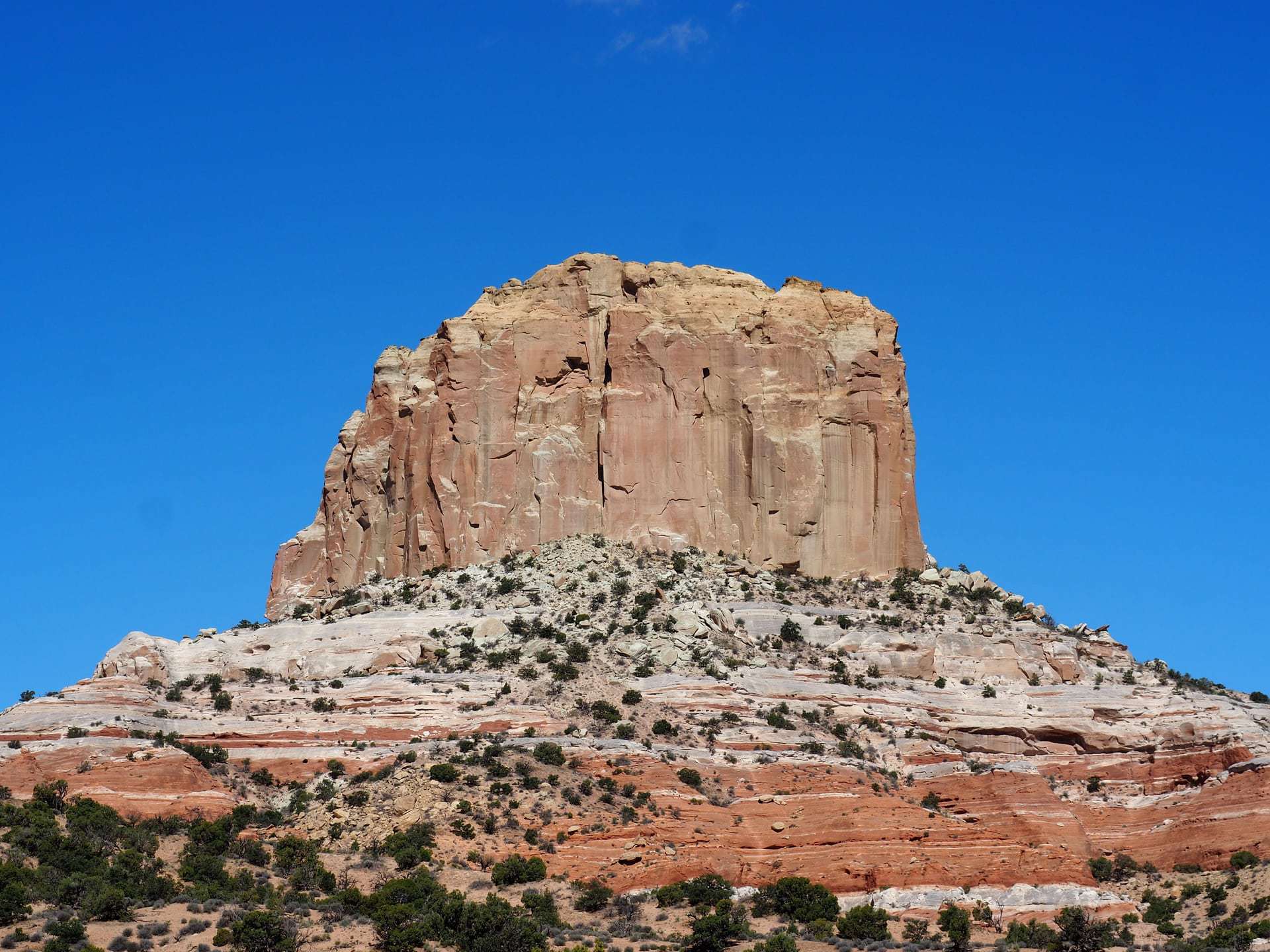 Monument Valley
Keith and I visited Monument Valley last summer and knew this would be a place my mom and John would love. Not only is the scenery unique and unbelievable, but this is the wild west as seen in many movies, especially westerns. Monument Valley is such an iconic area and even if you've never heard of it, I'm certain you've seen it.
We arrived at the visitor center and took a look around, be sure to check out the exhibits inside as well as the gift shop. Then we started out on the 17-mile dirt road loop to see the mesas, buttes, and spires up close. This drive is basically beyond words. The beauty in the structures is impossible to describe and the feeling of being among these giants is…. Wait, this all sounds familiar! This is similar to what I had said in our previous post, Monument Valley.
After exploring, we made our way back to Gouldings.  This is a must-do while seeing Monument Valley.  The Navajo tacos and tea are my choice of meal.  Be sure to check out the movie room, museum, and gift shop.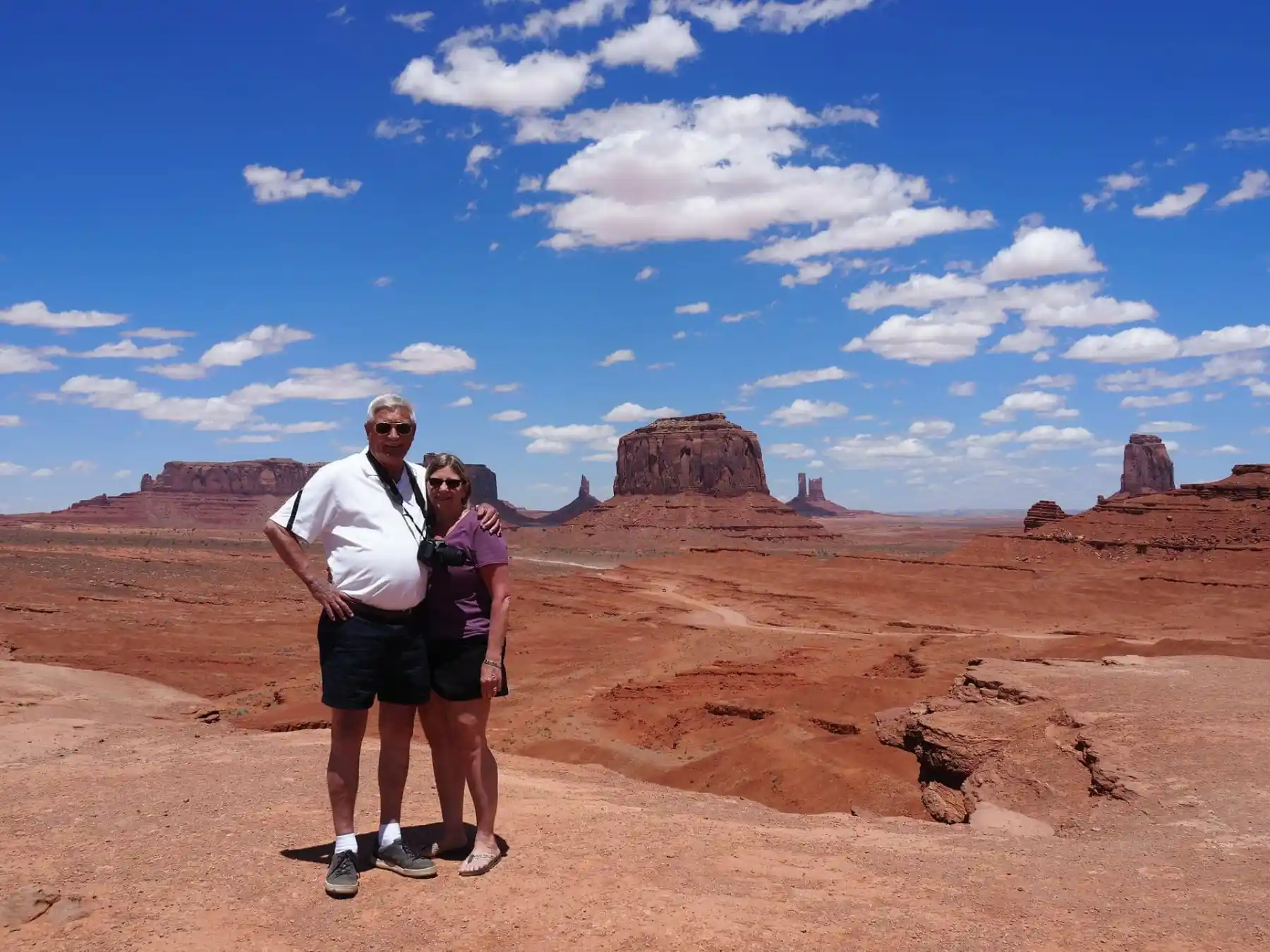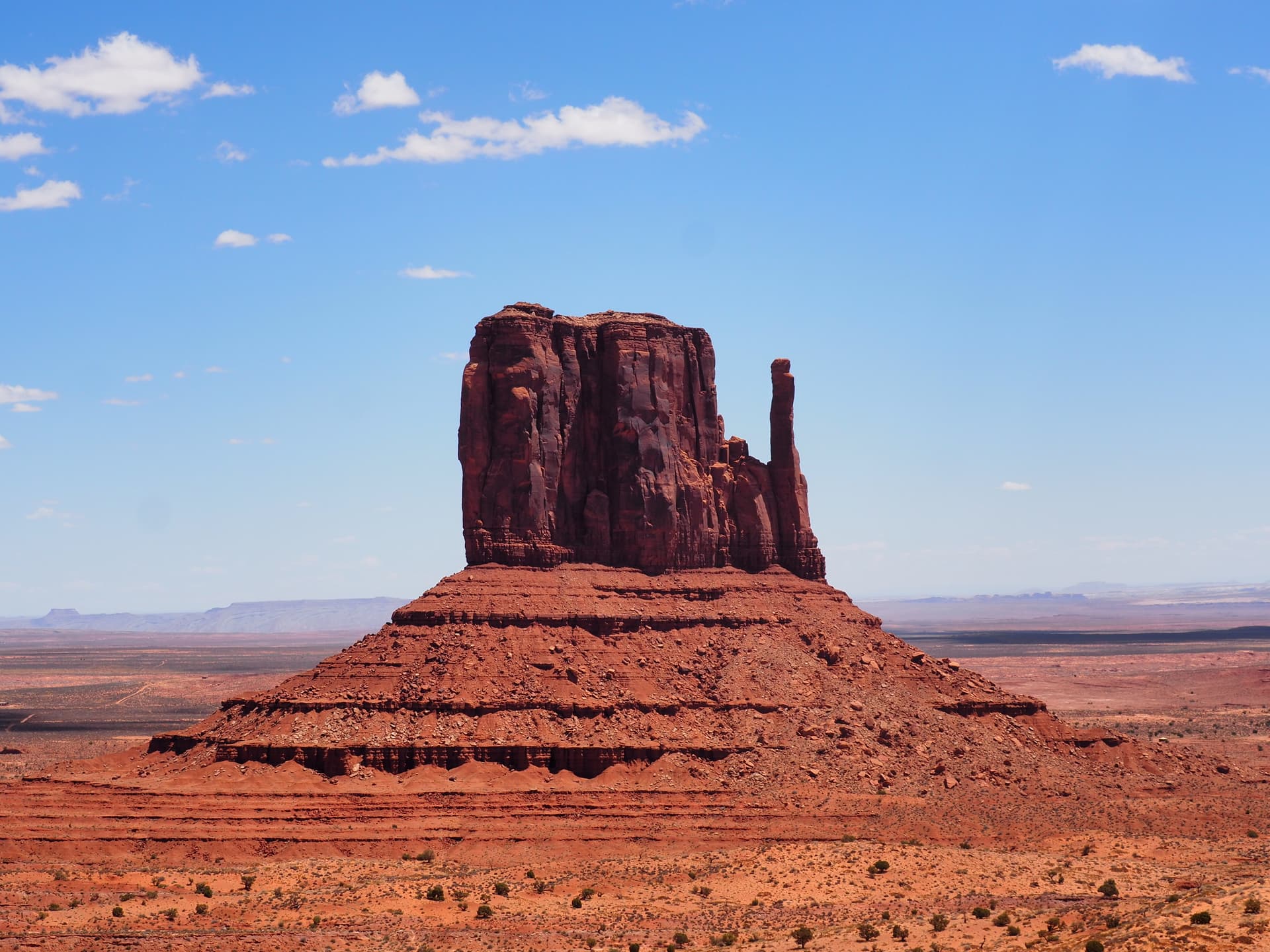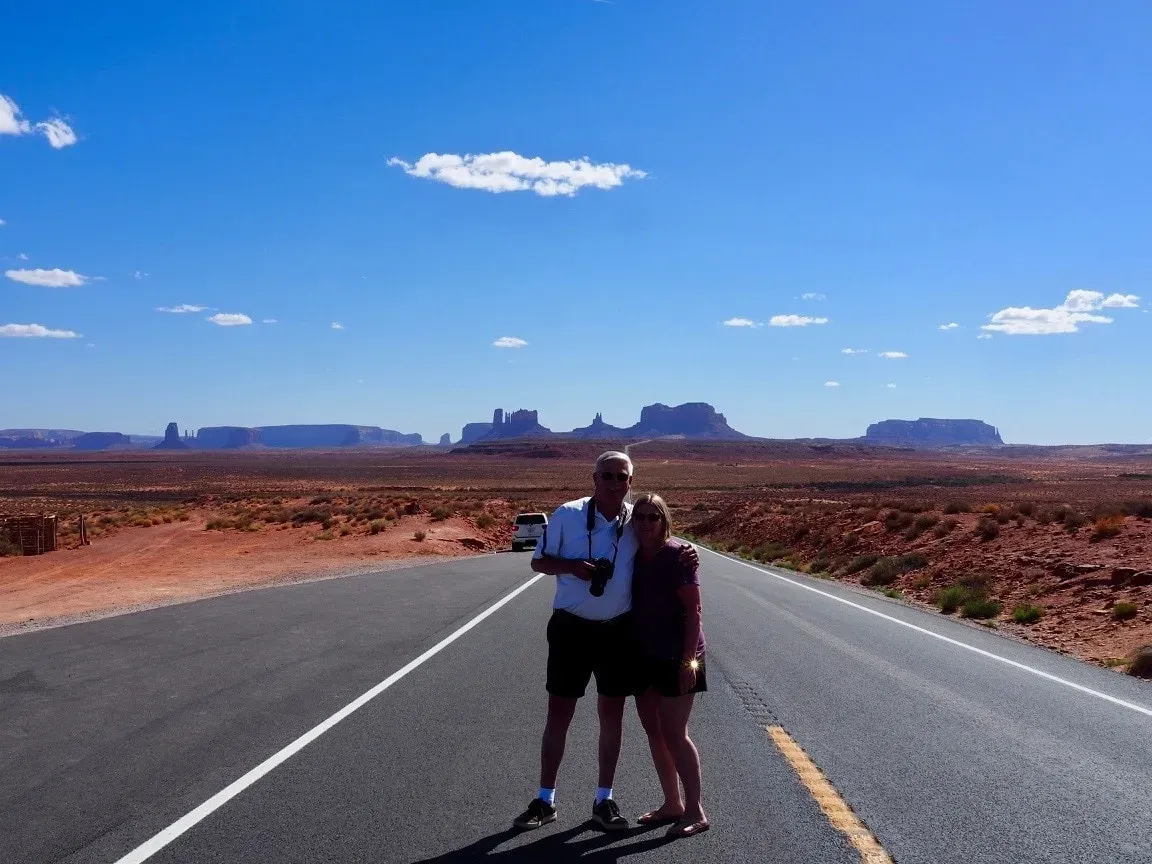 Mexican Hat
As we made our way closer to Bluff, you pass through the very small town of Mexican Hat.  There is a unique rock formation that can be seen from the highway, we decided to stop for a closer look and to get a peak at the San Juan River. This was another great place to stretch our legs and take a short break from the car.
See our previous post for more information on Mexican Hat.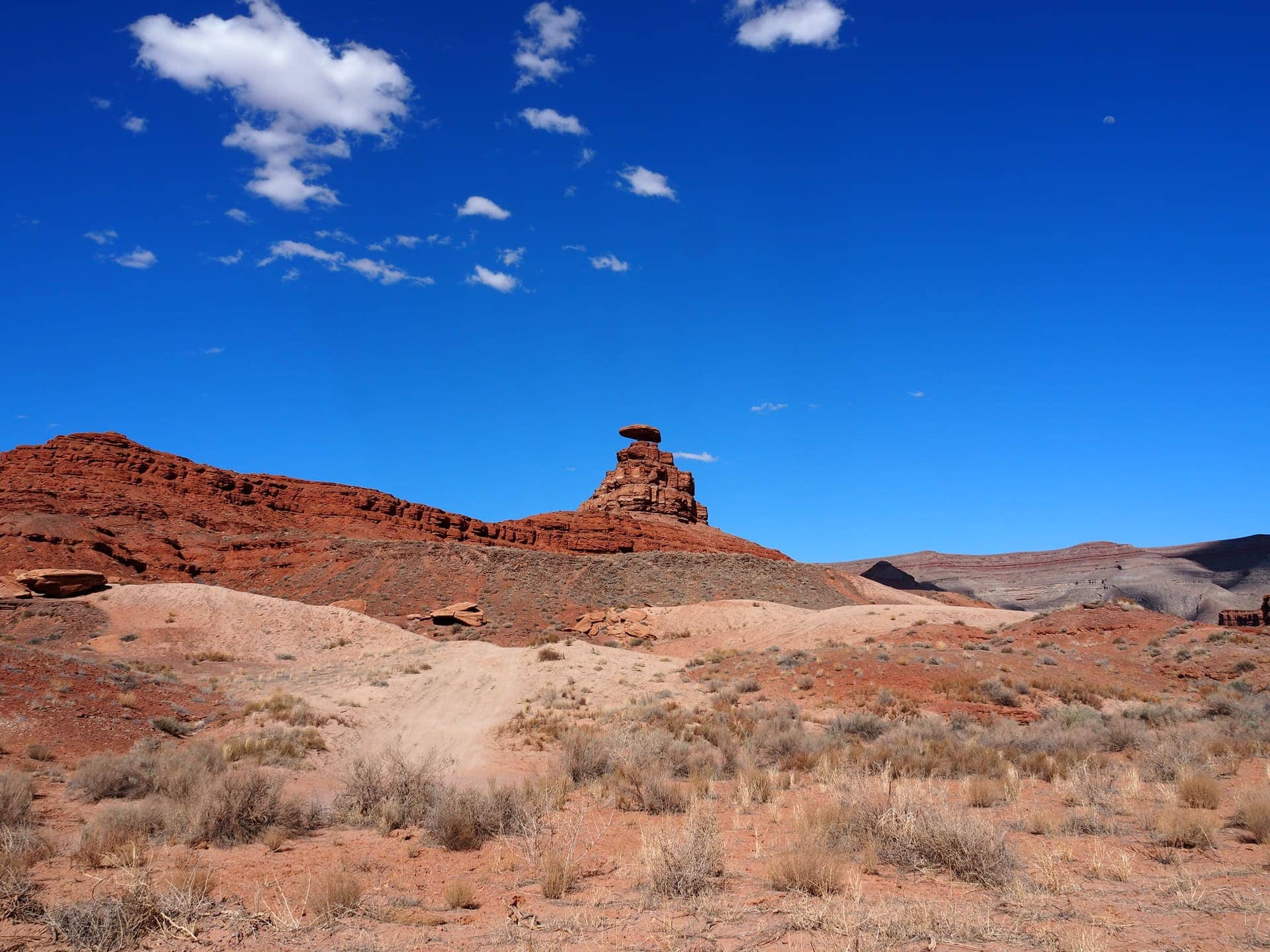 Goosenecks State Park
We opted not to make the 1.5-mile hike to Horseshoe Bend earlier in the trip to see the horseshoe formed in the river. There would be two stops where we could see similar views. Dead Horse State Park was on the agenda for tomorrow and Goosenecks State Park was on our route today. This small park allows you to drive right up to the overlook and has several bends in the San Juan River.
See our previous post for more information on Goosenecks State Park.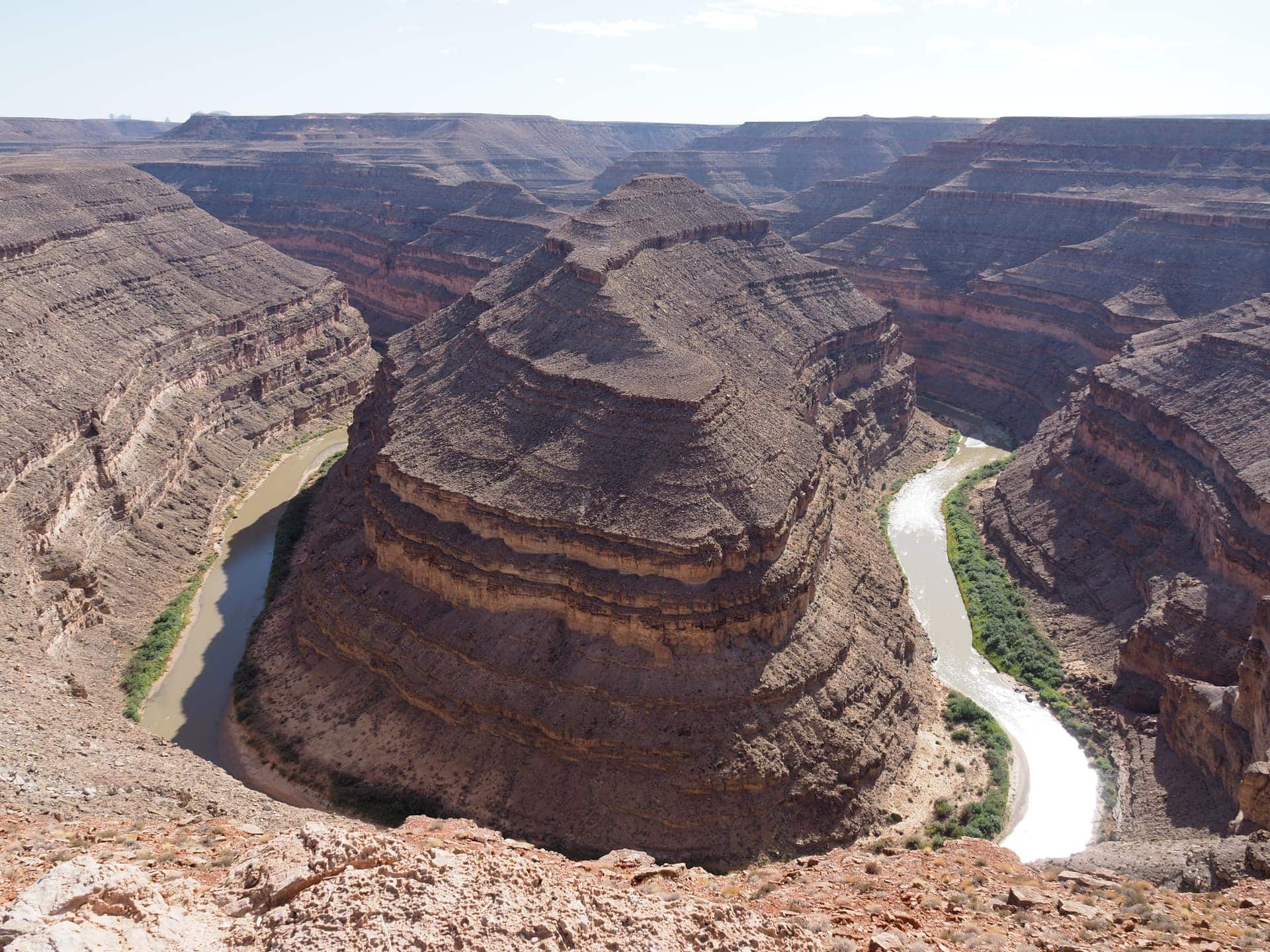 Moki Dugway
We drove up the Moki Dugway to get another viewpoint of the San Juan River. This was one of my favorite locations when we were here prior so I was really excited to share this with my mom and John. I think they were as impressed with the view as I am!
See our previous post for more information on Moki Dugway.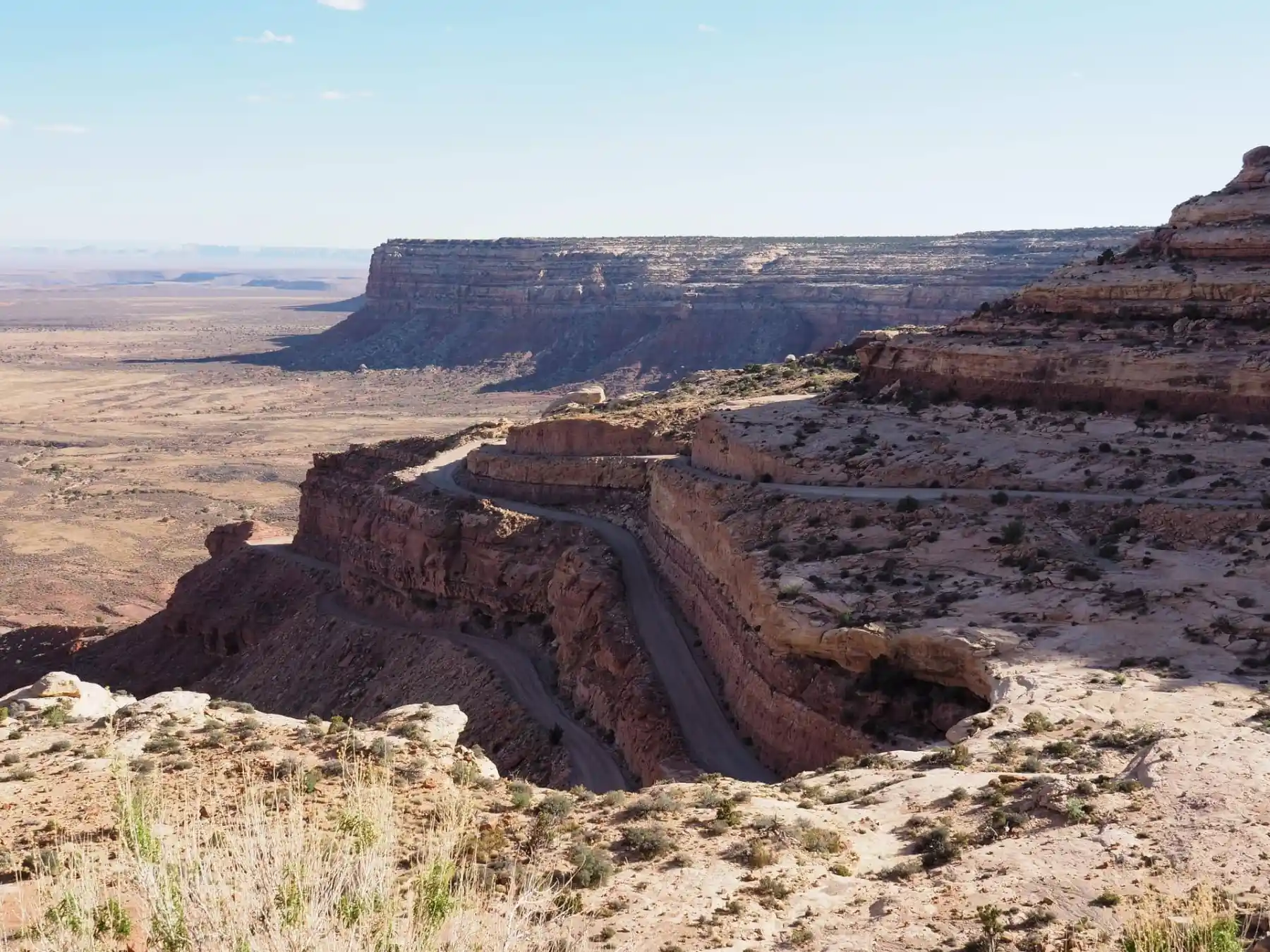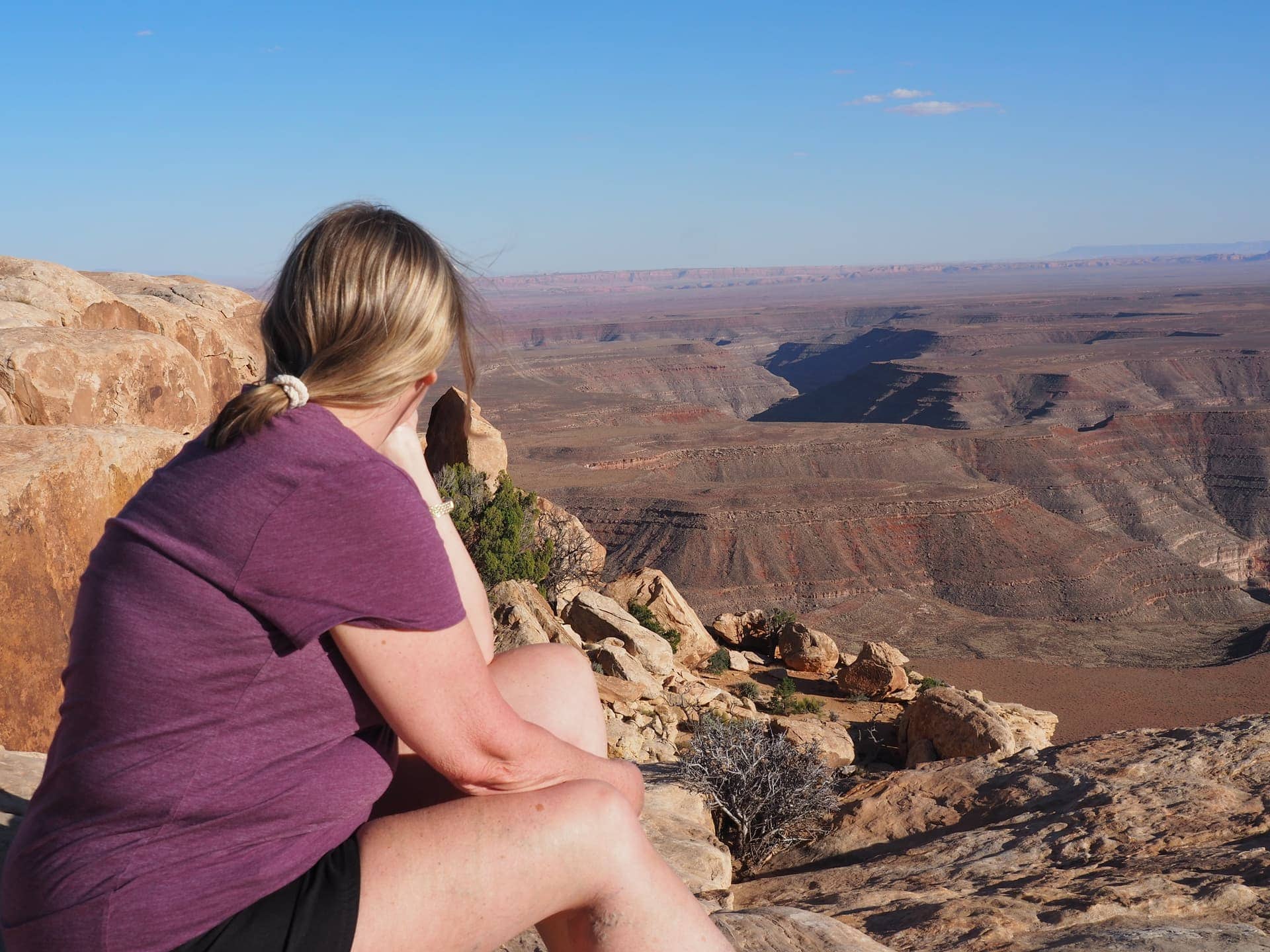 Sand Island
We made one more quick stop at Sand Island to see some petroglyphs. There are tons of places to see these ancient images in Southeastern Utah. Many sites require hiking so Sand Island is the perfect place to view some if you don't have the time or the ability.
See our previous post for more information on Sand Island.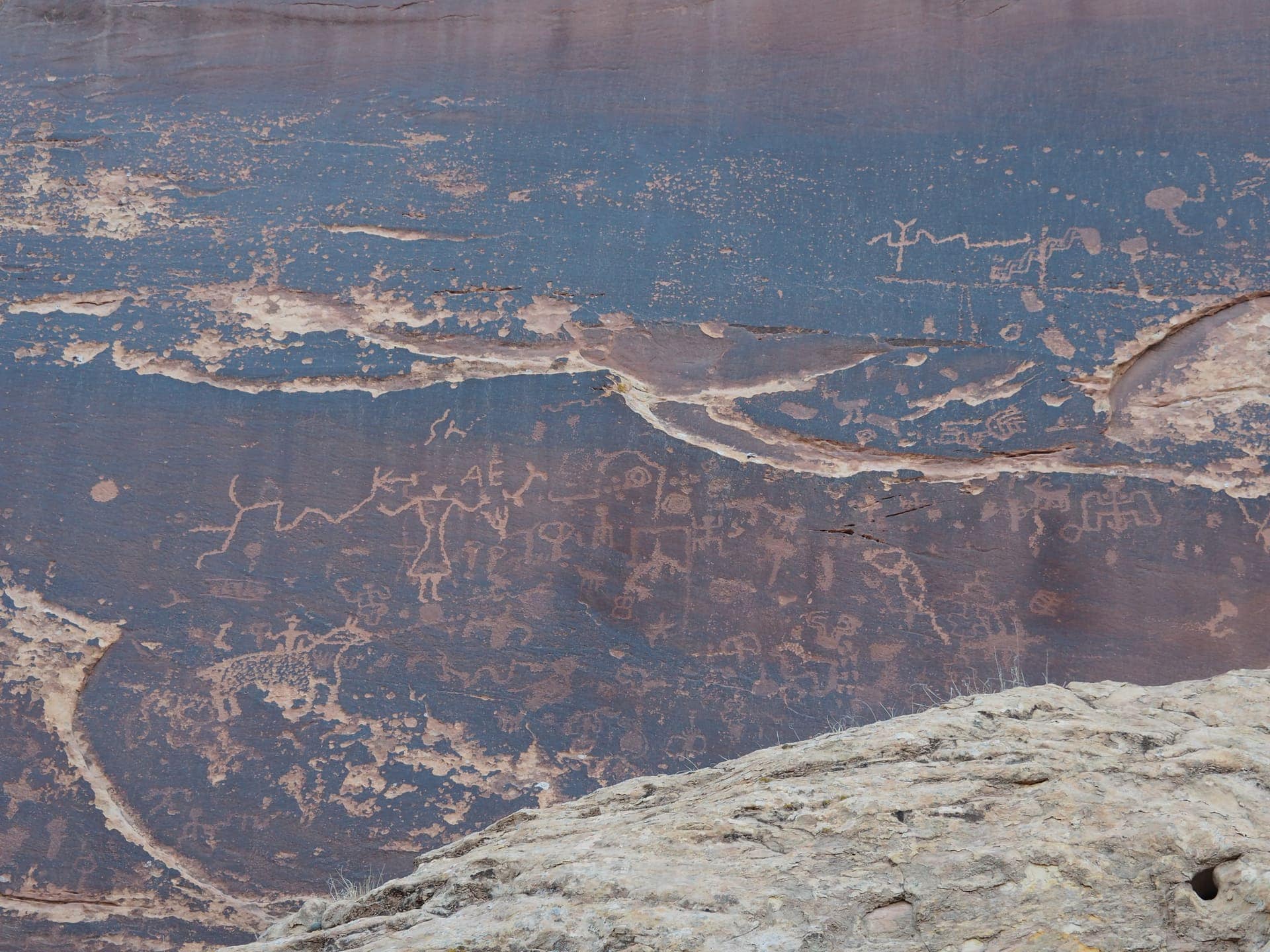 Another busy day of travel
Do you recall a very busy day of travel?  Where were you?  What did you see?
Did you feel like that one day was really multiple days?
Do you prefer to pack as much as possible into trips or take a slower pace?